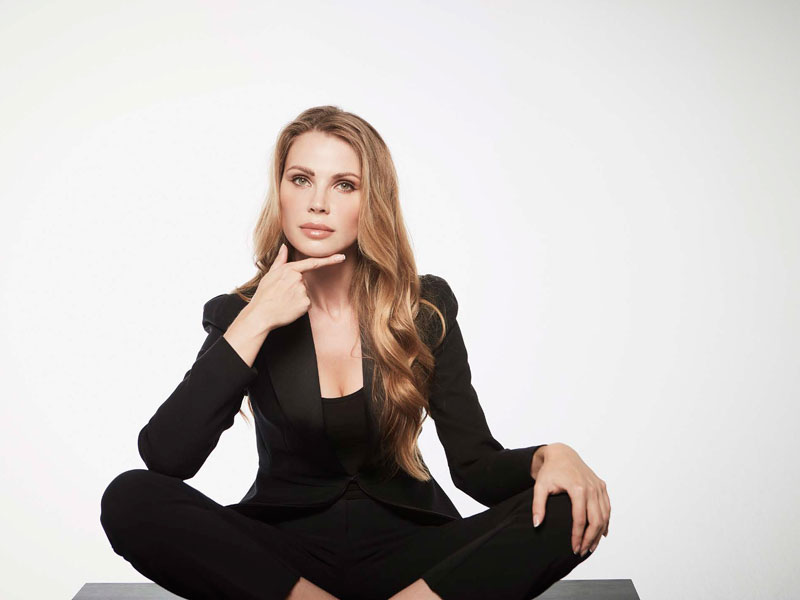 12 maj 2021

QUANTUM POINTS OF THE UNIVERSE

WORDS: MIA MEDAKOVIĆ-TOPALOVIĆ
INTERVIEW: ELENA VOGULKINA
PHOTOS OF PORTRAITS: VANYA BEREZKIN
PHOTOS OF PAINTINGS: MIA MEDAKOVIĆ-TOPALOVIĆ

ELENA VOGULKINA WAS BORN IN 1987 IN NIZHNY NOVGOROD. SHE STUDIED PAINTING AT THE MOSCOW STATE ACADEMIC ART INSTITUTE NAMED AFTER V.I. SURIKOV, FROM 2016 TO 2018.

SHE HELD EXHIBITIONS IN MOSCOW, VARNA, STRASBOURG, AND BELGRADE.

IN COLLABORATION WITH THE RUSSIAN CENTRE OF SCIENCE AND CULTURE IN BELGRADE (SERBIA), IN DECEMBER 2019, SHE HELD A SOLO EXHIBITION NAMED "THE WHOLE WORLD WITHIN US". THE SAME EXHIBITION WAS HELD ALSO AT THE HOUSE OF ĐURA JAKŠIĆ.

LAUREATE OF THE 10TH INTERNATIONAL COMPETITION "IN THE NAME OF PEACE ON EAR­TH-2019" OF THE INTERNATIONAL CREATIVE ASSEMBLY OF MOSCOW.

SHE WON 2ND AND 3RD PLACE IN THE NOMINATION "ABSTRACTION" AT THE INTERNATIO­NAL COMPETITION AND EXHIBITION OF CONTEMPORARY ARTS "RUSSIAN TALENT". (JAN – FEB 2021).

IN THE ART GALLERY FORMAT INS MOSCOW, SHE TOOK PART IN AN EXHIBITION NAMED "WALTZ OF THE FLOWERS".

SHE LIVES AND WORKS EN ROUTE MOSCOW – BELGRADE.

SHE IS GOING TO HOLD HER THIRD SOLO EXHIBITION NAMED "QUANTUM POINTS OF THE UNIVERSE" IN BELGRADE FROM 15TH – 22ND MAY 2021, AT THE "NIKOLA RADOŠEVIĆ" ART GALLERY, FOUND AT THE CORNER OF USKOČKA 5- DELIJSKA 3 STREETS. THE OPENING IS GOING TO BE AT THE 15TH MAY 2021 AT 7 O'CLOCK PM.

"MY TASK IS NOT TO CREATE A LITERAL PORTRAIT OF REALITY IN ITS PHYSICAL STATE. I FO­CUS ON AN UNATTAINABLE LEVEL."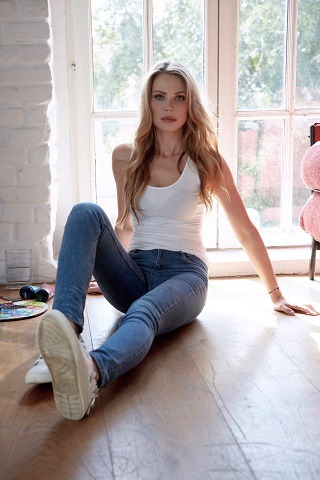 WHEN DID YOU DECIDE TO BECOME AN ARTIST?
I grew up in a creative atmosphere. My mother was an art lover. More specifically, painting. And it was because of this love that the walls in our apartment were adorned with beautiful artwork. The walls themselves became works of art, accompanied by works of Leonardo da Vinci. My family had an almost superstitious relationship with art, believing that pieces of art could grant fortune or misfortune.I clearly remember how I used to decorate special wooden boards with my mother, make clay sculptures, and draw strange signs that represented my eclectic doll collection. I always felt that two diametric forces were always waging war within me. On one side stood logic, with his cold, carefully calculated stare. On the other side stood passion, with his fiery, determined gaze. I didn't become an artist immediately. It took some time for me to find my artistic soul. As a law school graduate, I had to accept this artistic soul into my life, and nurture it with constant care and attention. My initial disposition was apprehensive, because I was trained to think only with logic, but in the end I realized the value this soul brings to my life.
WHAT DOES IT LOOK LIKE WHEN YOU ARE PAINTING IN OTHER COUNTRIES, WHEN YOU ARE NOT IN RUSSIA, FOR EXAMPLE ON THE BALKANS? DOES A DIFFERENT SKY BRING DIFFERENT PERSPECTIVE?
The Balkans have a special place in my heart. This place represents a totally different way of life to the one I am used to. Gone is the hustle and bustle of the busy streets of Moscow. People here seem to follow their own rhythm, so to speak. People here like to go for walks, enjoy nature, and devote their time to liesure as well as work. Traditions permeate throughout the culture, and it can be felt in the cuisine and the style of dress. Restaurants serve almost exclusively Serbian, with little variety in terms of international cultures, as opposed to Moscow. I feel like here, there's a special atmosphere that speaks directly to me. This atmosphere is directly reflected in my artwork, and will continue to help make more in the future.
WHAT INSPIRES YOU THE MOST?
I'm inspired by people, situations, and the relationship between logic and intuition. The dichotomy of the spiritual and the material. I'm intrigued by the connection of unconnectable things. I like to examine the scientific points of view's interaction with the sensuous, intuitive, incomprehensible side of existence. I have always been interested in the quantum theory of the structure of the world.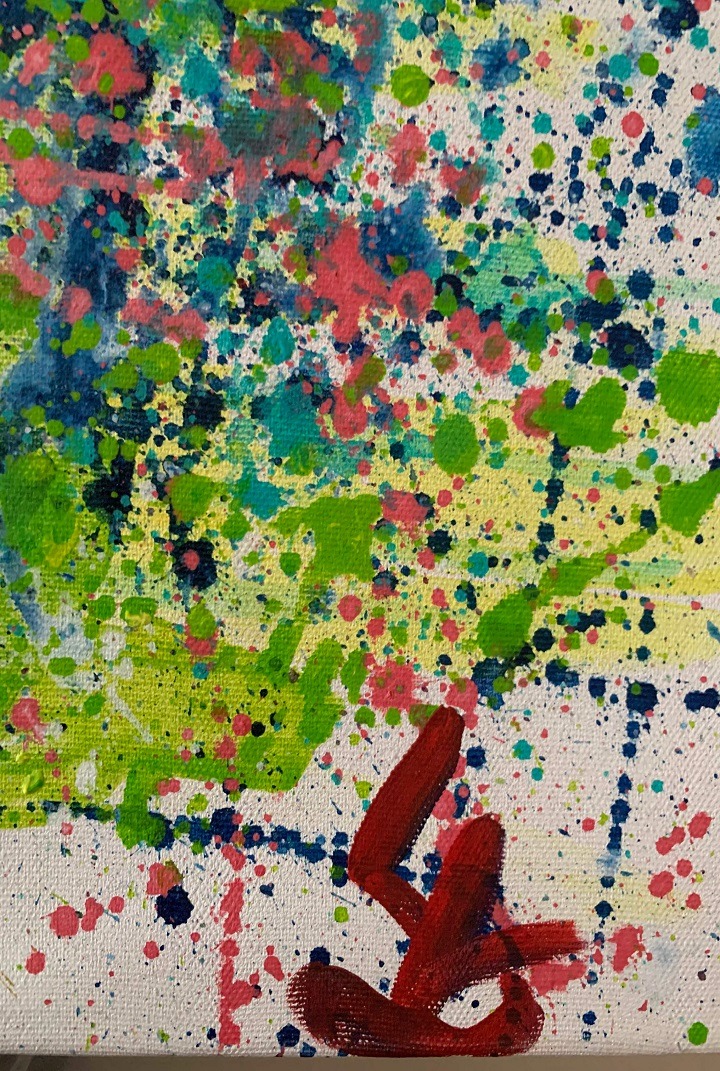 WHICH PHASES DID YOU GO THROUGH IN YOUR ART?
Initially I was interested in the classics; I wanted to explore the shape of things. Later I got a feeling that I was departing from the essence of myself; I didn't want to paint as everybody does. I wanted to find my own style, my own creative approach.
I was interested in the classics; I wanted to explore the shape of things. Later I got a feeling that I was departing from the essence of myself; I didn't want to paint as everybody does. I wanted to find my own style, my own creative approach.
At first, when I was learning the basics, my interests lied in classical painting. However, I realized that continuing to only admire the classics would lead me to end up producing works that could be described as cheap imitations, as opposed to my original vision. To avoid this, I decided to rely on myself, and only myself. I drew from my inner feelings, and removed control and expectation. As I said earlier, I have always had a fascination for quantum theory, which describes how creation happens where no one is watching, where no one can watch. I have always produced my best works when I let go of my instinctual need for control and constant observation.
IS THERE A LEITMOTIF THAT CAN BE SEEN IN YOUR ART, OR SOME COLOR THAT IS VERY SPECIFIC AND DOMINANT?
Because of my fascination with quantum theory, many will notice that there is at least one yellow dot in all of my paintings. This symbolizes the initial point of creation, from where everything began, the source of all things. Any object can be described using lines (waves) and dots, like pixels on a screen. Any part of an object or even consists of waves and particles (quantum dots). So in quantum theory, any motion of particles can be described using momentum or space-time coordinates (quantum dots).
WHAT ATTRACTS YOU TO ABSTRACTION?
In my understanding, Abstract painting is an ephemeral concept that has no clear forms, structure, or specifically defined mass. It is defined by smoothness and fluidity, as well as energy. When energy manifests in the material world, it begins to take on clear forms and shapes. In every object, in every event, there is a certain energy.
HOW WOULD YOU DESCRIBE YOUR WORK FROM "QUANTUM POINTS OF THE UNIVERSE"?
The pictures reveal every option of space, the world is scattered into many pixels, each object consisting of many points, embodied as pixels on the screen, forming movement. When looking at my pictures for a long time, or when an observer appears, pixels or quantum dots can form into images or objects. So each person sees something different, because it is directly connected with his inner world.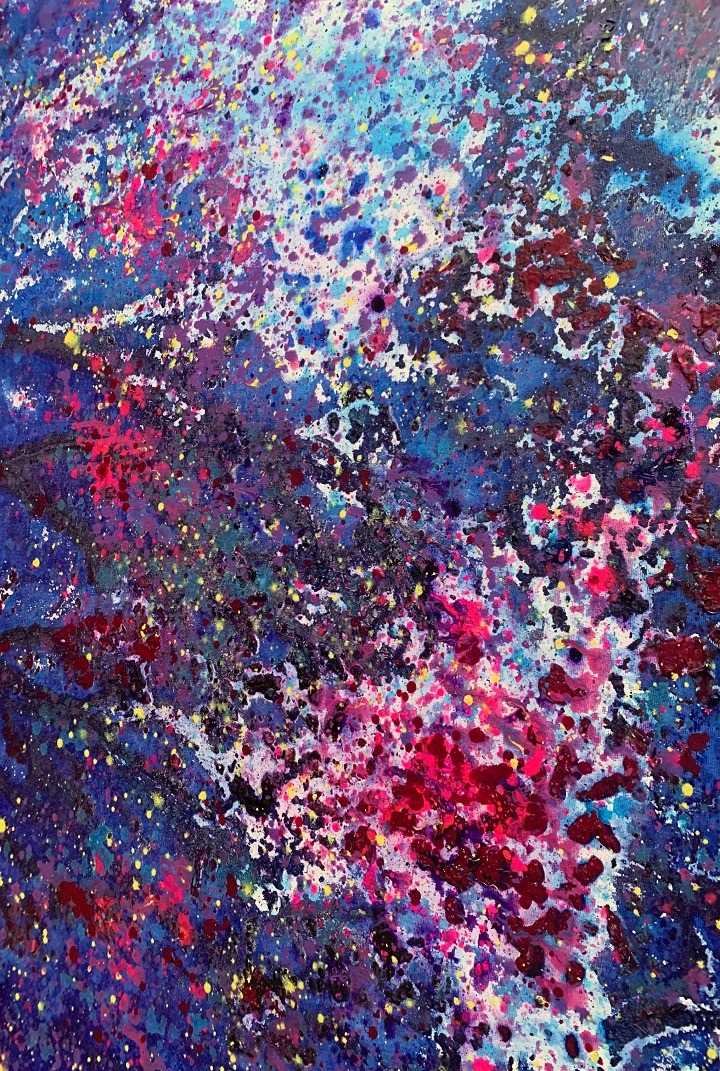 WHICH PART OF THE DAY ARE YOU MOST CREATIVE AND DO YOU EXPERIMENT WITH YOUR WORK? WHICH WAS YOUR BIGGEST EXPERIMENT THAT BECAME YOUR BASIS IN PAINTING?
This can happen at any time, but mostly, these experimental ideas come to me in the morning and at night. My greatest works are created unintentionally, when all control is released and observation of the process is turned on. This is how I made my favorite work, "Abundance", which I channeled the power of nature to create. On that day, nothing went according to plan. In the morning, the meteorologists predicted good weather, sunshine, so I went to the terrace to start painting. When I was almost finished, suddenly it started to rain and a strong wind started to blow. At this point, I realized that my job was done, and the rest was up to nature itself. So I decided to see if the painting could withstand the elements, if it could come out more beautiful than I could ever imagine. Like a butterfly coming out of it's cocoon, or a phoenix rising from the ashes. And it did, in the morning it was evident that nature made the necessary changes, I just had to put on some finishing touches.
ARE YOU AFRAID OF THE WHITE CANVAS?
Let me put it this way, there's no fear, just an excited anticipation of what might happen. At the end of the day, you just don't know, and that's what excites me. Of course, I always start my process with some degree of intention, which sometimes takes me a long time to come up with, but it's there. Regardless of intention, the end product is always a surprise.
IN WHAT DIRECTION IS YOUR ART DEVELOPING AND WHAT ARE YOU LOOKING FOR IN THE FUTURE?
The primary direction I want to take my artwork in is to develop it's versatility. I think the most important tool in my pursuit is technology. There's a project called "Additional Reality", which I soon plan to implement. It is no secret that, in art, the mirror image of objects fades into the background. After the emergence of quantum theory in the modern world, the perception and vision of objects, people and events changed. Quantum theory reveals the variety of different states of energy, processes in nature, and in structures. Why is the exhibition called "Quantum Dots of the Universe"? What we see and feel in the picture is the entry point from objective reality to the quantum world (the world of energies and subtle invisible matter). In my opinion, art is subtly intertwined with scientific research and theories. In his last work, Stephen Hawking put forward the idea of a multiverse. Theoretical physicist Tegmark Max put forward a theory about a mathematical universe that includes many worlds with certain characteristics. What used to be considered the realm of science fiction is starting more and more nonfiction. What artists used to portray as a figment of their imagination in the moment can be rationally explained. Any manifested or unmanifested quantum object translates the primary state of the quantum world, which contains certain parameters. Through my paintings, I suggest that the observer move away from the usual perception of the picture and tune in to other forms of perception through feeling. According to quantum theory, the fact of observation reduces the wave function of a particle (quantum) to a single point, through which information is exchanged. Each picture is a kind of quantum entry point through which information is exchanged.