WORDS: MIA MEDAKOVIĆ
INTERVIEW: ADRIAN DE GROOT
PHOTO: ADRIAN DE GROOT
ADRIAN DE GROOT IS A NATIVE OF THE NETHERLANDS AND HAS NOW BEEN LIVING IN BEL­GRADE SINCE JUNE 2017. APART FROM HIS ACTIVITIES AS A FINE ARTS PHOTOGRAPHER, HE IS ALSO A MUSICIAN/MUSICOLOGIST AND NUMBER THEORIST AND CONSIDERS HIMSELF A RENAISSANCE MAN. HIS PAST JOBS HAVE BEEN AS A PHOTO EDITOR, PHOTO ARCHIVIST, GRAPHIC DESIGNER, MUSICOLOGIST, ORGANIST, AND AUTHOR AND CONFERENCE LECTU­RER ON NUMBER THEORY, AND LOVES PREPARING A DELICIOUS THAI SHRIMP OR CHICKEN CURRY. HE HOLDS A PH.D. FROM COLUMBIA PACIFIC UNIVERSITY AND MASTER'S DEGREES FROM BOSTON UNIVERSITY AND THE CATHOLIC UNIVERSITY OF AMERICA IN WASHINGTON DC, IN THE FIELDS OF ART, MUSIC AND CULTURE.
AS A PHOTOGRAPHER HE IS MOSTLY SELF-TAUGHT AND AFTER USING HIS FATHER'S 6X9 BROWNIE AS A TEENAGER BOUGHT HIS FIRST CAMERA AROUND AGE 17. HE WAS A PHOTO EDITOR FOR A MONTHLY MAGAZINE FOR ABOUT A DECADE AND LATER BECAME PHOTO ARCHIVIST FOR UNITED PRESS INTERNATIONAL (UPI). HIS FIRST SOLO PHOTO EXHIBIT IN BELGRADE OF SCENES OF THE CITY TOOK PLACE AT THE PETER LUBARDA MUSEUM IN BEL­GRADE IN 2021. BEFORE THAT HE EXHIBITED IN WASHINGTON D.C. IN SOLO AND GROUP EXHIBITS, INCLUDING AT THE NATIONAL ARBORETUM. A FEW OF HIS PHOTOS OF BELGRA­DE AT NIGHT ARE INCLUDED IN BELGRADE THROUGH THE EYES OF FOREIGNERS, A BOOK PUBLISHED BY THE INTERNATIONAL WOMEN'S CLUB (IWC) OF BELGRADE/RYL IN 2020, FOR WHICH HE ALSO SERVED AS EDITOR FOR THE ENGLISH LANGUAGE PORTION.
ADRIAN DE GROOT IS INTRODUCING HIMSELF TO THE BELGRADE AUDIENCE FOR A SECOND TIME THROUGH PHOTOGRAPHY. THE OPENING OF HIS SECOND SOLO PHOTOGRAPHY EXHI­BITION, DREAMSCAPES, WILL BE ON THE 3 RD OF OCTOBER 2023 AT 20 O´CLOCK IN GALLERY NIKOLA RADOSEVIC, STREET DELIJSKA 3.

Adrian de Groot, when did you realise that your creative side includes photography as well?
Although my first artistic adventures were mu­sical from age 6, as a teenager I started play­ing around with my dad's 6x9cm Kodak Brownie taking b/w photos, and later at around age 16, I acquired my own 35mm camera. Since then, my love for both music, as a part-time professional musician, and photography, as a full-time pro­fessional photo editor and photo archivist have both been a lifelong adventure.
Black and white photography vs. colour pho­tography?
In the beginning, of course, nearly 90% was in black and white, using my dad's darkroom to de­velop and print. But then I tried also some slide film, especially during holidays. Most of my life's work has been in colour (on transparency slide film), but sometimes I find a b/w rendering more expressive and appropriate. Sometimes a tech­nically bad colour photo is rescued by convert­ing it into b/w. But, today I can say that nearly 90% of my work is in color.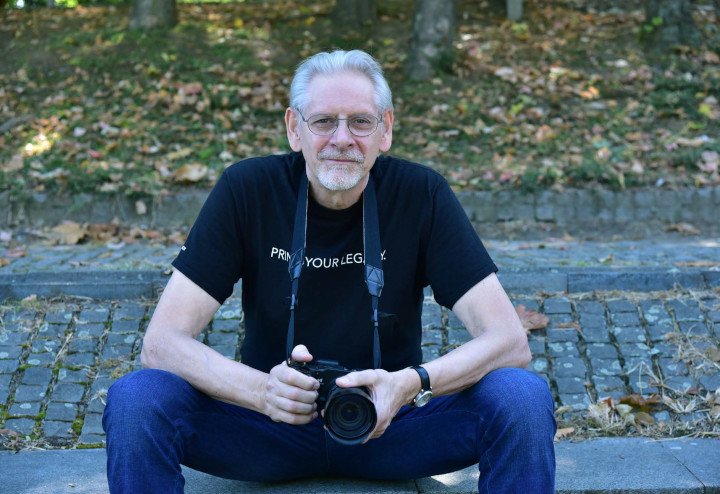 Your pieces are abstract, how did you come to abstraction?
One day I took a photograph of a simple Art Deco element of an old movie theatre that caught my attention when a beautiful play of light and shadow fell upon it. I soon turned it into a simple composite of six images turned into different di­rections. With this, the idea of working with one single photo and transforming it into a fantasy was born. But such simple composites could be done in just minutes.
Despite this type of inspiration, soon enough I wanted to things differently in a far more com­plex fashion than just a simple rearrangement or a kaleidoscopic approach. After photo­graphing the rear light of a Honda Accord, I got the idea of really doing something "crazy" with it in Photoshop; it involved a steep learning curve and trial and error, but I liked the result very much, and thus voilà, a eureka moment turned into a creative approach, mixed in with way more freedom of abstraction, requiring, at times, hours of work.
Some of my photos are taken with the express intent to make a dreamscape, but I have also scoured my digital photo archive to find pho­tos to lend themselves to abstraction. Doesn't always turn out well as even one's creativity and experimentation can never escape being dependent on the original.
How would you describe your pieces, that you will exhibit in another independent ex­hibition at the Gallery "Nikola Radošević" in Belgrade, titled DreamScapes.
Some of the pieces there are done in years past, and some were done very recently, when I had a flood of inspiration that literally last­ed about a month and produced about 300 Dreamscapes (I was at my computer like night and day). Certainly way more pieces than we have room for at the gallery! How do you describe something I have never seen done anywhere else? This is why I named them "DreamScapes".
I just hope they are unique enough to attract the artloving public and that they will under­stand that this was not just "Photoshop mag­ic or trickery", but that the primary drive force behind all these Dreamscapes was a very in­volved high energy of creativity. So, I like to immediately add that I can only create such works during a period when I am totally in­spired and involved. The technical aspect of how it's all done is therefore very secondary. Visionary ideas comes first.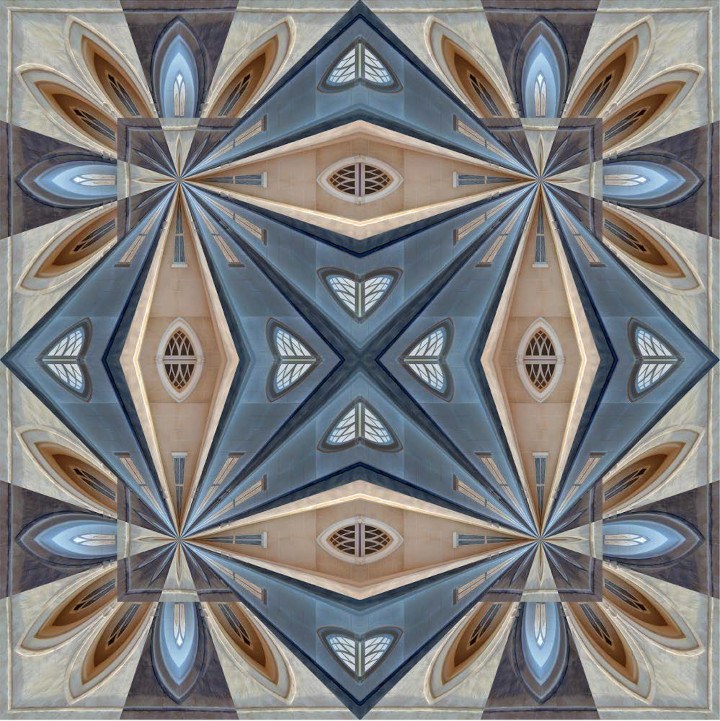 What do you want to express with your photography?
My photography is decidedly non-political; all my life I have been trying to convey the beauty in nature, in landscapes and cities, in buildings like architectural details, and to be of an uplifting nature and composition. To show beauty, and with my Dreamscapes to be even a dreamer, a spiritualist if you will. To create visuals that inspire and even make the people curious how I put these abstracts together and what the original single photo looked like. It's a puzzle or guessing game at the same time. So, there is also an element of surprise, play­fulness, fun or even silliness in my work.
You have already exhibited in Serbia and in the USA; what is the difference between the audience that loves and appreciates photography?
Oh, this is very hard to say. The two cultures are quite different. The photos I exhibited in the USA were all super realistic, of nature, landscapes, etc. One exhibit at the Nation­al Arboretum in Washington D.C. was very well received by a well-known horticulturist who had never seen photos "like that" of her favourite "garden". A gallery of these photos was also published in a magazine, and was very well liked by the Arts Editor, as well as by the Director of the Arboretum. But in a big city like Washington DC, which is mainly a politi­cal town, it is hard to get into one of the few galleries. I therefore exhibited mostly in group galleries in artsy old buildings.
Here in friendly and open Belgrade I focused first on architectural details at the Peter Lubar­da Museum exhibit, while now I am having my first Dreamscapes abstracts exhibit which I am very happy about. How the audience will like it will be the great surprise and adventure. Ap­parently, there has never been an exhibit of this type of work in Belgrade; well, I also like to think of it as quite unique. Perhaps it's a world première of this type?

You like to take photos of Belgrade, espe­cially at night, what inspires you the most?
Belgrade, if you look closely, has many hid­den treasures. Even a dilapidated building of­ten still has some elements left of its former glory and they are worth photographing. It has plenty of "patina." At night, Belgrade takes on a whole new magic on its own, which is defi­nitely worth photographing, but for more seri­ous work, I need to upgrade to a camera that is better suited for night photography. So cur­rently, this project is on hold. And covid and the energy crisis turned the lights off momemtarily.
You have been living in Serbia for a number of years, how do you see it as a Dutchman with worldwide life experience?
Number of years? Yes, it's been six quick­ly passing years now and my first visits to Belgrade were eight and seven years ago. There are still many places in this city and all of Serbia to explore, and seeing and visiting new places is always inspiring. Since having been here, I not only went to many neigh­bouring countries, but in Serbia itself we have ventured out as far as Arilje, Čačak (Zeoke), Mokra Gora, Oplenac, Subotica and sever­al other cities and towns in Vojvodina. There are many gorgeous landscapes that should be photographed in panoramic format. The plan is to keep on exploring, camera(s) in hand.
Yes, perhaps I will always carry that Dutch background with me, but I have also lived in the USA for a long time, and have visited countries around the globe. Recently, look­ing through my many boxes of photographic prints, I did notice that I do have my own style, as I have basically been self taught, although the work of a few photographers did inspire me, like Geoffrey James, Gary Irving, Clyde Butcher, Georges Noblet, Sean Kernan, Mar­tin Kers, and the art work of M.C. Escher and Victor Vasalery.
The most wonderful thing is my ongoing fasci­nation with what I see and what vibrates with my inner spirit and sense of beauty. It is my sincere wish to have more exhibits in the fu­ture with many different possibilities from my sizeable collection of prints. My brother, Bas­tiaan de Groot, who is a professional sculptor in Groningen, the Netherlands, told me that most of his creations are "Art for Art's Sake", and I guess this approach runs in my blood as well. It's an inner calling and drive that keeps me printing (even larger) images in the future.
Thank you for your kind attention!