WORDS: MIA MEDAKOVIĆ-TOPALOVIĆ
PHOTO CREDITS: ALLIANCE AND ALEXANDRE AYER
PATRICIA CAZORLA & NANCY SALEME, VENEZUELAN/AMERICAN – AWARD-WINNING ARTISTS, ARE PAINTER AND SCULPTOR COLLABORATIVE DUO, WHOSE ART PRACTICE IS VERSATILE AND BROAD. THE ARTISTS SHARE A PASSION FOR PUBLIC ART AND FIRMLY BELIEVE THAT ART CAN WIDEN PERSPECTIVES AND EDUCATE COMMUNITIES. THEIR PRIMARY GOAL IS TO CREATE ARTWORKS THAT ARE ACCESSIBLE TO AND EMPOWERING FOR ALL.
PAINTER PATRICIA CAZORLA AND SCULPTOR NANCY SALEME ARE AUNT AND NIECE COLLABORATIVE DUO WHO BEGAN WORKING TOGETHER IN 2010. THEIR WORK FOCUSES ON SOCIAL JUSTICE ISSUES. THEY HAVE BOTH EARNED A BACHELOR DEGREE IN FINE ARTS AND ARE LIVING IN NY SINCE 1996.
CAZORLA AND SALEME HAVE BEEN AWARDED EXHIBITIONS, COMMISSIONS, RESIDENCIES, AND GRANTS INSIDE, AND OUTSIDE OF USA.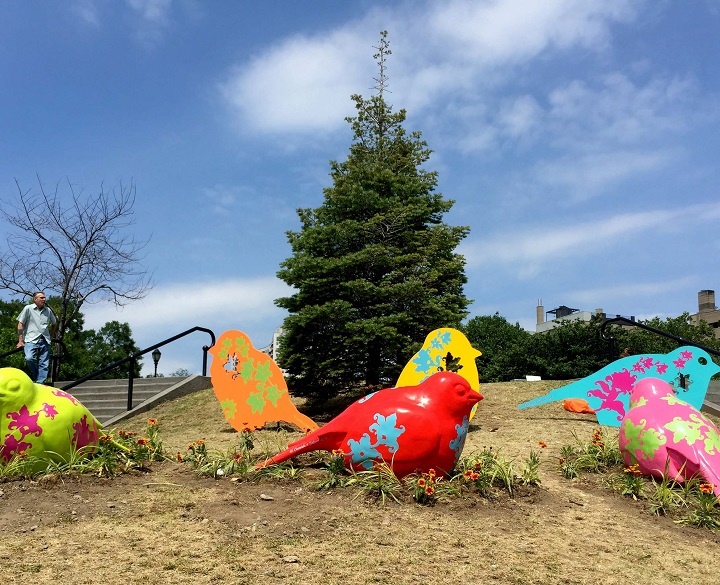 WHEN DID YOU DECIDE TO WORK TOGETHER?
It was in the year 2010 when the state of Arizona in the US enacted two laws addressing immigration, SB 1070 and HB 2162. These laws increased the power of local law enforcement and as a result imposing federal immigration laws. It was the first time in over 15 years living in New York that we witnessed discrimination towards immigrants at a government level. We could no longer stay indifferent to social justice issues that affect everyone. We started our research and readings when we realized that the most vulnerable community was the migrant farm worker. People of all ages from 5 years old to over 75, mostly undocumented immigrants from Mexico and Central America, harvest the US land. They are families who move around working in different states depending on harvesting season. They have been threaded like invisible people who feed us every day and currently facing an unknown fate. This was the beginning of a long art trajectory that wishes to bring light to injustice in our modern society, specifically immigration.
WHAT IS THE PRIMARY GOAL OF YOUR ART?
Nancy and I have numerous goals with different shapes and meanings that are constantly evolving according to our social and political atmosphere. We are truly care that our work is universal in the sense that can reach communities from any cultural or social backgrounds. In other words, we want the viewer that encounters our artwork to feel comfortable and included. This is one of the motives for us to make public art and be inspired by pop art in our formal decisions. As immigrants ourselves we confront and address various immigration issues in our art.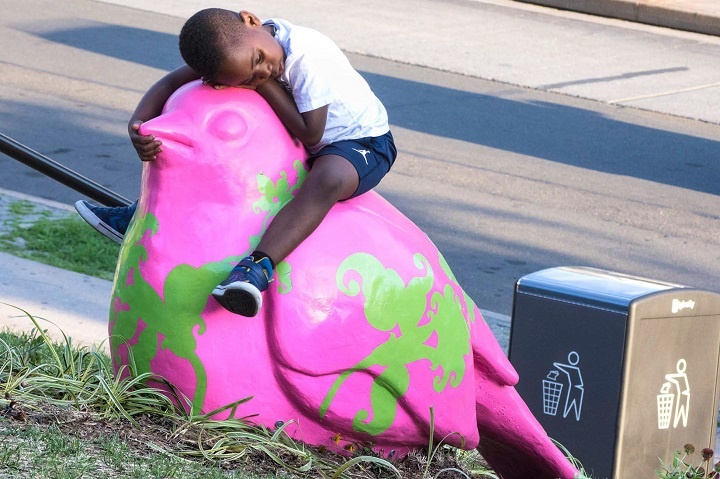 DO YOU THINK THAT ART CAN CHANGE THE WORLD?
Absolutely! It awakens feelings of tolerance among communities through creative moments. Culture and the Arts are those areas that talk about our fragility as individuals. It is such an essential asset to our society. It is such a dominant force that could bring a minute of joy to that person who has experienced it, possibly carrying a feeling of hope.
YOUR PUBLIC ART PRACTICE INVOLVES COLLABORATION, INTERACTION WITH MANY LAYERS OF THE COMMUNITY. ARE YOU SATISFIED WITH YOUR SOCIAL INFLUENCES?
For instance, after various bilingual workshops that we facilitated in Sheboygan WI, through our Art in Public Spaces residency at the John Michael Kohler Arts Center, we were very excited about how the community responded. We had about 30 people from Venezuela who were thrilled to meet other artists from the same country and make art with their family in their mother language. Creating connections and relationships with communities and between the communities is an important influence that we enjoy in our co-creating process.
YOU ARE BOTH IMMIGRANTS AND IN YOUR VISUAL ART ARE INSPIRED BY IMMIGRANT COMMUNITIES WHAT DO YOU WANT TO PRESENT IN YOUR INSTALLATIONS?
We have done several projects over the years that reflect our feeling on immigration and the current political climate surrounding it in the US and Venezuela. To mention a few projects, our 3D-mural Brocados was tied to the history of immigrant women in North Philadelphia who help to raise the textile industry of that city. For this site, we juxtaposed the image of an oversized seamstress surrounded by the cityscape, creating a complex geometrical composition in bright colors. For the Port Authority of NY & NJ terminal, we created a more personal piece. Lighting the Road depicts a bucolic crop field populated by migrant farm workers. This mural creates a striking contrast with the atmosphere of this urban transportation hub, bringing a message of hope and light to the thousands of everyday commuters. More recently, we completed Flying High for Equality, an installation of a flock of sculptural sparrows as a metaphor for society's ongoing struggle for equality. Finally, Once You Hear Me, You Won't Forget Me, our largest 3D mural to date, depicts the imagined journey of a coquí, a small frog native of Puerto Rico. Underneath this piece's whimsical appearance, the narrative reflects on New York's Puerto Rican diaspora. The common theme of these pieces is justice and equality for vulnerable communities.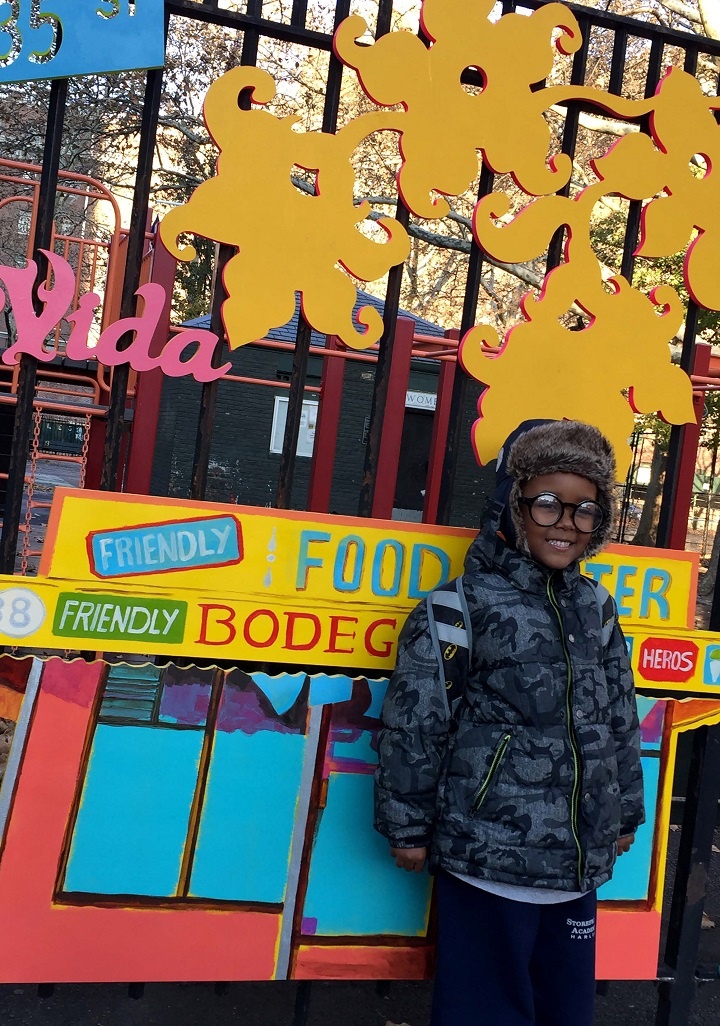 HOW PEOPLE REACT WHEN THEY SEE YOUR ARTWORKS?
Omg! We have had the enormous fortune to experience true love for our art. Last year, our public art piece "Flying High for Equality", an installation of a flock of giant sculptural sparrows at Joyce Kilmer Park in the Bronx brought real joy to the community. People of all ages reacted to the work in different ways; children hugged or kissed the birds constantly, adults admired the colorful creatures that were suddenly wandering in the park. We receive so many compliments and blessings from residents every time we visit the park. This summer we created Ararauna, a 400-foot road mural dedicated to our native Venezuela. The work was located in the heart of New York City, on Broadway, covering two blocks from 39th to 40th and 40th to 41st Street. We were commissioned by the Garment District Alliance NYC and the NYC Department of Transportation. Ararauna depicted a kind of giant tapestry made of designs inspired by the tropical forest, the Caribbean Sea, and the blue-and-gold macaw. This piece was created as a tribute of the exodus Venezuela is suffering right now. Tourists and New Yorkers welcomed Ararauna amazingly. Some people were taken by its aesthetics and others by the story and meaning behind it. There were endless selfies and photographs taken, visitors wanted a piece of Time Square, and with it a little part of our soul as well.
YOUR ARTWORKS TOGETHER BRING FABULOUS RESULTS. WILL, YOU CONTINUE WITH THIS IDEA TO WORK TOGETHER AND DO YOU LIKE MAYBE TO WORK ALONE AS A SCULPTOR OF A PAINTER?
Thank you. Throughout all these eight years, Nancy and I have been exhibiting and creating individual artworks while emerging as a collaborative artist team. Indeed, we have still many bridges to cross and many places to take our collaborations. The last time we exhibited in Europe was in the south of Spain, but we would like to create many permanent or semi-permanent public art pieces for the gorgeous cities of this continent.
DO YOU HAVE INFLUENCES OF EACH OTHER?
Absolutely, we have a beautiful close relationship. Nancy is my aunt; she is my mother's sister. We have genuinely enjoyed experimenting, and we really LOVE challenges. For instance, Nancy focuses on time-consuming sections of our work while I, Patricia, manage the parts that deal with digital technology. Nancy brings to the table materials that were foreign to me such as resin, wood, latex, fiberglass, clay, and even fluorescent colors. Meanwhile, I prep our ideas to be executed on commercial vinyl and CNC routers. Also, I think that we couldn't have gone into public art without Nancy's years of professional experience as a visual designer for manufacturing home decor companies.
We influence each other always in our studio and logistic choices. We make decisions together throughout the art making process. Our current work is a result of blending many of our personal interests in a conceptual and formal level.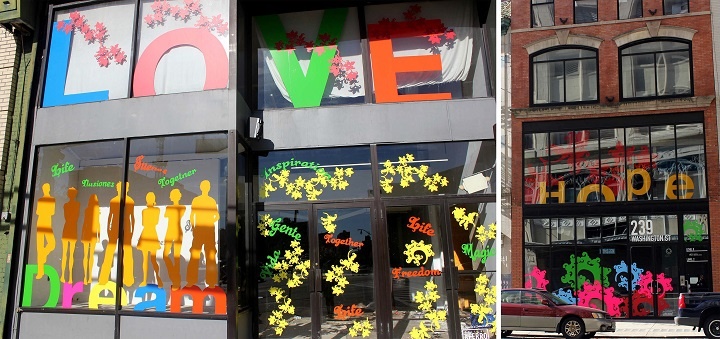 WHAT DO YOU PREPARE FOR THE NEXT EXHIBITION?
During this interview, we are currently in the city of Sheboygan, Wisconsin. The John Michael Kohler Art Center, a 50-year art institution founded by the Kohler family, invited us to create a community engagement public art project for the city's Mead Library. The piece is a giant 3D mural depicting a cityscape of Sheboygan, 28 feet long by 12 feet high in wood panels.
After a week of meeting the local community, we created a proposal specially inspired by the extraordinary energy that the city has. We are celebrating Sheboygan's community with "Threading a Dream" a piece that reveals their warmth, integration, and respect. Ultimately, the project will create a unique portrait of Sheboygan with a message of hope and new beginnings for all.
People from the community helped pick prominent buildings and landmarks that make the city's character. This piece will have the warm and fluorescent colors of our past works. These colors were inspired by Sheboygan's extraordinary landscape. For example, a bright yellow like cornmeal and a deep violet like the local wildflowers.
THE MAIN TOPIC FOR THE SEPTEMBER ISSUE OF RYL E – MAGAZINE IS "CHALLENGE YOUR LIFE" HOW DO YOU CHALLENGE IT AND IMPROVE IT?
We think, we are better people when we are not ignorant to political issues and state of our natural world. We will keep improving formally and meaningfully, always including messages to inform our community and many others. Create Public Art is a challenge in itself; we are passionate about embracing the obstacles that come along with it. For example, weather, time management, personal care, permits, and many others. Despite this, we continue to rise to the challenges to spread our beliefs.