TEXT: MIA MEDAKOVIĆ
INTERVIEW: MISHA MILOVANOVIĆ
PHOTOS: PRIVATE ARCHIVE
MISHA MILOVANOVIĆ IS A BELGRADE BORN ARTIST WHO LIVES IN LONDON. CHA­RACTERISED BY VIVID COLOUR, OPTICAL MOVEMENT AND ENERGETIC VISUAL CA­DENCES, MISHA'S VISUAL WORK FUSES A DIVERSE REPERTOIRE OF IMAGES AND FORMS. MISHA IS AN ACCOMPLISHED ARTISTS WHOSE WORK IS COLLECTED ALL OVER THE WORLD. HER FORMS ARE UNDOUBTEDLY FEMALE "A WOMBLIKE FORM" AS RELATED TO FEMALE ANATOMY, MISHA WEAVES IN SYMBOLIC ELEMENTS OF NATURE, SUCH AS BIRDS, CLOUDS, PETALS AND STRUCTURES FROM BIOLOGY. TRANSLATING THE THREE-DIMENSIONAL WORLD AROUND HER INTO FLAT COLO­UR AND LINE, AND HER OWN PLAYFUL LANGUAGE.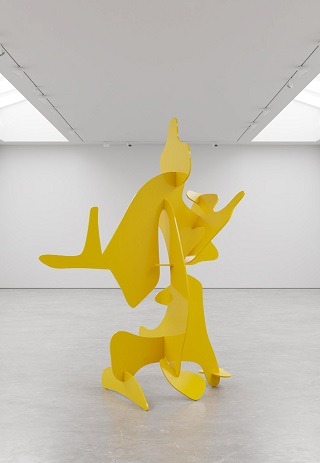 HOW DOES AN ARTIST CHOOSE A FIELD ONCE THEY DISCOVER THAT THEY ARE AN ARTIST? YOU FOUND YOURSELF IN PHOTOGRAPHY, SCULPTING, DESIGN… TOOLS THAT TAKE YOU INTO THE WONDERFUL WORLD OF IMAGINATION, GAMES, DREAMS.
Misha's work blends animal shapes and shapes of nature always giving it human quality, that of primeval man that still resides in the cerebellum part of our brain and is lost in the age of post-truth world that finds itself digitally displaced. Her work relates to human condition and our connec­tion with natural world and ourselves, yet offers optimism in the face of contemporary absurdity. Everything connects to her biography – lived ex­periences, learned techniques, jokes, memories and eulogies.
YOU HAVE HAD A CHANCE TO EXHIBIT IN THE EXCLU­SIVE SHOP OF ROKSANDA ILIČIĆ IN LONDON. HOW DID THE AUDIENCE REACT TO YOUR SCULPTURES?
The reactions were wonderful! Both Roksanda and myself received great deal of compliments on daily basis. The installation was so successful that it got extended from 1 month to 4 months. Having been installed in the middle of the pan­demic it acted as great catalyst for optimism and positivity.
DO YOU TELL STORIES THROUGH DIFFERENT MEDI­UMS?
To me, everything is connected. When you vis­it me, you eat the food I made, from pottery I made. Being alive, and enjoying it is a form of art. Almost everything inspires me. All around me makes me want to connect deeply with learn­ing and consciousness. My intuition inspires me.
CURRENTLY, YOU ARE PREPARING FOR A SCULPTURE EXHIBITION TOGETHER WITH YOUR COLLEAGUE JA­SON MARTIN, PAINTER, IN ENGLAND.
Synthesis of Colour, Jason Martin and Misha Mi­lovanovich, Private & Public Gallery, Phillips St, St Helier, Jersey JE2 4SU, Jersey, UK. 17 June- 22 July.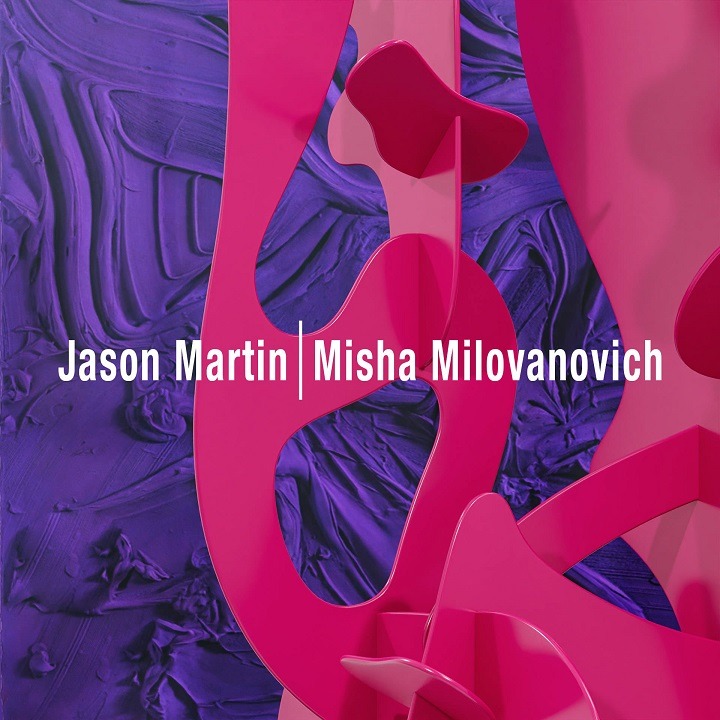 About the show:
Jason Martin channels a minimal approach to painting through an expansive yet controlled use of colour, brush and medium. Working in pig­ment, acrylic, oil paint, graphite and cast metal, Martin interrogates the fundamentals of painting, veering from epic and luscious compositions of swirling forms to pared-down and muted ab­stractions in precisely blended tones.
Misha Milovanovich expands her investigations of materiality and form in her latest sculptural works. Free-form compositions of steel painted in various hues of colour, Milovanovich's series of 'Misha World sculptures,' began in 2019, amal­gamates theoretical and art-historical influences across historical periods and disciplines, with an aesthetic blend of disparate styles and tech­niques. To create these abstract assemblages, Milovanovich combines various permutations of flatforms shaped first as small maquettes in the studio, and then enlarged in steel, assembled and painted in a highly polished manner. Bright colour is applied to each composition, transform­ing the steel—more commonly associated with industrial material —into something that appears floating in space as light cascades over therian­thropic structures.
Milovanovich first commences with her sculp­tures in wood, which recall the phantasmagorical forms and curvilinear patterns of her paintings, with more complex forms that balance unimag­inable postures that belie their material multi-di­mensional construction. The artist tends to the steel to varying degrees, shape-shifting and ren­dering gentle forms in some intense, almost an­thropomorphic manifestation. Their contrasting textures— at times monochromatic and others radiant and glossy — convey a sense of visual symphony, featuring the movement of soft pat­terns, lyricism and crescendo throughout.
These two artists both use colour as their foun­dation and raison of artistic d'exister.
DOES AN ARTIST FEEL NERVOUS BEFORE A SELF-EX­HIBITION, AND WHAT DO YOU EXPECT OF THE EXHI­BITION?
No stage fright here I've done it too many times-only fun and joy.
WHAT KIND OF MATERIAL DO YOU USE TO SCULPT?
Wood, resin, steel, bronze.
I CAN SEE THAT YOU LIKE COLOURS, AND YOU PLAY AROUND WITH THEM. CAN YOU GO OVERBOARD WITH COLOURS? MAYBE NOT…?
I am sure one can. I communicate through co­lours. For me they are the portal of our exis­tence. Like bees that come to flowers based on the colour that vibrational quality of the living or­ganism they pollinate the food chain we humans too communicate through this intricate web of signs and symbols.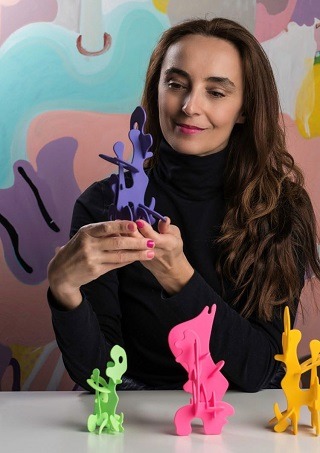 WHAT ARE YOU PLANNING THIS SUMMER?
This summer we would like to present you with a small edition of new garments, hand crafted with love by artist Misha Milovanovich in col­laboration with her mum, Mica, in Belgrade. These kimono and origami inspired shawls are one-of-a-kind pieces, where unique mate­rials have been used to create new perspec­tives on collaging and patchwork. This collec­tion is part of a long line of collaboration be­tween Misha and Mica, and they began making clothes together when Misha was 10 years old. These unique garments are patchwork-like com­positions, made from a mix of Misha's own fabric design, African silks and vintage prints. These pieces are filled with soft organic Dacron wadding using traditional craft techniques, and paying hom­age to the long line of women that have produced textile art over the centuries all around the world. Entirely handmade and unique, these garments are a hybrid kimono-shawl.
WHAT IS YOUR FORMULA OF SUCCESS?
Be kind. Work hard. Stay humble. Smile often. Stay loyal. se honest. Travel when possible.
Never stop learning. Love always.
HOW WOULD YOU DESCRIBE THE WORLD OF AN ART­IST, THE ONE YOU LIVE IN?
Everything I've learned is because I love it.
I've created Misha World – it's my topic vision of the world manifestation and celebration of life through art/design and just being.
THE TOPIC OF THE JUNE EDITION OF RYL MAGA­ZINE IS: THE DREAM THAT DREAMS ME. WHAT KIND OF DREAMS DREAM YOU AND WHEN WILL IT BE TIME TO MATERIALISE THEM, TO MAKE THEM COME TRUE?
To plant the tree every day of my life. To live in different parts of the world specifically in Japan and whilst there to study with master cerami­cists in Kyoto, to live in Rio de Janeiro again and dance at the Samba school in Ipanema. To make lots of money so that I can build schools and art spaces for the generations that are next.
It's all happening already.