WORDS: MIA MEDAKOVIĆ-TOAPLOVIĆ
PHOTOS: GIULIA BAITA
GIULIA BAITA LIVES IN SARDINIA (ITALY). SHE HAS A DEGREE IN CONTEMPORARY ART AND LOVES PAINTING AND DRAWING. SHE IS A MOBILE ARTIST. SHE HAS PARTICIPATED IN NUMEROUS COLLECTIVE EXHIBITIONS: PALO ALTO, PORTO, ROMA, AMERSFOORT IN THE NETHERLANDS.
IN MARCH 2017 SHE FOUNDED MAG MOBILEARTGROUP FACEBOOK, MAG INSTAGRAM, AND MAG TWITTER. MAG AIMS TO PROMOTE MOBILE ART AS A NEW FORM OF CONTEMPORARY ART. FOR TWO YEARS MAG HAS BEEN A PARTNER IN "ONLYMOBILEART", A MAGAZINE PUBLISHED IN NYC DIRECTED BY MARCELLO BARBUSCI.
GIULIA BAITA CURATED THE GREAT MOBILE ART EXHIBITION IN MILAN ("THE BEAUTY MYTH") IN MAY 2019. FOR TWO YEARS SHE COLLABORATED WITH ONLYMOBILEART, A MAGAZINE PUBLISHED IN NYC AND DIRECTED BY MARCELLO AT BARBUSCI. MAG PROMOTES THE ACTIVITY OF HUNDREDS AND HUNDREDS OF ARTISTS FROM ALL OVER THE WORLD.
SHE HAS SHOWN HER WORKS IN TWO PERSONAL EXHIBITIONS IN SARDINIA AND NUMEROUS COLLECTIVE EXHIBITIONS (PARIS, SAN DIEGO, PORTO). NOW SHE TAKES CARE OF WORKSHOPS OR ONLINE COURSES FOR THOSE INTERESTED IN LEARNING ABOUT MOBILE ART.
SHE IS CURRENTLY PREPARING TO PARTICIPATE IN THE GREAT EVENT IN FLORENCE OF THE BIENNALE OF CONTEMPORARY ART. THE EXHIBITION WILL TAKE PLACE IN OCTOBER 2021 AT THE FORTEZZA DA BASSO.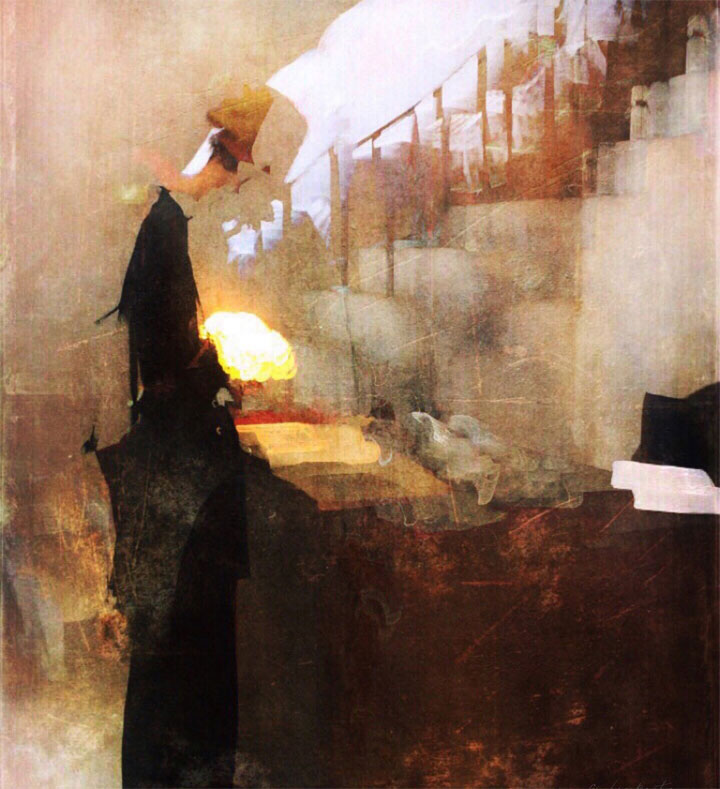 WHAT DOES ART MEAN FOR YOU?
I think art is the originality, the uniqueness of artistic expression. Art brings out the inner world of the artist, his sensitivity, the beauty of his soul.
WHEN DID YOU DISCOVER MOBILE ART AND WHAT THIS KIND OF ART PRESENT TO YOU?
I discovered Mobile Art 11 years ago by observing the images of international artists who published their works on social media. I bought the first iPhone and I learned to use apps to finally create something that talked about me and my way of seeing things.
HOW WOULD YOU DESCRIBE YOUR DIGITAL PHOTOGRAPHY AND YOUR ART?
I haven't done mobile photography for many years. I used the Hipstamatic app to take pictures about 9/10 years ago (and they were edited photos). Then I stopped taking pictures and I started making art, that is to represent reality according to my personal eye and not the way in which everyone sees reality.
Very often my work comes from stickers suggested by apps or from photo shoots that are completely upset. The result is totally personal, original. It comes from my artistic culture and from the hundreds of images of the History of Art that I studied for a degree in contemporary art.
WHAT ARE YOUR MAIN TOPICS ON PHOTOS?
In my images, people are represented who express the uncertain man of our time. A man who tries to conquer his space with some effort. The figures are thin, thread-like, barely hinted at. They are often found in art galleries and observe the works of artists. These men and women are, however, warmed by color. A warm, intense, enveloping color.
WHY DID YOU CHOOSE DIGITAL ART AS YOUR MEDIUM?
Mobile art is an art form suitable for those who want to create "without equipment" at any time. What matters is having a good artistic culture, getting to know your phone, the artistic apps available, and then letting your imagination run wild.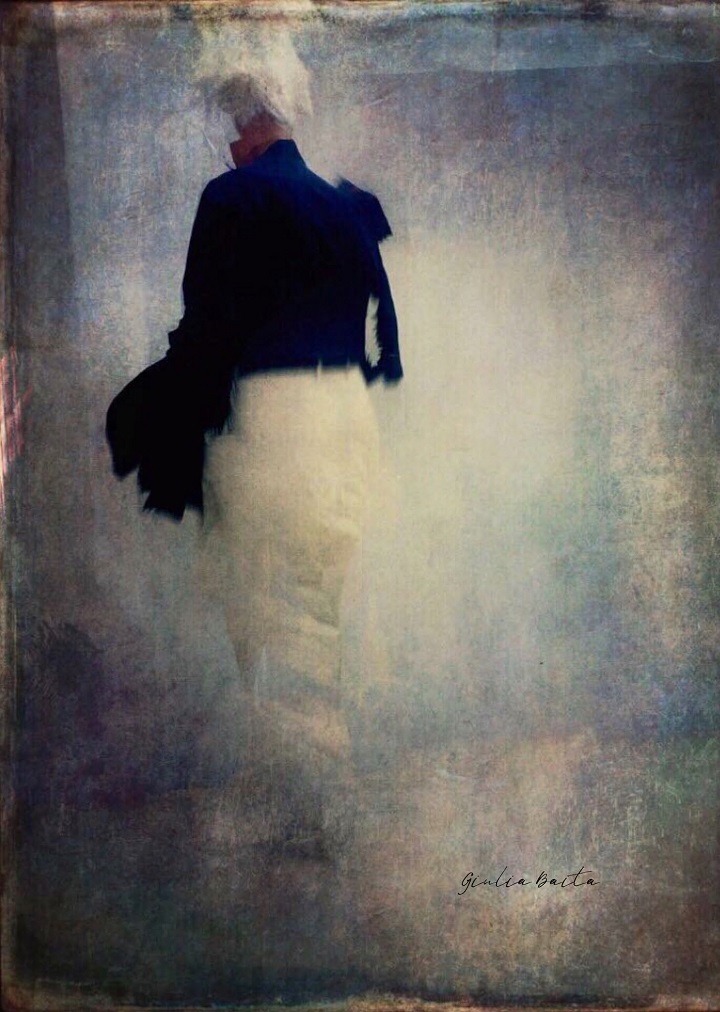 WHAT EQUIPMENT DO YOU USE TO CREATE GREAT PHOTOS AND WHICH APPS DO YOU USE THE MOST TO CREATE YOUR ART?
To work on the images I use an iPhone 11 or an iPad Pro. Apple has created many artistic apps, unlike other phone companies. It favors sharing among artists through contests, exchanges, international exhibitions. Among the many apps, I prefer iColorama, Mextures, Snapseed, Bazaar, SkyLab.
YOU ARE THE FOUNDER OF MAG MOBILE ART GROUP. TELL US MORE ABOUT THIS ARTISTIC GROUP.
MAG was born in 2017 to promote mobile artists and mobile art in general. It brings together about 2000 artists from all over the world who make art with iPhone and iPad. MAG has a Facebook group, an Instagram page, and a Twitter profile.
I have already curated four collective exhibitions of MAG artists and I have personally met some of them. Many of us organize artistic events such as exhibitions or workshops.
As "MAG" I collaborated for two years with a magazine published in NYC called "ONLY MobileArt", directed by Marcello Barbusci.
I am currently preparing for the next collective exhibition in Cagliari.
WITH WHOM DO YOU LIKE TO COLLABORATE?
I like to collaborate with other artists, with magazines, with art galleries. I would also like to collaborate with the fashion world.
WHAT IS THE PLAN FOR THE EXHIBITION IN FLORENCE IN OCTOBER 2021.?
My program for October 2021 is to personally participate in the Biennale of Contemporary Art in Florence. I will be present with one of my works, but it would be nice to be there in person for this extraordinary event.
MOBILEART IS A NEW FORM OF CONTEMPORARY ART. HOW DO YOU SEE THIS?
I think that Mobile Art is an art form that will have great success in the future. We all have a phone in our pocket, but few of us know that you can make art with a phone. You need a polite eye, you need culture, but you don't need other material, you don't need a studio to work and the gallery can be virtual. A perfect system right now.
THE MAIN TOPIC OF THE APRIL ISSUE OF THE RYL E-MAGAZINE IS "THE ALCHEMY OF LIFE". WHAT IS YOUR ALCHEMY AND HOW DO YOU CREATE YOUR ARTISTIC LIFE?
The Alchemy of my life is my family, my dog. Then I try to dedicate space to myself even if I have a lot to do. When I have relaxed, I can enjoy nature, beauty, love. At that moment I can make art. Because I dig inside myself and bring my inner world to light. At that moment I feel happy.
My artistic life is made up of moments in which I make my images (usually at night), sharing on social media, printing, and exhibiting at exhibitions. I feel like a very lucky person.