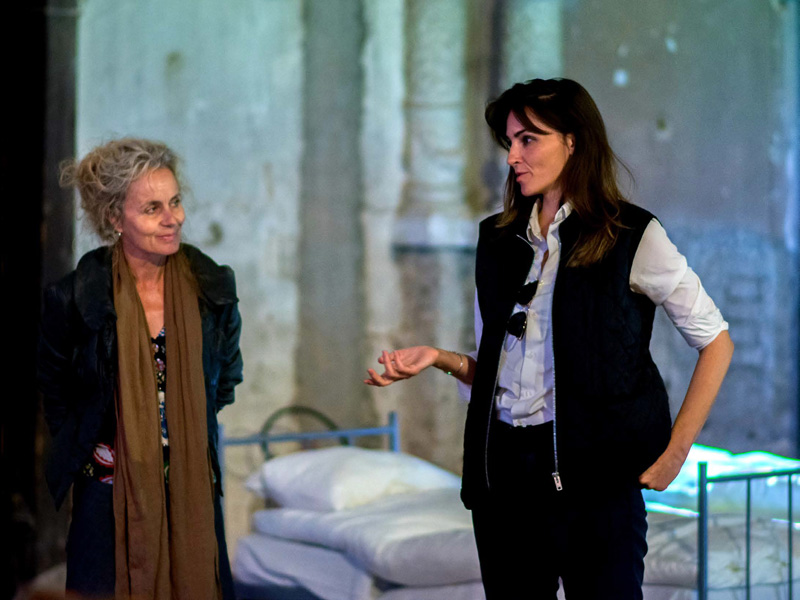 27 dec 2019

STAYING HERE WITH YOU – MOVING

PIŠE: MIA MEDAKOVIĆ-TOPALOVIĆ
INTERVJU: ESTHER MARIA JUNGO & KSENIJA SAMARDŽIJA
FOTOGRAFIJE: FONDACIJA SAŠA MARČETA

DVE SJAJNE ISTORIČARKE UMETNOSTI JEDNA IZ SRBIJE DRUGA IZ ŠVAJCARSKE: KSENIJA SAMARDŽIJA I ESTHER MARIA JUNGO SA ŠVAJCARSKO – SRPSKIM UMETNICIMA POSTAVILI SU IZLOŽBU STAYING HERE WITH YOU – MOVING U BIOSKOPU BALKAN U BEOGRADU POD POKROVITELJSTVOM FONDACIJE SAŠA MARČETA. IZLOŽBA JE IZAZVALA VELIKU PAŽNJU LJUBITELJA UMETNOSTI. "TOKOM JESENI, MI – SRBI, ŠVAJCARCI, EVROPLJANI, LJUDSKA BIĆA – ŽELIMO DA PREDSTAVIMO U OVOM DIVNOM ISTORIJSKOM ZDANJU, NE SAMO NAŠ RAD – FOTOGRAFIJE, VIDEO, FILM, CRTEŽE, INSTALACIJE, ZVUK, MUZIKU, SVETLO, SKULPTURE ILI PREDMETE, VEĆ I DA ZAJEDNO BORAVIMO U ISTOM PROSTORU, DA ISPUNIMO ZGRADU PERFORMATIVNIM ŽIVOTOM U ZAJEDNICI. ŽIVOT I UMETNOST OVDE SU SHVAĆENI KAO OTVORENO IGRALIŠTE, GDE SE UVEK OTKRIVA, ISTRAŽUJE, EKSPERIMENTIŠE, GDE SU INTERAKCIJE I REFLEKSIJE MOGUĆE."

HOW LONG HAVE YOU BEEN PLANNING TO HAVE THE EXHIBITION? AND WHAT WAS THE INSPIRATION FOR YOUR EXHIBITION, AND TO HAVE IT IN BELGRADE?

ESTHER: In fact we began to discuss about the questioning of a site and a cultural space but also an exchange between cultures since Springtime 2017 for a first step – a kind of Overture in the Residency of the Swiss Embassy December 2017 with Katja Schenker & Ivan Grubanov.: STAYING HERE WITH YOU. We knew that we were not thinking of the autonomous artwork in itself that we would be focusing on as the center of our discussion and reflection, but the question ''what does it mean when someone would like to stay'' in your house or in your country, for one night, one week or a whole life. In this case the performance has to be the medium that's in the center of our reflection. Our reference was a song from Bob Dylan from 1969: TONIGHT I'LL STAYING HERE WITH YOU

KSENIJA: Izložba se planirala dugo, pod različitim okolnostima i uslovima – sa idejom da se približe različiti autori i da se predstavi savremena produkcija sa radovima koji pripadaju istoriji umetnosti (Dieter Meier, Mladen Stilinović…). Trebalo je graditi postavku kroz više nivoa i kroz različita sagledavanja. Ideja ostanja je zapravo osetljivo polazište kretanja, izmeštanja i preispituje voljnu radnju. Predviđa teme migracija, izbeglica čak i virtuelnog izmeštanja kao u slučaju sa radom Dragana Zdravkovića u kome je polazište za VR slika Salon izlagana na Venecijanskom bijenalu (2017) i koja pripada prepoznatljivom ciklusu Hibernacija. Stanje mirovanja ili umrtvljenosti, predstavlja sofisticirano izmeštanje za sve one koji se nisu snašli ili se ne snalaze u ovakvim vremenima. Svi oni koji su se povukli, koji ne postoje i koji su na određeni način stvaraju nevidljivu, unutrašnju migraciju..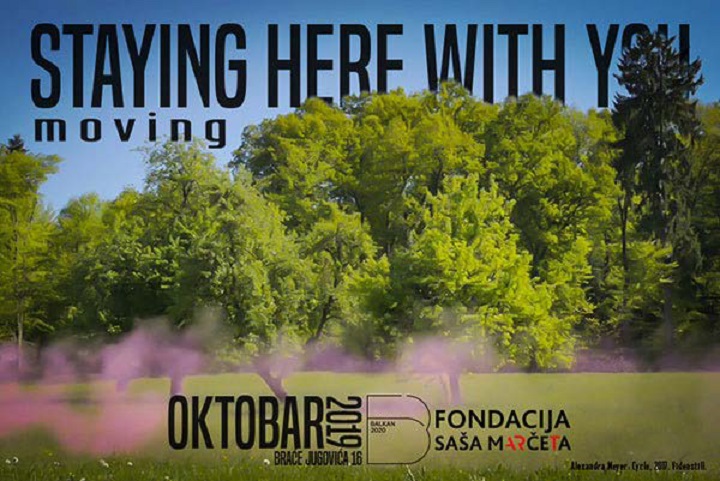 HOW DID YOU CHOOSE THE ARTISTS FOR YOUR EXHIBITION? WHAT WAS YOUR GUIDELINE?
ESTHER: For me as a Swiss curator it was clear that we have, as you in former Yugoslavia, a very important performance art scene since the end of the 1960ies. So I choose from each generation, born between 1945 and 1984 (from Meier to Meyer) an artist that takes an exceptional position in a most diverse manner.
KSENIJA: Izbor se činio logičan od samog početka – umetnička imena koja su granična, autentična, posvećena. Autori koji istrajavaju u sopstvenim uverenjima. Dejan Klincov, na primer, prethodno nije izlagao godinama ali je kontinuirano dosledan i čini mi se kao uvek aktuelan.
WHAT DO YOU THINK OF THE EXHIBITION AND HOW DID THE AUDIENCE RECEIVE IT?
ESTHER: The exhibition was an invitation to STAY and to ask what it means when we decide to stay in a (foreign) place, to pass time together and to question our existence. It also included the necessitiy to move – which can be done in a performative surrounding and which we need for a constructive co-existence. We were looking for a special, also anarchistic atmosphere that should be peaceful and open minded. In this manner we had several positions that questioned the importance of sleep (rest) or of doing nothing (leisure) in a society that permanentaly asks from us hyperactivity. We also wanted to celebrate absurdity linked with poetry: The Future Queens, Mladen Stilinovic, Dejan Klinkov, Andrea Staka, Christoph Rütimann, Katja Schenker, Samuel Herzog, Ana Adamović. Dieter Meier or Alexandra Meyer for example. Music had a great importance in the different spaces – music which has the power to enter directly in the soul of a being, to calm, to reconcile and to become a leitmotiv for dealing with our daily necessities. The people who came, passed quite a long time in the different spaces, firstly because the spaces have great quality, but also because video takes time and we showed quite a lot of video, and then again because each position had to tell and transmit a philosophy, a manner of living. There was also the possibility to interact with performers in the space. You could order a visa for the invented island of Lemusa from Samuel Herzog and put it in your passport (a visa only for entering but no exit visa). You could go sleeping in a bed beside Dejan Klinkov, having a chat with him or just looking for your own siesta.
KSENIJA: Mogu samo da primetim da izložba nikoga nije ostavila ravnodušnim. Meni su značajne reakcije mladih posetilaca, studenata akademije koji su ostavljali divne komentare. Prostor Bioskopa Balkan prvi put se koristio kroz sve nivoe i otkrivali smo mogućnosti ovog velelepnog zdanja iz druge polovine 19.veka koje obuhvata 1600 kvadratnih metara.
AFTER BELGRADE ARE YOU PLANNING TO MOVE THE EXHIBITION TO ANOTHER GALLERY?
ESTHER: Galleries have in general not enough money (and interest) for such a huge exhibition, it should rather be a center of contemporary art. At the moment we are in discussion while Belgrade is also showing the great Retrospective from Marina Abramović at the moment. She is present in several important collections in Switzerland, so it would make sense that we integrate some works of her in a future presentation.
KSENIJA: Izložba je kompleksna i finasijski dosta zahtevna, imali smo značajne podrške, pre svega moram da pomenem da je produkciju i realizaciju velikim delom finansirala Fondacija Saša Marčeta, bez koje ovakav poduhvat ne bi bio moguć. Za sada imamo različite zahteve za pojedinačne radove koje smo producirali. Npr da se maketa / 3D model od belog stirodura u dužini od 10m, koji je nastajao u saradnji sa studiom DOMAIN iz Njujorka izlaže u Crnoj Gori iduće godine. Taj rad je značajan prema mogućnostima da se takav zahtev ostvari u lokalnim uslovima (sama izrada trajala je mesec dana). Velika, bela maketa koja preuzima, absorbuje značenja – mape ne predstavljaju stvarnost, one je stvaraju. Definisanje teritorije između Srbije i Švajcarske može se posmatrati kroz Uelbekovu definiciju da je karta zanimljivija od teritorije: "Karta je bila prelepa..nikada do tada nije video tako božanstven predmet, prepun emocija i smisla, kao što je to bila Mišlenova karta…Suština modernosti, naučne i tehničke predstave sveta, preplitala se tu sa suštinom životinjskog sveta…"
WITH THIS EXHIBITION YOU WANTED TO CONNECT THE BALKAN REGION – SERBIA WITH SWITZERLAND. WHAT DO THEY HAVE IN COMMON? WHAT ARE SOME INSURMOUNTABLE DIFFERENCES?
ESTHER: In Switzerland 40% of the population has a migration background and in no other country you have proportionally so many Jugoslavian and Post-Jugoslavian people who are living with us since the 1950s. They form part of our culture, our intellectuals, our working people, our sportsman and sportswomen… .
Common: we are curious human beings
Differences: Switzerland is a country with a long period of peace. We don't like centralism, our government is always finding compromises as a solution. We like to be well organised – on a small as well as on a large scale.
KSENIJA: Mi smo poput oaze haosa i improvizacije, koja može da bude naporna ali isto toliko i spontana u rešenjima i ležernija u napetijim situacijama. Saradnja sa Esther, ako odgovor spustimo na lični nivo, bila je divno, iskreno iskustvo zbog njene beskrajne radoznalosti i otvorenosti.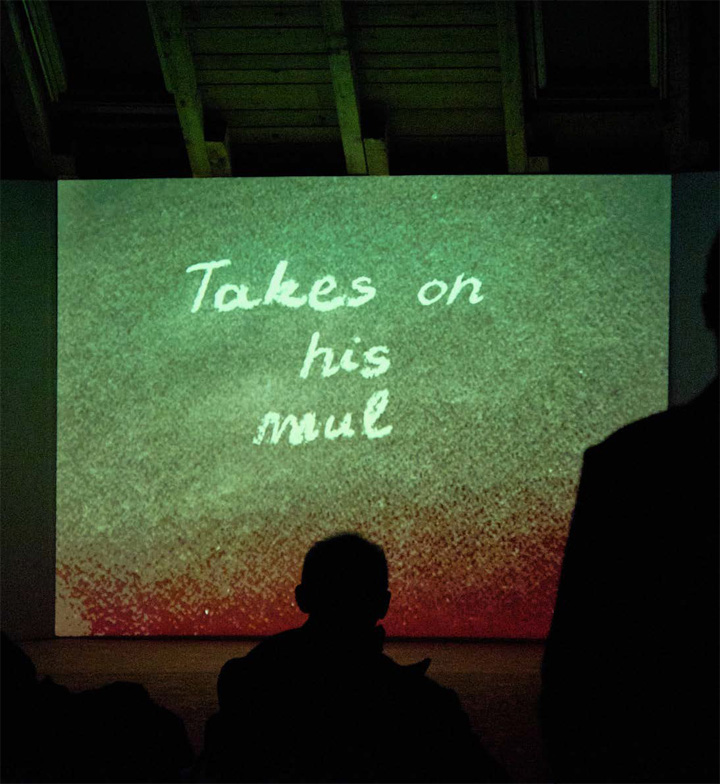 WHAT KIND OF GALLERIES DO YOU PICK OUT AND LIKE FOR YOUR ARTISTS?
ESTHER: The best ones! Christoph Rütimann is on Gallery Mai 36 in Zurich, Katja Schenker on Galerie Mitterand in Paris and I hope she will find a great gallery in Switzerland, why not Skopia in Geneva. The Future Queens are in the Gallery Nicolas Krupp in Basle and Dieter Meier in the Gallery Zander in Cologne. All artists have their works in important private and public collections in Switzerland and abroad. In fact the most important global player is the great Swiss Gallery Hauser & Wirth.
KSENIJA: Beogradske galerije su u povoju i tu se dešavaju vidljive promene. Umetnici koje smo izlagali ili su već vidljivi na međunarodnoj sceni ili su lokalno afirmisani, ali se radujem i verujem da će međunarodna komunikacija i afirmacija biti intenzivnija. Radenko Milak trenutno samostalno izlaže u Majamiju u okviru Untitled art fair, Zdravković je u Christen Sveaas Art Collection, Grubanov je godinama prisutan na međunarodnoj sceni, nedavno je izlagao u Loock galerie u Berlinu…
DO YOU HAVE INTENTIONS TO WORK TOGETHER IN THE FUTURE?
ESTHER: To continue to question our reflections because it makes more than sense: it is urgent and necessary in our times!
KSENIJA: Sigurna sam da ćemo nastaviti saradnju, videćemo u kom obliku i formatu.
WHEN WE APPRECIATE MODERN ART AND EXHIBITIONS, WHAT MAKES YOU EXCITED AS A CURATOR?
ESTHER: That people react on our intentions and reflections, that they will have the opportunity to question and to change something in their behavior and that we can open somehow a range of new perspectives: LIVE IN THE HEAD FOR A BETTER LIFE….
KSENIJA: Trenutna mogućnost da stvaramo uslove za izlaganje, produkciju i organizaciju u Bioskopu Balkan, kroz rad Fondacije Saša Marčeta.
HOW WOULD YOU INSPIRE THE READERS OF RYL MAGAZINE?
ESTHER: With some texts from the Little Songbook from the Future Queens for example: SLEEPING IS INDIVIDUAL ANARCHY
Sleep comes from "slap" and is related to the word "slack" Sleep means not being productive in the material sense
Hit the sack also means going to "sleep". Sleep is like sheep, sleep is like sheep.
Sleep is individual anarchy
There is something strange about the calm of sleepers. In sleep, we are vulnerable and alone, finally alone. Sleep is a mysterious state, Sleep smells of the body, of base human needs,
it's so un-modern, unreasonable, out of control.
Sleep is individual anarchy
Sleep is more than a break and rest for the brain. Sleep is more than shifting from short-term to long- term memory.
Sleep is the condition for waking up. And what does the body know that the mind doesn't?
We sleep, we sleep for a better world
I mean sleep as a revolutionary practice And I say, yes: money should sleep. I say, yes, control should sleep. I say, yes, fear and timidity and hiccups should sleep, and I say, yes, habits should sleep.
…or with an invitation to listen the music of Elena Duni or Mario Batkovic… . Elina Duni and Mario Batkovic left the Balkan when they were kids. Today as great musicians they are building bridges between Balkan traditions and contemporary Music.
https://fondacijasasamarceta.org/en/artist/elena-duni/
https://fondacijasasamarceta.org/en/artist/mario-batkovic/
Elina Duni even sings in Serbia in December 14 at the Estam World Festival – Kragujevac
KSENIJA: Neonski ispis Milice Rakić na fasadi Bioskopa Balkan, Vazduh miriše na ludilo, inspiriše..