WORDS/PHOTOS: MIA MEDAKOVIC
INTERVIEW: LEYDE E. RODRIGUEZ HERNANDEZ

H.E. DR. LEYDE E. RODRIGUEZ HERNANDEZ IS THE AMBASSADOR OF THE REPUBLIC OF CUBA TO SERBIA
HE GRADUATED IN INTERNATIONAL POLITICAL RELATIONS AT THE HIGHER INSTITUTE OF INTERNATIONAL RELATIONS "RAÚL ROA GARCÍA" IN HAVANA, MOREOVER, HE ATTAINED A DOCTORATE IN HISTORICAL SCIENCES, AND A MASTER'S DEGREE IN HISTORY AND INTERNATIONAL RELATIONS, ALL AT THE UNIVERSITY OF HAVANA.
HIS EXCELLENCY IS THE AUTHOR OF SEVERAL BOOKS ON THE TOPICS OF THEORY AND HISTORY OF INTERNATIONAL RELATIONS, INTERNATIONAL SECURITY AND FOREIGN POLICY OF THE UNITED STATES. BY VISITING VARIOUS COUNTRIES, HE HAS INTEGRATED OFFICIAL CUBAN DELEGATIONS. FURTHERMORE, HE HAS RECEIVED DIFFERENT DECORATIONS: DISTINCTION FOR CUBAN EDUCATION, COMBATANT MEDAL FOR PRODUCTION AND DEFENSE, AND VANGUARD OF THE REVOLUTIONARY ARMED FORCES.
PROUD FATHER OF THREE CHILDREN.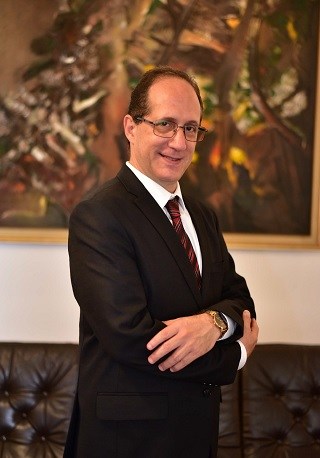 YOU HAVEN'T BEEN AN AMBASSADOR TO SERBIA FOR A LONG TIME, WHAT DO YOU THINK ABOUT SERBIA?
I have only been in Serbia for two months and 20 days. For me it is a beautiful country for its physical nature, for its spiritu­al and material culture, I greatly admire the perfection of many of its monuments and artistic works, but also for its people, with an open, fraternal, supportive character, of great sympathy and empathy for those who come from other places, including Cubans. It is a country that has always occupied, over time, an important, prominent place in terms of defending its identity, its culture, religion, its independence, sovereignty and territorial integrity against different regional and global empires. When I was appointed Ambassador to Serbia, I felt happy, even though I don't know the Serbian language, because I would be coming to a friendly country, with which Cuba has developed very important ties for more than a centu­ry and, especially, in the second half of the 20th century, after the triumph of the Cuban Revolution in which very popular leaders such as Ernesto Che Guevara and Fidel Castro Ruz visited Belgrade. In my opinion, Serbia is a country of significance for histo­ry and contemporary international politics.
WHAT KIND OF DIPLOMATIC RELATIONS HAVE BEEN BUILT BETWEEN CUBA AND SER­BIA AND IN WHAT DIRECTION ARE THEY HEAD­ING?
Cuba and Serbia have developed little more than 120 years of political and diplomatic relations. At the time of the Fed­eral Republic of Yugoslavia, political and diplomatic relations reached a high level and a close relationship between the lead­ers Josip Broz Tito and Fidel Castro Ruz, in the bilateral sphere, international orga­nizations and the Non-Aligned Movement ( NAM) founded in Belgrade in 1961, in which Cuba participated represented by the Cuban president of that time, Osval­do Dorticós Torrado, later with Fidel Cas­tro, Cuba hosted two Summits of Heads of State and Government of said Movement. During that time the economic, commer­cial and financial relations occupied an im­portant place in the conditions of socialist countries. At this time in 2023, the political and diplomatic relations between Cuba and Serbia are excellent between two countries that cooperate in international politics to make their national interests prevail: inde­pendence, sovereignty and territorial in­tegrity. For Serbia, Cuba is a country that fights for peace and multilateralism, for life, respect for international law. Now the rela­tions between Serbia and Cuba must take a more practical and concrete direction in the development of economic, commercial, investment, medical, cultural, agricultural, and tourism cooperation, among other sec­tors.
SINCE ESTABLISHING DIPLOMATIC RE­LATIONS BACK IN 1902 THE FRIENDSHIP BE­TWEEN THE TWO COUNTRIES HAS NEVER BEEN SHAKEN, EVEN DURING TURBULENT HISTORICAL EVENTS.
Yes, indeed. Communication and po­litical dialogue and understanding have al­ways prevailed, despite the turbulence of different geopolitical moments in the era of the "cold war", the wars of national libera­tion or the contradictions between the so­cialist countries allied with the Soviet Union or not in different periods of inflection in the evolution of political ties between the for­mer socialist countries. Friendship, respect and mutual consideration between both countries have always prevailed. We have similarities between traditions and history and we are proud of our independence and the legacy of our leaders. This helps a lot to face and overcome the historical and con­junctural turbulence.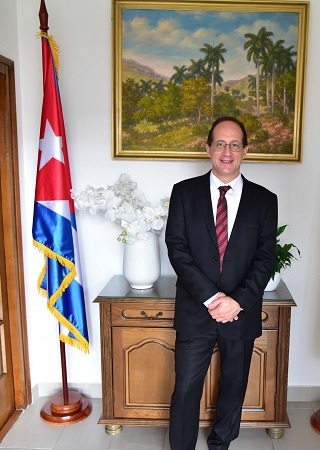 IS THERE AN INTENTION TO BRING CUBA AND SERBIA CLOSER TOGETHER VIA CULTURAL EVENTS?
There are intentions and practical, concrete actions. The Prime Minister of Cuba, Mr. Manuel Marrero, received in Ha­vana, in February of this year, Mrs. Maja Gojkovic, Deputy Prime Minister and Head of Culture of Serbia, who made a working visit to my country.
During that visit, the Ministers of Cul­ture of both countries signed a coopera­tion agreement on cinema that establishes guidelines to develop and disseminate the cinematographic productions of the two na­tions and strengthen cooperation between the institutions that intervene in this area. Ms. Minister Maja Gojkovic also participat­ed in the activities of the XXXI Internation­al Book Fair of Havana and the Minister of Culture of Cuba, Alpidio Alonso is invited by Minister Maja Gojkovic to visit Serbia this year. I think that new artistic events and presentations of Cuban culture will take place in Belgrade and other Serbian cit­ies, through cinema, popular dance music, jazz, poetry and visual arts, among others.
WHAT DO YOU MISS FROM CUBA THAT YOU CANNOT FIND IN SERBIA?
My parents and my two sons who are in Cuba. I miss them very much and cannot wait to see them.
HOW DO YOU FEEL ABOUT CUBA OF TO­DAY?
Among my concerns about my coun­try are the difficulties that the Cuban people are going through due to the blockade. Un­blocked love would be better.
WHAT DO YOU LIKE MOST ABOUT BEL­GRADE?
The nature of its people, their good feelings, their culture.
WHAT IS YOUR FORMULA FOR DIPLOMATIC SUCCESS?
Empathy, communication, developing potential not previously taken into account and getting rid of comfort zones, feeling Cuban at all times, learning from others, giving myself with love and dedication to the assigned task.
THE TOPIC FOR THE RYL MAGAZINE JUNE ISSUE IS "GIVE ME BACK MY PIEC­ES…" VASKO POPA – SERBIAN POET. WHAT DO YOU THINK ABOUT LOVE?
Love is the force that moves the Earth. The Cuban poet José Martí said that: «For love you can see. With love you see. Love is who sees. Spirit without love, cannot see».