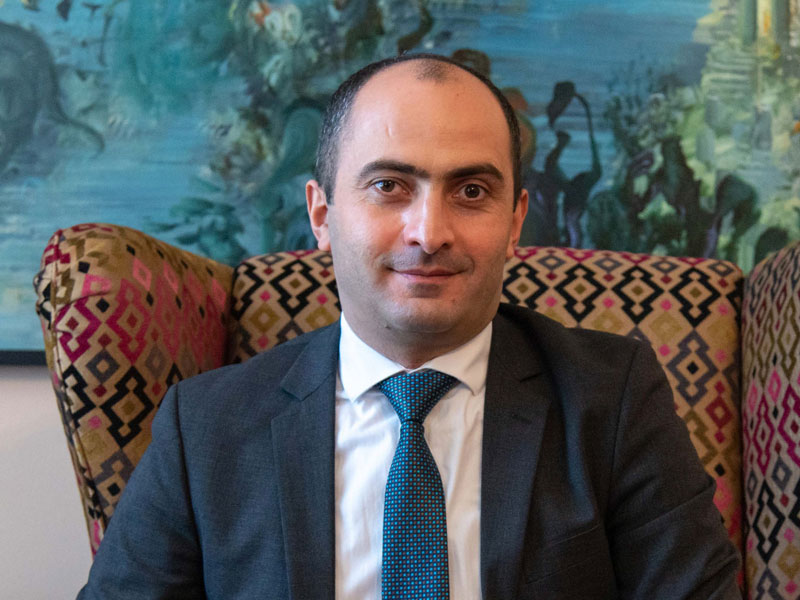 15 jan 2021

FIRST GEORGIAN DIPLOMAT IN SERBIA

TEXT/PHOTOS: MIA MEDAKOVIĆ-TOPALOVIĆ
INTERVIEW: ILIA KOBERDZE

ILIA KOBERIDZE, GRADUATED FROM TBILISI STATE UNIVERSITY INTERNATIONAL LAW AND INTERNATIONAL RELATIONS DEPARTMENT. HE IS A BACHELOR OF AND MASTER IN INTERNATIONAL RELATIONS. HE ATTENDED MILITARY ENGLISH LANGUAGE COURSE AT YORK ST. JOHN UNIVERSITY, UNITED KINGDOM, AND NATO HIGHER COMMAND STUDIES COURSE, IN BALTIC DEFENCE COLLEGE, TARTU, ESTONIA.

HE WAS AN INTERN OF THE FOREIGN AFFAIRS COMMITTEE OF THE PARLIAMENT OF GEORGIA, SENIOR SPECIALIST OF THE INFORMATION-ANALYTICAL DEPARTMENT OF THE MINISTRY OF DEFENCE OF GEORGIA, INFORMATION ANALYSIS OFFICER OF THE MILITARY COMMAND CENTER OF THE JOINT STAFF OF GEORGIAN ARMED FORCES, AND HEAD OF DATA PROCESSING SECTION OF THE ANALYTICAL DEPARTMENT OF THE MINISTRY OF DEFENCE OF GEORGIA. BEFORE JOINING THE DIPLOMATIC SERVICE, HE WAS SENIOR ADVISER OF THE DEFENCE ISSUES DEPARTMENT OF THE STATE SECURITY AND CRISIS MANAGEMENT COUNCIL OF GEORGIA.

AFTER SERVING FOR 3 YEARS AS A POLITICAL DIRECTOR OF THE MINISTRY OF FOREIGN AFFAIRS OF GEORGIA, HE WAS APPOINTED AS THE HEAD OF THE BELGRADE OFFICE OF THE EMBASSY OF GEORGIA IN APRIL 2019.

WHAT MADE YOU CHOOSE TO BECOME THE HEAD OF THE EMBASSY OFFICE OF GEORGIA IN BELGRADE?

Perhaps it was a gift of destiny for me and my family and not only because my first and only son was born in Belgrade.

I visited your beautiful country for the first time in 2018 as a member of the official delegation of the Minister of Foreign Affairs of Georgia. My contribution to the planning of the visit was quite large as I considered that the further deepening of bilateral relations with the Repub­lic of Serbia was extremely important. I saw the need to do this as the Political Director of the Ministry of Foreign Affairs, as I had to deal with many important issues regarding the Republic of Serbia and the Western Balkans region as a whole.

The visit was quite successful. In addition to enjoying the famous hospitality of our Serbi­an hosts, concrete important results for the citizens of Georgia and the Republic of Serbia have been achieved. Two Ministers signed an agreement to abolish visas for the citizens of our countries and agreed to assign one diplo­mat each to work on advancing bilateral rela­tions, as Georgia and the Republic of Serbia did not have diplomatic offices in each other's countries.

In March 2019, when Georgia opened a diplo­matic office in Belgrade, it was decided that I would be the head of this office. It was a great honor and privilege for me, as I had to repre­sent my country in the wonderful and friendly Serbia at very exciting times. Apart from that, I became the first diplomat sent by the Ministry of Foreign Affairs of Georgia to the Republic of Serbia and the Western Balkans as a whole.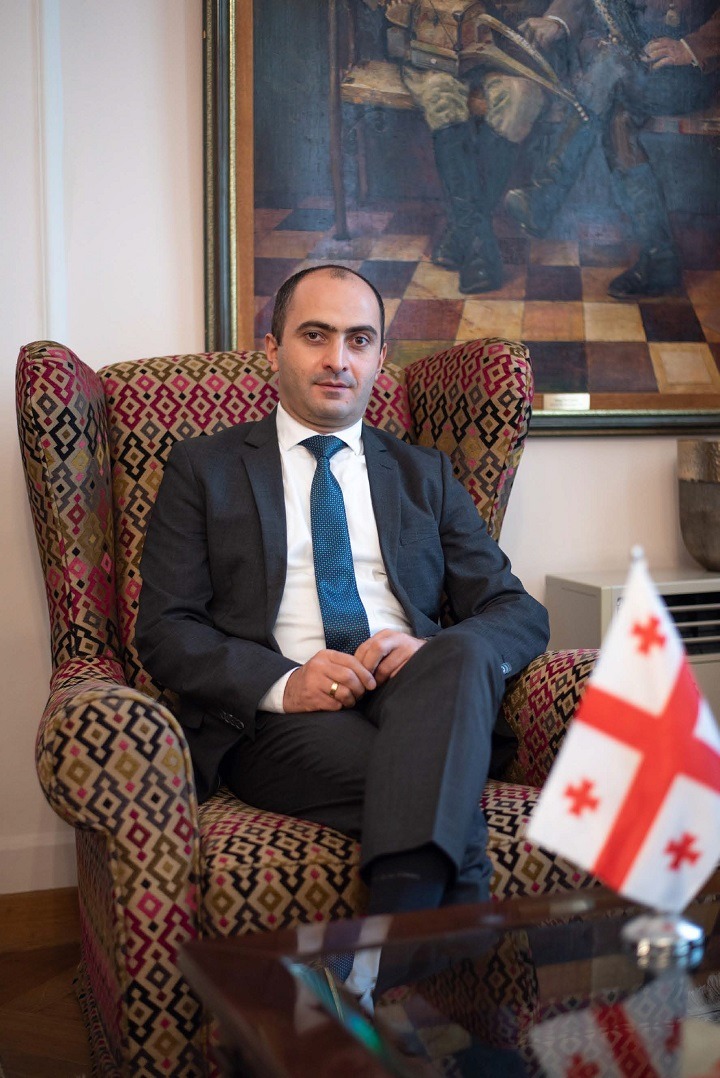 HOW DO YOU FEEL ABOUT THE RELATION­SHIP BETWEEN GEORGIA AND SERBIA? DO YOU THINK IT HAS IMPROVED SINCE THE EMBASSY OFFICE WAS ESTABLISHED IN 2019?
Relations between Georgia and the Republic of Serbia have traditionally been good and friend­ly and our objective is to further strengthen these bilateral ties. The opening of the Geor­gian Embassy Office in Belgrade allows us to have constant communication in order to mu­tually share our experience in the process of EU integration and membership, as well as to help each other in the implementation of im­portant reforms through our own successful examples.
It is extremely important to deepen economic ties between our countries, for which we need to increase the awareness of Georgia in the Republic of Serbia and, conversely, to provide more information about Serbia to the citizens of Georgia.
Our office is primarily engaged in introducing Georgia to the citizens of Serbia, its economic and business environment, its attractive tour­ist opportunities, culture, traditions, wine, cui­sine, and famous Georgian hospitality. I think that thanks to our activities, more and more Serbian citizens are interested in Georgia and want to travel there to establish business and personal contacts or just to enjoy the beauties of my country.
WHAT IS THE MAIN MISSION AND OBJECTIVE OF A GEORGIAN DIPLOMAT?
The number first foreign policy priority of Geor­gia is strengthening the country's sovereignty and the restoration of its territorial integrity within its internationally recognized borders through exclusively peaceful means. I would like to use this opportunity and once again thank the Republic of Serbia, for supporting the sovereignty and territorial integrity of Geor­gia and reiterate Georgia's position of support­ing the sovereignty and territorial integrity of the Republic of Serbia.
Subsequently the main mission and objective of a Georgian diplomat is to contribute to the achievement of the goal of peaceful settle­ment of the Russian-Georgian conflict, de-oc­cupation of the occupied territories of Georgia, and safe and dignified return of refugees and displaced persons to their own homes.
At the same time, Georgia's foreign policy goal is to join the European Union and NATO. Georgian diplomats, the government of Geor­gia, and every single civil servant do their best to carry the necessary reforms and bring the country closer to the standards of NATO and the European Union, as membership in these organizations is the desire of the majority of Georgian citizens.
Of course, the task of every diplomat is to pro­mote the deepening of relations with the coun­try in which he/she is accredited and I am glad that I have the privilege to do this in the friendly country Serbia.
WHAT WOULD YOU SAY IS GEORGIA'S BIGGEST NATIONAL HERITAGE?
Prominent Georgian writer and public figure, Ilia Chavchavadze once said: "We have three divine treasures from our ancestors: home­land, language, and faith". Every Georgian is really proud to have a beautiful homeland with extraordinary nature, sea, mountains, rivers, centuries-old history, and rich culture. We are proud of the Georgian alphabet which is one of the oldest in the world and it is among the world's 14 unique scripts. And of course, our faith and orthodox Christianity was historical­ly the unifier and strengthener of the Georgian state and our people.
HOW WOULD YOU DESCRIBE GEORGIA TO A CURIOUS SERBIAN? WHAT WOULD YOU SAY ARE GEORGIA'S FORTES?
The Republic of Serbia has a lot in common with Georgia and it is not just an Orthodox faith. Georgia and the Republic of Serbia are small countries located in very important and turbulent regions – South Caucasus and West­ern Balkans and have a common religion, cul­ture, lifestyle and most importantly the foreign policy goal of becoming full members of the European family – European Union.
The geopolitical location between Europe and Asia gives Georgia a unique opportunity to promote economic, trade, transport, and en­ergy links, which increases the attractiveness and importance of the country. At the same time, it is a challenge for a small country, but the Georgian people, who must be considered the main strength of the country, has histori­cally overcome all obstacles with their brave, unbreakable, hospitable, and tolerant qualities.
WHAT ARE THE INTANGIBLE CULTURAL HERITAGES OF GEORGIA IN YOUR OPINION?
Georgia is an integral part of the European cul­tural space, which respects Western values and principles and participates in their pro­motion and protection, but it is natural that a country with centuries-old history has a rich and unique culture.
From a rather extensive list of Georgia's intan­gible cultural heritage, I would select Georgian cuisine, which is special because every region of the country has its own dishes and all of them are delicious. The traditional wine-mak­ing method in "kvevri" (large earthenware egg-shaped vessels used for the fermentation, storage, and aging of wine) is another intan­gible cultural heritage of Georgia inscribed on UNESCO's Representative List of the Intangi­ble Cultural Heritage of Humanity. Georgian cuisine and wine are unimaginable without polyphonic singing and dances, which express the beauty of Georgian nature, national tem­perament, everyday life, and traditional values.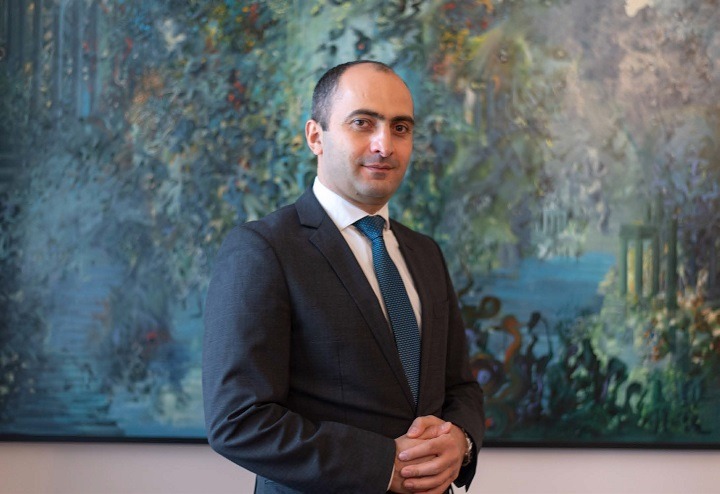 YOUR SON WAS BORN IN BELGRADE, SERBIA. HOW DO YOU FEEL ABOUT BELGRADE AND WHAT DOES BELGRADE MEAN TO YOU?
The birth of a child is a special event for any person, especially when he or she is born in another country, far away from home. In our case, this was compounded by the constraints caused by the global pandemic that prevented me from being with my spouse and our rela­tives being with us on this special day. There­fore, Belgrade and its every citizen, medical staff, and ordinary people, who were with us in those days, are extremely dear to me and will be remembered for the rest of my life.
At the same time, Belgrade is a city that has received me and my family extremely warm­ly. We have not felt for a moment that we had moved to another country. This was probably due to the closeness between the Georgian and Serbian peoples and also a merit of the hospitality and tolerance that characterizes Belgrade and its inhabitants.
WHAT IS YOUR RECIPE TO BE SUCCESSFUL IN YOUR BUSINESS AND PRIVATE LIFE?
Many people think that it is not necessary to have harmony in your private life in order to be successful in your business, but I think that you will never be successful in your business unless you have a strong family behind you.
Everything I have achieved in life comes from my family. With the help of my family, I got an education and acquired the skills necessary to be successful, including hardworking, critical thinking, and result orientation. I try to contin­ue this tradition in my little family, which is the main foundation of my success today.
Another reason why it is so easy and comfort­able for me to live in Serbia is that family tra­ditions are extremely important for Serbs just like Georgians.
HOW DO YOU CELEBRATE NEW YEAR'S IN GEORGIA?
Every region of Georgia celebrates New Year's in their traditional way. Most people prefer to stay at home with their family members. The essential elements for the New Year's feast are foods and sweets such as Satsivi, Khacha­puri, Churchkhela, and Gozinaki.
It is very important who will be the first guest of the day. It is believed that the upcoming year will be similar to the fortune, joy, and luck that this person brings. The second of January is the day for "D". Georgians try to be happy and positive on this day. According to this super­stition, how this day passes for a person will reflect on what the next year will bring for that person. For example, if today is positive, next year will also be positive. Like Serbs, Geor­gians celebrate Orthodox New Year or Serbian New year on January 14th, but the name is Old New Year. This tradition is mainly preserved in the regions of Georgia.
THE TOPIC OF THE JANUARY ISSUE OF THE RYL MAGAZINE IS 'IT IS IMPORTANT TO BE BRAVE'?
Fear is one of the most difficult feelings to overcome. Fear can completely destroy a per­son or make him stronger. So fear is a neces­sary thing that helps you to overcome obsta­cles and achieve success. Only a brave person can defeat fear. In order to be successful in life, it is important to be brave.