WORDS: MIA MEDAKOVIC
INTERVIEW: DANIELA VIVACQUA
PHOTOS: FROM THE PRIVATE ARCHIVE
DANIELA VIVACQUA, SPOUSE OF THE BRAZILIAN AMBASSADOR TO SERBIA AND MONTENEGRO. SHE GRADUATED IN VETERINARIAN MEDICINE WITH MSC IN HORSE NUTRITION; HAS ALSO MBA IN MARKETING. SHE IS RYT 500 CERTIFIED YOGA TEACHER AND CERTIFIED YOGA NIDRA TEACHER.
WHEN I ASKED HER 'WHO ARE YOU?', SHE RESPONDED AS AN IDEALIST MOVED BY LOVE AND FAITH. SHE BELIEVES LIFE IS A PRECIOUS GIFT AND SHE SHOULD NOT WASTE ANY SINGLE DAY. SHE IS HERE TO LEARN TO BECOME A BETTER HUMAN BEING AND SHE WILL LEARN UNTIL THE DAY SHE DIED.
YOU HAVE LIVED ALL AROUND THE WORLD. WHAT WOULD YOU SAY, WHICH COUNTRY DO YOU LIKE THE MOST? WHERE DO YOU RECOGNIZE YOURSELF?
For me moving around the world allows me to widen my references of what Humanity is.
There is so much to learn about different cultures on this big planet Earth. These differences make me realize how ignorant and judgmental I can be.
Sudan had and will always have a special place in my heart, but in the beginning, it was hard to adjust.
I would say Serbia is the first country I felt at "home" right after I arrived. The way people are and interact with each other makes me feel very comfortable.
IN THE LAST ONE AND A HALF YEARS, YOU HAVE LIVED IN BELGRADE. WHAT COULD YOU TELL US ABOUT THE SIMILARITIES AND DIFFERENCES BETWEEN BRAZIL AND SERBIA?
I arrived in April 2022 and did not have the opportunity to travel around Serbia, so I still have much to see and learn, but the first thing I noticed is that we have similar ways to establish relationships – Brazilians and Serbians are warm-hearted, informal people.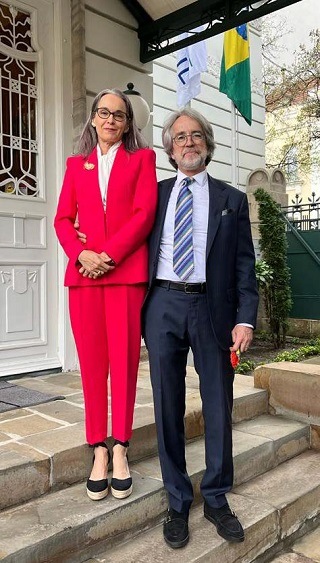 YOU ARE A YOGA TRAUMA THERAPIST. COULD YOU EXPAND MORE ABOUT WHAT IT IS AND WHAT YOU DO?
I cannot say I am a therapist, because this is a certification I still don't have. I did some training and workshops, and also had some students who had gone through serious traumatic events, who gave me the opportunity to put knowledge into practice. Life itself is a "traumatic" event as somehow, we experience pain in many forms and intensities. From gestation to birth, childhood, etc, we are challenged by painful experiences and these leave "scars", not just mental impressions, but memories in the physical body.
You may do therapy and talk about these events, and process them rationally, but it will not "clean" the body's memory. There is a great book written by the pioneer in this area Dr. Bessel Van Der Kolk, named "The body keeps the score". In many cases the body reacts with a "shut down" and body therapies will help the person to feel good in her/his own skin.
Yoga is a scientific system composed of many practical tools to integrate body and mind. Depending on the personal situation I design a practice which may combine asanas (postures), pranayama (respiratory techniques), dharana (concentration), and dhyana (meditation).
It is possible to stimulate the nervous system or calm it down, so you can work with depression or obsession, for example. It is somehow a very simple practice: moving the body with specific postures, adding a specific breathing technique and stimulating deep relaxation.
IN YOUR EXPERIENCE WHAT ARE THE BEST WAYS TO DEAL WITH AND RESOLVE TRAUMAS?
I am not a psychologist nor a therapist, so I can just answer how I deal with and resolved my own traumas: I did not procrastinate to face them when I found there was a shadow somewhere deep inside and dived without being afraid of what might come out of that "black box". This is how I still deal with my resistances. It is not helpful to blame other people or the universe for your difficulties. I believe I am responsible for everything in my life – my mental state attracts things and people.
I always combined resources: modern psychotherapy with holistic practices like Body Talk, Yoga, and Osteopathy.
I can affirm from my experience as a Yoga practitioner and teacher that Yoga is a very powerful helpful tool to deal with all levels of traumas.
IN YOUR LIFE, YOU HAVE TAKEN ON MANY DIFFERENT ROLES, INCLUDING MARKETING MANAGER. IN WHICH ROLE DID YOU TRULY FIND YOURSELF?
I can say I had already many lives in one!
I graduated in Veterinary Medicine, did an MSc in Horse Nutrition, and worked with horses for 10 years. I really loved it.
My life had a radical shift and I worked as a School principal, Sales Manager, and after an MBA in Marketing, also as a Marketing Manager for many years. Once more my life shifted and I opened my own business which I operated for a long time until I had to leave Brazil to follow my husband then because of this another big change, I became a Yoga Instructor. For sure healing is my mission in this life, so I felt great as a veterinarian and now I find my true vocation as a Yoga teacher. Life took me around in a long spin and placed me back into healing. I love to share this ancient knowledge which shows me every day how to become a better human being.
TAKING INTO ACCOUNT THAT YOU SPEAK MANY LANGUAGES. WHICH LANGUAGE MAKES YOU FEEL MOST VIVID AND ALIVE?
Portuguese, English, French, Italian, and a bit of German. My native language, Portuguese, because it is so full of flavours!
YOU TAKE PART IN MANY CHARITIES. DO YOU THINK THAT CHARITY IS THE NEW HUMANITY?
I understand Charity as the virtue of loving our neighbor as we love ourselves. It is the attitude of acting to help, without interest and without expecting anything in return. In Yoga, Charity is called Karma Yoga and it is considered the highest form of Yoga. So, I would not say it is something "new". Loving and serving are part of our human nature.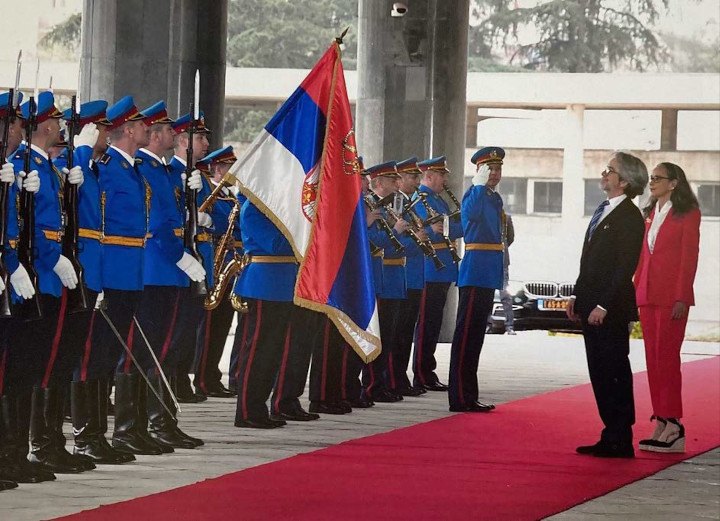 YOU COLLABORATE WITH "SOMBORSKE ŠNAJDERKE" AND TRY TO HELP THIS ORGANIZATION, WHICH HELPS THE WOMEN VICTIMS OF DOMESTIC VIOLENCE AND ABUSE. WHAT IS YOUR MESSAGE TO THEM AND THE PEOPLE, WHO CAN HELP THEM?
As women, we must stand for each other creating a powerful circle of womanhood, open to include men who respect and support us.
We may reinvent our lives as many times as we decide to. We have so many hidden talents.
Never be ashamed of your mistakes and bad choices, because they give you the opportunity to grow and become a better person.
As human beings, we always have something to share, and every little action may cause big results. So let´s look around and do something to make this planet a better place to live.
THE WOMEN FROM INTERNATIONAL BACKGROUNDS, SPOUSES OF AMBASSADORS IN BELGRADE, INTERNATIONAL WOMEN'S CLUB, TRY TO HELP SERBIAN ORGANIZATIONS AND INSTITUTIONS THROUGH THEIR CHARITY PROGRAMS. HOW DO YOU SEE THOSE ACTIVITIES?
These activities are essential and must be expanded. We must give back to a country that welcomes us like Serbia.
THE TOPIC OF THE NOVEMBER ISSUE OF RYL MAGAZINE IS "WISE HEART". DO YOU FOLLOW YOUR HEART AND ITS DESIRES?
There is a sutra I like very much since my teenage years and have it as guidance:
"The mind speaks, but does not feel"
"The heart feels, but does not speak."
I truly follow my heart's wisdom and this is one of the reasons I love the Yoga practice: it quiets the "monkey mind" and allows me to learn how to listen better to the silent voice of my heart.