TEXT: MIA MEDAKOVIĆ
INTERVIEW: TAMARA RUDIĆ
PHOTOS: PRIVATE ARCHIVE
TAMARA RUDIĆ WAS BORN IN 1982 IN ZRENJANIN, WHERE SHE FINISHED ELEMENTARY AND MUSICAL SCHOOL, AS WELL AS GRAMMAR SCHOOL WITH EXCELLENT GRADES. SHE FINISHED COLLEGE OF VOCATIONAL STUDIES FOR EDUCATING PRESCHOOL TEACHERS – DEPARTMENT FOR PRESCHOOL TEACHERS IN SUBOTICA, FOLLOWED BY FACULTY OF EDUCATION IN SOMBOR – DEPARTMENT FOR CLASSROOM TEACHING. AFTER TAKING A BREAK FROM STUDIES FOR SIX YEARS, TAMARA CONTINUED HER EDUCATION BY ENROLLING IN MASTER STUDIES AT THE FACULTY OF EDUCATION IN SOMBOR – DEPARTMENT FOR METHODS IN TEACHING SERBIAN LANGUAGE AND LITERATURE.
SHE FINISHED HER DOCTORAL STUDIES IN 2021 AT FACULTY FOR CULTURE AND MEDIA – COMMUNICATION SCIENCE DEPARTMENT, WITH TITLE OF HER FINAL PAPER BEING: POSITION OF MEN IN GENDER – RELATED SOCIAL CHANGES IN SERBIA AT THE BEGINNING OF THE THIRD MILLENNIUM (GRADE: 10)
AS AN ADVOCATE OF LIFE-LONG LEARNING AND PERFECTING SKILLS, THIS YEAR IN OCTOBER TAMARA ENROLLED IN COLLEGE OF HEALTHCARE AND SOCIAL WORK IN BAČKI PETROVAC – SOCIAL WORK DEPARTMENT.
SHE IS THE FOUNDER OF "SOMBORSKE ŠNAJDERKE" (SEEMSTRESSES OF SOMBOR), FOR WHICH SHE RECEIVED AN AWARD "CHANGES INITIATOR IN THE COMMUNITY FOR THE YEAR 2020" BY BELGRADE OPEN SCHOOL AND USAID.
SHE IS A MOTHER OF TWO DAUGTERS, TATJANA AND ATINA.
DR TAMARA RUDIĆ, WHEN DID YOU REALIZE WHAT YOUR LIFE'S MISSION WAS?
A: I would single out my two dearest and most important missions. My everyday life's mission is to be a good mother and a role model for my children, and as founder of Seamstresses of Sombor, my other mission is to give other women an opportunity to start living, together with their children, a life without violence.
I strive to transfer and share with other women the spark of self-confidence and courage that I have recognized in me. It is my belief that all of us women have the power to decide what kind of life we want for us and our children and consequently build that life with our own hands.
YOU HAVE FOUNDED SOCIAL ENTERPRISE "SOMBORSKE ŠNAJDERKE"(SEAMSTRESSES OF SOMBOR) WITH AN IDEA AND MISSION TO EMPOWER WOMEN THAT, AFTER LEAVING THE SAFE HOUSES, DO NOT HAVE ENOUGH FUNDS TO CONTINUE LIVING INDEPENDENTLY.
It is important to know that precisely because of the economic dependency that most women found themselves in the victim role. Economic empowerment of female victims is in my opinion one of the most important fields of support, but it is also a service that is missing from institutionalized social support, which ends when women and their children leave the safe house system. The system is successful in temporarily housing and safely isolating a woman from a bully, provide her with psychosocial and legal support, but in the end misses the opportunity to permanently integrate her in the community in economic terms.
Leaving the institutionalized support for women and children that were victims of violence for the most part means uncertainty. What is however certain is that almost 30 percent of women return to the bully. This is often a forced decision that a woman makes after being faced with a lack of her own income and inability to provide adequate accommodation for her and her children. Out of the total number of women returning to the bully, as many as 15 percent of them relive the violence that gets them placed in the safe house once more. The return of children to a hostile environment is linked with new traumas, running a risk of learning by model, i.e. adopting a behavioral pattern of either the bully or the victim.
The Seamstresses are located at the end of institutionalized support process. We include women in education and enable them to work in the textile industry. We are securing funds for other ways of supporting women by selling the products made in the process of education of women, such as bedsheets, aprons, dolls, costumes, dresses, etc.
WHAT ARE THE PROGRAMS THAT THE SEAMSTRESSES OF SOMBOR PROVIDE?
We have, by experience, defined two programs.
The first one is a mentorship program in basic and advanced level, which is being run by our two trained female mentors. So far, 15 women have passed the program, thereby gaining basic and advanced skills in tailoring. We managed to help one woman start her own tailor's shop, while 6 women got jobs in three textile factories in Sombor and its surroundings. There are currently three seamstresses undergoing training in sewing of leather and fur. Owing to this we are planning to expand our production to leather items and clothes. We started cooperation with Elementary and Secondary Education School "Vožd" from Belgrade, so our protégés could successfully finish education they started or get retrained to tailor – textile clothes model maker.
The second one is a Program of Independent Living Support, completed by 17 women. Goal of the Program is to provide material and nonmaterial support to women and children immediately after the institutionalized support ends. In connection with this, the Program strives to facilitate conditions for independent life of women and children out of reach of bullies. We have designed the program based on actual needs and are currently making it a reality through: adaptation of living space (procuring building materials and light construction services), furnishing the living space by obtaining appliances (washing machines, stoves, vacuum cleaners and similar household equipment), and covering part of basic utilities (water, electricity, telecommunications, internet, heating costs etc.), as well as educating children (obtaining textbooks and school supplies), we also help with buying food and sanitation supplies and cover part of hospital bills. The program is comprehensive so we also financed two driver's tests. For the most part, we finance the program by selling textile products from our own production, but we are often joined and helped by socially responsible companies and individuals.
WHO ARE BUYERS OF YOUR PRODUCTS?
In the very beginning, our first buyers were socially responsible companies, sister organizations, foundations, municipal administrations and tourist organizations. After two years of work, the customer base shifted towards businesses companies and small businesses. Shopping bags that we produce can be bought in Lidl supermarkets, our hand-made dolls are being sold in the United States thanks to The HRH Crown Princess Katherine Foundation. We are proud of the fact that we manage to meet the demand of commercial buyers regarding quality, quantity, prices and manner of delivering our products. Our managerial skills are constantly being improved and we are gaining valuable experience through trading with commercial customers. These skills are paramount to us, being aware that only two to three percent of buyers react to the social background of products. Our fellow citizens still do not have awareness developed enough to realize that, by paying for goods and services of social enterprises, they are spending money in their own communities, simultaneously easing problems of socially challenged groups of people, who in our case are women and children that are victims of domestic violence.
WHO ARE DONORS THAT HELPED YOU SO FAR?
When we founded the Seamstresses, initial procurement of equipment was enabled by The HRH Crown Princess Katherine Foundation, Lifeline Chicago, 28th June, Rotary Club Wien-Hofburg and company S Leasing. Currently we are also receiving funds from Trag Foundation and Civic Initiatives, while medical support is courtesy of from Medlab Laboratory and Consilium Polyclinic from Novi Sad.
YOU HAVE PRESENTED YOUR FASHION CLOTHES COLLECTION IN COOPERATION WITH NESHA CLICK DURING BELGRADE FASHION WEEK. HOW DID THE PUBLIC RECEIVE WHAT YOU'VE ACCOMPLISHED?
Since we founded the Seamstresses, we have come a long way in two years, from making masks, bedsheets, night gowns, fabricating dolls wearing national costume of Serbia, to presenting our own fashion clothes collection.
We've had the honor to be contacted by director of Click Fashion Agency, Nenad Radujević who recognized our work and invited us to present our mini-collection during Belgrade Fashion Week. Reaction of the audience was wonderful and encouraging.
Soon after participating in the Fashion Week, we have started, together with Catalyst Foundation, a funding campaign for collecting money for our first independent fashion show. Thanks to donations by numerous individuals and companies such as Lidl, S Leasing, Brewery Apatinska Pivara, Triglav Insurance and others, we have collected money for fabrics, transportation, sound system and other costs. We've created 36 different models, which presented an enormous professional challenge for us. An independent fashion show called "Tailoring in Belgrade" was organized by us during summer of this year. Our creations were not worn just by professional models, but also our protégés. We've managed to sell a number of our
creations during the fashion show itself, while the rest are still for sale and is available via our social networks. The fashion show made our women happy, encouraged and proud of mutual success.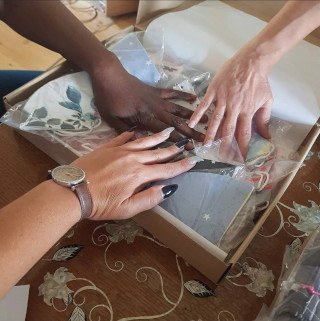 WHAT MAKES YOU HAPPY AT THE END OF THE DAY?
A: I'm happy if at the end of the day I hear a reassuring statement by women, something along the lines of "I don't consider myself a victim anymore.", "I've learnt how to make a dress…" of "I've started working in a factory.". What makes me even happier than that is when some of the women take me out to a confectionery shop form her first wage.
YOUR SUCCESS FORMULA?
There's no such thing as a success formula. I've succeeded if I helped someone today or yesterday, and if I'll be able to repeat that again tomorrow.
WHERE DO YOU SEE YOURSELF IN FIVE YEARS AND HOW DO YOU PLAN TO FURTHER DEVELOP THE SOCIAL ENTERPRISE "SEAMSTRESSES OF SOMBOR"?
25th November, an International Day for the Elimination of Violence against Women is approaching. With the support and woman power of wife to His Excellency the Ambassador of Brazil, Daniele Vivanqua, we plan to launch a campaign and auction of our dresses on that day. All income from the event shall go towards buying a building in Sombor, where we would house the entire Seamstresses' manufacturing activities.
We are being contacted by an increasing number of women as they need our programs. Unfortunately, due to limited capacities we are focused on helping women with several children and repeated returnees to the safe house. Another limiting factor is that the manufacture takes place at home, making women that live in small apartments unable to join us, since sewing machines, needles, scissors and noise too great a risk for children, while piles of fabric are a fire hazard.
Our manufacture currently takes place in five locations. Work from home is connected with problems like inadequate space, lighting, electric voltage and noise. Bear in mind that it is impossible to organize safe and equal work and training conditions for all women, especially for women with small children or several children. These are simultaneously some of the main reasons why a significant number of women that are victims of domestic violence cannot cooperate with us. By grouping the existing equipment and manufacture under one roof, we would create conditions for safe work and training of a larger number of women. In this way, we would save money for fuel, telecommunications and electricity. Establishing of a Tailoring Center in Sombor would significantly improve the quality of our work so far and give us the opportunity to focus our attention to children. Speaking of which, it is our wish to also furnish a playroom and a classroom within the center, which would enable us to house children as well as their mothers.
We plan to have a legal counseling service within our center with pro bono support of a law firm from Belgrade.
Thanks to OAK and Trag Foundation we have managed to secure about ten thousand US dollars of dedicated funds for adaptation of premises and purchase of furniture.
I am using this opportunity to ask for help of individuals, organizations and companies to support us in buying a building in Sombor or surrounding area.
TOPIC OF NOVEMBER ISSUE OF RYL MAGAZINE IS "WISE HEART". WHAT DOES YOUR "WISE HEART" SAY? ARE YOU FOLLOWING IT AND FEELING IT IN THE RIGHT WAY?
If you have an opportunity to help someone, use it and help. Don't pass up that opportunity or look the other way.