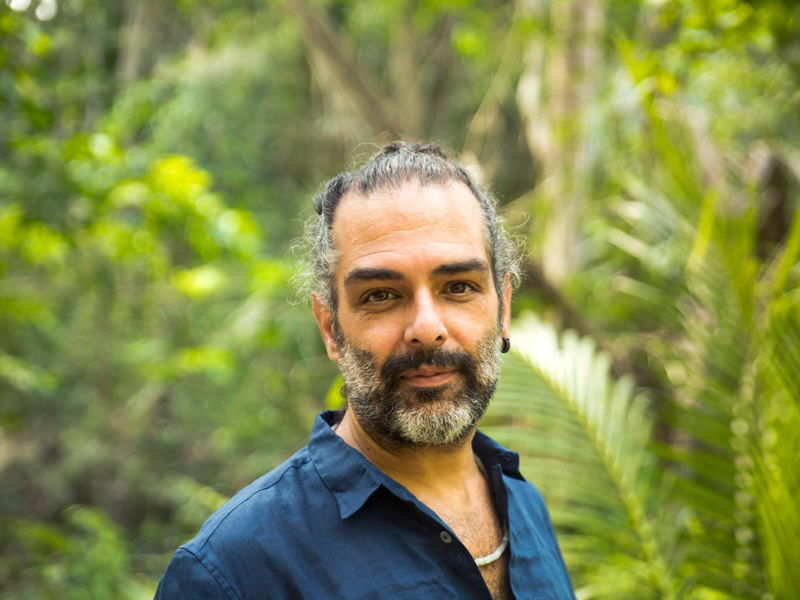 18 okt 2019

MISSION THROUGH SPIRITUALITY

WORDS: MIA MEDAKOVIĆ-TOPALOVIĆ
INTERVIEW: GONÇALO LUZ
PHOTOS: FROM THE PRIVATE ARCHIVE

GONÇALO LUZ WAS BORN IN PORTUGAL 1972 AND WORKED AS A FILMMAKER AND FILM TEACHER FOR 22 YEARS.

IN 2010, HE FOLLOWED HIS CALL FOR SPIRITUAL AWAKENING. WITHIN THE NEXT YEAR, HE QUIT HIS LIFE AS AN ADVERTISING FILMMAKER, SOLD MOST OF HIS BELONGINGS, LEFT THE COMFORT OF HIS HOME, AND SET OFF TO THE INDIAN HIMALAYAS. HE TRAVELLED ON AND OFF FOR SEVEN YEARS. AND THIS IS WHERE HIS JOURNEY CONSCIOUSLY BEGAN. SPIRITUAL SEEKING, ALONG WITH PERSONAL DEVELOPMENT, BECAME HIS JOURNEY. IN THIS JOURNEY, HE FOUND YOGA, TANTRA, AND HIS IKIGAI. HE IS A REIKI PRACTITIONER SINCE 2010, AND BECAME REIKI MASTER WITH WILLIAM LEE RAND (INTERNATIONAL CENTER FOR REIKI TRAINING), IN 2011.

HE ALSO STUDIED WITH ISTA (IN 2017), AND PRIVATELY (SINCE 2015), AS A PRACTITIONER OF SEXUAL SOMATIC HEALING.

WHAT WAS THE MAIN MOMENT WHEN YOU DECIDED TO LEAVE YOUR PAST LIFE AND STARTED TO EXPLORE YOURSELF? DO YOU REMEMBER IT?

I remember it very well. It was a sunny day in February 2010. I was recovering from a major break down that happened one month earlier. I came out of a healing session that a friend had offered me. I stepped outside, I leaned against a wall, and had an epiphany: the thought that I had been wasting my entire adult life, until that moment, came to me very clearly. It was a hard realization, but somewhat it took a big weight off my back. Because I felt that there was something beyond that. A way out. Like I was being given another chance. An opportunity to begin again. I remember I walked all the way home from that place in the center of Lisbon, to my neighborhood, many kilometers away.

I had been living a period of self-doubt and great confusion in my life. I felt nothing made sense anymore – my career, my apartment, my life goals – they all seemed so empty. And I was quite self-destructive the years that led to my break down. I was indulging in drugs and alcohol. I was numbing the pain I was feeling. The moment I had that epiphany, I realized that a pattern had been repeating itself. It had happened before. And it would surely happen again if I didn't do anything about it. It was a wake-up call. I could no longer stay in that cycle of self-destruction. Or else I might not even last that long.

And that is when I realized I was done with my life as I knew it. If I wanted to tell a different story in the years to come. And I did. So, I started writing a new story. One of dying and being reborn. One step at a time.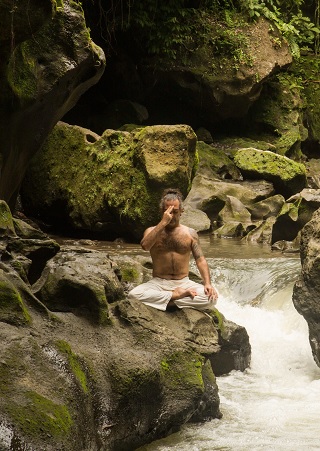 CAN YOU TELL US WHAT IS YOGA INTIMACY?
Yoga Intimacy is the coming together of these nine years journeying, devoted to self-development, in which I delved into a spiritual study, and practice. From Tibetan Buddhism to Kashmiri Shaivism, from Neo-Tantra to the very core of Hatha Yoga. Yoga Intimacy was born from the awareness that spiritual growth is most of all a path of self-knowledge and self-acceptance. A path of self-love. And in that path, the realization of inter-connectedness just happens. Intimacy is the ability to go deep, in ourselves and others. Yoga is participation in that depth, it's the practice that allows that intimacy to happen.
Yoga, on its own core, practiced non-obsessively, with self-love, is about intimate union. Union with oneself. Not the Yoga we see in many studios, that looks more and feels more like some exotic form of gymnastics, and is practiced obsessively, out of self-hatred, out of the idea that we need to improve ourselves and our bodies in order to reach some higher goal, up the spiritual ladder. That we are not good enough, or flexible enough, or slim enough. I mean Yoga with a capital Y. Yoga as a spiritual practice. As a self-loving-practice. Yoga as the way to connect us with ourselves first, and then to others. In deep intimacy with our body, our breath, and our heart. Yoga Intimacy is not a brand. It's Yoga as it's supposed to be practiced – as participation in this life, as it is. Yoga of participation, as it was originally taught by Krishnamacharya. In perfect harmony with ourselves, and everything else around us.
WHERE DO YOU LIVE AND ORGANIZE YOGA RETREATS?
After roaming in and around Asia for seven years, I settled in Thailand, on the island of Ko Phangan, where I spend a part of my year. At the moment, I offer retreats in Portugal, Thailand, India, and Sweden.
TELL US ABOUT JOURNEY TO LADAKH – MOTORCYCLE RETREAT FOR MEN. IT SOUNDS VERY INTERESTING. THAT JOURNEY IS ONLY FOR MEN. WHAT DO YOU EXPECT?
Journey to Ladakh is a very dear offering to me. Not just because it´s my creation, and it is only for men, but also because it blends together things I have been doing in my own personal journey for the last nine years: Yoga, men circling, and motorcycle riding in the Indian Himalayas. They all come together in this offering. I know the Indian Himalayas very well because I travelled and rode there myself for five consecutive years. I know the people, and I know the region.
Journey to Ladakh is a spiritual journey for men, and it is one of a kind, since men have the chance to gather in a unique spiritually trip, riding motorcycles up the Indian Himalayas.
This retreat is a celebration of souls who were born in male bodies, and want to grow by sharing this experience together. Men, devoted to self-growth, sharing about what it feels like to be a man, in a world and a time with so many confusing and contradicting messages: that men are not enough as they are, that their emotions are wrong, that they are either too soft or too hard, that they are potential abusers just for being men. I am not arguing about how much truth there can be in these ideas, or even where they come from, I am rather interested in approaching them from a healing point of view. So, a reflection is made about what kind of men we really want to be in this world, about what we have to offer. What is our intrinsic value as men? How deep can we look into what we have hidden inside, bring it to the light, and develop a healthy and mature attitude towards our masculinity? For this, we focus on the ownership of wounds and shadows (or everything we hide from others), integrity, and emotional openness. We take responsibility for our roles as men, both within and without. It is important to say that this is not therapeutic work, although it can be very healing. It's a work based in self-awareness, self-inquiry, done through sharing, participation, and responsibility.
Besides this, one should expect a lot of fun, riding up the mountains and practicing Yoga together. We go deep together, as we ride and practice together.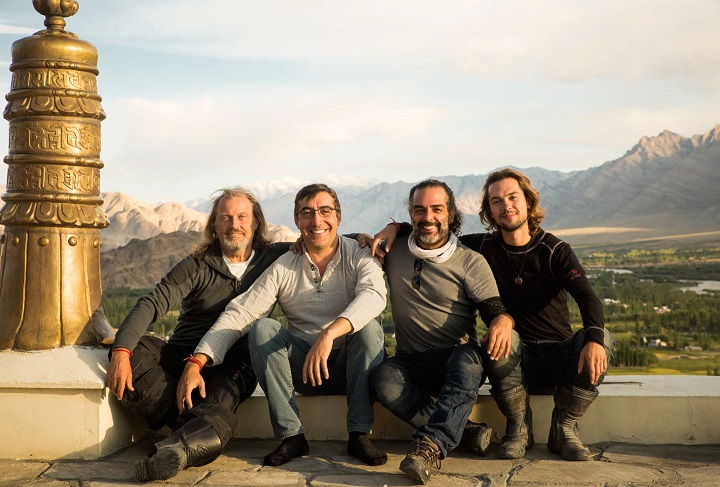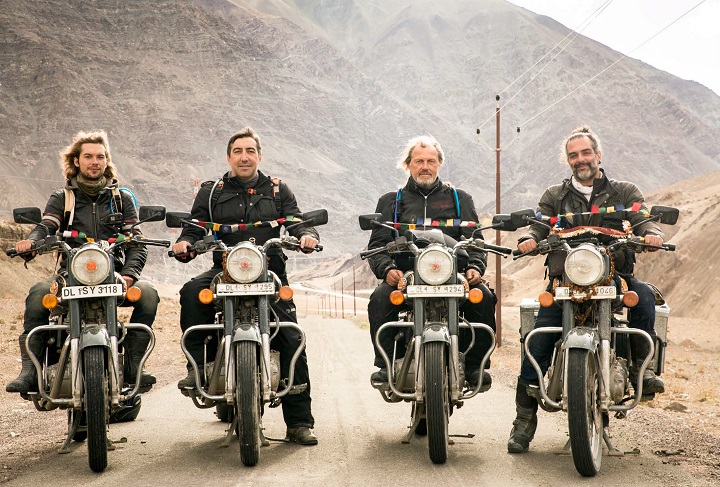 ALL THOSE YEARS YOU ARE ON THE SPIRITUAL ROAD, WHAT DO YOU SEE DEEP IN YOURSELF?
I see that there is a vertical path (from below to above, metaphorically speaking), leading me to understand what is beyond my belief systems and my physical experience, a path where I realize that there is so much more beyond what I see, what I feel, who I think I am and what I think I know. And there is a horizontal path (from within to without) in which I learn more about myself in this very plain, about who this person is, born into this body, this family, this world, and what I can do to heal, through self-acknowledgment and self-acceptance.
The vertical path is about transcending my own beliefs as a human being and realizing what is beyond them. The horizontal path is about understanding myself, and this very reality that I was born into, or what we can call the realm of manifestation. Both of them are ways to go deep into my true nature.
On a more personal level, I see patterns and cycles in my behaviors, I see wounds and stories that emerge or show themselves both in relationships and solitary moments. I see that most of my thoughts come from believing narratives that emerge from within (whatever events generated them). I see emotions that long for attention. I feel a body that is full of wisdom, a wisdom that speaks to me when I allow myself to listen.
IS THERE A DIFFERENCE BETWEEN BEING RELIGIOUS AND BEING SPIRITUAL?
Yes, there is. Religion is generally a belief system, based on a structure that places itself in the vertical path, between men and god, or ultimate realization. As if god or enlightenment is something we will only attain after climbing many steps of this imaginary ladder. Religion defines beliefs and moral orientations for people to follow without a question (good, bad, sexual orientation..). A religion is supposed to be a spiritual path, but in reality, it is more of a patriarchal power structure that bases itself in the idea that its followers are born faulty, just because they are born human, that they need to perfect themselves by following a leader, a priest, or a guru, believing that that guru, priest or leader, knows what is best for them, because he has overcome his own condition as a human – has overcome his humanness (desires, for instance) – in order to be able to lead others out of their own. With so many scandals involving gurus, priests, and spiritual leaders, we now know that religions have not been serving their spiritual purpose as well as they pretended to. Neither did many gurus.
Spirituality, on the other hand, is a path of self-awareness and self-realization. It is a path where one realizes him/herself by going within. In spirituality, our growth is our own responsibility. Not somebody else's. We practice as a way of participating in our life, yearning to reach our ultimate nature, understanding ourselves and others as part of a whole. In spirituality, one is not looking for a savior or a father to tell him/her what to do, but rather follows a path of self-discovery to reach the very core of our true nature.
And having said this, I defend the extreme importance of having teachers, experienced spiritual teachers who can help us and guide us in this path. But I deeply and openly question those who sit in thrones or high chairs and want to convince their followers that they have a long ladder to climb, in order to reach God, or any kind of liberation, for that matter. It's a good marketing strategy for all those who are more interested in getting and keeping clients, rather than guiding them anywhere. So I question even those who say that there are no gurus, while still sitting in a high chair.
Those who teach you not to need them, from the very beginning. I would say these are the greatest spiritual teachers. Religions, very seldom have this kind of teachers.
WHAT IS A POINT OF MEDITATION AND WHICH KIND OF BENEFITS SHOULD SOMEONE EXPECT?
Meditation is a practice of focus and observation.
And as such, it is a practice of self-awareness. This is exactly what one should expect from it. Nothing more, nothing less.
Meditation is often sold or presented as a practice that calms and relaxes the mind. That, by itself, is a hoax, and it leads many people away from practicing meditation, or even from trying it a second time. Why? Because the first time they try it, more often than not, most people experience so many things coming out of their minds – streams of thoughts and emotions – that all of the sudden feels like they broke loose inside their head. This is normal, by the way – the realization that thoughts are astray in our minds. But they get naturally scared and often feel like they failed because they were goal-oriented in the practice. And right after this, we hear many people saying: I cannot meditate, I have too many thoughts and emotions. Now that happens because many people sell meditation as a remedy. Meditation is not a remedy. It's a practice. And yes, within that practice, it is very likely that one attains states of deep relaxation. As a side effect. Not as a primary goal.
Neuroscience already showed that consistent practice does lead one's brain to be able to separate memories from emotions, as different regions start working separately. Therefore, people experience relaxed states, derived from that separation, for instance. Now imagine what this can do to a person, in the long run.
So what to expect? A practice of focus, observation, and self-awareness. With a lot of benefits on the side, for sure. But not meant for anyone who wants a quick fix for anything.
WHAT'S ONE EXERCISE OR ACTIVITY YOU WOULD RECOMMEND WE DO STARTING TODAY TO LEAD A MORE POSITIVE, HAPPY AND FULFILLED LIFE?
Stand up in your room, with your feet close but not touching. Close your eyes and let your arms relax by your side. If you can't keep your eyes closed, for some reason, keep them open.
Now become aware of your body. Allow your mind to scan your body, from your feet all the way to the top of your head. Realize how your body feels today. If thoughts come, let them come. If feelings come, welcome them. And think: this is how I feel right now. No need to fix, or do anything about it. Just allow those thoughts and feelings to be there. Allow yourself those feelings, as you would allow a child. And let them be.
Now bring your attention to your breath. Inhale and watch your chest expand. In your own rhythm. Exhale and watch your belly going in slightly. Repeat this four times. Or more if you have the time. Not too fast, not too slow. Just breathing.
Then raise your arms from the sides as you inhale and your chest expands, until your palms come together, above your head. Arms straight. Shoulders relaxed. Hold your breath for a second. Then start exhaling, and bring your arms down again, arching down until they are by your side. Wait a second. Repeat this four times at least.
Last time your palms meet above your head, bring them down together, as you exhale until they are in front of your chest.
You can keep your eyes closed for a bit. Unless you feel dizzy – then keep them open.
Feel yourself. Intimate with your body and your breath. Hands together in front of your chest. Perfect as you are.
Open your eyes, thank yourself for making time for yourself. Start your day.
DO YOU FEEL LIKE A SPIRITUAL LEADER?
Not at all. I am not a spiritual leader. I am a teacher. Just a teacher. I teach tools that people can use in their daily practice. In their own path of self-knowledge and self-awareness. Tools for deepening their intimacy with themselves and others. That's all.