TEXT: ANIMA MUNDI
INTERVIEW: PAMELA MILLICAN-HARTNOLL
PHOTOS: FROM PRIVATE ARCHIVES
PAMELA MILLICAN-HARTNOLL IS A PROUD MOTHER OF TWO BEAUTIFUL GIRLS, 58 YE­ARS OLD, WHO LOVES TO CREATE POETRY, WRITE BOOKS, TEACH PEOPLE, AND HANG OUT IN THE OUTDOORS. HER LIFE MOTIVA­TION IS TO TACKLE LIFE CHALLENGES IN ALL SHAPES AND SIZES, ALSO NOT TO BE AFRAID OF THEM BUT TO EMBRACE THEM.
HER STORY HAS A SAD BEGINNING, SHE COMES FROM A POOR AND ABUSIVE ENVI­RONMENT, HOWEVER, INSTEAD OF BRIN­GING HER DOWN SHE MADE SURE TO COME OUT OF IT STRONGER THAN EVER. PAMELA SAYS THAT THE ADVERSITY SHE HAD IN HER LIFE ONLY HELPED HER UNDERSTAND THAT DIFFICULTY IN OUR LIVES CAN HELP US GROW AND BECOME MORE ALTRUISTIC.
PAMELA IS REALLY AN AMAZING PERSON, SHE HAS BEEN TEACHING HER WHOLE LIFE, ATTAINED A LAW DEGREE, A SPORTS INJURY THERAPY DIPLOMA, AND MANY CERTIFICATIONS IN ENERGY PSYCHOLOGY, NLP, TIMELINE THERAPY, HYPNOTHERAPY. MOREOVER, SHE HAS WON THE EUROPEAN WAVESKI SURFING CHAMPIONSHIPS, THE BRITISH, WELSH, AND CORNISH TITLES. AS A PERSON WHO LOVES EVERYTHING ABO­UT THE OUTDOORS, SHE HAS MANAGED TO SPEND MOST OF HER LIFE NOT BEING INSI­DE, EITHER TRAINING OR JUST ENJOYING ITS WONDERS.
PAMELA IS TRULY A PERSON WHO INSTE­AD OF BACKING UP FROM A CHALLENGE CHARGES RIGHT AT IT, MAKING THE MOST OF IT, AND CREATES BEAUTIFUL ART IN OR­DER TO HELP AND INSPIRE OTHERS. HER FIRST BOOK IS LIFE IN VERSE – LIFE IS ALL ABOUT PERSPECTIVE.
LIFE IN VERSE IS YOUR FIRST BOOK OF POEMS. HOW AND WHEN DID YOU GET STARTED AS A WRITER?
I have always written poetry, and used it a lot as a young girl to turn the unpleasant events happening in my life, around and give what was happening a different perspective. My way of trying to make sense of a nonsensical envi­ronment. But obviously as a young girl I wrote poems just to feel better without knowing of course that this was why I was doing it.
….. and possibly my Poets note may answer your question 🙂
Poets Note
Unleash your own Personal Power
I believe that everything happens for a reason and that adversity when used properly can help us grow and become more of who we really are. I like to take my painful, frustrating and sometimes silly experiences and put them into verse. In doing so, I hope to inspire others and give a different perspective on life.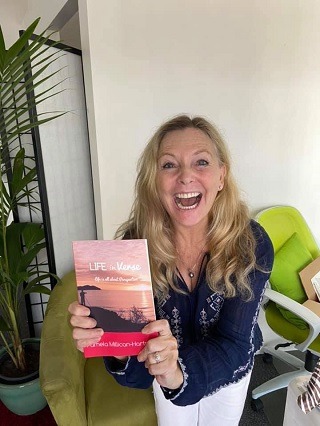 TELL US ABOUT YOUR BOOK?
It starts with a poem about my own hectic/poverty start in life … and the last poem ends with how I used all of life's challenges and ad­versity to grow and become the best version of myself despite the people that hurt and aban­doned me.
This book is based on various life adversities from being jealous, or not feeling good enough, to dealing with overwhelm or being too fright­ened to rock the boat plus many others. It takes many of life's challenges and flips them around to give the reader a different perspective, a dif­ferent way to look at the challenge they are fac­ing.
I have also created a positive quote or food for thought to amplify the new thought. I want people to understand that there is always more than one way to see things and maybe by see­ing something from a different perspective they may be able to move from feeling power­less to change the situation, to empowerment and making positive change instead.
This book of poems is dedicated to everyone who has been told they aren't good enough as they are, or need to be something, or someone else to be acceptable. I want everyone to know that It's absolutely not true. Just because oth­ers can't see the goodness in you, does not mean it doesn't exist, it just means they can't see it. That in turn says more about them, than it does about you.
I suggest this …. Be the best version of you anyway, succeed despite them, and live life on your own terms.
IT IS ABOUT LOVE. WHERE DO YOU GET IDEAS FOR YOUR LIFE IN VERSE?
I get my ideas from my life experiences and some are written from the experiences of others very close to me
WHAT WAS ONE OF THE MOST SURPRISING THINGS YOU LEARNED IN CREATING THIS BOOK?
That I can write a poem at the drop of a hat! I seem to be able to think of a subject and minutes later have a poem racing around in my mind!
WHO ARE YOUR READERS?
People who are struggling with any of life's chal­lenges and getting stuck with one point of view, thinking there is no other way out.
DO YOU KNOW MAYBE… WHAT WOULD YOU LIKE TO SAY WITH THIS BOOK?
My intention is to create a book for people to refer to when they are feeling angry or overwhelmed for example and be inspired to review their situa­tion from a different point of view. One that may be more positive and directive in nature.
DOES WRITING ENERGIZE OR EXHAUST YOU?
I love to write and feel excited and energized ev­ery time I write a poem about something and am able to flip it around to give another way of think­ing which may help someone somewhere
DO YOU VIEW WRITING AS A KIND OF SPIRITUAL PRAC­TICE?
Not really. When I write I just think how can I identify with this challenge, but change it for a more positive outcome.
WHAT ARE THE MAJOR CHALLENGES THAT YOU HAVE FACED IN YOUR CAREER?
I come from a history of violence, abuse and complete abandonment by my whole family at 15.½ years old I came home from holiday to an empty house. My mother had only left 6 months before taking my sister with her, while I was at school one day. I never knew where she went. I will enclose my 'life poem' so you can see what I mean.
My major challenges have been not feeling good enough, even though I gained a law degree, got top 4% of the population (142 & 148) in a super­vised Mensa IQ test; became European ladies surfing champion and British champion among others after learning to surf for 12 months. It didn't matter what accomplishments (and I have many) I acquired I just never 'felt' good enough. I used education as my 'drug' and kept myself in study mode for 30 years … and I am still there. But now I study because I want to, not because I am hiding from how I really feel about myself.
WHAT IS YOUR NEXT LIFE AND CAREER STEP?
I have created several personal development courses that I would like to take online and make available to everyone. I am obsessed with giving value and want my courses to be the bench mark and set the standard for all other personal de­velopment courses. If I can get the finances and technical help, the one course I have written up already, will do just that. I have put 37 years of my life experiences, study, training and learning into it and just know it will fast track everyone to get to where they want to be without having to take the years it has taken me.
MY LIFE POEM
When I was just a little girl, I rarely got to eat
My clothes were torn and dirty And my shoes didn't fit my feet
We lived in poverty and debt, With times of ab­sent lighting
Cold baths meant shaking cold and wet To the background noise of fighting
My father was such an angry man That mother tiptoed round in Fear
And We kids dared not to rock the boat Just held our breath when he was near
My Mum was just a simple thing No schooling left her dense
She chained smoked like a chimney sweep
And swore …. so much … you could easy take offence
There were many times of hiding … too Behind the sofa … flat to floor
From aggressive men called 'collectors' Who thunder banged the door
I found everything confusing It made no sense at all
From the language they were using To the end­less drama squall
I tried hard to be a good kid Practiced manners, studied hard
Loved the sharing of my learning To find it tossed out in the yard
So I became a people pleaser And cooked and cleaned age 8 But that didn't work well either
He'd chuck the food ….. and smash the plate
Father with his temper and terrifying rages Would shout, punch doors and break our things Incensed ….. his blow ups ran in stages
Our Mother often copped it first With a fairly hefty smacking We'd hide away, try not to hear
Her cries and yells, nerve wracking
It wasn't safe to say a word Just tolerate, accept, abide
Give No Show of your emotions Keep those feel­ings locked inside
But nothing lasts forever
Soon Mother left and ran away She took my little sister with her
But Where she went -she didn't say
Then twas only 6 months later When Father too abandoned ship He took my little brother with him While I was on a big road trip
So I came home to find a Completely empty house Everything I owned was gone
A vacuum, that was quiet as a mouse
Neither of them had wanted me And at only 15 years of age
I couldn't work out what I'd done Their moods I couldn't gauge
Feeling lost and lonely …. fearful sad
Thinking: boy I must be really bad What to do, Now where can I go Think Pam think, ok I know
Mother always liked that song
Walk tall … and look the world right in the eye Well That day I grew, and did just that
And I didn't stop to cry
Now that was 40 years ago and I've done such a lot since then Worked hard and raised a family And I began my life again.