WORDS: MIA MEDAKOVIĆ
INTERVIEW: VASSILENA RADANOVIC
PHOTOS: VASSILENA RADANOVIC
TRANSLATION: ALEKSANDRA VESIĆ
VASSILENA RADANOVIC, BORN IN SLIVEN, GREW UP AND FINISHED SCHOOL IN SOFIA, BULGARIA. AN ACADEMIC PAINTER WHO LIVES AND WORKS IN BELGRADE. AT A VERY YOUNG AGE, SHE HAD GREAT ENCOURAGEMENT FROM HER FATHER WHO WAS ALSO A PAINTER. SHE GRADUATED FROM THE CERAMIC SPECIAL SCHOOL IN THE CITY OF TROJAN, BUT HER PASSION IS NONETHELESS PAINTING, WHICH SHE GRADUATED FROM THE ACADEMY OF FINE ARTS IN SOFIA. SHE EXHIBITED AT GROUP EXHIBITIONS IN SOFIA, VIENNA, BELGRADE.
VASSILENA IS INTRODUCING HERSELF TO THE BELGRADE AUDIENCE FOR A SECOND TIME, NOW THROUGH PHOTOGRAPHY. THE OPENING OF HER SECOND SOLO PHOTOGRAPHY EXHIBITION, WHICH HAD ITS PREMIERE IN 2021. VASSILENA RADANOVIĆ WILL HAVE HER SECOND EXHIBITION, FROM THE 1ST TO 10TH APRIL, 2022, AT THE GALLERY 'RADOŠEVIĆ', THE CORNER OF DELIJSKA 3 AND USKOČKA 5, BELGRADE. IN THE CENTRE OF THE CITY, NEAR KNEZ MIHAJLOVA. THE EXHIBITION WILL BE OPENED ON FRIDAY, 1ST APRIL AT 7 PM, WELCOME DRINKS INCLUDED.
THE NAME AND THEME OF YOUR PHOTO EXHIBITION IS "FREEDOM". YOU WENT TO BERLIN TO TAKE PHOTOS AND PREPARE MATERIAL. WHAT IS IT REALLY ABOUT?
The theme of my exhibition is freedom. That is the most important thing to me. Freedom in the full sense of the word. I went to Berlin this fall because the history of this city is quite dramatic, clear and inspiring to me. Part of it's past and present is marked through murals and graffiti and strongly influences society today.
IN WHAT WAY AND THROUGH WHAT SYMBOLS DID YOU BRING US CLOSER TO YOUR VISION OF THE BASIC HUMAN RIGHT, THE RIGHT TO FREEDOM?
The Berlin Wall as a symbol of non-freedom. The notion of freedom is quite broad. The most famous sculpture I love related to freedom is the "Statue of Liberty" in America, where emigrants first see freedom as a symbol, and then feel it on American soil.
WHAT IS FREEDOM FOR YOU AND WHAT TECHNIQUE DID YOU USE TO SHOW IT?
The basic human right in any establishment and with the very birth of the individual is the right to liberty guaranteed by law. For me, the symbol and the right to freedom is one of the most important basic human rights. In this case, I used photography as a way of expression. I recorded reality in a way that I personally and deeply found in myself.
HOW LONG HAVE YOU BEEN PREPARING THE MATERIALS AND DESIGNING THE EXHIBITION?
The commission of the Gallery "Stara kapetanija" informed me that I got an exhibition date this spring and I first started in one direction, but in the end I realized that the topic of freedom is very close to me and that I can present it nicely. The topic is very deep, and I was happy with the opportunity and the idea to use an analog camera.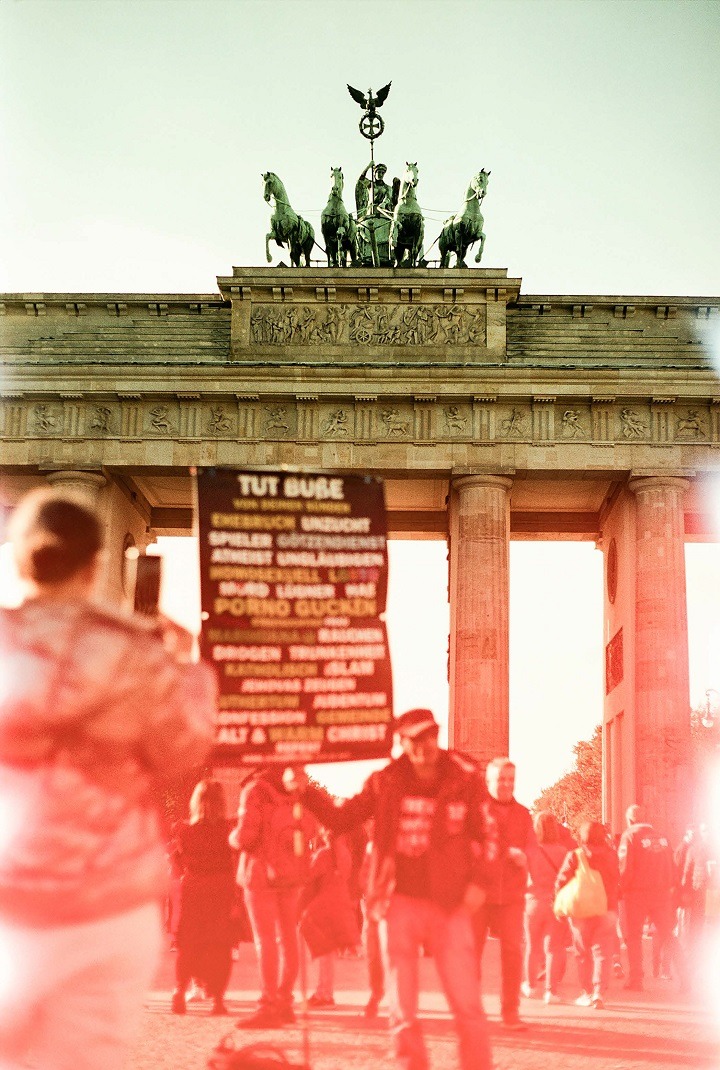 BLACK AND WHITE VS. COLOR PHOTOGRAPHY
I love both. For some objects it is better to use color, and for others not. I prefer color photos because they are stronger, more dynamic and more beautiful.
WHAT MAKES THESE PHOTOS STAND OUT?
These photos are special to me because they were taken with an analog camera. Analog photography is a symbol of the past, it is special, it gives a wonderful atmosphere, the shades are different in it.
WHAT ATTRACTS YOUR ATTENTION THE MOST WHEN YOU TAKE PHOTOS?
When you take photos in a city like Berlin, you have a lot of things that attract your attention. I spent three hours just in front of the Brandenburg Gate and did a third of the exhibition. Protesters took turns demanding their rights, but in their own countries where they cannot have those same rights. Berlin, as a city of freedom, a city of peace and democracy, provided them with exactly the rights they lack. These photos are of a documentary nature and they are different from anything I have done so far.
HOW DO YOU CHOOSE THE TOPICS YOU WILL WORK ON?
Topics that attract me concern my nature, interests, and inspiration for how I will respond or present them. Every year I try to present my work.
WHO IN THE WORLD OF PHOTOGRAPHY INSPIRES YOU THE MOST?
I was fascinated by the film "Minamata", which represents the life of documentary and war photographer Eugene Smith, as well as the legendary fashion photographer Helmut Newton.
WHERE DO YOU SEE YOURSELF IN FIVE YEARS?
In five years, I see myself in an Istrian town where I have my own photo laboratory and studio.