WORDS/PHOTOS: MIA MEDAKOVIĆ
INTERVIEW: ZALINA STAUCH
ZALINA STAUCH, IS AN EXPATRIATE SPOUSE, BORN IN SINGAPORE. SHE LIVED AND WAS EDUCATED THERE FOR 27 YEARS, RECEIVING A BA IN ARTS. SHE WORKED FOR A MANAGE­MENT CONSULTING FIRM BEFORE SHE LEFT HER MOTHERLAND. IN 2005, SHE MOVED TO BERLIN AND LEARNED HER FIRST EUROPEAN LANGUAGE. SHE VENTURED FURTHER TO SÃO PAULO, BRAZIL. SHE RETURNED TO GERMANY TO STAY IN STUTTGART. HER EXPLORATIONS TOOK HER TO CHENNAI AND BANGALORE IN INDIA, AND TO ALSACE IN FRANCE WITH HER FAMILY. HER HUSBAND'S JOB TOOK HER TO BELGRADE IN 2018. ZALINA IS THE MOTHER OF THREE CHILDREN. ZALINA HAS BEEN ON THE IWC BOARD SINCE MAY 2019 UNTIL PRESENT. ZALINA SPEAKS FLUENT GERMAN, MALAYFRENCH, PORTUGUESE, MALAY AND ENGLISH.
YOU ARE A MOTHER OF THREE CHILDREN, HOW DO YOU MANAGE TO BALANCE YOUR DUTIES TOWARDS IWC AND YOUR PRIVATE LIFE?
I am very grateful to be given the opportunity and trust to be on the board of IWC. Like most spouses here in Belgrade, we are here tempo­rarily due to our partners' jobs and relocation. I was a SAHM (stay-at-home-mom) looking after and chauffeuring my 3 children to & from school and their activities and taking care of our house­hold. I love my children and my family to the moon and back. They mean the world me and my days are never monotonous or boring.
While my family is the primary focus of my life, I also love meeting people and being in a group, and I gain energy when I am surrounded by peo­ple. When I talk to people, my brain thinks of ideas for collaboration or to do something new and creative together. Being on the board has brought me joy and excitement. I enjoy the adrenaline rush when the board plans for coffee mornings, events, fund raisings or the annual charity bazaar.
To be fully committed on the IWC board and family is a tough task to take on, especially on a voluntary basis. In order to manage a good balance between my club duties and my private life, I plan, prioritize, and delegate. I plan my week. I wake up at 6am on weekdays in order to prepare lunch bentos for my children so they feel love from me when they have their lunch at school. Sometimes I slip little notes into their lunch boxes.
To help keep my schedule manageable, I plan my work meetings only during the morning up until 15h. In order for me to attend meetings, greet friends of the club, and organise activities and events peacefully, I delegate school pick-up, preparing dinner and checking school bags to my nanny. I have tutors to help my children too with their homework and reviews. Knowing that my children are cared for by people I trust is crucial – it gives me peace of mind when I am at work.
Fridays and weekends are for my family; I try not to have meetings or club activities on Fridays so that I can pick my children up from school. I can imagine others who read this judging me for "abandoning" my children. Well, I have learned to let go of the "mom's guilt". I focus on the pos­itive things, such as my contribution to the club as the Vice President. To me, my time being on the board is a chance to progress in terms of my personal development and growth. I am confident that I make the best choice being on the board for my sanity, my development, and to sharpen my talents and skills. Having support from my beloved and understanding husband also helps me achieve the balance between my duties and my private life as he ropes in whenever I am unable to be with our kids.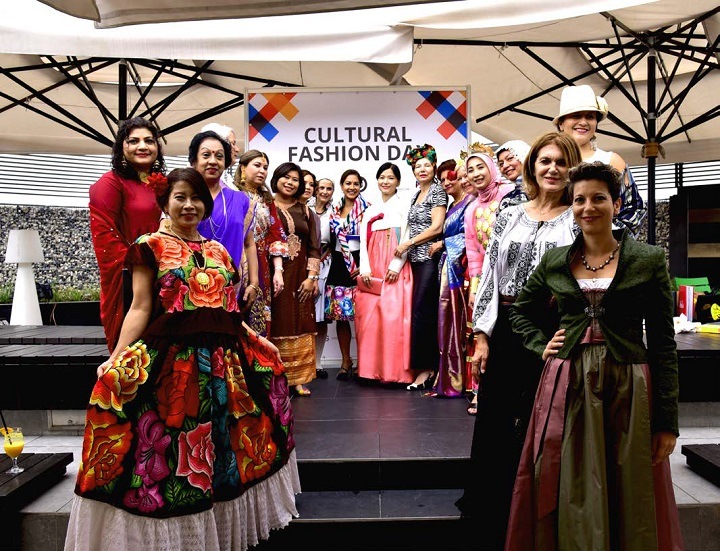 HOW WOULD YOU DESCRIBE YOUR LIFE IN SERBIA?
I am now into my fifth and final year in Serbia. Life is and has been good and comfortable here. It has been a wonderful and a safe place for my family. We love the country, the rural villages of Serbia, the abundance of restaurants, the friendliness of the lo­cals towards foreigners and children, and the beautiful spa towns like Soko­banja and Vrnjačka Banja. My family loves Golubac and Đerdap National Park. Serbia is still raw, still untouched by flocks of tourists, still charming with lots of character.
The lifestyle here in general is relaxed, although I am not so keen on its im­mense obsession with bureaucracy. To get things done here in an official manner takes time. Serbia has taught me to embrace patience, hence I rely a lot on a relocation agency. From years of living here I observe that Serbs do not beat around the bush; instead, they have the guts to stand behind their beliefs and opinions and say what they think straightforwardly to your face. Initially I interpreted this characteristic as rudeness, but I soon learned differently.
I think life would be better in Belgrade if not for the traffic, narrow roads, and cars parked on sidewalks. However, traffic here is mild compared to São Paulo or Chennai or Leonberg, all cit­ies where I have lived. One thing my family loves about being here is the private healthcare system, which is good, easy, and affordable. We were able to get into Acibadem Belmedic from day one when we moved here; unlike in Germany or France where one has to wait for months or if one is lucky, maybe a few weeks to see a doctor. The nurses and doctors in Acibadem Bel Medic speak English and they make us feel comfortable and cared for.
Overall, life is pleasant here and I will be heartbroken when I leave next year. However, that is life of an expatriate. We will move on to a different location when our time is up. Meanwhile we enjoy as much as possible what this beautiful country has to offer.
WHAT DO YOU LIKE THE MOST IN BEL­GRADE?
I like the abundance of restaurants and cafes in Belgrade. The city is alive, and supermarkets and shop­ping malls are open on Sundays, un­like in western Europe! In Singapore (or any of the other countries I have lived in before) Sundays are the days when I do grocery shopping either with the family or just my husband and me. I like quiet Sundays too, however I like to have the option to meet up with friends at cafes/malls on Sundays too. I am glad to see more and more shopping centres opening up. Besides Usce, Delta, and Rajice­va malls, now I have other options like Ada Mall, BEO Shopping Centre, and Galleria for shopping and enjoying a cup of coffee or simply window shop­ping. I am a Singaporean – I learned to shop before I learned to walk … haha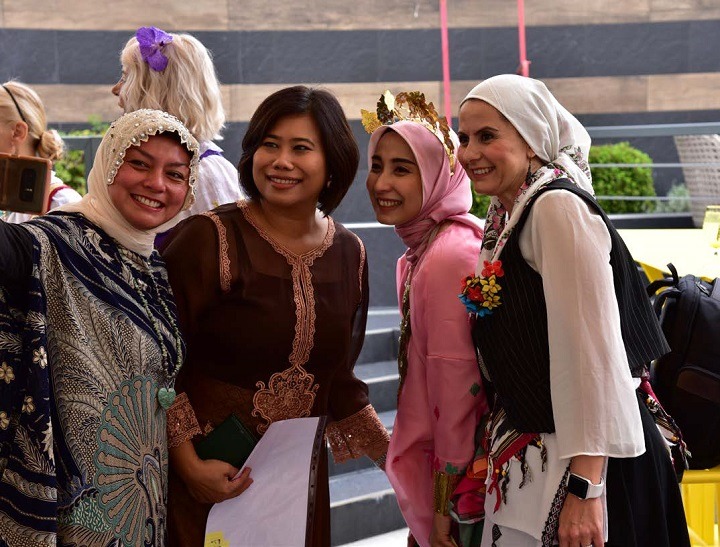 YOU ARE ONE OF THE AUTHORS OF THE TEXT "THE BELGRADE WATERFRONT" IN THE BOOK OF RYL AND IWC "BELGRADE THROUGH THE EYES OF FOREIGNERS". TELL ME PLEASE THE PARALLEL VIEW OF BELGRADE AND SINGAPORE.
In April 2018, when my family came here to Belgrade for a "Look & See trip" sent by the company my hus­band works for, the first impression we both had was that Belgrade is a safe place to live, especially with little children. We felt safe then, and we still feel safe. We did not fear that a white van might stop somewhere on the street and kidnap our children or point a gun at us. Singapore is a safe country too and coming from a Singaporean, this is definitely a big compliment for Belgrade. Of course … there is petty theft, like pickpock­ets, but that can happen anywhere. Another similarity between Belgrade and Singapore is the nightlife and lots of restaurants with good food. The nightlife here is amazing and I never have problems finding restaurants or cafes after 22hrs.
I love Belgrade Waterfront. As I men­tioned in the book, it reminds me of Singapore; the skyscrapers, the mod­ern architecture, the path for walks, bicycle rides or jogs add modernity to this city. Belgrade Waterfront is a symbol of the progress in this country.
YOU ARE THE VICE PRESIDENT OF IN­TERNATIONAL WOMEN'S CLUB IN BEL­GRADE, HOW DO YOU SEE LADIES IN THE CLUB AND YOUR ACTIVITIES?
Over the past 2 years, I see more and more younger members joining the club. They are so energetic, bub­bly, full of ideas, supportive and with positive energy. We have ladies from non-English speaking countries, and they are using IWC as a platform to improve their English – which is won­derful. I admire their courage, be­cause they are not shy to express themselves in English despite their lack of knowledge of the language. This reflects tolerance among mem­bers, and this is what I want to see as a board member for the club. Over the past 2 years, the club members have become like a little family; the members are helpful towards one another, extending hands to support and help each other in any way they can. These ladies are my source of motivation to be active in my role on the board. It warms my heart see­ing members attending activities or events that are organized for them.
My role as the Vice President of IWC is voluntary; there is no monetary com­pensation. The members inspire and motivate me to plan many interesting and fun activities – cooking classes, jewellery making classes, cosmetic/make up workshops, antiques show­room visits, first aid classes, and many more. Also, lately a few have collab­orated with local talents/businesses, so as to strengthen the relationship between Serbia and the international community. I love seeing happy and satisfied members receiving support from friends in the club. This is my reward. Recently a friend of the club collaborated with IWC and organ­ised a cultural fashion day in BEO Shopping centre. I am so pleased to see so much partnering with outside supporters as well as our ladies who came to this event in their beautiful, colorful, traditional outfits and shared with us on stage what they are wear­ing. It was an intercultural eye open­er for those who attended. This event portrayed our club so well – a melting pot of different ethnicities, traditions, nationalities, and cultures. I hope op­portunities like this will continue even when I am no longer the Vice Presi­dent of IWC.
October will be an exciting month for the club. Not only are we organizing our popular annual Charity Bazaar af­ter two years of hiatus, but we are also organizing something special which is relevant for all women – Breast Can­cer Awareness Day. It will be the first in Belgrade where a group of wom­en/a club promotes and elevates the importance of bringing an increased focus on Breast Cancer.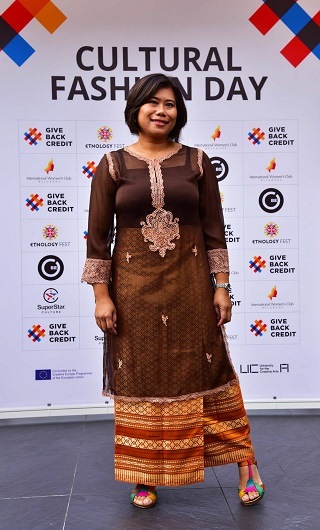 WHAT DO YOU PREPARE FOR OCTOBER AS IWC? FOR A LONG TIME, WE HAV­EN'T HAD A POPULAR BAZAR.
IWC is not only a social club – our main focus is solidarity and giving back to the underserved communities of Ser­bia. Over the past 10 years IWC has donated approximately 650,000€ to non-governmental charities and vul­nerable populations throughout Ser­bia. For instance, we donated sup­port for children's e-learning to SOS Children's village and Vrsnjaci Vrsnja­cima, Caritas Srem and Subotica with food package distributions, and many more. We are delighted to announce that IWC is organizing our 19th Annu­al Charity Bazaar on Sunday October 16th from 10:30am – 5:30pm in the Crystal Ballroom at Hyatt Regency Hotel. The dedicated board and the charity committee have been working hard organizing this event since June. This ba­zaar is a multicultural event that gathers together foreign embassy participants representing coun­tries from around the world. So far, we have ap­proximately 25 embassies from Belgrade taking part. Like past bazaars, embassies will show­case and sell gifts, artistic and craft items, and other products unique to their cultures.
In addition, there will also be an exciting Cultural Program featuring music, children's choirs, and local and international dances. The cultural per­formances will begin at 11am and run until late afternoon. A raffle will also be held with more than 100 exciting prizes… and a grand prize (it's a secret for now). Follow our social media to find out what our raffle grand prize will be. We are pleased to invite Belgrade residents and other visitors to browse the booths and enjoy the en­tertainment and maybe get lucky with a winning raffle ticket. The club hopes for a big turnout for our Charity Bazaar. Entrance tickets for the ba­zaar are 300 rsd and the raffle tickets are 250 rsd each.
So, I encourage everyone to head down to Hyatt Regency Hotel Belgrade, on the 16th of October starting at 10:30 am. Shop for a cause – by pur­chasing an entrance ticket and goods at our Ba­zaar they will be providing a benefit to a charita­ble mission (beside the point that you get to own special/unique goods from interesting countries).
THE TOPIC OF THE OCTOBER ISSUE IS "FOLLOW YOUR BLESSING" HOW DO YOU SEE YOUR LIGHT & BLESSING?
"Some people come into our life as blessings. Some come in your life as lessons." – Mother Teresa. I am grateful for all the things that have happened in my life – no matter if they are good, bad, or even silly. I choose not to regret any mis­haps. I will not trade them for anything, because they make me grow and become wiser. I often tell myself these are lessons in life and they hap­pened for a reason. I see them as my blessing to be given these hardships. I am blessed to be alive, to have a roof over my head, to have abun­dance of food on my table, to have good health, to have many good, reliable, close friends, to have loud yet healthy children, to not be sepa­rated from my husband, to be loved, and to not suffer in a war.
With these blessings, I like to be a spark to others around me. Sometimes, it is very difficult to be a generous and selfless person. Nevertheless, I often try to go out of my way to help others, with­out expecting anything in return. I try my utmost to help others. My dear ones can rely on me to be there for them, especially on their darkest days, to put a tiny light in them when they lose hope. It makes me happy when I can be the light for others. My love impacts how I become the light to others. My passion to make a positive change in the club is one of the ways to shine my light. It also shines through the relationships I have built with the members and friends of the club, hopefully making people feel important and special. In this way, I hope that I am sharing the many blessings that have come my way.