WORDS/PHOTOS: MIA MEDAKOVIĆ
INTERVIEW: EUN HAI KIM
EUN HAI KIM, PRESIDENT OF THE INTERNATIONAL WOMEN'S CLUB IN BELGRADE WAS BORN IN SEOUL, KOREA. SHE STUDIED ART HISTORY AT UNIVERSIDAD COMPLUTENSE, IN MADRID, SPAIN. EUN KIM COMES FROM A LARGE FAMILY, CONSISTING OF THREE SISTERS AND ONE BROTHER. ALTHOUGH SHE HASN'T LIVED IN KOREA FOR ALMOST 40 YEARS. AS THE WIFE OF A MEXICAN DIPLOMAT, SHE HAS BEEN PRIVILEGED TO LIVE IN MANY CITIES AROUND THE WORLD. THEIR FIRST POST WAS IN BELGRADE, (FORMER YUGOSLAVIA). AFTER THAT, WE WERE POSTED TO LOS ANGELES, SAN DIEGO, MEXICO CITY, WASHINGTON DC, SAN FRANCISCO, KUALA LUMPUR IN MALAYSIA, AND NOW BELGRADE, SERBIA.
WHAT DID YOUR CHILDHOOD LOOK LIKE IN KOREA?
From early childhood, I lived a nomadic life following my military father in many different cities in Korea. Although I have three sisters, my two older sisters went to a boarding school for military children. When they moved back home to attend university, they quickly became my role models. There was a mix of views in my home as my parents were conservative but my older siblings were more liberal. I was exposed to a delicate balance of two mindsets at a very young age. However, given that my sisters were my role models, I was easily influenced by them to think more liberally.
I can say my childhood was very happy and full of love from my parents. Throughout my life, my parents always supported and encouraged me to have the best tools to build a successful life through education. They engraved in my brain the value of discipline and hard work. I am very fortunate to be given a strong foundation, which helped me excel through life and raise a multicultural family.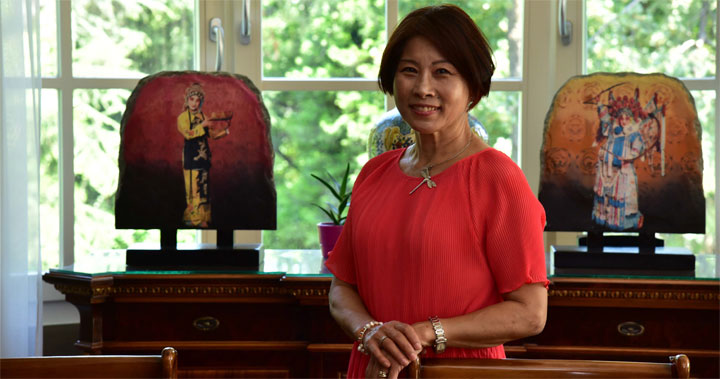 YOU STUDIED HISTORY OF ART IN MADRID, WITH THE INTENTION TO ONE DAY WORK IN MUSEUMS AND GALLERIES. YOUR FIRST JOB WAS TO WORK AS AN INTERPRETER AT THE OLYMPIC GAMES IN SEOUL.
My Korean cultural background has given me the chance to see different art expressions from other perspectives. Art has been a central element that has helped me to understand and appreciate different cultures and societies. Western art impacted me deeply. Its vividness, sometimes even crude expressions, is very different from the subtle Asian concept of art. However, it appeared very elegant to me. I discovered not just the artistic value of different artworks and architecture, but also the link to history, sociological elements, and liberty of expression intertwined with the development of western societies. It was a fascinating learning experience.
When I returned to Korea, I had the opportunity to work as a Spanish interpreter for the Olympic committee. It was meant to be temporary work while I adjust to my new life in Seoul, but this job changed my life. I worked for the Mexican Olympic delegation and I met my significant other, my husband.
AT THE MEXICAN EMBASSY, AS A SUCCESSFUL BUSINESSWOMAN, YOU WERE THE DIRECTOR OF THE BANK WHICH DID BUSINESS WITH BUSINESSMEN FROM KOREA. THAT IS WHEN YOU HAVE MET YOUR FUTURE HUSBAND, THEN A YOUNG DIPLOMAT. HOW DID YOUR FAMILY REACT WHEN THEY LEARNED YOU WANT TO MARRY HIM? HOW DID YOU MANAGE CULTURAL DIFFERENCES?
After the Seoul Olympic games, my life turned around as I was very busy working as an interpreter for many business delegations from Spain and Latin America, especially from Mexico. It was before the entering into force of the North American Free Trade Agreement (NAFTA), which opened up substantial business opportunities for Mexico and Korea. After that, I worked as a Marketing officer at the Banca Serfin Seoul Representative office, one of the largest banks in Mexico.
It wasn't an easy decision to marry a Mexican Diplomat who just transferred to Yugoslavia. It came with many sacrifices, ranging from my budding career to personal sacrifices such as leaving behind my family and friends. However, I trusted my husband and our relationship and knew that this was going to be an adventure of a lifetime with my husband by my side.
It was difficult at the beginning of my marriage. As a conservative family, they were concerned about the unpredictable life that I had chosen. My father, as a member of the army, knew that the life of a diplomat is pretty much similar but in the end, they supported me.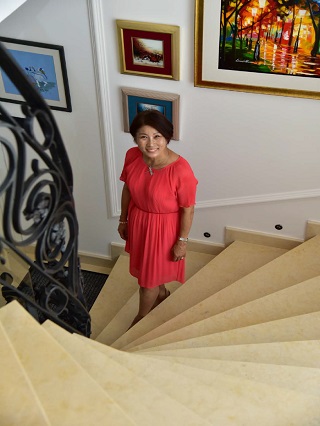 FROM 1991 UNTIL 1994, YOU WERE IN SERBIA, TOGETHER WITH YOUR HUSBAND WHO WAS THE THEN CHARGE D'AFFAIRES OF MEXICO, CARLOS FELIX CORONA. WHAT DID SERBIA SEEM LIKE BACK THEN, AND WHAT DOES IT SEEM LIKE NOW, SINCE 2021?
It was a very complicated time for the locals and the international community. After three months after our arrival, the conflict started. When I received my belongings from Korea, which I selected while dreaming of my new honeymoon home, most of them were damaged. Due to sanctions imposed on the former Yugoslavia, my belongings had to travel by maritime, train, truck, and finally flown by air to be delivered to Belgrade. It was painful looking at all the broken things but that was the biggest and crucial lesson for a diplomat's life; Material things come and go.
I quickly realized that Belgrade is a country where art is highly regarded. While former Yugoslavia was suffering from the war, artists never stopped painting. My husband and I spent our weekends visiting artists in their homes and atelier. We were able to collect several art pieces and it now greets people at my current residence. I am so grateful to not only have some of these paintings but also have had the opportunity to listen to the artists explain their intention behind these paintings. I think that is the ultimate luxury life experience that I will forever cherish.
I truly admire the resilience of the Serbian people. While it was difficult to find basic supplies such as butter and sugar, there were still galleries, theaters were open and even street music festivals were held in the city. Being back here after 30 years, I found a dynamic Belgrade with a lot of new modern areas and restored amazing Kalemegdan but the people are still the same, nice, welcoming, and friendly.
WHAT DO YOU LIKE ABOUT BELGRADE? WHAT DELIGHTS YOU?
I love Belgrade. It kept its interesting mixture of neoclassicism, art nouveau, Neo-Byzantine, rustic, socialist modernism to its bold brutalist compounds. It's not a glittery, cosmopolitan city but on every corner of the street, there are at least one or two galleries. There are also varieties of museums, small or big, scattered throughout the city. Those small galleries and museums capture the passion of artists and people's appreciation of history. I think that this is the essence that makes Belgrade unique rather than a typical cosmopolitan city full of designer stores.
Another element that I love is all the green areas throughout the city. Nowadays, it's very difficult to find green places, especially in urban settings but Belgrade has kept its charm by keeping these green spaces. It warms my heart to see families enjoying their day with their children running around the park. I view this as a healthy society as there is a mix between the hustle and bustle of a city but also spaces to enjoy your day.
YOU HAVE LIVED IN DIFFERENT PARTS OF THE WORLD, THANKS TO YOUR HUSBAND'S DIPLOMATIC CAREER. WHAT DO YOU LIKE MOST FROM THAT LIFE?
I would say the privilege of meeting people from different sectors. I have had the opportunity to meet important high-level politicians, revolutionary IT industry leaders, as well as Nobel laureates, famous artists, and neighbors who shared their traditions and cultures with me.
Another aspect I love is representing my adopted country, Mexico. I'm a naturalized Mexican citizen who loves Mexico's diverse and vibrant culture, cuisine, and its particular sense of humor, enjoying life, and working hard. I take my role as the spouse of the Ambassador of Mexico seriously and enjoy supporting cultural programs prepared by the Embassy of Mexico.
One of the main cultural events the Mexican embassy hosts around the world is the Day of the Dead celebration. This is a traditional festival with indigenous Pre-Hispanic roots that were later combined with European traditions and Christianity. In preparation for this celebration, I work on paper-mache folk art using mostly recycled materials to create colorful "Alebrijes" imaginary animals, different sizes of "Catrinas" representation of the lady of the dead, and colorful paper flowers. All these colorful handcrafted folk arts are displayed on the Altar, the central part of this celebration. I invite you all to check out the Day of the Dead Altar exhibition that the Embassy of Mexico presents for the public in November.
YOUR FAMILY'S LIFE PATH DEPENDS ON YOUR HUSBAND'S CAREER. WHAT IS IT LIKE FOLLOWING CARLOS?
The life of a diplomatic family certainly is not a traditional life but I enjoyed being in a multicultural environment and raising my biracial children in it. Through my husband's work, we were able to give my children very unique experiences that wouldn't have been possible without his job.
My son, who has a BA in music composition and BA in electric engineering, was able to attend a gala dinner and sit at the same table as one of his musical idols, Carlos Santana. My daughter was given the opportunity to travel half of the world and ignited her career in environmental science. It was these types of experiences that I am so thankful we were able to provide for my children as they certainly shaped who they are today.
Our first major difference as a couple from different cultures was how to raise kids. In my culture, education is essential for children's life and nothing is more important. My husband used to argue that first of all the kids should be happy. My Korexican children, Korean, Mexican, and American, are now accomplished young professionals and they are happy. Meaning that we, a tiger mom and a loving dad, did the job well in spite of our differences. We were lucky as we could cope with all these adversaries
Coincidentally, both my children ended up in two cities we previously lived in. My son is working as a software engineer in San Francisco and my daughter moved back to Washington DC for graduate school and continues to work at the Environmental Protection Agency (EPA) as a U.S. federal employee.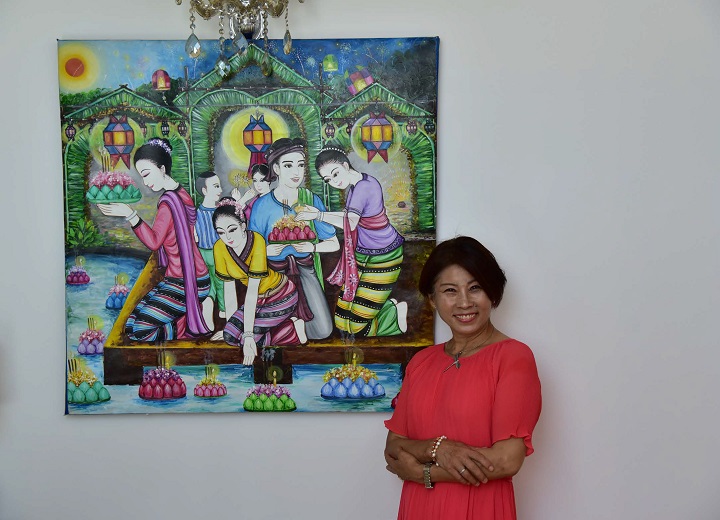 SINCE MAY 2022, YOU HAVE BECOME THE PRESIDENT OF THE IWC. THAT POSITION IS NOT AT ALL EASY, IT COMES WITH A LOT OF WORK AND RESPONSIBILITIES. HOW DID YOU DECIDE ON ACCEPTING IT?
I love charity work and I served as a member and president of many organizations in my previous postings. During my time in Washington D.C., I was involved with the Embassy Adoption Program to provide cultural and art education to marginalized school children.
In San Francisco, I served as President of the San Francisco Consular Corps and organized many charity events. During this role, I learned so much about the importance of empowering women and how much of an impact organized events could have. I worked very closely with the Tenderloin Afternoon School Program, which is a vulnerable low-income community center.
In addition, I served as President of the Spouses of the Head of Diplomatic Missions in Malaysia. As president, I hosted the very first diplomatic bazaar in Malaysia as well as many other charity events. I was a very active supporter of Ideas Academy in Kuala Lumpur, which is the first high-level educational institution for refugee children in Malaysia.
These experiences have shown me the importance of giving back to the community. There are so many issues and disadvantaged communities that need help. These communities are typically closer than we realize and it's important to help them get the aid they need. I have been so lucky to make strong friendships and work with committed people from all over the world to give back to the community we live in. I accepted this position to continue to promote multiculturalism and strengthen our local community. I'm humbled that the members value and trust my previous experience and me as president.
IN WHAT DIRECTION ARE YOU GOING TO DEVELOP THE CLUB AND WHAT ARE THE FUTURE PROJECTS?
As President of IWC, I am currently working towards bringing back the IWC's Charity Bazaar that has been on hiatus due to the COVID-19 pandemic. All the proceeds from the bazaar will go to help vulnerable communities affected by the pandemic. It will also be a great opportunity for attendees to enjoy the array of cultures presented by participant embassies.
In addition to the Charity Bazaar, I would like to initiate some campaigns to raise awareness among our members for important issues. For example, Breast cancer affects many women internationally but screening regularly and promoting healthy life habits can prevent it. Therefore, I would like to initiate a breast cancer screening campaign so that members can conveniently get screened.
Another area I would raise awareness of is environmental issues, specifically the dangers of single-use plastics. Plastic has become one of the most common household items and while it can be convenient, it can harm the environment due to its inability to degrade. In addition, plastics typically carry toxic chemicals that can affect families, pets, communities, and more. I would like to promote sustainable habits that can replace the reliance on single-use plastics. This will give IWC members the opportunity to lead by example and encourage others to make more environmentally conscious decisions every day.
Also, the IWC board is planning to introduce a yearlong community service committee to assist year-round the people in need in the community.
Throughout these charitable events and campaigns, I also want to develop deep friendships with the board and club members. It is important to work together as a team to accomplish our goals but I want to make sure everyone enjoys their time together while the work is being done.
DO YOU HAVE A TEAM, WHICH CAN FOLLOW YOU IN THE REALIZATION OF THE IDEA?
I have an important legacy to uphold from previous presidents and I am very lucky to have wonderful committees and talented ladies on the board. These ladies are experienced and passionate about leading group activities to create an environment of understanding, compassion, and friendship while promoting diversity. Each of the IWC members is a pillar of this club and it is important to work together to create a strong foundation to share our cultures and make a difference. I am so excited and proud to serve as President and know my fellow board members will support me and steer me in the right direction.