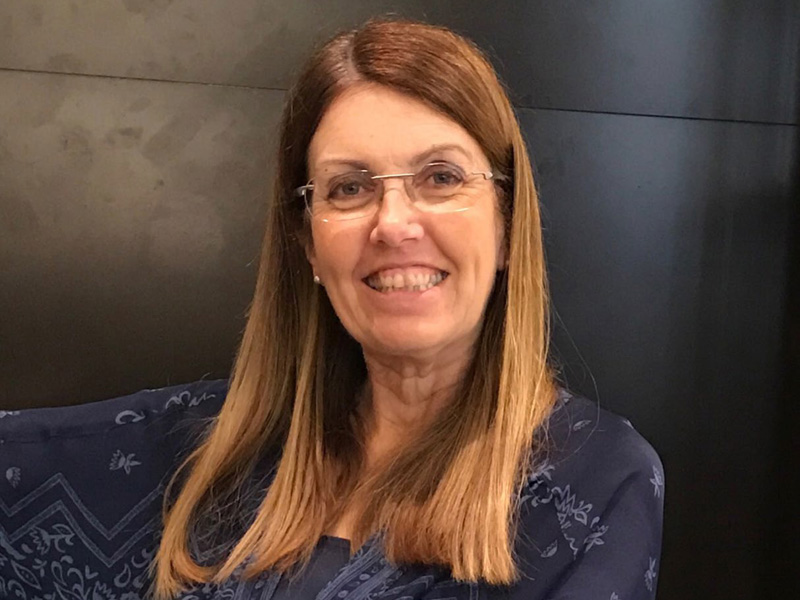 13 nov 2019

LINDA'S WONDERLAND

WORDS: LINDA HOLLIER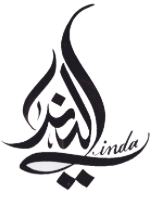 The calendar year was 2012, one hundred and fifty years since Lewis Carroll first began writing "Alice's Adventures in Wonderland". Sitting on a bench close to the Burj Khalifa and the Dubai Fountain, Linda was aware of the fact that even though she sometimes thought she knew who she was, she was also conscious of having changed several times over the years, not to mention since that morning. Infinitely curious, Linda peeped over the shoulder of the lady sitting next to her to see what she was reading. She found it most strange that the book did not contain any pictures or conversations.
All of a sudden, a white rabbit with a device in his hand, alarm going off rather loudly, attracted Linda's attention. "Oh dear! Oh dear! I shall be late!" he said to himself.
Following the sound of the alarm playing one of her favourite hits, Linda ran after him. He passed a digital stream, and as he popped down a rabbit hole Linda followed him further, only to find herself soon tumbling into what seemed to be a very deep well.
Whether the well was very deep, or she fell very slowly, Linda did not know. What she did notice after a while were the symbols on the sides of the well depicting the various portals available to those entering this world of wonder.
"PORTAL"
She did not know it yet, but by clicking on a link, the traveler in cyberspace can be transported from one place to another. By downloading an app, the user is offered tools and information unheard of before.
As she fell, Linda remembered her mindfulness practice. Deciding that this was as good a time as ever to be mindful, she took a deep breath and allowed herself to be fully aware of herself, her feelings, her muddled emotions and her surroundings, which were rather strange to say the least.
She felt she must have reached the centre of the earth when she suddenly landed with a thump. She thought she spotted the white rabbit but he soon disappeared out of sight.
As she looked around her she recalled that Downtown Dubai where she lived had recently launched a campaign entitled "The Centre Of Now", which aimed to highlight the area as the hub of a global cultural movement focusing on fields such as architecture, business, cuisine and culture. Perhaps that was where she was – at the centre of now!
Soon Linda found herself in a room with a little table. On it lay a device similar to one she had seen the white rabbit holding. To examine it she picked it up, swiped its screen and squealed with delight at what she found. There were stories with pictures that were interactive when she touched them. There were conversations going on in real time! There were maps and dictionaries, newspapers and magazines. She could play games and even draw using her finger.
She noticed a camera and a special app and before long was taking pictures of herself which transformed her at once into someone tall, someone short, someone with a huge funny face and then someone all squashed up.
Swiping the screen yet again, she found an app called Instagram. She realized that she had not landed in the centre of the earth, but was somehow in all places at once, as she watched photos from all over the world appear on her screen in real time. This was truly here2here!
Linda soon discovered an app called Slow Shutter which somehow enabled her to capture the past, the present, and the future all in one image. The white rabbit seemed to have been distracted by his iPhone but Linda decided she would attempt to use hers mindfully.
She recalled that in Japanese calligraphy there is a symbol called an ensō. It means circle and is often referred to as an "expression of the moment". Many artists, as a form of spiritual practice, draw an ensō daily. Linda wondered if it was possible to practice this in photographic form, and so began to incorporate the circle in what she was editing, with this in mind. She felt it represented the moment, emptiness and form. At the same time, it was an attempt to represent the experience of falling down the rabbit hole or whirling in cyberspace; a space which is not localized but experiential.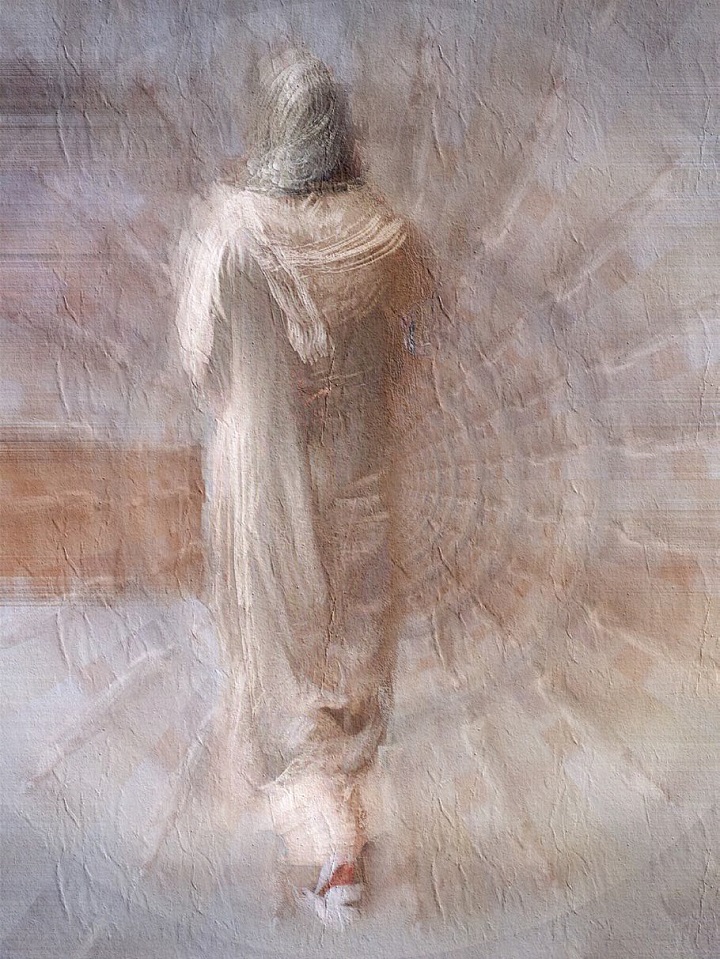 "ENSŌ"
Time ran curiously in Wonderland and before she knew it Linda was another seven years older. It was the year 2019 and she was now in Canada. A number of her iPhone artworks had been exhibited all over the world thanks to the many contacts she had made online.
The selfie had become very popular but Linda chose to photograph her subjects mostly from behind. She felt that most people had a need to be seen, and with her art, as she captured their energy of movement in space and time, she wished to say, even to the stranger, "I see you." Seeing opposites in the looking glass had clearly influenced her!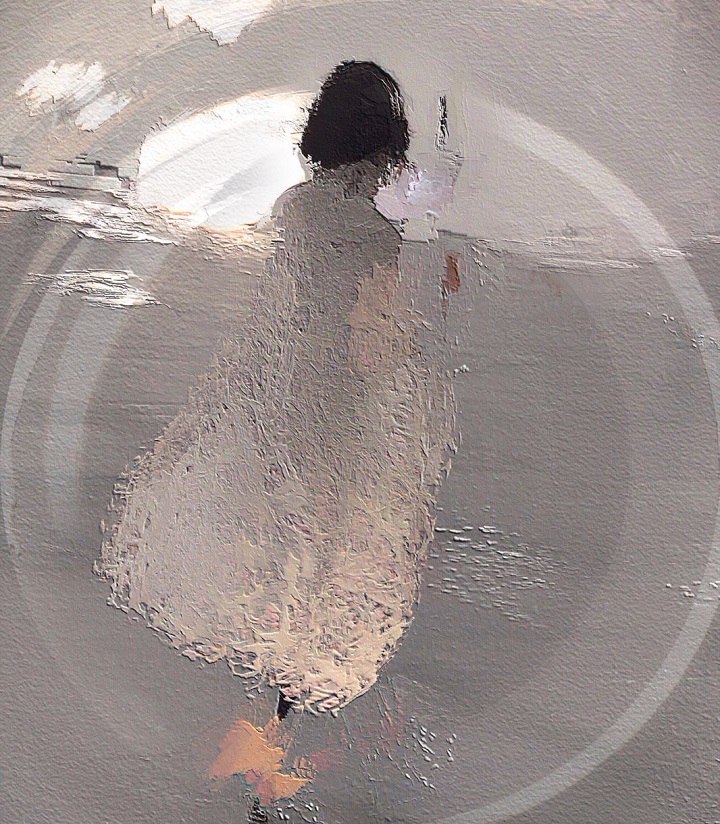 "UNSTOPPABLE"
Her iPhone buzzed and Linda saw she had received a number of notifications. Could it be that the Mad Hatter was inviting her to another tea party? It was Andrea Bigiarini from Florence, Italy, inviting her to be part of what he called The Amazing Visionaries Project. He was creating a series of digital paintings in the style of John Singer Sargent and wanted her to participate. Linda thought that she would love to grin like the Cheshire Cat but Andrea was wanting something more serious.
Linda had previously thought that tag was a game only children played, but she saw that Manuela Matos Monteiro from Porto, Portugal had tagged her on Facebook to let her know that "Flashing By" had been selected to be part of a mobile exhibition in the ancient Salzedas Monastery in Portugal. The exhibition would be titled "Circumnavigation in the palm of our hand" and would feature the works of 50 mobile artists from all over the world. The exhibition would run from 19 October 2019 to 23 February 2020.
The exhibition title excited Linda as she felt it aptly described a key aspect of her passion.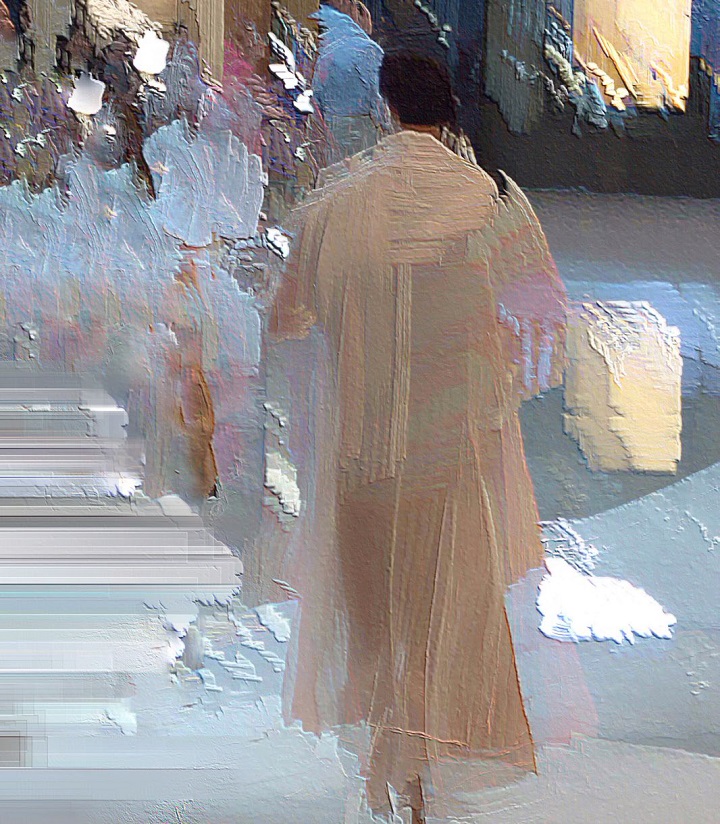 "FLASHING BY!"
The third notification was a request from Miomira Anima Mundi Medaković Topalović from Belgrade, Serbia, inviting Linda to write an article for the Refresh Your Life magazine.
The last notification was from Lidija Kostic Khachatourian. In January 2020 Lidija's gallery, Akka Project Dubai-Venezia, representing Linda, would include a selection of Linda's iPhone artworks in an exhibition.
As she looked at the fascinating names flashing on her screen she wondered about her own. When she first picked up the iPhone in that little room after she fell down the rabbit hole, she had noticed that many of the comments said Linda! At the time she guessed that anything was possible when time was no longer linear and she felt herself so close to the other and the other felt as she.
Deciding to find out why they were using her name, Linda googled to discover that the name Linda might be derived from the German and Celtic root of the linden tree. She was happy that she had chosen to print many of her artworks on wood as a tree is both grounded and reaching for the skies at the same time.
Slightly confused, Linda read on, finding other possible meanings. More worlds of wonder were awaiting her.
The name Linda in Xhosa means "wait" and that made a little sense. Perhaps if she waited long enough it would all become clear to her.
This was getting curiouser and curiouser, until for now at least, it all suddenly made sense.
Linda was also used in Italian, Spanish and Portuguese to mean beautiful, pretty or cute. People on Instagram were indicating that they liked a particular photo!!!
Wonder is there when we stop to see it. What is more, Linda realized, modern technology was making it possible to share these moments if we so choose.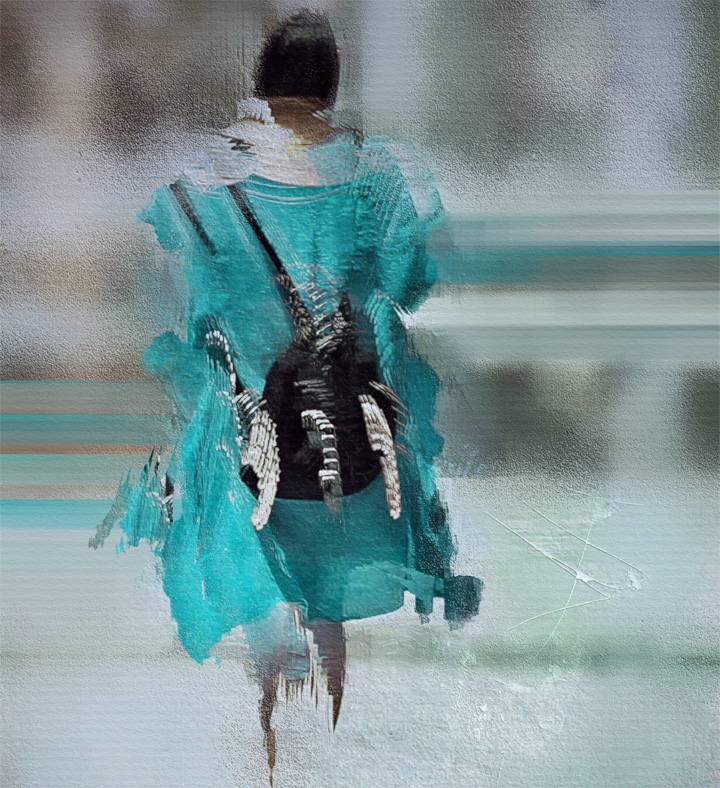 "THE BEAUTY OF TECHNOLOGY"
At that moment the White Rabbit appeared and Linda decided to ask him for his input. She began, "If you please, sir-" but then changed her mind. She picked up her iPhone and said:
"Siri, are you the White Rabbit?"
Siri replied, "We were talking about you, not me."
"Do you carry a pocket watch?"
"I'm sorry Linda. I'm afraid I can't answer that"
"Have you visited Wonderland?"
"I don't understand 'Have you visited wonderland'. But I could search the web for it."
"I think you are the White Rabbit."
"If you insist."
Linda looked up and saw the Mad Hatter laughing at her. She was not sure whether time had stopped or if it had been transcended. Out of the corner of her eye she saw the Cheshire Cat smiling.