BY: MIA MEDAKOVIĆ-TOPALOVIĆ
PHOTOS FOR BULKA:
PHOTOGRAPHER – MIRKO TABAŠEVIĆ
MODEL – NADEŽDA DIMITRIJEVIĆ
MAKEUP – ANĐELA MAKSIMOVIĆ
BOOTS – VINTAGE ŠMIZLA
Nina Bogosavljev, costume designer, and the creator of the fashion brand 'Bulka'. Born in Belgrade, she graduated design from the Faculty of Fine Arts in Belgrade, two majors: stage costumes and contemporary clothing. A nomad at heart, she traveled all over the world, with her parents and alone, to explore different cultures, languages, and get to know herself. For a while, she lived in Montenegro, Costa Rica, and Abu Dhabi, but she focused her work on creating the 'Bulka' brand in her home country. The trademark of this brand is the kaftan; taken from Serbian tradition, Serbian costumes and adapted to the women of the 21st century. Each piece is unique, perfectly preserved and made from natural material, unique in its color and beauty.
She participated at the 45th Belgrade Fashion Week in 2019, as well as at the Fashion Week in Ljubljana the same year, organized by Fashion Scout See, and this fall she will present a new collection inspired by Serbian tradition and travel through India.
Nina is a woman who has the vision and strength to present her idea and to shape and materialize it in the most beautiful possible artistic way through kaftans. Those pieces carry the idea of a free stylized woman who is authentic and free to express her personality through fashion.
Yoga, and design as well, are her passions. She studied in Belgrade at the famous Vidja Yoga school of Dragan Lončar, after that she receives a scholarship from the Indian Embassy and continues her education in India. She realized how important it was to open up her heart, so she created the Anahata collection. Anahata means heart chakra in Sanskrit, and she has named her collection after it. Translated into the Serbian language, anahata means invincible, uninjured, unbeaten. This chakra is related to balance, calmness, and serenity, and it echoes with sound, that is, the vibration of the Kingdom of Heaven.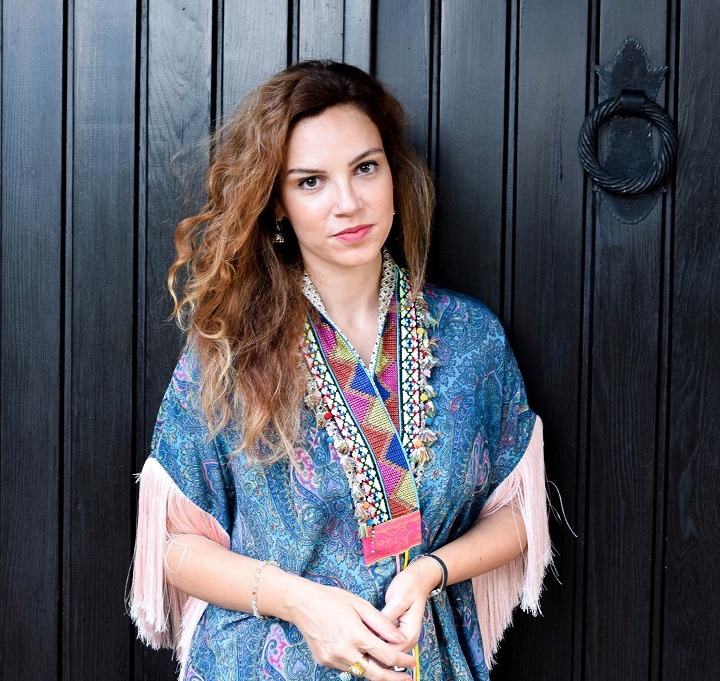 WHAT IS YOUR FOUNDATIONAL INSPIRATION IN YOUR WORK? IS IT A MIXTURE OF THE FAR EAST AND SERBIAN MOTIFS OR …?
It is wonderful when at one point in your life you can look back briefly at the imprints you made along the path of your life journey. I like to do it sometimes, just sometimes, because I am practicing to live in the now. For reasons unknown to me, from the beginning of my studies, I drew my main inspiration from Indian tradition, mostly architecture. It dragged on for so long and deep that for my graduate work in costume design I took Goethe's Faust and Margarita, and through inspiration from India, and managed to pull it off. Only about three years ago did I begin to fall deeply in love with Serbian tradition and its history of clothing. Unfortunately, while growing up and schooling, we turn away and learn more about other cultures and traditions rather than our own. I discover complete exotism in Serbian tradition from which the brand 'Bulka' draws its basic inspiration. In November 2019, I receive a scholarship from the Indian Embassy and go to the south of India to the University of S-VYASA, where I study further about the tradition that I started in Belgrade in 2015, and finally live a fragment of my whole dream and one incredibly great culture and tradition. Naturally, as a result, the Anahata collection is born, the exhibition is delayed due to the current situation and I hope I will be able to share it with everyone soon. This collection is a mixture of my emotions related to both Indian and Serbian traditions. As crazy as it may sound to someone, maybe someone would say bravely, maybe stubbornly, I use Bulka as a canvas to paint my emotions and combine everything that I live and that affects me. I am eternally grateful that I found a medium through which I can give a part of my soul to others and thus complete the whole cosmic cycle of giving and receiving, because I get magical comments from my clients how they feel great joy and special energy when they wear Bulka.
DO YOU BELIEVE IN INTENTIONAL COINCIDENCES AND THE MEETING WITH BOJANA NIKITOVIĆ – WHAT WAS IT LIKE WORKING WITH HER, AND WITH COSTUMES FOR MOVIES?
I am dealing with the issues of existences so much that I can already say that I know that coincidences do not exist. As we reflect our personal vibration in the world around us, now I know that nothing is by accident and that is the joy we should live when we realize how much more important the path is rather than the goal itself. I was an assistant to Bojana Nikitović, costume designer, on several projects, both in film and theater. I began as a volunteer in the costume department on the movie "Mamaroš" directed by Moma Mrdaković, followed by the movies "Cat Run", as well as "Coriolanus" directed by Ralph Fiennes, and after that the play "Nova Stradija" by Kokan Mladenović at the National Theater in Belgrade. The whole period was extremely challenging for me, a young costume designer with no experience, and what I can say today is that working with Bojana was both my master's and PhD thesis. I learnt the most in that period and I think that my whole attitude towards work today, whether it is fashion, movie, or theater, is a reflection of my cooperation with Bojana.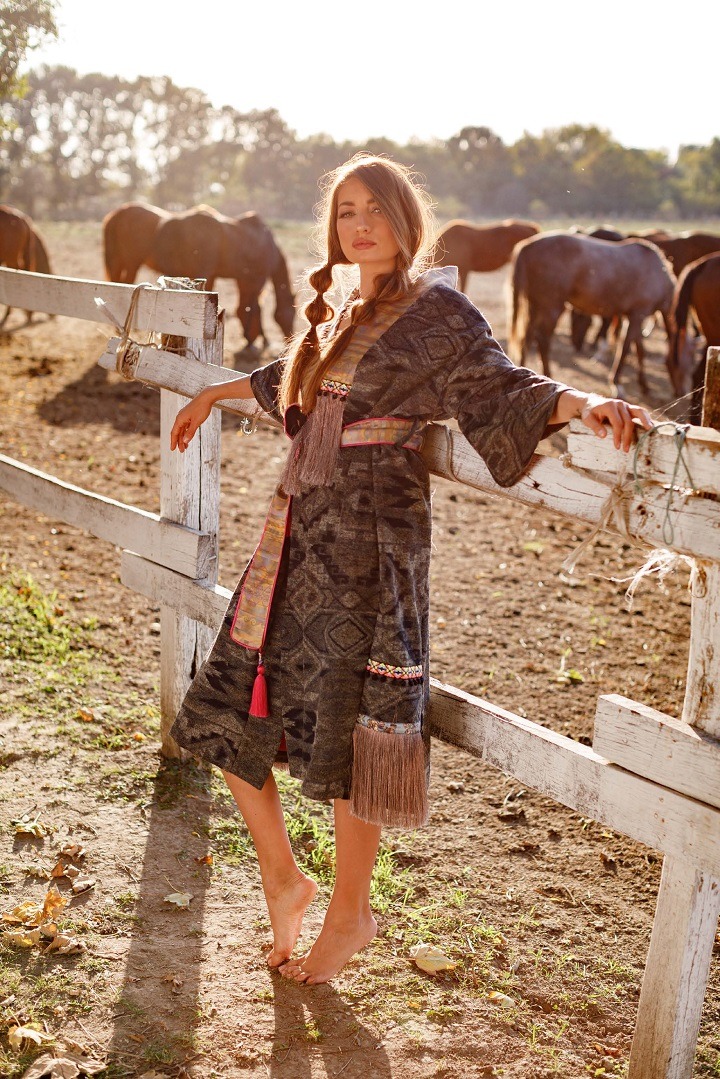 HOW FAR DOES YOUR RESEARCH IN COSTUME WORK TAKE YOU?
The work of a costume designer, as well as a fashion designer, have a wonderful common feature: the initial inspiration that leads to deep research and learning. Each project and idea make you grow. The new knowledge and teachings themselves are so surprising that the joy you encounter along the way is in fact the core of my work. I had the opportunity to start traveling around the world from an early age, so today I often draw inspiration from all those experiences, stories, and memories, so I decipher them into the present moment and then paint own additional research. Most of all, that research leads me to new acquaintances. I meet magical people in our city and country and I admire the parallel world that has always been there, as it lives outside of everyday life that pushes us, from somewhere around us. At the same time, it brings me peace and great joy, faith, and progress on a personal level.
HOW DO YOU FLIP THE SWITCH TO TAKE A BREAK AND FOCUS ON SOMETHING ELSE?
After working on the movie and in the theater with Bojana Nikitović, my switch was flipped and I went to Abu Dhabi. There, I had the opportunity to get a job for almost two years at the Etihad airline, which brought me even more opportunities to travel around the world. It was there that I absorbed that mixture of cultures and inspirations the most.
I also had the opportunity to be a volunteer and later an ambassador of a non-governmental organization GVI – Global Vision International. After that I went to the Seychelles where I live in a tropical paradise on an uninhabited island of Curiouse with a few other volunteers and scientists. I spent a month there in a self-sustaining camp exploring Aldabra giant tortoises, Koko de Mer palms – an endemic species that can live for more than 200 years and can only be found here and on the neighboring island of Praslin.
I leave for Costa Rica at the end of 2016, I spend three months there and hold yoga classes and learn to dive. You ask me how the switch happens. I had the opportunity to make extreme changes in my life several times. Now that I look back on all those moments, I see that it is not essentially taking a break or taking step back from life. That is simply the flow of my life. Whenever I get a chance, I embrace it with open arms. I think that we should never be afraid of the unknown, but that we should boldly step into every experience that is given to us. After all, are we not here for that reason?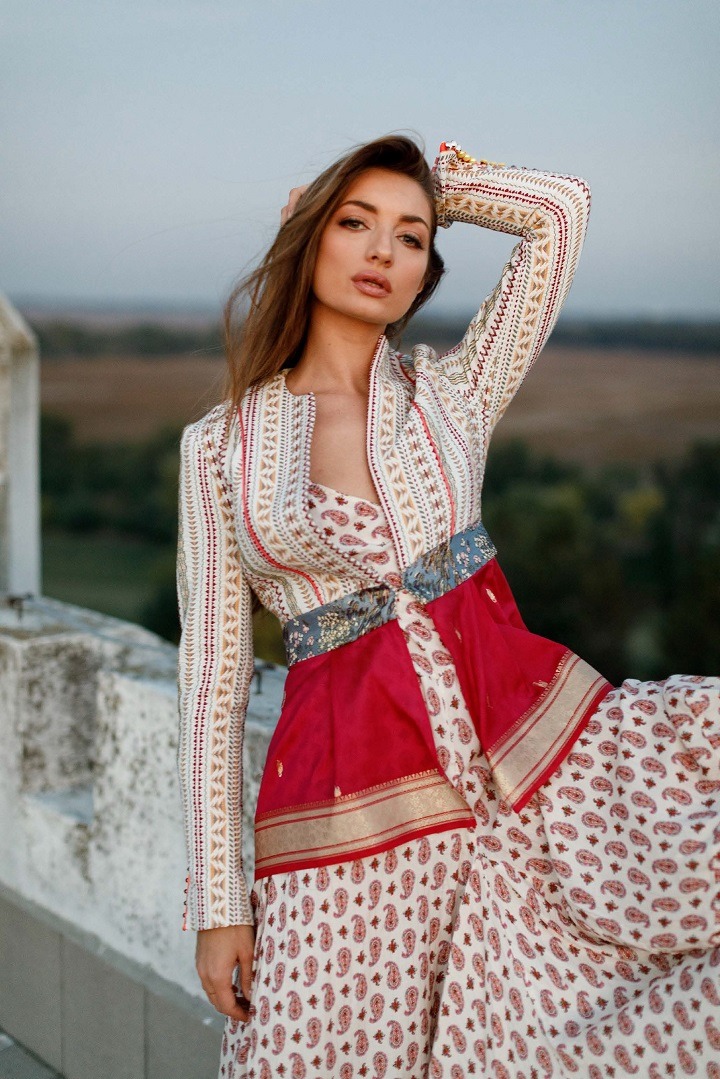 WHAT DID THAT EXPERIENCE BRING YOU?
Every deviation from everyday life, habits, and comfort brings new teachings and an opportunity to get to know yourself better. Costa Rica brought me just that. In addition, I carry with me amazing experiences from the depths of the Pacific. I had the opportunity to learn to dive with oxygen bottles and to go diving almost every day. The biggest impact on me was hearing the song of the whales that you can hear from a depth of 15 meters. It is something that is very hard to describe unless you experience it yourself.
HOW WOULD YOU DESCRIBE YOUR 'BULKA' – CLOTHES, KIMONO, DRESS INSPIRED BY SERBIAN TRADITION? AND THE ACCESSORIES THAT ARE ALSO FROM THE BULKA LINE.
A dose of pure inspiration, the moment, great love, and dedication are in every Bulka piece of clothing, as well as in the accessories. I want to tell a story of tradition, because in the "New Age" it is not easy to look back, stop, and stand firmly on your feet. All the details are inspired by original Serbian costumes which have been transposed into a modern concept that adds to the unusualness, and yet you can wear the entire collection at any occasion. Each model is unique and has been made with great care from top materials. I persistently appreciate the slow fashion movement and it seems to me that the only way to move forward is to return to old values. Returning to old values is often taken lightly, which is why Bulka is always reflecting in the original female beauty. I create a variety of items that follow the body line, to luxurious kaftans and dresses, as well as tight vests and jackets.
IS BULKA ONLY PRODUCED IN SERBIA OR DO YOU DO SOME DETAILS OUT OF THE STORE?
I can say that I am proud that everything related to production is taking place in Serbia. I have wonderful workshops, tailors, modelers, and weaving workshops I cooperate with, in Belgrade, Niš, Subotica, Pančevo, Nova Pazova… We really have wonderful craftsmen and we should cooperate with them as much as possible, because unfortunately, old crafts are slowly being forgotten. I believe that a time is coming when old values will return and we should continue to remind ourselves, and therefore others around us, about those values. I think we are in sensitive times when there is a fine line between oblivion and preservation. Maybe we have a little more time to point out the beauty of tradition and bring it back to everyday life in a new way. Sometimes, I print some drawings inspired by Serbian ornamentation, botany, frescoes, and fairy tales in England using high quality natural materials.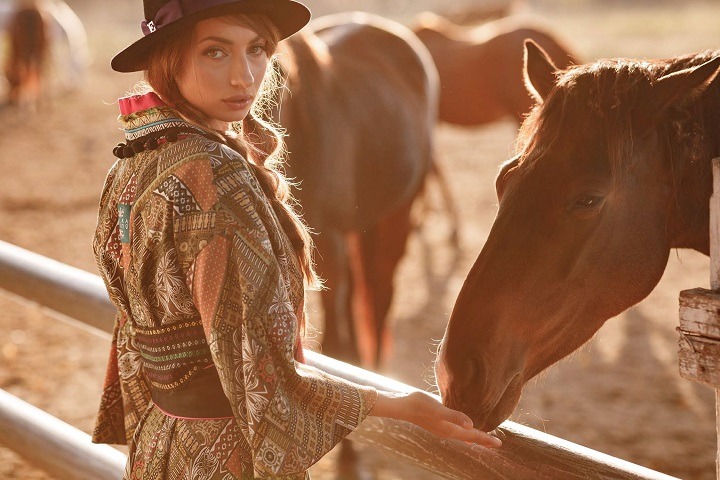 WHAT KIND OF WOMAN DO YOU HAVE TO BE TO WEAR BULKA?
In every Bulka piece, there will be a powerful traditional woman who captivates with her inner sincerity towards the world, brave to show it and participate in spreading nobility, reciprocity, and talent by inspiring her surroundings. Bulka appreciates the original female beauty and all its values.
WITH WHAT CAN WE WEAR YOUR PHENOMENAL KAFTANS?
Each Bulka model is adapted to be worn in all occasions. I insist above all on comfort, as well as uniqueness playfulness of colors. Therefore, whether you wear a Bulka piece with jeans and a white T-shirt, or climb on dizzying heels and wear a little black dress, you are unique no matter which piece of Bulka you are wearing and you will get noticed.
ARE YOUR KAFTANS TIMELESS?
I dream of Bulka becoming vintage one day in the future. I personally live vintage stuff and I grew up in that spirit. I grew up surrounded by antique furniture and porcelain, I like to dress in my mother's closet, and I remember always admiring how her things last so long, even bragging about some pieces I wear that were bought in, let's say, Paris before my birth. Today, consumerism is flourishing and suffocating us with desires for the new, which goes to some unattainable and unnecessary lengths. I always wonder if it is really necessary, what are we chasing, what are we grabbing for, and what are we afraid of. You will find several messages on each Bulka piece. I will not reveal them all, but one of them is: Live it, Wear it, Share it. By this I want to point out the beauty of wearing each piece for a long time, personal creativity in combining your pieces of clothing, enjoying the process and passing that piece on to others. I want Bulka to live like that for a long time and send that message to generations.
THE TOPIC OF THE JULY-AUGUST ISSUE OF RYL MAGAZINE IS: FALL IN LOVE WITH NATURE. ARE YOU IN LOVE WITH IT AND IS NATURE IN YOUR DESIGN AND MATERIALS?
We are nature. There is no disruption or separation. I believe it is very important that we remind ourselves of that every day, with every inhale and exhale. I have to repeat. We are nature. I would like to invite everyone to sit in silence for a minute, close their eyes, and really evoke that feeling and remind themselves of being one with nature. I am lucky that I have my oasis in nature itself, half an hour from Belgrade, I have a part of my forest, this is where I recharge, return to balance and run away from the city crowds, where we often forget that we are nature. 🙂 Therefore, Bulka is made from the highest quality natural materials such as: silk, cotton, viscose, wool, cashmere, and a combination of them. So, for the end, I would like to tell everyone: remind yourselves to fall in love with yourself, remind yourselves, because you know that from the very existence of the world and only then will you truly be in love with the whole universe, because you are.