DESIGNER: X MLADENOVSKI
PHOTO: GORAN POPOVSKI
MODELS: MIROSLAVA BLAGOJEVIC, HRISTIJAN MLADENOVSKI
MAKE UP: ANASTASIJA VELICKOVIC
HAIR: DANIEL ARTEVSKI
ASISTANT: SARA MITKOVSKA
The conception of the "Black Lyric" collection lies in the intimate connection of its designer with his childhood memories from the rural en­vironment in which he grew up. These memo­ries bring to the forefront the symphony of Sla­vic pagan ritualism and the poetic incantation of ancient Slavic witchcraft. Using dark hues and organic silhouettes, the collection aims to evoke feelings of introspection, connecting the observer and/or wearer with their ancient ro­ots. This connection to one's own roots, which relies on the oral transmission of culture, tra­dition, and folk images in lyrical form, is also a key inspiration for the "Black Lyric" collection.
Slavic culture encompasses various forms of witchcraft as a result of its strong culturally pa­gan roots. Examples of such practices include women witches casting incantations (in Ma­cedonian "баење", pronounced "bay-nyeh"), Christmas traditions, and so on. Through these forms of ritual in contemporary folklore, Slavic people remain connected to their pagan roots. Furthermore, a significant part of the currently present pagan rituals are not directly related to religion. For example, many men and women relied on witchcraft practices to attain a desi­red outcome such as love, fertility, death, hap­piness, or sorrow. All these practices are pas­sed down from generation to generation orally, in the form of lyrics in folk songs or graphically through the patterns of folk costumes.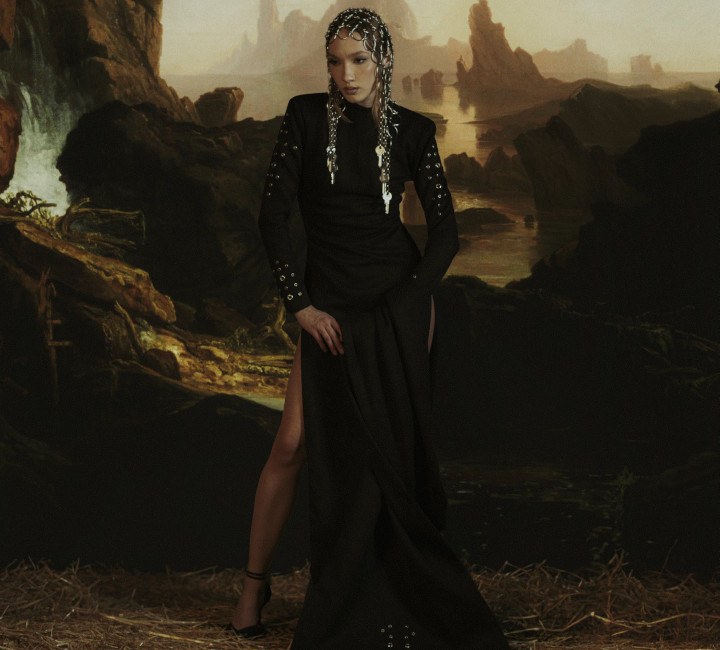 The materials utilized in the "Black Lyric" colle­ction exude a glossy and lustrous texture. These chosen tones and textures aim to en­capsulate the enchanting essence of abstract forms and their inherent potency. The colle­ction exclusively adopts a black-silver fusion, as black evokes mysticism, elegance, and morbidity. Silver, akin to iron which played a significant role in ancient Slavic rituals, sym­bolically represents the collection. The sickle, featured as an accessory in several garments, serves as both a psychological and spiritual element. In Slavic pagan culture, female wit­ches believed that wielding the power of the sickle allowed them to harvest the essence of a person's soul during incantation rituals, mi­rroring the act of villagers reaping crops.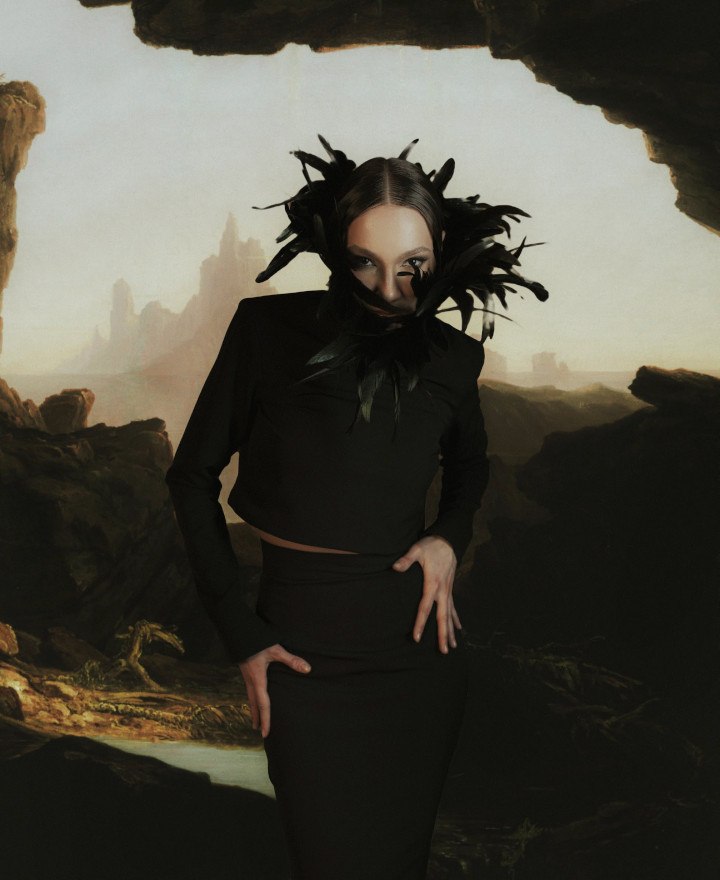 Certain garments within the collection embody the essence of black magicians, accentuating the presence of men alongside women in the realm of Slavic witchcraft. The primary messa­ge conveyed by these garments revolves aro­und the fusion of traditional pagan motifs with modern elements. Pagan inclinations conti­nue to permeate the realm of magical realism within contemporary culture. Consequently, the "Black Lyric" collection aspires to inspire viewers to embrace and perpetuate traditional and pagan customs within their daily lives, rat­her than forsaking them in favor of prevailing Western trends.
Through embracing our own roots, we hold the potential to reshape societal norms, especia­lly considering the historical suffering endured by women and individuals during the Middle Ages due to the aforementioned practices. The "Black Lyric" collection endeavors to re­mind individuals of their profound connection to nature, advocating for its preservation while safeguarding cherished traditions.