WORDS: MILENA NIKITOVIĆ
PHOTOS FROM A PRIVATE COLLECTION
Vladimir Četkar, the talented Macedonian musician, talked to RYL about his music, his career as a musician and his second album "Heavenly".
Passionate and energetic, Vladimir combines his many talents as a guitarist, vocalist, arranger, composer and producer. Born and raised in Macedonia, Vladimir followed his talent and graduated at the prestigious Berklee College of Music. His latest release "Heavenly" is a perfect cocktail of Jazz, Pop, Soul and Disco. He lives and works in New York.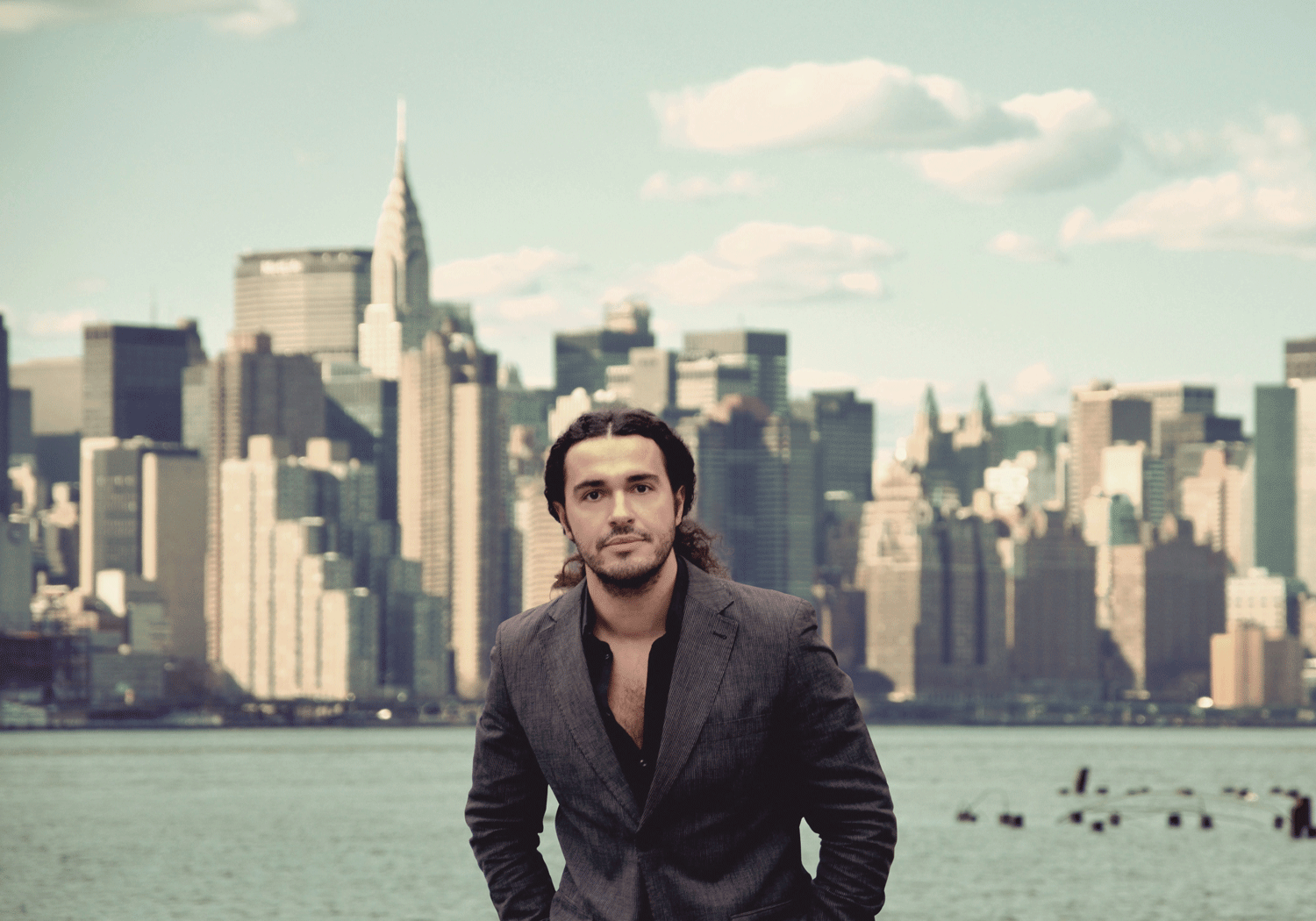 Tell us about yourself, Vladimir. Did you grow up surrounded by music? How were you introduced to music and jazz in particular?
I was always impressed by the sophistication of the late 70's and early 80's disco, funk and soul music. Every little detail in the arrangements was done with intelligence, passion and love. Since my early childhood when I started listening to my parents' vinyl collection of bands like Jazz Crusaders, Earth Wind and Fire, George Benson, Michael Jackson's "Off the Wall" and many others, I remember what a wonderful and stimulative effect this music had on me, creating a burst of positive energy inside me. This never left me, in fact it keeps intensifying as time goes by. A lot of people back home were surprised by my musical obsession with these genres as there was not much access to this music over there at that time. I remember that a lot of the records were purchased through Italy and Belgrade.
Do you think there is some kind of special connection between the Balkans and Jazz music? Are there any particular musicians who helped you in terms of music and any that helped stimulate jazz in Macedonia?
They say that a region, country or nation with strong musical heritage and tradition can creatively thrive in any musical genre, jazz, classical, pop, etc. This idea is beautifully exemplified in the Balkans where diverse musical influences and a strong and highly developed musical tradition have together enabled an appreciation for and advancement in many genres, including jazz.
I had a completely independent path in my career, growing up in Ohrid there was no one there who could teach me the secrets of Jazz guitar and harmony so I had to purchase literature from abroad and I started as a self taught musician. Remember, this was a period when the internet was just in its beginnings and everything was harder to find. I was very persistent and hungry for knowledge which proved helpful as I quickly realized that nothing is impossible and that you can carve your own way even if no one carved it before to make your journey easier for you.
Who are your favorite top five artists of all time?
Five is just not enough but these bands and artists definitely influenced me a lot:
Change – an amazing Italo funk/disco/soul band project by Italian masterminds Mauro Malavasi and David Romani;
Patrice Rushen – one of the most complete musicians ever, a vocalist, pianist, arranger, composer and producer of the highest order!
George Benson – a guitar titan who redefined guitar playing and influenced an army of musicians;
Cameo – Probably the most sophisticated funk music ever written… fronted by music genius Larry Blackmon!
Earth Wind and Fire – some of the most lyrical melodies in contemporary music were written by this phenomenon of a band!
This is your second studio album. How do you think that your sound and style have changed from your first album until now?
The style is very similar except that when I was writing, producing and recording my second album I was more experienced and mature so the production is better.
Тhe biggest challenge for me for both of my albums was to produce them the way they did 40 years ago. When I was in studio I felt like a small disco renaissance fever was taking over me and I was trying to recreate how the classic master producers used to work. I was not sleeping much; I was writing everything by hand starting from the bass lines, drums, strings, horns, background vocals… I was always asking myself if this was the way the old guys did it. The answer came when I got to personally meet legends like Tom Moulton, DC LaRue, Bob Esty and many more who after coming to some of my studio sessions told me that they felt like they just went back to their time; it really still gives me goose bumps when I think about this.
Do you have a new project forthcoming? How would you like your career to progress?
Yes I do and I should be back in the studio sometime in 2016 to start recording again. The ideas have been created and I cannot wait to materialize them into music!
I am very happy and grateful how things have progressed so far, with my music having been released throughout the globe from USA to Japan, Thailand and soon South Korea. It is very very rewarding! Having received recognition from legends such as Tom Moulton, Patrick Adams, Bob Esty, DC LaRue and others is the biggest motivation and assurance that I am on the right track. My goal in the future remains the same, to constantly improve as a performer, arranger and producer and to introduce my music to an even wider audience globally.
You love disco-house music and have collaborated with important DJs and producers such as Dimitri from Paris and Jestofunk. What can you tell us about these collaborations?
Dimitri From Paris is truly a colossal force in the world of Disco and Funk and one of the most important protagonists in keeping this music alive globally. This is crucial to understand as this music has been truly endangered in the past 2 decades. Without people like him many recent generations would have been deprived from this inexplicably beautiful and timeless music. He was always supportive of my work and appreciating the fact that I still work the way it was done in the old days by incorporating live orchestral and rhythm sections in my music. I was absolutely thrilled and honored to have received such a lovely remix for Heavenly with Dimitri From Paris's unique signature and touch. With Jestofunk several years ago we recorded several tracks in their studio in Florence…working with these guys was a unique and magical experience.
I truly hope that these materials will be released one day.
Before we leave you, tell us where can we buy your album Heavenly? What is your favorite song from the album?
You can buy the album online via any major digital distributor but physical copies in Europe can only be purchased in the UK, Italy, Germany, Austria, Switzerland and so far only in Macedonia from the Balkan countries; I hope that soon I will be able to get wider physical distribution in the Balkans. I cannot answer what is my favorite song but I hope the RYL readers already have one from the album 🙂