WORDS: MIA MEDAKOVIĆ-TOPALOVIĆ
PHOTO CREDITS: EUGENIO RECUENCO
PHOTOS OF THE PORTREIT OF EUGENIO RECUENCO: FROM THE PRIVATE ARCHIVE
EUGENIO RECUENCO IS A PHOTOGRAPHER FROM MADRID, SPAIN. HE GRADUATED FROM THE FACULTY OF FINE ARTS AT COMPULTENSE UNIVERSITY IN HIS HOMETOWN.
THE BEGINNING OF HIS PAINTING CAREER WAS DIRECTED AT PAINTING IN LARGE FORMATS. HOWEVER, IN HIS OWN WORDS 'SINCE I COULD NOT GET THE PUBLIC INTERESTED IN THE 4 METER WIDE CANVAS, I FOCUSED ON PHOTOGRAPHY'. AND SO HIS PHOTOGRAPHIC CAREER BEGINS. HE FOCUSES ON FASHION PHOTOGRAPHY AND BEGAN WORKING WITH SPANISH AND INTERNATIONAL FASHION MAGAZINES LIKE SPANISH VOUGE, MADAM FIGARO, WAD, VOGUE, MARIE CLAIRE 2, VOGUE UK, VANITY FAIR, ZINK. HE MOVED TO PARIS TO WORK FOR PRESTIGIOUS BRANDS, SUCH AS LOEWE, NINA RICCI, DIESEL, SHANGAI TAN, YVES SAINT LAURENT, PLAYSTATION, CUSTO, LE BON MARCHÉ, BSI LUGANO, NAF NAF, MANGO OR PERNOD RICARD.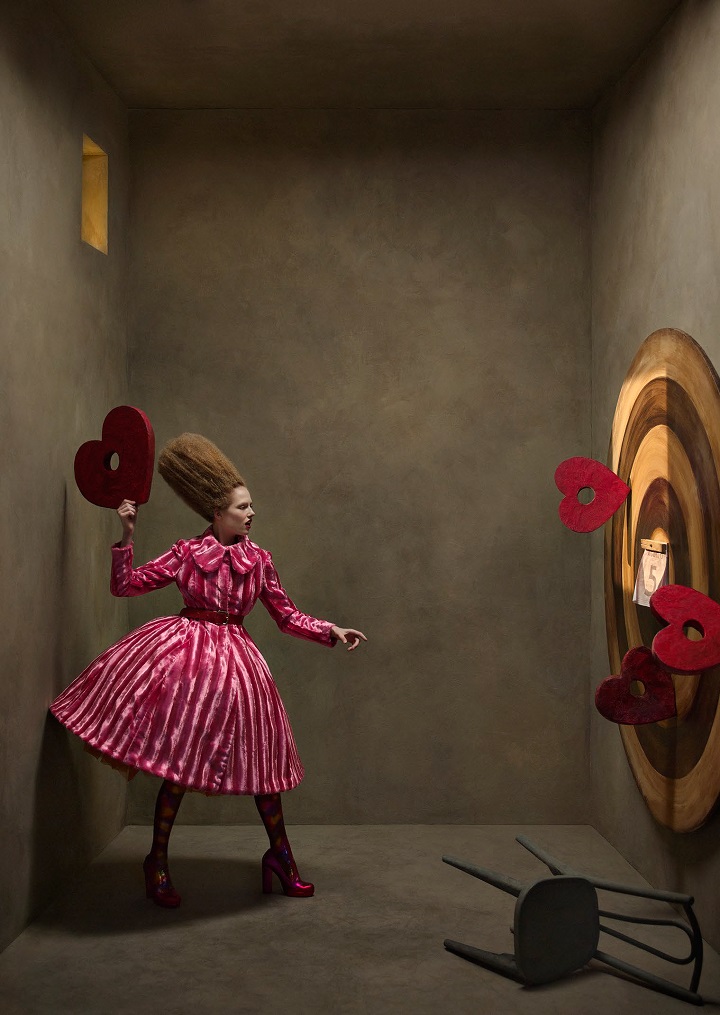 NATIONAL AND INTERNATIONAL CRITICS AND EXPERTS ACKNOWLEDGE AND HIGHLY APPRECIATE THE WORK OF EUGENIO RECUENCE, WHO HAS RECEIVED NUMEROUS PRIZES. HE WAS AWARDED WITH THE NATIONAL AWARD OF THE SPANISH ABC IN 2004, GOLD AND BRONZE AWARDS AT THE EL SOL ADVERTISING FESTIVAL IN 2009, THE CANNES LIONS TROPHY IN 2006 AND 2013, THE GOLDEN PRIZE FOR THE BEST ORIGINAL PHOTO AT THE INTERNATIONAL FESTIVAL EL OJO DE IBEROAMÉRICA IN 2013 AND THE SILVER AND BRONZE AWARD AT THE EL SOL FESTIVAL IN 2016.
HIS PERSONAL PHOTOGRAPHY STYLE IS RECOGNIZED AS "FILM" AND "PAINTING". HE IS ALSO ONE OF THE TWO DIRECTORS OF THE MUSIC VIDEO RAMMSTEIN "MEIN HERZ BRENNT". I HAD THE OPPORTUNITY TO LISTEN TO THIS GREAT ARTIST AT HIS PRESENTATION AT THE SEMINAR FOR ADVANCED PHOTOGRAPHY OF FOTOSOFIA 13 IN TERME TUHELJ, CROATIA, ORGANIZED BY THE FAMOUS CROATIAN PHOTOGRAPHER DAMIR HOYKA. IF YOU ARE INTERESTED IN HIS MAGIC, YOU CAN CHECK OUT HIS LATEST EXHIBITION IN MADRID ON 29TH NOVEMBER 2018.
WHAT DOES EUGENIO RECUOENCO SAY ABOUT HIS WORK? HOW LONG HAVE YOU BEEN IN THE WORLD OF PHOTOGRAPHY?
I have been working as a photographer for almost 25 years now.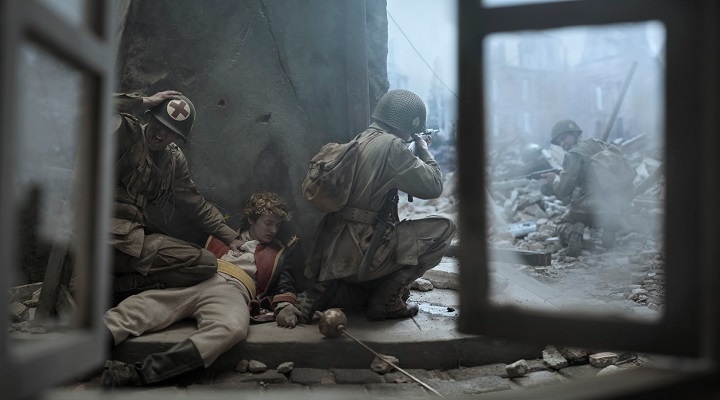 YOU HAVE FINISHED FINE ARTS, BUT YOU HAVE NEVER WORKED AS A PAINTER, HOWEVER YOU PAINT WITH THE LIGHTS AS A PHOTOGRAPHER. HOW DO YOU FEEL ABOUT THAT?
At first, perhaps I was interested in painting as a discipline as I thought it was superior than photography. I pretend to be an image creator, and photography allows me to do that at the moment. But, I don't rule out being able to do other things which are associated with creating. In the past I staged the opera 'The Huguenots' in New York. Since that period of painting, I am greatly interested in color, texture, composition, etc.
PSYCHOLOGISTS EXPLAIN THAT WE REFLECT ON THE OUTSIDE THAT WHICH IS INSIDE OF US. HOW DOES YOUR SPIRITUAL WORLD LOOK LIKE?
If what you are doing is honest, it will in the end reflect on your work and who you are. In my case, what I try to do is not to change anything to please others, I follow my impulses and needs. If I weren't like that, I would be photographing things people like and pretend to like them. I don't force myself to do things I don't want to, just for the sake of following fashion.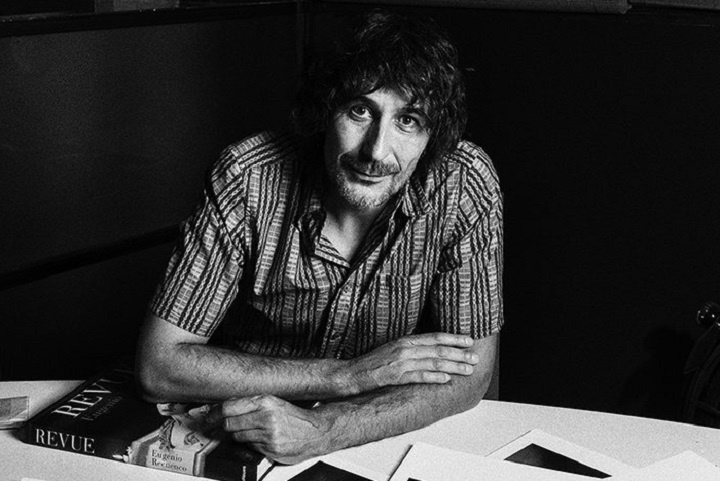 YOUR PHOTOGRAPHY IS MAGICAL AND BEAUTIFUL TO ME, BUT A LITTLE BIT DARK IN ITS ESSENCE. WHAT DO YOU THINK ABOUT THAT?
The human mind is a little dark, it has a touch of perversion. It is the only thing that is aware that its movement or decision has consequences affecting the world around it. If you develop it from an early age, from the first children's games, we can discover what its power is and "the advantages" you get by exercising it.
HAVE YOU EVER HAD A MENTOR WHO LED AND INSPIRED YOU?
I am inspired by life in general. By the news, the discoveries made by humanity, the movies, the music, everyday actions, etc.
It is very difficult not be affected by the avalanche of images on the Internet and stay original as a photographer. Also, I think it is useless, because I prefer to digest the saturation of the visual information and take it as a starting on which to build upon.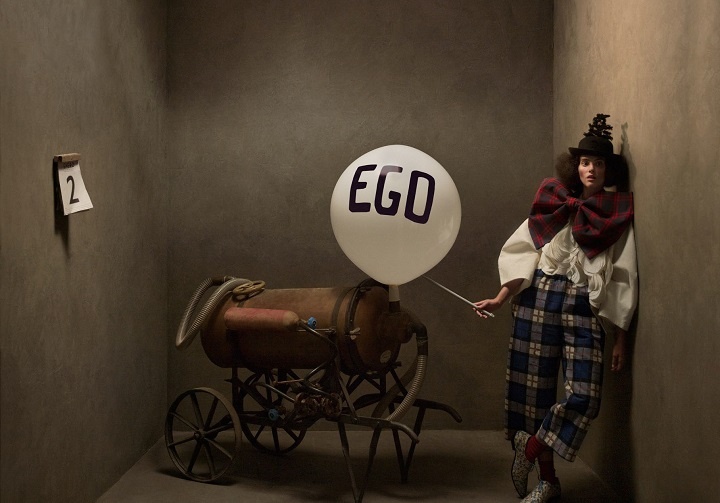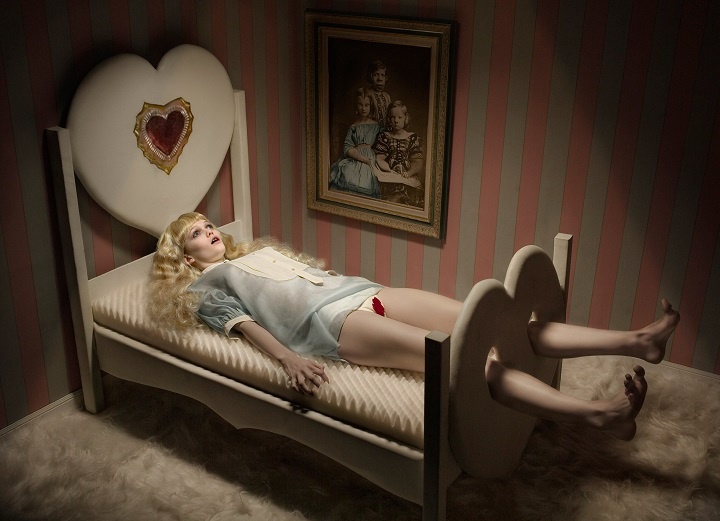 DO YOU FOLLOW YOUR INTUITION DURING YOUR WORK?
Totally. I work a lot with my team preparing each session, but I am not interested in following literally everything I came up with. I don't like to kill the photographic moment.
It is like a painter that begins to paint by drawing up a sketch first with an idea of what the painting will be. However, in the end, the painter winds up dialoguing with the painting which is, I think, very important.
YOUR PERSONAL STYLE IS VERY CINEMATIC, COLORFUL, AND GRAPHIC. WHEN WE LOOK AT YOUR PHOTOS IT`S LIKE WE ARE WATCHING A FILM. DO YOU LIKE THAT IDEA WHICH YOU PRESENT AS A PHOTOGRAPHER?
The style of each photograph corresponds to the message it was intended to convey, to the story I want to tell.
You are right that sometimes it is cinematographic, but in other cases it is completely different. I do not impose a style over what I wish to tell. In actuality, it amuses me, because according to what I want to tell, I have to change, evolve, learn, and progress. Maybe that is why my style is not so personal. Perhaps 'personal' is not having imposed a style even after 25 years, and yet being recognizable.
YOU FASHION PHOTOGRAPHY IS DEEP AND STRONG. WHAT DO YOU WANT TO REACH IN FASHION AS A PHOTOGRAPHER?
I am interested in fashion and its features of creation such as music or architecture. The things I find profound must come from a clash with commercial fashion. It does not interest me, and yet it is what calls me. In fact, I can say that my message is not so deep: fashion is becoming increasingly bland and impersonal.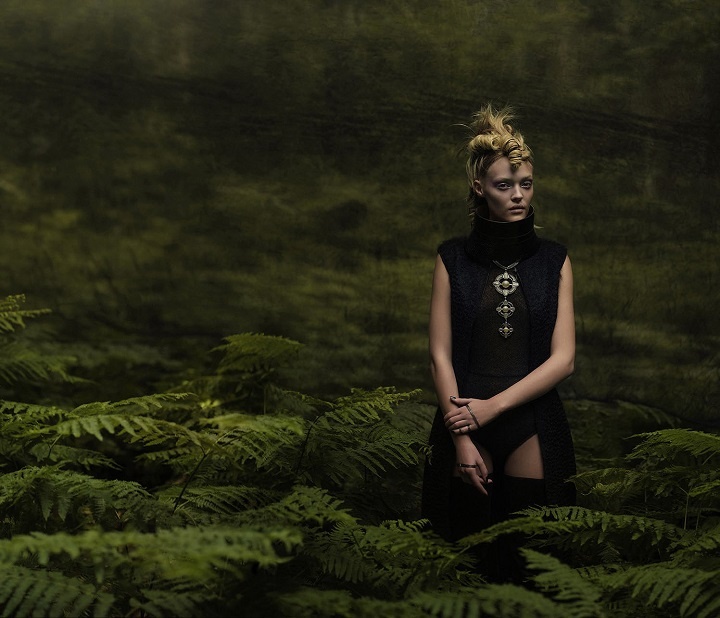 YOU HAVE A SPECIAL KIND OF SENSIBILITY TOWARDS LIGHT AND DARK, DRAMA AND CONCEPT. HOW DO YOU MANAGE TO BRING THIS MAGIC AND POETIC ATMOSPHERE INTO YOUR WORK?
With a lot of work. It is a struggle between what interests me, suggestions, trying to make your dream, and what is asked of you, presentation, following fashion of the street. Right now, it is rather difficult because fashion has ceased to be aspiration and desirable. Nowadays, the street imposes trends and fashion adapts to it by conforming and focusing business on providing to the consumer. Unfortunately, fashion is not an exception to losing values.
WHAT ARE YOU PREPARING FOR YOUR EXHIBITION ON 29TH NOVEMBER 2018. WHAT CAN WE EXPECT FROM YOU?
For visitors, 365º will be a great exhibition with 366 retro-illuminated photographs that will be all over the space forming a unique experience, very different from the visualization of a sequence of photos just by looking at them. The visitors will be immersed in a continuity of taking photos and creating images with people who share my same enthusiasm.