WORDS: MIA MEDAKOVIC
INTERVIEW: KHAIRUL TAZRIL TARMIZI
PHOTOS: PRIVATE ARCHIVE

KHAIRUL TAZRIL TARMIZI – CHARGÉ D'AF­FAIRES A.I. FOR THE EMBASSY OF MALAYSIA IN BELGRADE. HE HOLDS A MASTER OF SCI­ENCE (HONS.) IN MARITIME AFFAIRS FROM THE WORLD MARITIME UNIVERSITY IN MAL­MO, SWEDEN IN 2010. EARLIER ON, HE GRAD­UATED WITH A BACHELOR OF ENGINEERING (HONS.) IN MANUFACTURING ENGINEERING FROM THE INTERNATIONAL ISLAMIC UNI­VERSITY MALAYSIA IN 2002. PRIOR TO HIS POSTING IN BELGRADE, MR KHAIRUL TAZ­RIL TARMIZI WAS THE DIRECTOR AT THE DE­PARTMENT OF MARITIME AFFAIRS, MINISTRY OF FOREIGN AFFAIRS. HE HAS ALSO SERVED AT THE EAST ASIA DIVISION OF THE DEPART­MENT OF BILATERAL AFFAIRS AS WELL AS AT THE DEPARTMENT OF RESEARCH, TREA­TY AND INTERNATIONAL LAW. IN THE EARLY DAYS OF HIS SERVICE, MR KHAIRUL TAZRIL TARMIZI WAS ALSO THE SPECIAL OFFICER TO THE SECRETARY OF THE NATIONAL SE­CURITY COUNCIL, AND PRIOR TO THAT, HE WAS THE ASSISTANT DIRECTOR AT THE MARITIME SOVEREIGNTY AND SECURITY DI­VISION, NATIONAL SECURITY COUNCIL.
FOR MALAYSIA, ITS NATIONAL DAY IS CELE­BRATED ON 31 AUGUST EVERY YEAR. THIS YEAR, THE CELEBRATION OF THE NATIONAL DAY COMMEMORATES THE 65TH ANNIVER­SARY OF ITS INDEPENDENCE SINCE 1957, WHEN PEACEFUL NEGOTIATIONS ENDED THE COLONIAL RULE AND THE FEDERATION OF MALAYA EMERGED AS THE PRECURSOR TO THE MODERN MALAYSIA AS WE KNOW IT TODAY. WE ARE SPEAKING WITH MR. KHAIR­UL TAZRIL TARMIZI ABOUT EVENTS, ORGAN­IZED TO CELEBRATE THE DAYS OF MALAYSIA IN BELGRADE.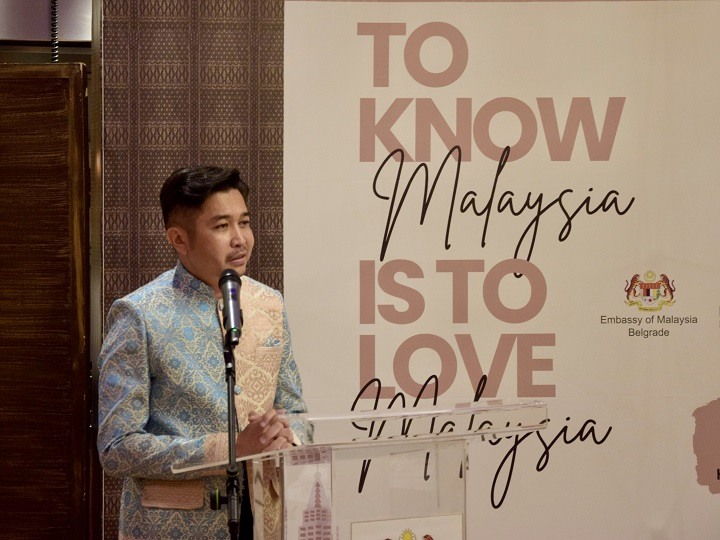 YOU HAVE THE GREAT SLOGAN TO KNOW MALAY­SIA IS TO LOVE MALAYSIA. WHAT CAN YOU TELL US ABOUT THE CULTURAL MANIFESTATION WHICH YOU ORGANISED IN HYATT REGENCY HOTEL AT THE END OF SEPTEMBER?
Keeping focus in continuity in a post-pandemic world, Malaysia has embodied Cultural Diploma­cy as one of the approaches being reinvigorated.
Every culture is unique, it is an identity to rep­resent a nation. However, culture is also a uni­versal language that could be a common me­dium between different nations. Leveranging on this dynamism, the Embassy of Malaysia in Belgrade, in a great collaboration with Hyatt Re­gency Belgrade, Tourism Malaysia and Turkish Airlines had worked hand-in-hand to welcome all in the Republic of Serbia, be it locals or international community to embark on a journey of arts, culture and culinary heritage of Malaysia.
TO KNOW MALAYSIA IS TO LOVE MALAYSIA was specially and successfully presented to all in a delightful ambience of Malaysia Truly Asia, a colourful multicultural experience.
THE CELEBRATIONS OF THE NATIONAL DAY AND MALAYSIA DAY 2022 UNDER THE TITLE: KELUARGA MALAYSIA TEGUH BERSAMA – MALAYSIAN FAMI­LY STRONG TOGETHER. WHAT DO YOU WISH TO SAY WITH THESE WORDS?
The theme Keluarga Malaysia Teguh Bersama – Malaysian Family Strong Together is very much in line with the commitment and concept of har­mony of a large family as aspired by the Prime Minister of Malaysia, the Right Honourable Dato' Sri Ismail Sabri Yaakob.
The phrase 'Malaysian Family' refers to a society that lives in peace and unity in inclusion, togeth­erness and gratitude while the phrase 'Strong Together' supports the meaning of strength and unity achieved collectively and sustainably.
Today, in face of challenges posed by geopoliti­cal polarisation and global economic uncertain­ties, spirit of a Malaysian Family Strong Together seems more important than ever. Apart from es­pousing this concept internally, Malaysia also re­mained committed to promoting it internationally.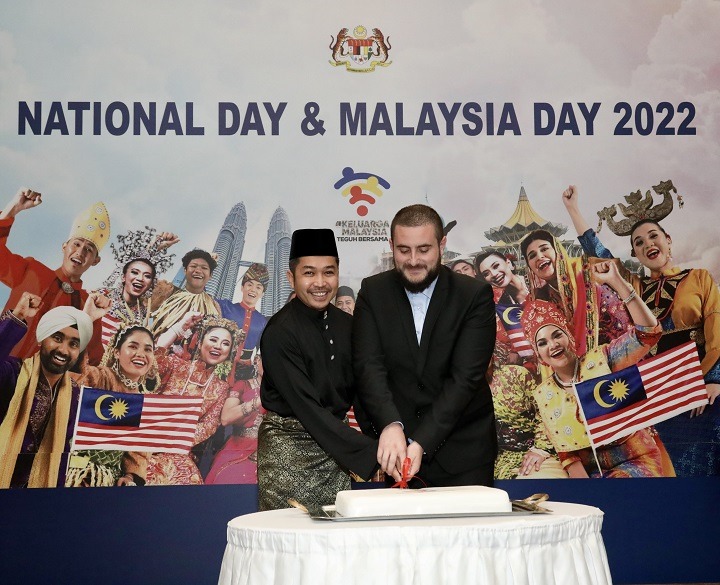 PLEASE TELL US LITTLE BIT ABOUT THE HISTORY AND HOW MALAYSIA GOT INDEPENDENT?
Malaysia celebrates its National Day on 31 Au­gust every year since 1957 to commemorate its independence, when peaceful negotiations end­ed the colonial rule and the Federation of Mala­ya emerged as the precursor to the modern Ma­laysia as we know it today. This year, Malaysia celebrates its 65th anniversary of independence.
On 16 September 1963, the Federation of Mala­ya was joined by Singapore and the two states in the island of Borneo, namely Sabah and Sar­awak. Even though Singapore separated in 1965, the date remains proclaimed as the Malay­sia Day and it has also been celebrated annually.
Malaysians all over the world, including in the Republic of Serbia, celebrate the joyous occas­sions of these two historical days with pride and in the spirit of solidarity and unity, which was the primary driving force of Malaysia's development and transformation of Malaysia into prosperous, harmonious and peaceful society throughout the history of its independence.
FOR THE PAST SEVEN DAYS, THE CHEF OF MALAY­SIAN CUISINE WAS CHEF ISMAIL AHMAD. WHAT WAS ON THE MENU? THE GUESTS WERE DELIGHTED WITH THE CHOICE AND TASTE OF THE FOOD SERVED.
Authentic Malaysian culinary was the basis of all menu prepared throughout the program. It means, all food was prepared from scratch and even some ingredients were specially brought from Malaysia.
Among others and the most popular one were Satay (skewered chicken/beef with peanut sauce and condiments of rice cake, cucumber & onion); Nasi Lemak (coconut rice with condi­ments of fried anchovies, boiled egg, peanuts, and cucumber with mild spicy sauce); and Pen­gat Pisang (stewed banana in coconut milk with palm sugar sauce).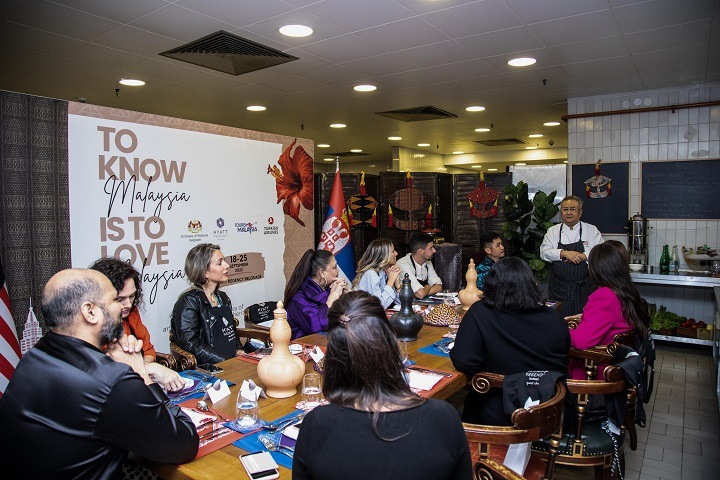 BESIDES FOOD, GUESTS COULD ENJOY THE EXHI­BITION OF THE MALAYSIAN ARTIST DATIN ELIZA TA­JUDDIN WHOSE ARTWORK REFLECT MALAYSIA'S TRA­DITIONAL, SOCIAL, AND CULTURAL ACTIVITIES, AND SHOWCASES THE BEAUTY OF MALAYSIA THROUGH ASIA. HER ART IS VERY DESCRIPTIVE AND COLORFUL. COULD YOU TELL US MORE ABOUT HER WORK?
A self-taught Malaysian naive contemporary artist, Datin Eliza Tajuddin acquired the interest and skill of this art which originates from a small town in the Republic of Serbia, called Kovacica, during her stint in this country some more than 30 years ago.
This is another testament of the long standing people-to-people connectivity between Malaysia and the Republic of Serbia, through which co­lourful stories of Malaysia were presented via Serbian arts.
YOU HAVE BEEN IN SERBIA FOR ONE AND A HALF YEAR, WHAT DID YOU EXPECT FROM SERBIA VS. WHAT DID YOU GET FROM SERBIA?
Personally, I never have expectation when post­ed to any foreign countries. I come with open heart and open mind, to explore and eventual­ly unearth the gems of the country. Life is more beautiful to appreciate what you have rather than to criticize what you do not get.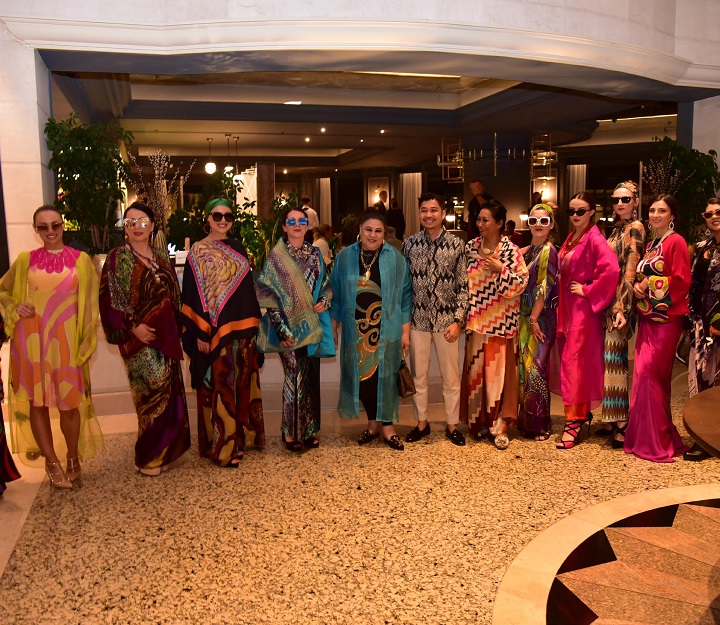 HOW ARE YOU SATISFIED WITH THE WORK OF THE EMBASSY OF MALAYSIA IN BELGRADE AND AFTER THIS CULTURAL EVENT, WHICH YOU GENEROUSLY PUT TOGETHER, DO YOU HAVE ANY PLANS FOR FUTURE EVENTS IN ORDER TO BRING MALAYSIA CLOSER TO SERBIA?
I have been receiving unwavering support from my team at the Embassy of Malaysia in Bel­grade since day-one. It's a real teamwork makes dreams work. So many things which I had dreamt of, and mostly were successfully realized.
Events are media of communication. Of course, I do have plans in order to continuously commu­nicate and I will always make sure that things are being effectively communicated. So watch out for next !
FOLLOW YOUR BLESSING – THE TOPIC OF RYL MAG­AZINE OCTOBER ISSUE – DO YOU THINK YOU HAVE BEEN ABLE TO FIND AND FOLLOW YOURS?
I count my blessings each day… One would have not been at where they are today without bless­ings. With blessings, there are opportunities to reflect. And reflection about life is paramount to one's progress and self-development. It is the key to ensure oneself is always getting better on every passing day. So, count your blessings!