WORDS: MIA MEDAKOVIĆ
INTERVIEW: NATAŠA KAMALJEVIĆ
PHOTOS: FROM THE PRIVATE ARCHIVE
NATAŠA KAMALJEVIĆ, WAS BORN ON AUGUST 18, 1978 IN GORNJI MILANOVAC. SHE GRADUATED TOURISM MARKETING AT BERKLEY BUSINESS COLLEGE IN SPAIN, AND THEN RETURNED TO SERBIA AND STARTED A FAMILY. THEY START A FAMILY BUSINESS RELATED TO SPORTS AND TOURISM. THE NEED FOR ARTISTIC EXPRESSION HAS ALWAYS BEEN PRESENT AND IN 2017 SHE ENROLLED AT THE ACADEMY OF VOCATIONAL STUDIES IN ARANDJELOVAC (CITY OF TOURISM, CERAMICS AND MARBLE), DESIGN DEPARTMENT FOR UNIQUE AND INDUSTRIAL CERAMICS, DISCOVERING A NEW WORLD AND POSSIBILITIES OF EXPRESSION. SHE GRADUATED IN 2020 AND FOUNDED HER OWN KNARTCERAMIC STUDIO, WHERE SHE ACTIVELY CREATES AND DESIGNS UNIQUE CERAMICS. SHE LIVES AND WORKS ON THE ROUTE BELGRADE – ARANDJELOVAC.
WHEN DID YOU REALIZE THAT YOU WANT TO EXPRESS YOURSELF THROUGH CLAY?
When Professor Branislav Spasojcević told me that there was something in me and my attitude towards clay. Unfortunately, he is no longer with us, but I am grateful to him for all the advice and comments that awakened in me the desire to explore and roll clay. I must say that professors Branko Bolović and Vladan Martinović influenced my development, without them I would not have known the world of artistic ceramics.
WHY DID YOU CHOOSE THE SCULPTURAL VASE?
Sculpture as an object is something that awakens thinking and admiration in me. In order to be accessible and adaptable to man and the space where it can be observed and interpreted, I decided to be useful. This is how I make a unique piece of art that has more purposes.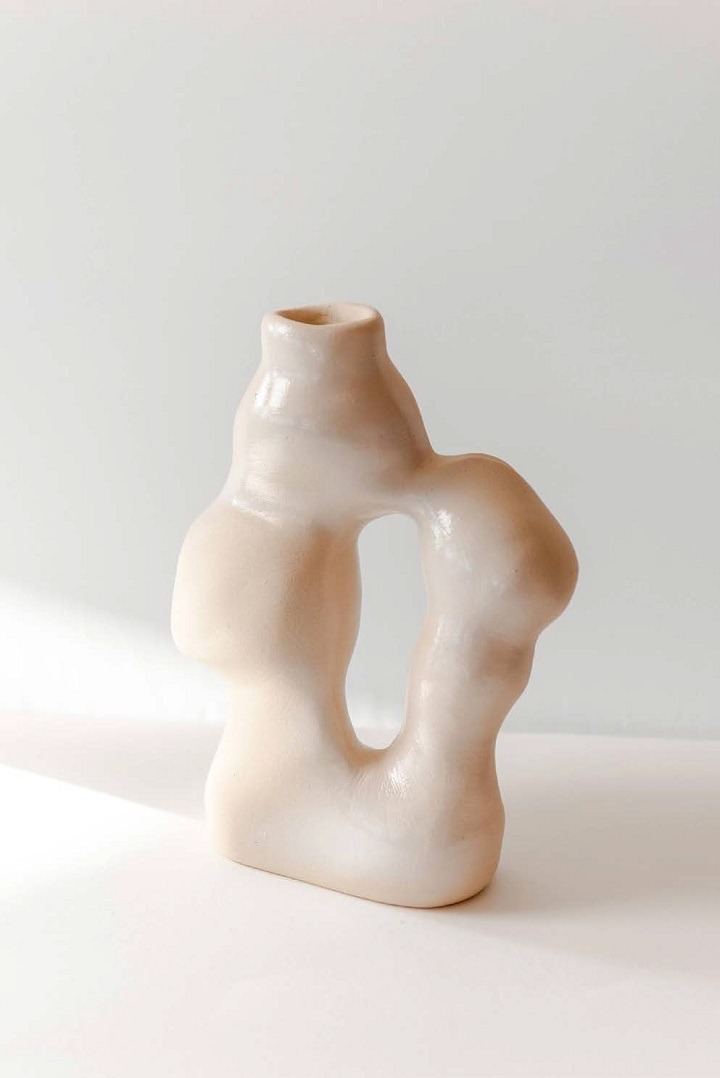 DO YOU BRING AND PROVIDE VALUE TO THE OBSERVER THROUGH YOUR WORK AND STYLE?
I hope so, and I certainly give myself a lot of value. As I create forms, I really wander into the philosophical spheres of life and being. That's how I come to a possibility and an answer. If I manage to transfer and awaken at least a part of that energy in the observer, then I have achieved something.
SOME DEFINE YOUR WORK AS A "STATEMENT OBJECT IN MODERN INTERIOR".
I sincerely hope that in this space, my work draws attention and invites observations and questions or interpretations.
YOUR SCULPTURES ARE BLACK OR WHITE. WHY? AND WHY CLAY?
Because colors are superfluous for this kind of artistic expression. The shape itself is enough, the color would soil it.
Clay is a natural material from which everything imaginable, especially with hands, can be shaped. Clay as a noun is feminine, so she is very versatile, flexible, firm, soft, sensitive. She can do anything. You just have to be good with it.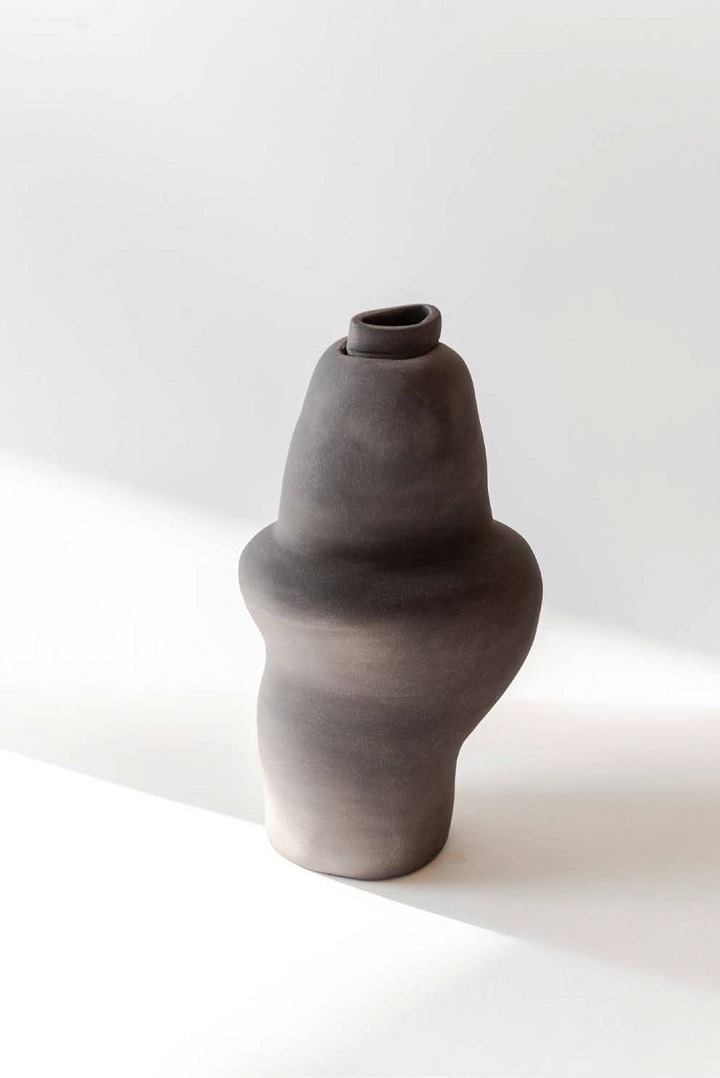 HOW DO YOU FEEL WHILE CREATING?
I could write a book about the feelings and thoughts that arise when I am with clay. Feelings come as a result of my thinking, and thoughts come from everyday life. Everything I go through, every experience and learning or mistake are triggers for thinking, and then it causes various feelings that my clay knows best. Clay feels everything, I pass everything on to clay and together we rejoice, comfort, love, grieve. It has everything and in the end I tell her: "Transfer a part of everything we felt and it will be good." It is important that the two of us are well, my piece, and therefore me.
YOUR FIRST SOLO EXHIBITION OF SCULPTURES "THE POWER OF METAMORPHOSIS" WILL BE HELD FROM MAY 18 TO 28, 2022 AT THE RADOŠEVIĆ GALLERY. WHAT WILL YOU PRESENT YOURSELF WITH? HOW LONG HAVE YOU BEEN PREPARING FOR THE EXHIBITION?
I present my core, essence, what I have learned and experienced over the years and positive energy through working in this form. These are works I have been doing for a couple of years, so I will show the most expressive ones and dearest to me.