WORDS: ANIMA MUNDI
PHOTOS: FROM PRIVATE ARCHIVE
LINDA HOLLIER IS A NATURAL BORN EXPLORER WITH AN INNATE CURIOSITY AND A PIONEER SPIRIT. HAVING TRAVELED EXTENSIVELY AFTER GROWING UP IN SOUTH AFRICA AND LIVING IN GERMANY, SHE HAS NOW, FOR THE LAST 8 YEARS, FOUND HERSELF EMBRACING THE LIFE AND CULTURE OF DUBAI AND ABU DHABI IN THE UNITED ARAB EMIRATES.
LINDA IS FILLED WITH A BOUNDLESS NEED TO INVESTIGATE WHEN TRAVELING, WHETHER IN CYBERSPACE OR AROUND THE GLOBE. HER LOVE OF PHOTOGRAPHY AND ART HAS MERGED WITH HER INTEREST IN TECHNOLOGY, FUELING AND NURTURING A CREATIVE PROCESS. IT IS THIS WHICH LEADS HER TO CREATING WORKS ENTIRELY ON HER IPHONE AND IN BECOMING AN INFLUENTIAL ELEMENT IN THIS NEW AND INTRIGUING ART MOVEMENT.
WHEN DID YOU BEGIN TO PRACTICE MOBILE PHOTOGRAPHY AND BECOME ACQUAINTED WITH THE TECHNOLOGICAL WORLD THAT WAS CONNECTED TO IT?
Upon my arrival in the Middle East, I was inspired by stories of bedouins – nomads who lived in the desert. They embodied wandering and mobility and an awareness of interconnectedness. With this in mind I began a project which I called #mo­bileart. Photos of art in various forms were taken with my mobile phone while I was out wandering and were posted immediately via Twitter.
Shortly after that I got my first iPhone, joined Instagram and discovered the world of apps. Interested in exploring the architecture of cy­berspace, I began editing photos of Dubai archi­tecture and created my first two abstract series, entitled "Digital Archways" and "Corridors of Cy­berspace". My iPhoneart journey had begun.
YOU HAVE A DEGREE IN ENGLISH AND MATHEMATICS AND A DIPLOMA IN HIGHER EDUCATION. DO YOU REMEMBER THE MOMENT DURING WHICH YOU DISCOVERED THE ARTIST IN YOU?
To me, this discovery was more of a process than a moment. I have always been creative, filled with curiosity and the need to communi­cate, but it is only when I realized that these ac­tivities never fill me with any form of stress and only bring me joy that I knew this is what I am meant to be doing.
I have come to realize that every aspect of my life is a part of my art and that as I continue my artistic journey I should pay attention to this wholeness.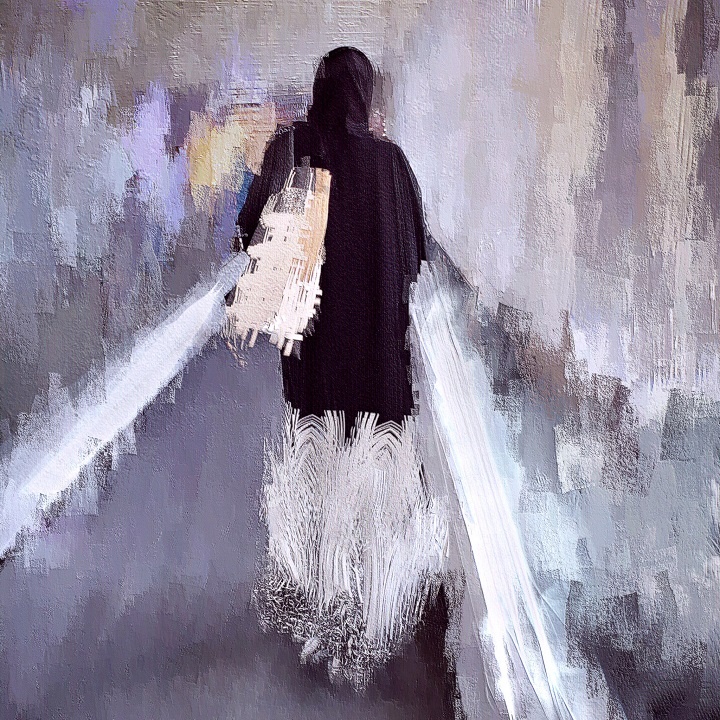 WHAT INSPIRES YOU AS AN ARTIST?
Life inspires me. All forms of beauty inspire me. I believe that we are living in exciting times. There is exponential growth in the field of technology. There is augmented and vir­tual reality and the internet of things. At the same time our planet is calling out to us to re­mind us that everything is interconnected and a part of nature.
The exposure to the works of other artists via the internet also inspires me as does the feed­back received when sharing images on the spot across the globe, regardless of time and space. My art flows out of and into a shared community.
DO YOU FEEL YOURSELF A PIONEER IN THE USE OF MODERN TECHNOLOGY AND CREATING A NEW FORM OF VISUAL ART IN THE FIELD OF PHOTOGRAPHY?
I love exploring when I travel the world and when I travel in cyberspace. I feel privileged to be part of the mobile art movement and am wanting to make a valuable contribution in this field.
I am part of a number of online communities of mobile art in order to stay afresh in the field and interact with other artists. This is inspir­ing.
When my "Corridors of Cyberspace" series was exhibited in Venice, I added augmented reality to my artworks. By holding up their phones to the artworks, viewers were taken to various links, websites, social media sites and videos.
With my experimental use of the numerous apps available, I feel as if I am plunging for­ward into new territory. Yes, I feel like a pio­neer!
WHEN YOU MOVED TO DUBAI IN 2010, YOU STARTED TO WRITE YOUR BLOG "HERE2HERE". WHAT DO YOU WRITE ABOUT?
When I began my blog I wanted to write about two things – the mindful use of technology and the architecture of cyberspace, the spe­cial place where we meet online.
Cyber space and time surpass previously ex­perienced dimensions. We are not separated by distance, and time zones do not hinder our encounter. Your "here" meets my "here" in a dimension I choose to call "here2here". Ac­knowledging we-presence in a very special we-space, it hints at connectivity and inter­connectedness. It is a plea for compassions and calls us to acknowledge the other and broaden our perspectives.
here2here is also a call to become mindful of the present moment and all it contains instead of acting on auto-pilot.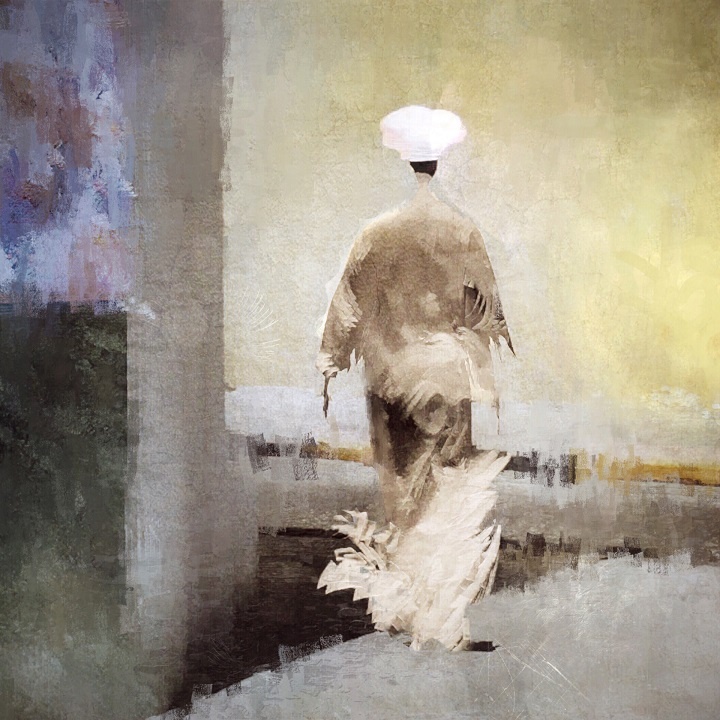 WHY IS MINDFULNESS SO IMPORTANT FOR YOU AND ALSO FOR US?
"Mindfulness means paying attention in a particular way: on purpose, in the present mo­ment, and nonjudgmentally." – Jon Kabat-Zinn
My whole creative process is becoming more and more intuitive. This requires me to be very much in the moment. For this reason, captur­ing images flows out of my mindfulness prac­tice but has very much become a practice in itself. When editing my images the process is totally intuitive. Focusing on being present, I create textures, blend and use a variety of apps until I feel the artwork is complete. It is very much a flow process.
There is a powerful link between the past and the present and that is the present moment. I believe that by paying careful attention to each present moment, we are given the opportunity to creatively participate in the unfolding of our stories.
We often hear "go with the flow". That is true but could sound like going along with what­ever happens to us. I prefer to use "being in the flow" – being open to each and every op­portunity that arises. The realization that we need to be in the flow is life changing and can dramatically alter our life stories.
CYBERSPACE IS PRESENT AS A PARALLEL SPACE FOR YOU OR AS YOUR REAL LIFE?
We can no longer refer to the "real" world and the "online" world as if they were two separate entities. Being online is part of everyday life for many of us. The challenge for me is to find the right balance in my activities and to re­member to remain grounded. When using my devices, I often stop to take three deep breaths to remind myself that I have a physical body. I started this after reading a study about how people hold their breath and forget to breathe when checking emails.
HOW DO YOU FEEL THE RIGHT MOMENT IN PHOTOGRAPHY?
We are so much more than just our bodies and even in cyberspace one begins to pick up on the energy of others by their avatars and the way in which they communicate and share.
When out using slow-shutter photography on my iPhone I focus mainly on the energy that accompanies the scene or people I am photo­graphing. There is mostly just one split sec­ond to capture what I am seeing and feeling before the scene in front of me changes or the person changes direction.
I was once out walking in Rome when I came across an Ethiopian festival. I felt like an un­seen observer being given the privilege to par­ticipate in some way. Unaware of how much time was passing, I captured image after im­age of the participants in their beautiful cloth­ing. After I had edited these images I had six of them printed onto Ethiopian prayer shawls to become my #interact2connect series.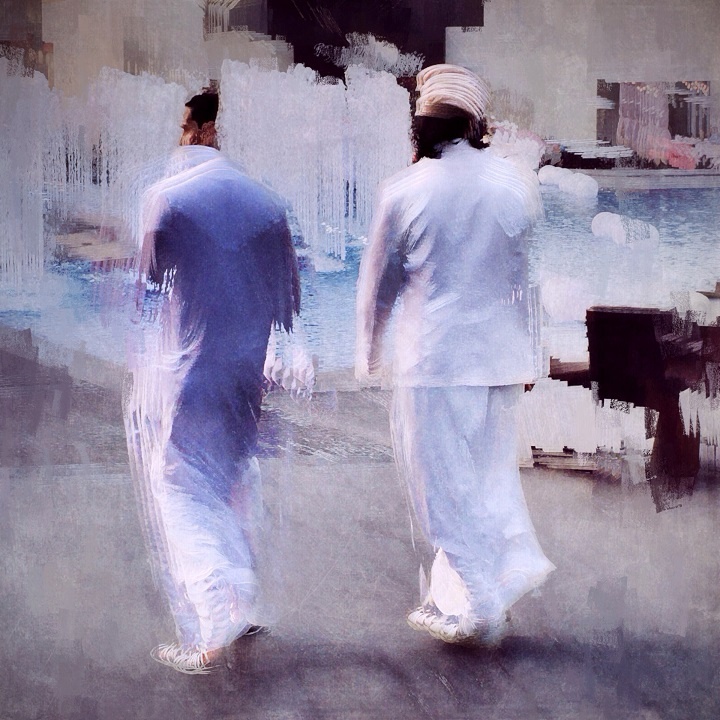 CAN YOU DESCRIBE YOUR LIFE IN ABU DHABI? WHAT DOES THE UAE OFFER YOU?
I do not have a set daily routine but when I am out I always have my iPhone in hand. Every day I devote time to working on my current art pieces. I read about and try new apps. I re­search possibilities of sharing my art and also spend time on social media connecting with people all over the world.
The UAE is a melting pot of various cultures. This inspires me and fuels my creative pro­cess. The art scene is growing rapidly here and presents artists with numerous opportu­nities.
IN YOUR ARTWORKS YOU PRESENT WOMEN AND MEN FROM BEHIND. IT IS SOMETHING OPPOSITE TO THE SELFIE. WHAT DO YOU WANT TO PRESENT US IN THIS WAY?
The age of modern technology allows each and everyone of us to photograph ourselves. It is the age of the selfie and this is wonderful. At the same time I feel we live in an age where many people have a deep need to be seen. With my artworks depicting people from be­hind I wish to say, "I see you".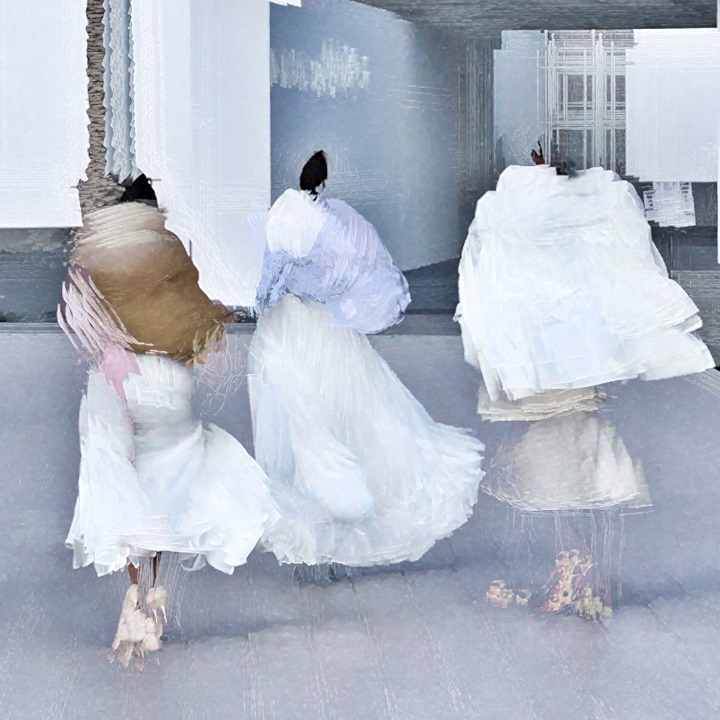 YOUR HEROES ARE IN MOVEMENT IN ANOTHER DIMENSION BUT AT THE SAME TIME THEY ARE PRESENT IN THE MOMENT. WHAT IS THE SIGNIFICANCE OF THIS?
After I attended a whirling dervish ceremony in Istanbul I began to experiment with ways of depicting rootedness and movement occur­ring simultaneously. The figures in my art­works appear to be rooted in a moment but at the same time appear to be moving in another dimension which is filled with mystery and po­tential. They invite the viewer to follow them to discover a story waiting to unfold. I find that viewers are drawn to them emotionally and see what is necessary for them at that point in time in their unfolding stories.
To further depict this simultaneous occur­rence, I combine my use of modern technolo­gy – the movement , with printing on recycled wood – the rootedness. Remaining grounded in the modern while using the modern technolo­gies at our disposal will enable us to mindfully meet each other in a space where borders of time and space no longer exist.
HOW WOULD YOU DESCRIBE YOU COLLABORATION WITH ANDREA BIGIARINI, THE FOUNDER OF THE NEW ERA MUSEUM IN FLORENCE.
Last year my artwork "Dissolving" was select­ed to be exhibited at and included in the Equi­nox Experience in Florence. This was a totally immersive experience with huge screens, live music and moving images created by mo­bile artists all over the world. This event was the brainchild of Andrea Bigiarini whom I met when I attended the event.
This year I was honored to have Andrea invite me to be part of the international jury for Maje – Mobile Art Jazz Experience. While I was un­able to attend the first showing in Florence, I will be attending the event in Rome in May.
THE MAIN TOPIC OF THE MAY ISSUE OF RYL IS "MAKE YOUR IDEA ALIVE" HOW DO YOU MAKE YOUR IDEAS COME ALIVE? HOW DO YOU LIVE YOUR DREAM?
When I see someone in motion and realize that I can use that moment to create an artwork, I make sure that I capture that moment. When editing later, I work on that image layer after layer until my vision comes alive.
I also dedicate a lot of my time to promote and exhibit my art. Meeting artists from various cultural backgrounds inspires me to continue with my research into the themes I find im­portant and to continue to find new ways of expressing them through my work. I have en­countered wonderful people across the globe who are helping me make my dreams come true.