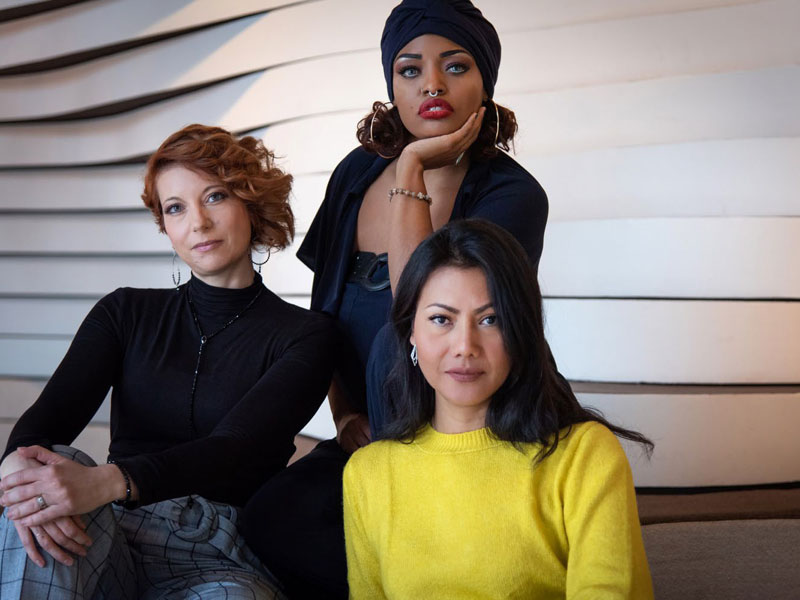 13 feb 2019

LOVE AS A HEALING ENERGY

WORDS/PHOTOS: ANIMA MUNDI
INTERVIEW: CHRISTINA CZETTL, IRIS SONIA MILIĆ, LILIAM RUSMINI CRUZ

WINTER DAY IN BELGRADE. SOMEONE SAID THAT FEBRUARY IS A MONTH OF LOVE, CELEBRATING ST. VALENTINE'S, WE FOCUS ON LOVE, LOVERS, PASSION. I INVITED NICE AND CHARMING LADIES TO BE GUESTS AT REFRESH YOUR LIFE MAGAZINE AND TO SPEAK ABOUT LOVE AND THEIR LIFE IN BELGRADE.

THEY ARE FOREIGNERS: CHRISTINA CZETTL COMES FROM AUSTRIA, SHE IS WORKING AS A LIFE COACH AND ENERGY HEALER. AT THE MOMENT SHE IS ALSO THE VICE PRESIDENT OF THE INTERNATIONAL WOMEN´S CLUB BELGRADE. SHE IS MARRIED AND HAS 3 AMAZING GIRLS. IRIS SONIA MILIĆ COMES FROM SOUTH AFRICA, IS A FREELANCER STYLIST IN BELGRADE. SHE IS OCCUPIED WITH BEAUTY, STYLE, AND FASHION. SHE EVEN ORGANISED FASHION SHOWS. SHE WORKED AS A MODEL AS WELL, BUT TODAY SHE IS A FASHION CONSULTANT. SHE IS ALSO MARRIED AND HAS 3 BEAUTIFUL BOYS. LILIAM RUSMINI CRUZ WAS BORN IN JAKARTA, INDONESIA. SHE HAS 3 WONDERFUL KIDS AND AT THE MOMENT LIVES IN BELGRADE, IN APRIL, WHO KNOWS WHERE. SHE GRADUATED TOURISM, BUT WHOLE LIFE WORKED AS A MODEL IN INDONESIA, USA, SINGAPORE…

WE WERE SITTING AND HAVING DELICIOUS BREAKFAST AT THE RADISSON COLLECTION HOTEL, OLD MILL BELGRADE WHICH IS LOCATED IN OLD BELGRADE NEAR THE BANKS OF THE SAVA RIVER. THE FIRST DESIGNER HOTEL IN THE CITY, REFLECTS THE AUTHENTIC AMBIANCE OF THE OLD MILL, THE CITY OF BELGRADE AND ITS RIVERS.
WHAT GIRLS SAID ABOUT LOVE AND THEIR LIFE IN BELGRADE, READ IN FOLLOWING CHAPTER.
HOW LONG HAVE YOU BEEN LIVING IN SERBIA?
Christina: Almost 12 years. In March 2007 I came with my former boyfriend, now husband, to Belgrade.
Iris Sonia: I have lived here for over 7 years now, and I feel like right at home, as much I miss my home, I feel even that here it is mine as well.
Liliam: This year is our 7-year anniversary. My husband brought me here because of his work. He works for IKEA. We are so satisfied in Serbia because we found and discovered new culture and made such good friendship with foreigners, and Serbians.
WHAT DO YOU LIKE THE MOST ABOUT BELGRADE?
Christina: I like the openness of the people living here. They are also very helpful – whatever you need or ask for there will be always someone who will help you out.
Iris Sonia: Belgrade is one of the most beautiful places in Europe. This white city is full of rich culture, amazing food, beautiful hearted people. Happy to live here.
Liliam: Belgrade is a very easy city to find, and we feel very safe living Serbia.
HOW DO YOU FIND WORKING AND ENGAGING IN BELGRADE? HOW DO YOU LIKE SPENDING TIME IN BELGRADE?
Christina: Although there are more and more life coaches in Belgrade, I would say that there is still a lot of education needed. A lot of people still do not know what a life coach is really, and what they do or how he/she could help in setting goals and in the decision-making process. I like spending my time with friends, and family in our cottage outside of Belgrade. Two years ago, we moved into our wooden house in the Serbian countryside. This is where I recharge my batteries. In the city centre I really enjoy the atmosphere because you can always find people on the streets. Belgrade is a city where you will never get bored – there is something to do for everyone: programs for kids, theatres, concerts, creative workshops, sports, etc.
Iris Sonia: I'm in the beauty industry, being a freelance stylist brings my creativity to life. People are friendly, you're never really lost, and people are always happy to help. I truly enjoy summers because it reminds me of home, I love spending summer and having fun in the sun with my family.
Liliam: I'm 100% a house wife, and it isn't half bad really. Though, I wish I could do some work here in Belgrade just like what I did back in my country. I'm doing some catering work from time to time for friends.
WHEN YOU COMPARE YOUR LIFE IN YOUR COUNTRY TO LIVING HERE, WHAT DO YOU FIND AS A MAIN DIFFERENCE?
Christina: The main difference is the way how people behave in traffic. I would say that the Austrians are sticking to rules on the roads more, and they drive a bit more relaxed. Belgrade feels like a challenge driving around every day.
Iris Sonia: Ahahaha! The weather because in Africa we have 10 months of summer, and after experiencing the winter here, what real cold winter feels like, I would call our African winters warm.
Liliam: Of course, living here is totally different from my country, but I'm lucky to live abroad. I've learned to be more independent, and I never thought I can live far away from my family and helpers. Actually, I used to have helpers and drivers back in my country. All my friends back in Indonesia cannot believe I can live without a helper, and independently.
WHEN DID YOU FELL IN LOVE FOR THE FIRST TIME, IF YOU REMEMBER…?
Christina: Yes, I do. I think I was 8 years old and in second grade. At that time the teacher insisted that every girl has to sit with a (undutiful) boy. I remember that I was almost always falling in love with the boy sitting next to me – and we changed our partner every month.
Iris Sonia: I was 16, this was my first love… this was when I finally understood the meaning of butterflies in my stomach, and what it feels like. That beautiful feeling you get… the joy within the joy … I would call it like that.
Liliam: I remembered everything (Hahahahaha) it happened in Jakarta, when I was in high school and he was in college. He was my first real love and it felt like the best thing in the world back then.
WHAT DO YOU THINK ABOUT SOCIAL MEDIA AND ONLINE RELATIONSHIPS?
Christina: With social media people got another platform where they can find their future partner, which is for sure an advantage nowadays. My first serious relationship also started online: but more or less by accident. He added me to his contact list, but actually wanted to add another girl from his hometown, one line or row below my name. The funny part of that coincidence was that after a few weeks we found out that our mothers went to school together. But I also see lots of disadvantages: users are able to present themselves in a better light and in the end, you could end up meeting a completely different person than you have met on the web, even the appearance! I also heard that people think that social media can ruin relationships. It is much easier to find a partner for an affair online than offline. Although, people had also affairs before social media existed.
Iris Sonia: I don't believe in it at all, I'm pretty old fashioned, whatever happened to meeting someone in the park, or in a coffee shop… has the world come to this? It's sad really, I don't support it at all … what would we call it, love at first profile? Not love at first sight.
Liliam: Uffff… I have this love-hate relationship with social media, good and bad feelings at the same time. To be honest, I never believe in online relationships, even I have a few friends met in online dating, for me that doesn't work. I just can't let myself be part of it. I need a real person in front of me to feel in love and loved.
THE MAIN TOPIC OF THE FEBRUARY ISSUE OF RYL MAGAZINE IS "ALL FACES OF LOVE". WHAT DOES LOVE MEAN TO YOU?
Christina: Love is a healing energy. We can heal ourselves with love as well as others. The best example is the love of a mother, that can heal children's (physical or mental) pain. Love in a relationship, for me means accepting the partner as he/she is, giving him/her enough space to grow according to his/her potentials. In the best case you grow together if you are lucky enough. My husband and I studied together and in our last semester there was a ball, organised in the town where we studied. Before I wanted to go home (I was kind of upset that no other man asked me to dance), I saw him dancing with my friend. The way they danced didn't look quite professional but the question was: who of them didn't know how to dance the waltz – he or she? In the end, I walked towards them and asked him to dance with me. When he put his hands around me I immediatly knew that it was her who didn't know how to dance the waltz. After that first dance, my future husband and me were dancing all night long until half past six in the morning.
Iris Sonia: Hmmmm! This is a tough topic for me. Love is just, love has no set time, love can be instantaneous, I believe when we truly love someone, we can't un-love them, no matter the pain they caused you, we can stop loving them but never forget them! But un-loving them is like asking a doctor to remove a part of your body that you cannot live without. The thing is: no matter where love is lost in our hearts, love will always find a way back to our heart. Our hearts are not tough enough nor trained to love, love just happens. The best love is when you are unaware and not even looking for it, but in the end, it finds you. I met my husband in a night club in South Africa. It was a very romantic story really. I noticed his big shoulder and a glowing nice smile. When I saw him, instantly I knew he was mine. That was love at first sight. I actually asked him to dance with me and that is where our love started to grow.
Liliam: Wow. "LOVE" to me is a completely unconditional word, and it has a big value. My husband is Spanish and we met in Bali, and nobody could have ever imagined that people from two separate parts of the world would fall in love. After our meeting, he started to work in Vietnam, so we had a one-year long distance relationship. We tried every month to meet somewhere, and honestly, it was fun and all, however, at the end we decided to be together and we moved to Australia and got married there. We got two kids and we're living in Sydney. I gave up my career, family and friends in Jakarta, but, of course, I created a new world with my husband and my children.