WORDS/PHOTOS: TAMARA NIKOLIĆ
I am a person who enjoys travelling. Who lives to travel. Who goes to business trips and gets lost in the culture and localities no matter where the road or air takes me… from the South and North Americas, through Europe, all the way to Georgia, India, China or Japan.
However, for quite some time I had an internal conflict whether I should visit these particular places (Israel and Palestine) … known for their rich cultural heritage, diverse history, fantastic food, beautiful beaches… and, of course, conflicts. Finally, I made it there, and it was all about similarities, differences and beautiful contrasts.
Jerusalem, Ramallah, Bethlehem, Jaffa, Acre, and finally Tel Aviv… all different, beautiful, sad and happy and all just a step away from each other.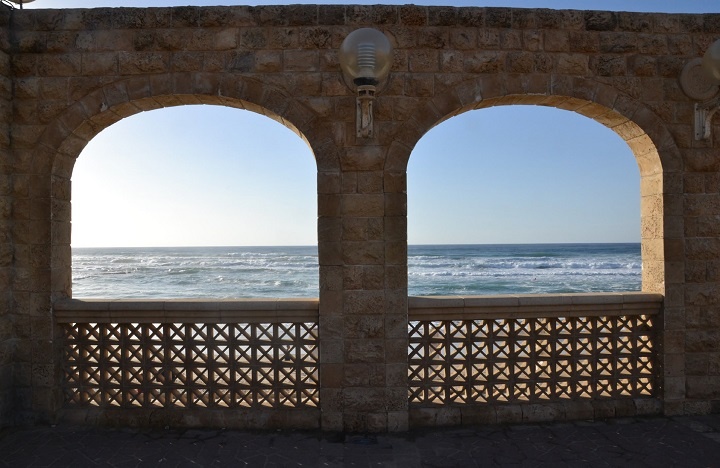 What can one say about Jerusalem that hasn't already been said. It is a city of diversity, it's a city of color and people. A city of division. Small and big at the same time. Rich and poor, happy and sad. Contrasts are found on each step. Sometimes beautiful, sometimes less beautiful, but it all had a very powerful impact on me. While walking down the old city center you see so many landmarks: Via Dolorosa, the Western Wall (also knowns as Wailing Wall, or Kotel) only steps away from the Temple Mount, Jewish Quarter, Muslim Quarter, Iron Gate, Moroccan Quarter, Christian Quarter. I loved climbing up the stairs and all the way to the rooftop of the Austrian hospice, located in the very heart of the old city and offering breathtaking view of streets, houses, mosques, synagogues and churches, and all this fits in one panoramic photo. Every stone and every tile on these walls and floors has a meaning. I wonder how all this history and greatness fits within the walls of an Old City. And yet, it can, and it does. I still feel the smell of different spices being sold in the little streets, sweetness of candid fruits and all sorts of delights coming from the shops, most wonderful vegetables, dates, nuts, freshly made pomegranate juice, cheerful children running, old women begging and armed men patrolling around.
New year in Ramallah: while driving through check points you come across modern Palestinian neighborhoods and very dusty roads. Ramallah offered us excellent but simple Palestinian cuisine and wine, Palestinian rock band and curious local crowd studying a group of foreigners (us) who just came to enjoy an evening in a different setting. Music was somewhat similar to our music, all around happy people dancing and drinking, smoking, laughing, singing…so much fun and nothing odd there.
Bethlehem: there are at least two ways to experience this beautiful old town. We chose the alternate and walked through the small streets for hours. Beautiful houses that resemble the style of the Dalmatian costal houses, belonging to different eras of history, were made of white stone. The man sitting in the sun on the footsteps of his house with the keffiyeh wrapped around his head, while having a tea. He looked so relaxed and I just had to take a photo while knowing that this was absolutely inappropriate… We did miss the nativity church, but instead we chose to have the young Palestinian guide telling us a story about his culture, history, tradition, architecture, the Wall, lack of drinking water, life of ordinary people and local production of olive oil. On the way out, we decided to stop at the Banksy's "Walled Off Hotel" located just steps away from the wall that divides these two countries…both Hotel and the wall were full of strong, political, inspiring messages stated by one of most famous street artist of today. While ones have been tearing down the walls to bring people back together again, others are building them… that is the story of the world today…
Tel Aviv: the obvious cosmopolitan. I simply loved it. Call me superficial if you like, but my fascination with the beach, the view from 15th floor of our hotel room, what can I say – absolutely amazing. I am a total sucker for sand and sea, romantic walks on the beach and sunsets… January 5, wind 55km/h. Just very few people outside and yet the sun is shining you can barely see and enthusiastic surfers are trying to break a wave. But Tel-Aviv is much more than this. It is a safe haven for many enthusiastic people of all ages, cultures and backgrounds, from all over the globe. It's a smart city, very green city, well organized city, with super cool skyline, amazing rooftop bars, excellent restaurants, authentic food, as well as very modern cuisine. We so much enjoyed being able to walk for miles from the Port of Tel Aviv to old town of Jaffa. Arriving to Jaffa and realizing "WOW all of these oranges are from there"! Keep on walking a bit longer and you will eventually arrive to a wonderful beach with a Cassis restaurant and breathtaking view. This was the most beautiful sunset and amazing food! Also, in Tel Aviv make sure you don't miss Rothschild Boulevard where you can find very nice examples of Bauhaus architecture that belong to UNESCO site, or lose yourself in Carmel market, see the Shenkin street covered with the street art. All in all Tel Aviv will make you fall in love with itself; it made me, definitely.