WORDS: MIA MEDAKOVIĆ
INTERVIEW: BOGDAN SEVIĆ
PHOTOS: VLADIMIR MILOSEVIC, INFINITY FILMS, SHANGHAI
BOGDAN SEVIĆ, BORN IN BAJINA BAŠTA, GRADUATED FROM THE FACULTY OF MECHANICAL ENGINEERING ATTAINING A DEGREE IN INDUSTRIAL ENGINEERING IN BELGRADE IN 2002. HIS BUSINESS PATH WAS RATHER BUMPY, STARTING FROM THE HYDROELECTRIC PLANT (EPS) IN BAJINA BAŠTA, ALL THE WAY TO JEEP COMMERCE, A PRIVATE COMPANY IN 2005, WHERE HE GOT A BUSINESS OFFER THAT HELPED HIM GAIN MASSIVE EXPERIENCE IN PRODUCTION, LOGISTICS, AND MEDIATION BETWEEN CHINESE AND FOREIGN COMPANIES.
IN 2007 HE STARTED TO WORK FOR HIMSELF, OPENING HIS FIRST COMPANY OCEAN LINK LOGISTICS LTD, AND LATER OCEAN LINK SHIPPING LTD, SO THAT IN 2016 HE WOULD MERGE THE TWO AS OCEAN LINKS LTD. THE COMPANY HANDLES COMPLETE LOGISTICS, TRANSPORT, AND QUALITY CONTROL OF GOODS FROM CHINA TO END CUSTOMERS.
BOGDAN'S THREE DAUGHTERS WERE BORN IN SHANGHAI, AND HE THINKS THAT IT IS THE MOST BEAUTIFUL CITY IN CHINA, AND FANTASTIC FOR LIVING THERE.
AFTER 17 YEARS, BOGDAN TOGETHER WITH HIS FAMILY RETURNED TO BELGRADE, THOUGH HE STILL MANAGES THE COMPANIES. HE WILL SHARE HIS BUSINESS EXPERIENCE, AND SUCCESS, FROM THE FAR EAST.
WHAT DOES YOUR WORK DAY LOOK LIKE IN CHINA?
My day is very intensive. In the morning, after my morning coffee, I go over all the incoming requests and orders, and together with my team, we decide on the daily schedule of tasks. We are working on fulfilling all requests from clients who are mainly from the regions of ex-Yugoslavia, but we have business with countries from West Europe as well.
Product development is very fascinating to me in the business sense. This includes activities aimed at solving technical problems from the idea itself all the way to the end product that needs to be top-notch and competitive.
This is exactly what I studied, because "industrial engineering is the key driver of technical-technological integration and the human factor, imperative to successful business and manufacturing goods in a company."
HOW WOULD YOU DESCRIBE CHINESE GOODS?
Everything around us is Chinese goods, and we have a bad image in mind.
I would dare say that they are good quality, good or excellent because you get quality for the price you pay. You have the option to buy a hat for maybe 0,2 or 0,5, 1, or even 4 dollars, and every price has some degree of quality.
The problem is that we believe that the Chinese are cheap, but they cannot afford that as the factory of the world. They manufacture goods for the whole world – Africa, Asia, the USA, and the European Union, and as such, they have a huge market and possibilities for product and production development.
The products seem identical, however, there is a clear distinction in quality.
Currently, China is relocating its manufacturing from the country, they are building factories in Vietnam, Cambodia, the Philippines, and other neighbouring countries, in order to use cheap labour to stay competitive with manufacturing, and at the same time "clean up" their own country and achieve their dream – The Great China.
Large amounts of money and knowledge are required for that and the Chinese have managed to acquire and invest them both however they wish it.
WHAT DID YOU LEARN AND GET FROM DOING BUSINESS WITH THE CHINESE?
China is a great country that has many businessmen, depending on what kind of people you run into, but you can learn from each of them.
I am a very observant person with a degree of distrust, but as a buyer of their half-products, goods, or ideas, I am relatively satisfied.
I have been cheated, but it is all part of the experience. The Chinese are generally fascinating to me because they always want to keep you as a client.
We need to change our perspective a little bit and realise that they are in fact, great people. Amidst all of the competition you get what you asked for, but is it not like that in every business?
A few of my observations of the Chinese:
They are hardworking and obedient, never showing that they are tired, working until the project is done, and never saying: "Boss, you need to pay us overtime."
They are detail-oriented, a little clumsy, and have a bit of a learning curve. Once a rhythm has been set they will follow it. They will ask you the same thing often so as not to make a mistake, but I believe it is important for good business.
You have to accept the fact that there are many employees in the same or similar position because they love competition and it motivates them greatly. It might cost you more but I believe that it is the right way business path that will lead you to success.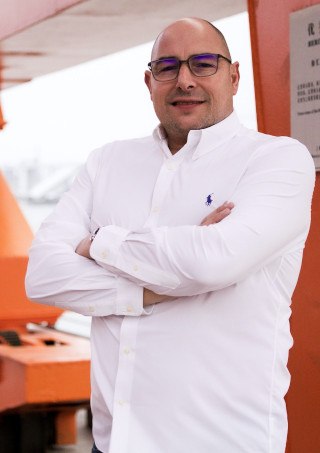 WHAT DO YOU SEE AS YOUR ADVANTAGE REGARDING COMPETITION IN SERBIA?
My 17 years of experience in China and various business situations brought me vast and invaluable experience. I can see the bigger picture and I know how Chinese and Serbian do business. I am glad that I can act as a kind of moderator of cooperation between the Serbian and Chinese markets and businesses.
WHAT IS YOUR FORMULA FOR SUCCESS?
I trust that will and discipline in business, and a good vision, are the main factors for success. It all depends on personality. Patience and relations with people are key to success in China.
IS IT EASY OR HARD TO BE AN ENTREPRENEUR IN CHINA?
It is not easy being an entrepreneur or having a company anywhere, but persistence and focus in business and a bit of luck can bring about great success. I am happy because my business and private life are tied to this country. The question is: how brave and responsible are you to face everything along the way to become a director who has a vision and goal? China has slow administration and specifics, and it is a big challenge. When you overcome that and align with your entrepreneurial spirit you feel like you have won in the first steps towards succeeding in your future business endeavours.
EVERYTHING IS ACCELERATED AND NUMEROUS IN CHINA. THEIR IRON WILL FOR DEVELOPMENT AND FULFILLING THEIR TASKS IS PHENOMENAL. THEY ARE VERY AMBITIOUS AND HARDWORKING. IS THAT SOMETHING WE COULD LEARN FROM THEM FOR BETTER BUSINESS?
We can learn a lot of things from the Chinese. They are very thoughtful and communicate a lot, loyal, obedient, and uphold rules. The Chinese do not act like anyone from Europe. As much as they appear strange to us, we are to them as well.
We could say that one of their main features is that they are ready for compromises that creates a sense of security with the other party. They have an outstanding collective spirit and listen to their team leaders, even if opinions collide because they believe in everything working like a well-oiled machine. They are conservative but well-disciplined because it is in their culture. They are extremely brave and unafraid.
IN WHAT DIRECTION ARE YOUR COMPANIES HEADED?
It is important that we have survived the Covid crisis. China is just coming out of a three-year lockdown, and I am expecting a resurgence, I am also planning to expand since I see that there are still goods that are not available in Serbia. I am planning to widen the goods offered and to connect business between Serbia and China the right way. It is nice when you have the bigger business picture.
THE TOPIC OF THE ISSUE OF RYL MAGAZINE IS 'MY JOY'. WHAT BRINGS YOU JOY?
Being dedicated to my work and the development of my companies, I am surrounded by my "girls" who are the real joy in my life – besides my wife Jovana, I have my three daughters, my princesses, Tara, Petra, and Vera. They bring immense joy and make my life better and I am grateful for their love and support. My family comes first, then I have my job that fulfills me. I have managed to create a balance between my business and private life.