WORDS: ANIMA MUNDI
PHOTOS: DEJAN CVETKOVIĆ
Joseph Amanbir Young LAc is a certified Kundalini Yoga teacher. He is also a herbalist and a New York licensed acu­puncturist and massage ther­apist. He holds a Master of Science in Traditional Oriental Medicine from the Pacific Col­lege of Oriental Medicine and a Bachelor of Science in Engi­neering from the Cooper Union.
Joseph Amanbir Young LAc was in Belgrade in novem­ber 2015, where he held a two-day Kundalini Yoga workshop organised by Danica Cvetković a certified Kundalini Yoga teacher.
HOW DO YOU DESCRIBE KUNDALINI YOGA?
Kundalini Yoga is a system of connecting body, mind and heart. Like all yogas, it works to increase awareness. What differentiates Kundalini Yoga is that it is a very powerful and quick means of increasing clar­ity, building inner stamina, and expanding consciousness. It utilizes both physical exercise, breath work, meditation, as well as simple guidelines to enhance the quality of life.
WHAT ARE THE ORIGINS OF KUNDALINI YOGA?
The origins of Kundalini Yoga practices can be traced as far back as Egypt. It developed into a more formal, although secret, school of yoga in India thousands of years ago. In India, it was considered a style of yoga only for the elite of the elite. Its power for raising awareness was so undeniable that those in control of it wanted only a se­lect few to have such a gift. The idea was in a society based off a caste system, is that if people knew how powerful they really were they would uprise.
Kundalini Yoga became public in 1969, thanks to the last master, Harbhajan Singh – who was lovingly nicknamed Yogi Bhajan by his students. His teacher Sant Hazara Singh de­clared him to be the next master before he moved to the United States. Yogi Bhajan was first only teaching Hatha yoga pub­licly, but when he came across the hippies he started teaching Kundalini Yoga in the open. He felt it was time that the world had access to such a powerful system. He also felt compelled by the hippies who were killing themselves with drugs in order to work on expanding their con­sciousness.
WHAT IS THE FOCUS OF KUNDALINI YOGA?
In Kundalini Yoga there are thousands of Kriyas (sequenc­es of exercises) & meditations each with a different focus. For example, there are some med­itations, like Kirtan Kriya, which have been scientifically prov­en to help those suffering from early Alzheimers disease to im­prove memory and strengthen the brain. Another exercise like Breath of Fire, is wonderful for increasing one's aerobic capaci­ty and helping to reduce inflam­mation in the body. Although each class may have a different focus, the overall focus of Kund­alini Yoga is to increase aware­ness – of oneself and our inter­actions in the world.
HOW WOULD YOU DESCRIBE THE KUNDALI­NI YOGA CLASS? HOW LONG DOES IT LAST?
The typical Kundalini Yoga class is 1 1/2 hours. But there is no set time – it can be longer or shorter. Some kriyas are only one exercise long for 11 minutes and some may have more than 20 exercises and extend beyond 90 minutes.
In a Kundalini Yoga class, there are some basic compo­nents. It begins with an opening mantra which has physiological benefits to the frontal lobe of the brain to help with concen­tration. Also, the opening man­tra, called the Adi mantra, is to connect with the intention that each person is complete within themselves and has the pow­er to create their lives and find the answers within themselves. After the opening mantra, either breath work or some simple warm up exercises commence followed by the Kriya. Follow­ing the Kriya will be a meditation then rest or vice versa, depend­ing on the class.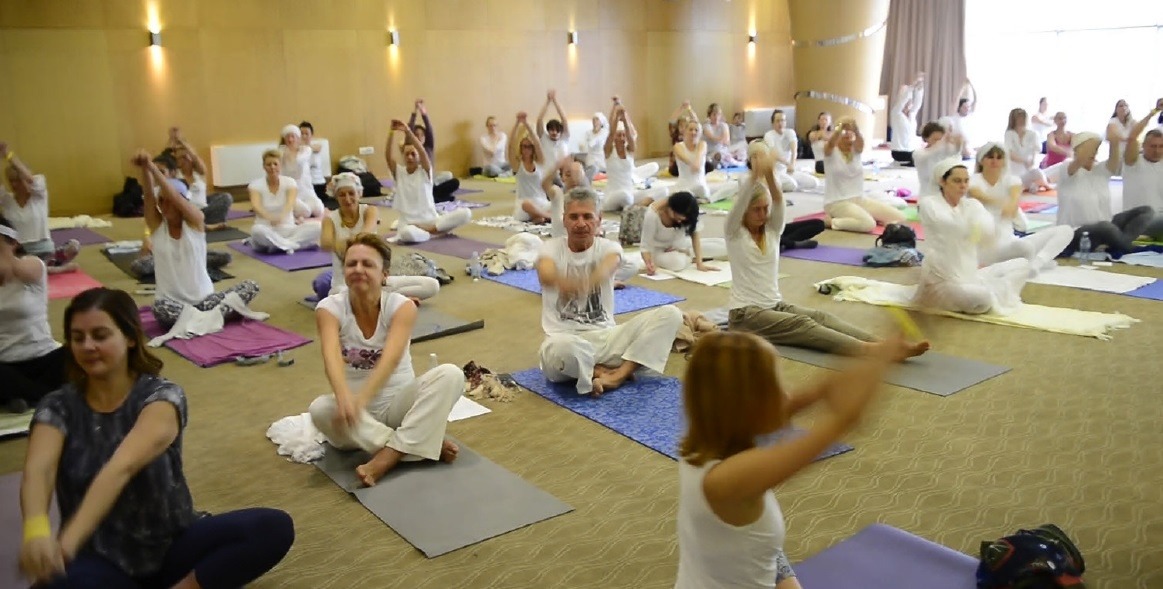 SHOULD WE BE PRE­PARED BEFORE WE START PRACTICING KUNDALINI?
When Yogi Bhajan was first teaching in the early 70's, it was the responsibility of the students to warm themselves up with simple exercises and stretches before the class be­gan. Now typically, most teach­ers incorporate warm ups into the class, so all a student needs to do before class is come with good health (or with a doctor's permission, if not), an open mind, clear of recreational drugs, and to not eat a heavy meal 2-2 1/2 hours before class.
WHAT KIND OF BENEFITS DOES KUNDALINI BRING?
One benefit of Kundali­ni yoga is that it helps to pro­mote good health of the body and the mind. So, in that sense, it's a great system of preventa­tive medicine. If our body is in its most optimal health and not in an inflammatory state, it al­lows us to be in a better state to prevent disease. Also, to enjoy greater energy and clarity to live our lives to the fullest.
Although each person should check with their doc­tor before practice if they have an illness or disorder, Kundalini yoga can also be used therapeu­tically to help the alleviate many disorders – like Alzheimers, de­pression, digestive disorders, etc.
Another benefit on the more energetic level, is a great­er awareness and acceptance of self. This helps with how we in­teract with the pressures of our life as well as how to maintain our best in all of our relation­ships.
YOU TRAVEL A LOT AND WORK WITH PEOPLE WHO PRACTICE KUNDALINI YOGA. YOU WERE IN BELGRADE IN NOVEMBER AND LEAD A TWO-DAY CLASS. WHAT KIND OF EXPERIENCE DID YOU BRING FROM SERBIA?
My teaching experience in Serbia was wonderful. I believe there were many who were also new to the practice. What was great was the dedication of the students but also the willing­ness to have an experience. The open minded attitude allowed them to really see and appreci­ate the effects of the practice within themselves. I valued my time teaching and also was so grateful that people felt so great within themselves and happy. I feel this will encourage them to keep up in the practice – as it is ultimately all of our choices whether we want to be happy in life.