WORDS: SARITA X
PHOTO: FROM THE PRIVATE ARCHIVE
I've just turned 33 and I feel proud of how far I have come in this journey so far. On July 28th I released my second single, and other news is coming; yet prioritizing my well-being, as these past 8 months… fiuuu have been in­credibly intense! Right now, landing here in Serbia to review, re-visit, and re-define it all: the relationship I have with myself and others, with life and music.
Those months have been so rich in emotions and experiences, a lot of ups and downs but hey, this is life! I've been traveling a lot, taking a lot of pictures and tasting beautiful food;
Friends take an important space for me here, a good friend who accompanies you with your victories and your struggles is a diamond walking on earth, these are humans who I like to call "Angels", in facts there is an Italian sentence that says: "Chi trova un amico trova un tesoro ".
No matter the obstacles it's so fascinating to see the progress and achievement as writing it though. I feel blessed to have a voice, to transform my life moments and emotions into something, perhaps in service to others or that at least will make humans feel good!
Music for me is a tool: a bridge for feelings, connections, and transformation. It's a divine language, and the more I work on myself, the more I expand in my creative process. At the beginning of the year, I said in my mind: "This summer, I want to be around the world, I was literally seeing myself with a suitcase and my guitar, and… believe it or not, this is what has happened! Yet, I didn't precise to myself: I want to be in a 5-star hotel and make a living only with music lol (be mindful and specific when you ask Life what you want).To live your best seller, you have to BE your own best sell­er: trust in yourself, your gifts and intuitions, be confident and happy with what you have… as it all starts there… by being grateful for what you have no matter what, and truly the Uni­ verse, God, whatever you believe in… will give it back ten times more; Back in 2020 during quarantine I was in Italy, I've started with what I've had in those times: my nephew's guitar.
I had no idea how to play, but passion, discipline, and determination led me to the vision I had which was being able to compose, produce, and perform live.
Courage it's another important key… I've made some risky decisions these months… big TIME! Travels and music investments, and it's not easy to start when you don't have huge capital as an artist, so it feels like you have to make magic all the time 🙂 Sometimes I have failed, (even though I see always the benefits of it), and I can tell you, that I'm getting used to it, it's part of the jour­ney, the road that will lead you to live your best-seller (I believe ahah).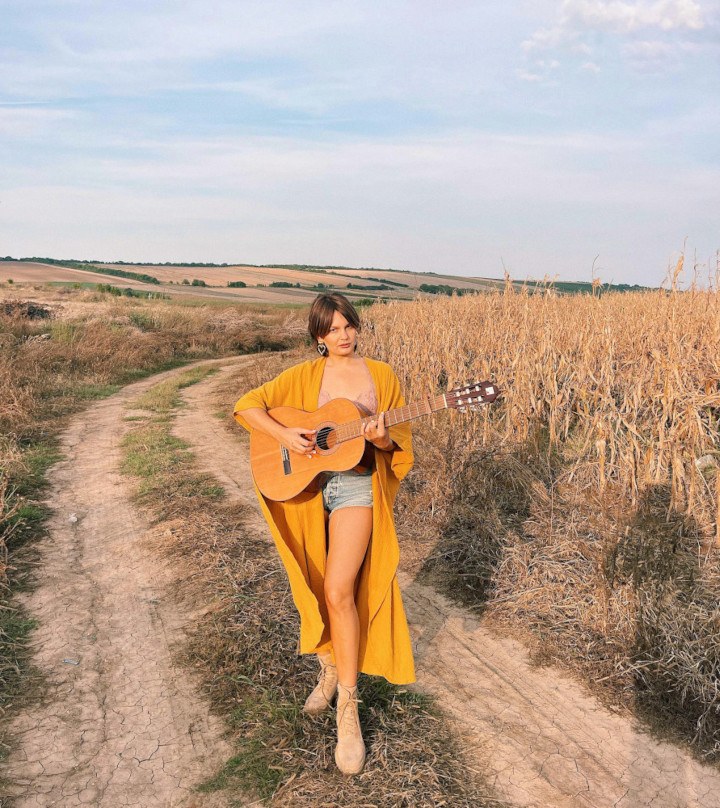 Jokes apart, I feel failures are your treasures, be grateful and thank them… when you actually experience the first one, you realize that it was a gift, without it you wouldn't move to the next chapter of your life, It's like wanting to make work a marriage at any costs just because you're afraid to lose what you have, ultimately… the moment you move on, you are thriving!
However, I prefer to give it a try in life instead of growing up with regrets, at least one day I can say " I've tried ", and here is my advice to future generations: Start before you're ready, try, try, and try if you want to find out who you are and what do you want in life….
The best investment is the investment you make in yourself, and your personal growth, art comes along with that, it takes its forms.
The thing that determines how you are going to live your perfect life is what you put your energy into, and how you spend your time. The first few hours of the day when I wake up and the moment I go to sleep are the most important. I'm not switching my phone on at least for the first hour, I'm going toward direct light straight away even if it's raining, I take a cold shower or cold plunge depending on where am I ( bath or jumping in the sea, or river ), reading my list to do that I've usually prepared the night before, and start with my practices: yoga, medi­tation, breathing exercises and training my voice; if I'm traveling and depending what is my work schedule I struggle at times to keep I up, but I'm finding my balance and if I can't do some practices in the morning, I do it in the afternoon or evening before bed.
Also, my creative urges make me be in constant movement, which on the one side I love, but on the other hand is also important to be in one place to come back to yourself, to rest, to ground, etc. With full transparency, I am still on the way to creating my best seller, my " perfect life " … however I am enjoying the ride for now; I have released 2 songs and made the presentation of my first re­lease in the Beach Cave recording studio @ Six Senses Ibiza, I have traveled to NYC where I have shared my music with all kinds of strangers, I've printed my self some QR code with the link to the release of my single in a peace of paper, and I was sharing it with all the people around the world and wherever I was go­ing: in the subway, in the cafe's and restaurants, I've had so much enthusiasm and I wanted to share with everybody what I've just given birth to.
I could tell you more stories. But I guess I will leave this for the next article, in­terview!
Much Love,
And please follow me and my music