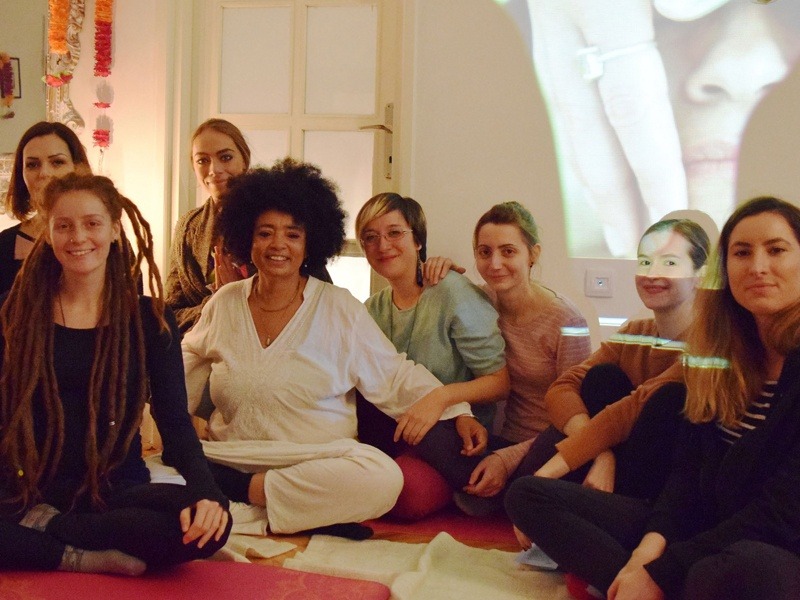 15 apr 2016

KIRTAN YOGA

WORDS/PHOTOS: ANIMA MUNDI

Avril Mckenzie is a yoga teacher born in London, who started practising in 1968. With love and respect for a yoga lifestyle, she went on to study with many respected teachers in the UK, such as Rani Hart, Helen Knight, Swami Dev Murti and others, until eventually meeting her beloved guider and teacher in India, Swami B.R. Shridhar in 1983. Under his direction she began teaching in 1984. in Ioannina, northern Greece, and continues to teach up until now in both Ioannina, Corfu, London and Belgrade. She is licensed to teach the various Vedic Arts, including Yoga, Ayurveda, Meditation and leads Kirtans.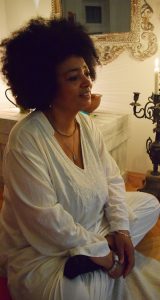 WHAT IS YOUR SPIRITUL BACKGROUND?
I was born in London in 1953 and I remember from a very young age looking for God or Spirit. My parents were both in the Show Business world so our life was a very interesting mixture of art and entertainment. My father was a Jazz Pianist and singer and my mother was an actress. Yet, they were always interested in Spiritual matters. From about 3 years old I remember my father's dear friend and Yoga Teacher Rani Hart showing my parents various Yogic practises. Alongside this were various discussions on the philosophical side of yoga. I was always searching to find the truth.
At about 15 years old, in 1968, I was reading so many spiritual books and started to practise Yoga under the direction of Rani Hart. My heart was looking for the beloved and in earnest I started to study many different types of spirituality. I started studying Yoga under various well known teachers as in those days London was a hub of spiritual activity. Alongside this, I was a Piano Teacher and DJ. My heart, though, wanted a deeper connection. After going into many different paths, I was fortunate to always find amazing spiritual teachers and benefit from their king years of spiritual experiences.
In1978 I moved to Greece where I lived and taught Yoga and meditation until 2015, almost 40 years of intense daily practise Sadhana. I was fortunate to have been given a beautiful spiritual name in India by my beloved teacher Swami BR Shridhar. He gave me the name Aditi, a name of the Mother of the gods and of the sun. I am always happy to meet spiritual practitioners of all paths and traditions as I believe we enrichen our own lives and spirituality this way.
WHAT DOES THE TERM 'YOGA' MEAN TO YOU?
The term Yoga is a Sanskrit word which means to Join. Join what? We usually take it to mean joining in body mind and spirit, complete harmony between the physical and the material. However, after spending most of my life as a spiritual seeker and practitioner the term for me means simply Love. Love, in its essential essence, manifesting through our bodies, minds, concioussness and Spirit. So our life becomes a complete harmonious expression of Love.
WHAT IS KIRTAN?
Traditionally, Kirtan is the yogic practise of singing special Mantras or sound vibrations which affect our whole beings. It is very ancient and is often performed with instruments, old and new, in a joyful, yet focused act of surrendering to a higher vibration. Singing and sharing this experience is known to be extremely healing and beneficial for all the participants.
HOW DID YOU BECOME INVOLVED WITH KIRTAN YOGA?
I became involved in Kirtan yoga in about 1972. Having studied Piano and qualifying as a piano teacher at the Royal Academy of music in London, I was always interested in Sound and Music and its effect on our whole being. So, when I first heard people performing Kirtan at the Radha Krsna Temple in London it was an emotionally charged and very beautiful experience which affected me on many different levels. It was something I wanted to go deeper into. I started incorporating it into my daily yoga practise and, eventually, it became such a treasure and powerful healer in my life and in my Yoga students' life.
FOR THOSE WHO HAVE NOT YET TRY KIRTAN YOGA, WHAT MESSAGE WOULD YOU OFFER THEM?
For those who have never experienced Kirtan, I would say, let your heart be open and sing with your heart. We do not need to be musically skilled or have a good singing voice. Just an open mind and heart and then let the sound vibration do its beautiful work!!! No previous experience necessary. It is an affair of the heart.
AT PRESENT, THERE ARE MANY YOGA SCHOOLS AND MANY YOGA TEACHERS. HOW WOULD YOU DESCRIBE YOUR WAY OF PRACTICE AND TEACHING?
I practise and teach yoga based on my many years of living a Yogic lifestyle. It is a complete way of being and learning while developing our hearts, minds, bodies and consciousness to be able to have a joyful and blissful life here on the planet earth. A combination of various traditional yogic styles, including Jivan Tattva Yoga which is discovering the real person, and Kaya Kalpa, rejuvenation methods and, of course, always with our heartfelt Kirtan Yoga.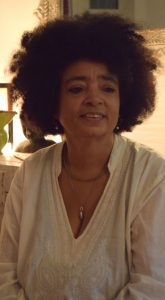 YOGA IS ONE OF THE GREAT GIFTS BESTOWED ON THE WEST BY THE EAST. CAN A PERSON FROM THE WEST UNDERSTAND THE ESSENCE OF YOGA AND PRACTICE YOGA AS A PART OF LIFE THERE?
This wonderful gift of Yoga from the East is well suited to our Western Way of life. In our daily Yoga practise, we come to realize our connection with all beings and our relationship as being a part of the human race as one whole living and loving whole travelling on this planet together. Unique beings, yet united in our common heritage. We start to feel this on a very deep level. Beautiful beings contributing to the upliftment of all beings and our planet.
THE MAIN TOPIC OF NOVEMBER ISSUE OF RYL IS 'THE CODEX OF THE HEART'. DO YOU FOLLOW YOUR HEART? WHAT DOES 'THE HEART' MEAN TO YOU?
The heart for me is where heaven meets the earth. In Yogic symbolism it is described like this: Where we can really have heaven here on earth. The heart is the safe beautiful sanctuary where Love, Compassion, Joy and Peace reside. If we listen to our heart we will always do the right thing.
I cannot think of a life without doing what my heart says. It is my very nature to always do what my heart says. Yoga has made me into A Heart Person. Yoga has always been for me an affair of the heart. A loving heart. Yoga is ultimately Love.
Namaste and Love xxxxxxxxxxx