WORDS: ANIMA MUNDI
PHOTOS FROM A PRIVATE COLLECTION
October Butler is an artist who lives and works in the most artistic place in the world, Florence, Italy. She was born and raised in Taiwan and as a little girl she moved with her parents in USA.
 She graduated from the Florence Academy of Art in her early 50's and  opened her Studio 108, an art gallery in Florence, the heart of Tuscany. I followed her work on FB and after a year we met at a photo exhibition in her Studio.
"In 1965, at age 8, I told my parents, "I want to be an artist or nothing"; that idea and goal has never left me."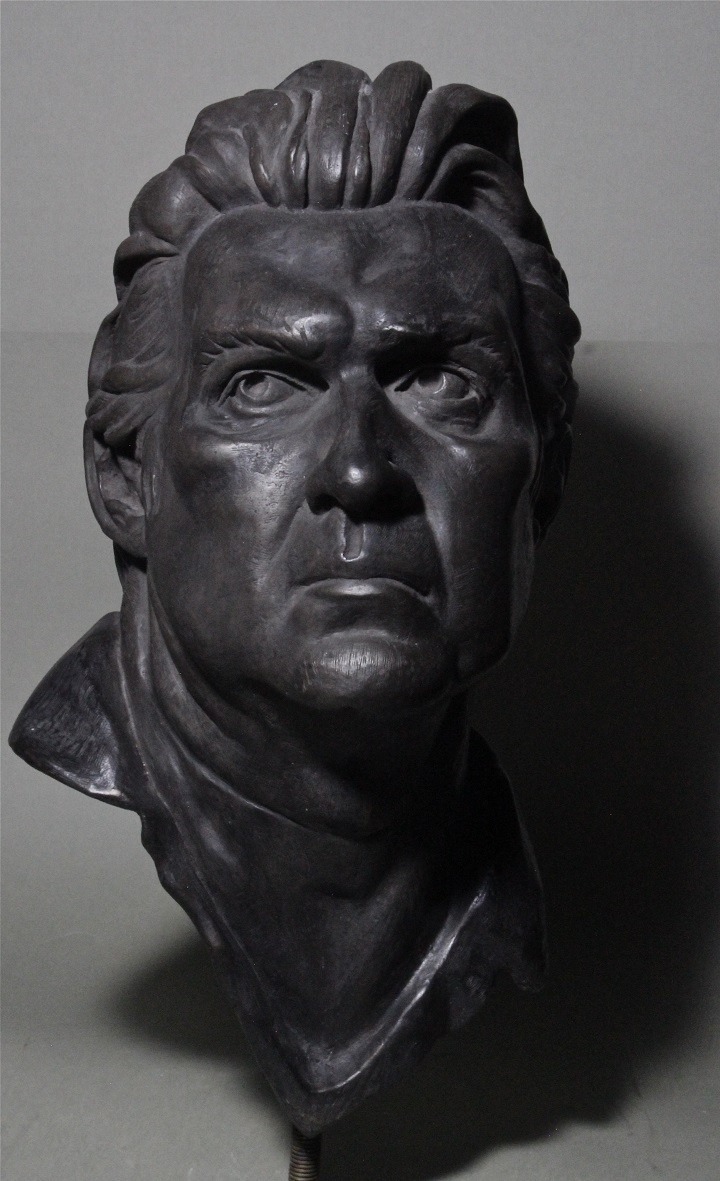 WHAT DOES YOUR NAME MEAN? "OCTOBER" IS A RARE NAME.
When I was thirteen years old I was living in Taipei and began studying English in earnest at a local language school. On the first day of school, the teacher asked all the students to give themselves an English name. My sister chose Johanna, after Bob Dylan's Visions of Johanna, and my best friend picked Alice because she liked Alice in Wonderland. Being an eccentric, a weird little kid, I had trouble settling upon normal names like these. So I asked the teacher to give me an unusual name. When he asked me my criteria I told him it had to be "unique, unforgettable, with a strong energy, and lots of fireworks!" The next day he came back with the name "October". I loved it and it has been my name ever since. That was 45 years ago.
So many great things happen in the month of October, and at the same time it is the most nostalgia-inducing month of the year. Summer starts to feel definitively a thing of the past as October ushers us into Autumn, my favorite season. It is the month of harvest, when farmers put forth their best crops, and of harvest moons, massive and powerful and shocking to behold. And of course there's the blissful New England foliage to see and smell, followed by the joy and energy of the Halloween Parade in New York City. October is also the month of Oktoberfest in Germany… So many good things happen in the month of October around the world.
TELL ME ABOUT YOUR EXPERIENCE STUDYING AT THE FLORENCE ACADEMY OF ART.
Studying at the Florence Academy of Art was an extremely powerful experience. Learning to become a professional sculptor I had to learn great discipline, and gain greater physical and emotional strength than what I had started with. I learned what it meant to work hard, and then harder. If my best was just mediocre, I learned that there is no substitute, no shortcut, for moving beyond mediocrity except for hard work.
Studying among the best sculpture students from around the world meant that the standards were always extremely high, and the pressure was constant, heavy, real. It was very positive for me.
Although at times I struggled when my muses were simply not present, or because physically I was much older than my peers, my spirit was and is young. I tried to cultivate an openness and humility towards learning any way I could, to stay humble and always fall back on hard work. I was never afraid to ask for advice and exchange knowledge with my peers. And while the younger students were "working hard and playing hard," I had the luxury of already having done all that in my younger years to remain focused on "working hard and working hard"!
At the forefront of my consciousness was always that I believed in myself, but with the full recognition that "all my eggs are in one basket." I had made a choice from which there was no turning back. Consequently, there was no room for procrastination, drama or any kind of self-indulgent thinking. But there was infinite room for so much more — learning an old craft, learning to take criticism, working outside of lifelong habits, knowing when to speak up, collaborating with others, finding inspiration everywhere, making a life sustainable, questioning everything, researching, and constantly thinking about all of the amazing possibilities.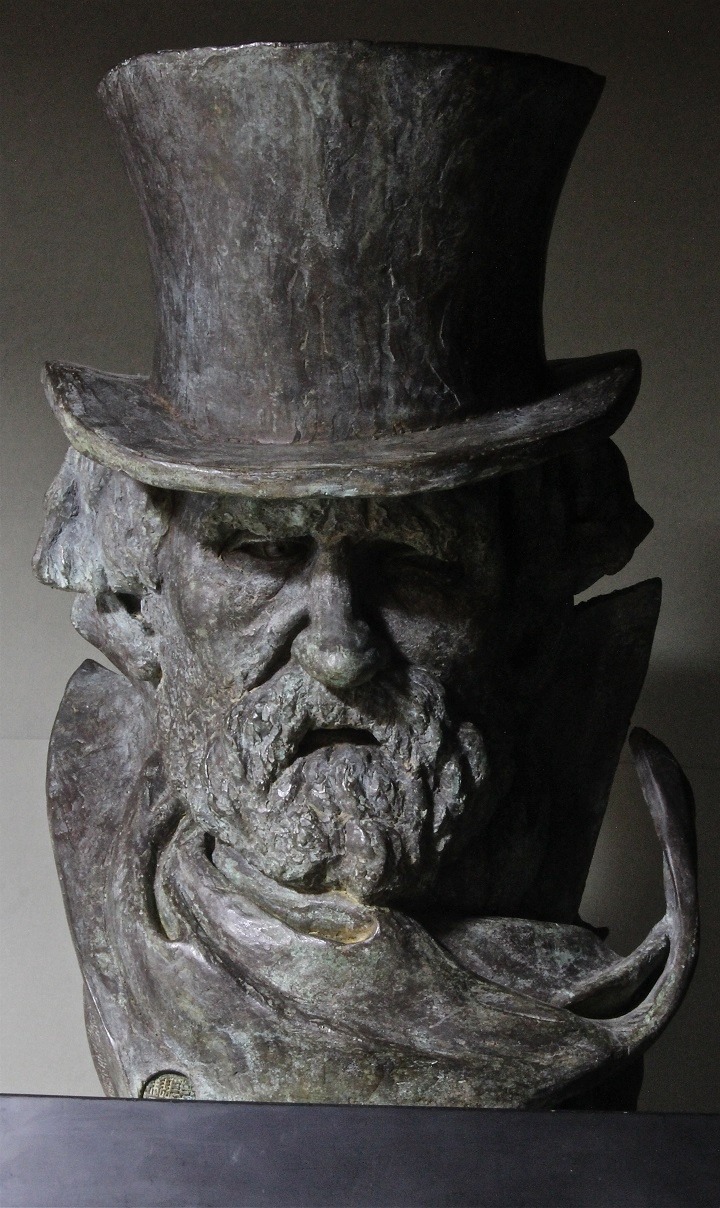 HOW DID YOU DECIDE TO START YOUR STUDIES IN YOUR EARLY 50'S?
Well, the process was slow and delicate, but absolutely fascinating!
By the time I turned 52 I had been living in New York for almost ten years. I had a good-paying job and a nice apartment in the East Village with most of my family and friends living nearby.  I found myself visiting Jean Baptist Carpeaux's Ugolino and His Sons at the Metropolitan Museum of Art over and over again — I had been there at least a few dozen times in less than a year. One day, while standing in front of the sculpture, I had a sudden realization that I needed to be a part of this world. Exploring the human figure artistically was a vast and exciting challenge and I needed to know how. So right then I decided that I would go back to school at night and on weekends to study figurative sculpture, with the ultimate goal of preparing myself to enroll in the Florence Academy of Art.
I studied relentlessly for two years across three New York schools — mainly at the Art Students League of New York, but also at the Grand Central Academy of Art and the New York Studio School.  At the end of these two years I sent my sculpture portfolio photos along with an application to FAA.  I did not think I would get in.
So when I received the email from FAA stating that I was accepted to their three-year sculpture program, my life changed in an instant, again. I knew I would have to say goodbye to everything as I knew it; there was no turning back. I could only think of one thing — that I would be going to Italy and I would be making a life there as a sculptor no matter what. It was Firenze or bust!
WHEN YOU FINISHED YOUR STUDIES, YOU OPENED STUDIO 108 IN FLORENCE. WHAT DOES NUMBER 108 REPRESENT?
108 is an auspicious and magical number with much significance across many spiritual traditions.
For example, Tibetan and Chinese Buddhists and Taoists pray with a 108-bead mala.  In astrology, there are 12 houses and 9 planets. 12 times 9 equals 108. The diameter of the sun is 108 times the diameter of the Earth. There are 12 constellations, and 9 arc segments called namshas or chandrakalas. 9 times 12 equals 108. 108 is a Harshad number, which is an integer divisible by the sum of its digits. Harshad is from Sanskrit, which means "great joy."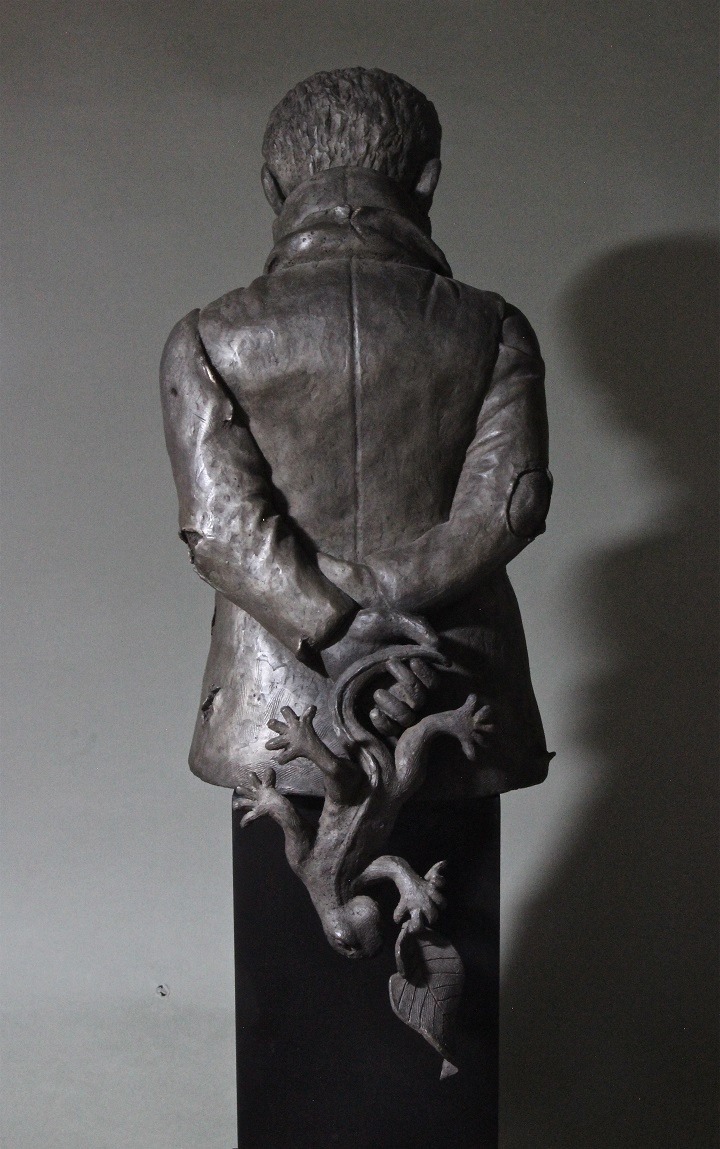 STUDIO 108 IS OPEN TO EXHIBITING WORK BY INTERNATIONAL ARTISTS AND, IN PARTICULAR, PROMOTES EMERGING ARTISTS BOTH YOUNG AND OLD. CAN YOU TELL US MORE ABOUT THAT?
While I was still living, working and studying sculpture in New York, observed how difficult it was for many great artists to promote their work to galleries. If you're not known in any artists' circles or haven't yet built up enough connections or if you're simply older and haven't shown your work before, it can be almost impossible for galleries to give you a chance as an emerging artist. In turn, this makes it far too difficult for some very talented artists to reach the next level in their career.
So before I left New York, I made a goal: if I ever opened a studio, I would try my best to reach these talented and overlooked emerging artists and do what I could to support them. I didn't get where I was by myself — so many people, especially local Italians, have helped me along the way, and still do. I wanted to be able to "pay it forward," in a sense.
Therefore, each year I open Studio 108 to two artists — one young, and one older — who can exhibit their work for free. I both organize and promote their exhibitions, including their opening. These have to be extremely talented artists who have been knocking on all the galleries' doors with no luck, artists that have struggled and deserve acknowledgment, recognition, praise. Artists whose work others deserve to see and enjoy! I strongly feel that I need to make a difference in the art world. Even if it's only a tiny difference, it's okay with me.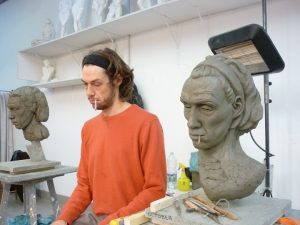 WHO WAS/IS YOUR TEACHER? AND WHAT DID YOU STUDY WITH THEM?
I was eager to learn the aesthetic techniques and philosophical principles of humanism-realism sculpture and I was determined to learn from the best.
My teacher's name is Robert Bodem. As a sculptor, his work is very powerful, sometimes overwhelming. His sculptures impart a sense of freeness and they always tell a story.
As a teacher, his knowledge has had a huge impact on me because he was there at the ground-level of my education and gave me a very solid foundation in human anatomy, internal structure, proportions, poses, composition, line qualities, casting and mould making.  I am very grateful to him for always having given me enough room to take the time to improve my technique and find my unique voice as a sculptor.
I studied for three full years at FAA within the sculpting department, starting with Michaelangelo's facial features, then skulls, then portraits and finally onto male and female figures. After the 2nd year I learned how to sculpt 3/4 and life-size figures.  Combining Robert's technique and my education at the academy, I was able to come into my own way of sculpting, which is how I sculpt today.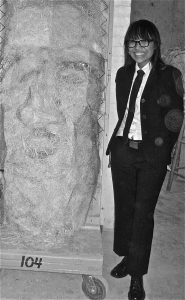 HOW DO YOU GIVE A SCULPTURE A SOUL?
I would say I believe in energy in all people and things. I use clay, plasterlina and wax when I sculpt in my studio. Plasterlina contains clay, sulphur, oil and water — all earth elements of essential quality. When I sculpt, if it is a human, a daily dialogue with my sculpture is a normal ritual. Yes, I talk to it daily as if it already has its own soul! And I also ask it to direct me. I ask it to give me the strength to deliver what I have set out to do and the wisdom to imbue it with the right essence — whether it be sensitivity, sensuality, anxiety, agony, recklessness — and the level of subtlety required to achieve the likeness of my human subject. I find it quite liberating to relinquish this sense of control.
My desire is for every sculpture I create to be believable—it has to have its own "inherent soul".
I prefer viewers to have their own dialogue and relationship with my sculptures and don't wish to foist any opinions on them. I would like viewers to be able to look at my sculptures and build their own interpretations, judgements and stories around them. I never wanted to be a great sculptor, just their favorite sculptor.
CAN YOU DESCRIBE YOUR IDENTITY? WHAT'S THE ESSENCE WITHOUT WHICH YOU WOULD NOT BE THE SAME?
Great question!  To truly answer that, I think I would need to trace back to a few of my past lives, to see when I began…
In this current life, I'm a sentient being and I choose to use my authentic energy and spiritual beliefs to guide me to where I'm supposed to go. I may not have gone where I intended to go, but I think I've ended up where I need to be, for 'now'.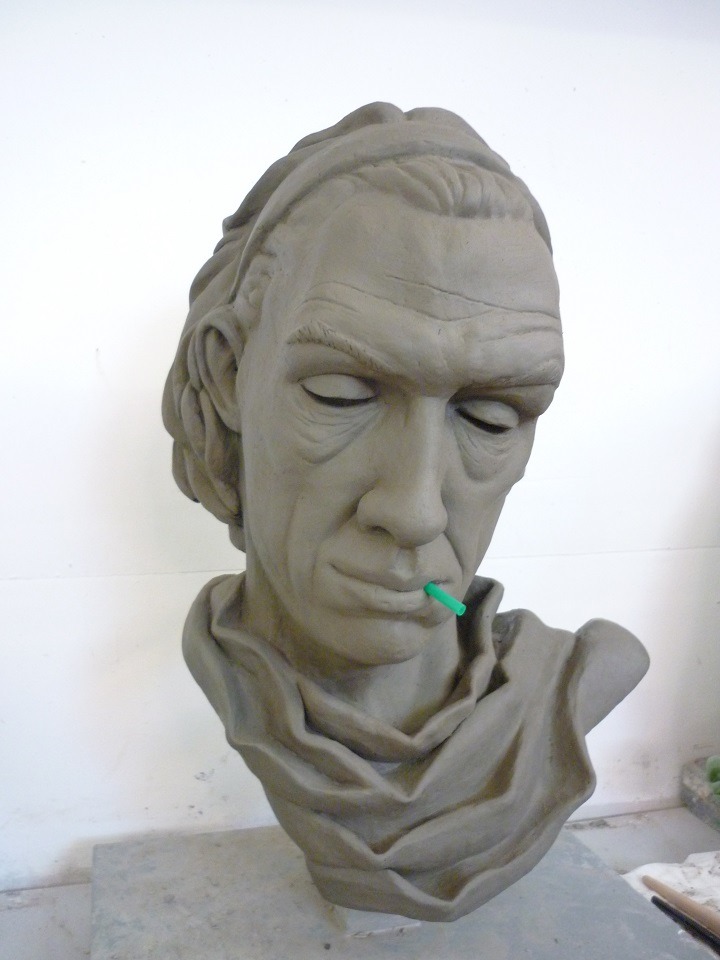 WHAT IS YOUR LIFE PHILOSOPHY?
In the modern world originality may be dead but creativity can still thrive.  Whatever I do is an extension of myself and there's only one 'me', so essentially, there is an opportunity for originality through me being absolutely true to myself. As an artist, that is very exciting.
Doing what I love is freedom; loving what I do is true sublime happiness. In everything I do, I try to be absolutely true to myself and always stay optimistic and positive in action and thought.
HOW DO YOU DECIDE WHAT TO WORK ON NEXT?
Normally, my intuition directs me to what I need to create. There is always a pure reason, some impetus that emerges. There's always a story that needs to be told. When I decide to move forward with a subject, I rigorously study the figure(s) in any way I can, whether in person or, if not possible, through all the photographs, paintings, other sculptures — any media — I can get my eyes and hands on. I work to gain an accurate understanding of the figure and his or her aesthetic range, as well as to get to know the scope of my project and what I wish to say with the sculpture.