WORDS: ANIMA MUNDI
PHOTO: FROM PRIVATE ARCHIVE FILIP KRIŽIŠNIK
Filip Kržišnik and Blaž Slanič are two great guys from Ljubljana, Slovenia. They have been working together since 2014. Their way of life is adrenaline and the show which they present in acrobatic ways. They live their passion on the stage and live it as a lifestyle. Everything is possible to them and their power and beauty are based on that philosophy. In the recent years, they have had more than 400 shows around the world. Wherever they present themselves, they bring energy and good vibration. Ladies & Gentlemen, here they are, the guys who will take your breath away:
WHAT DOES ACROBATICS MEAN TO YOU? WHERE DID YOU LEARN IT?
Filip: Well, movement means everything to us. We love daily challenges that seem impossible at the first glance; challenges that a normal, sane human being would probably bow down to and move on. But we tend not to give up on anything, especially if it looks hard and impossible to achieve. If we stand in front of a unclimbable wall, we will hop one on top of the other and summit it. If we come across a gap too wide to jump across, one will throw the other over. Why? Because we can. And we are having so much fun while we are doing it.
Blaž: As acrobatics is a big part of gymnastics, it also has a big part of our lives. Our whole lifestyle is turned upside down, it tends to be extreme and we simply love it. We are the pioneers of acrobatics in Slovenia, thus we have never had any teachers or mentors. All of our tricks, elements and performances are done solely by our own will and wish to create, our own engagement and hard work. We train each day up to 8 hours, we use our free time as the perfect time to acrobatically educate ourselves. Even when we travel and are on show tours all around the globe, we train in the hotel rooms.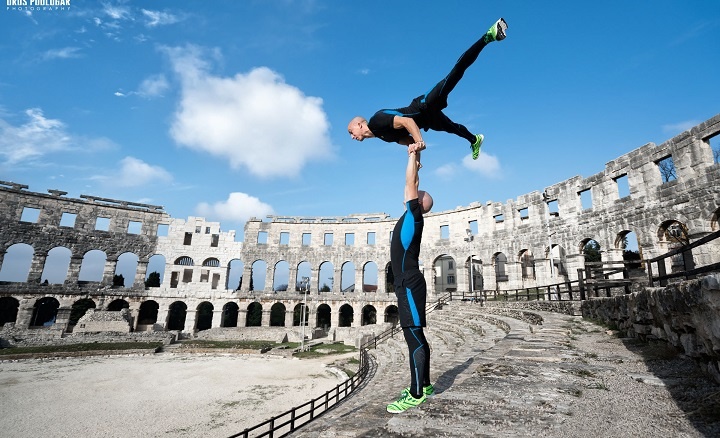 HOW DID YOU MEET AND HOW DID YOU SEE THE POTENTIAL IN THE BUSINESS?
Filip: Even though we seem as if we were brothers, as if we've known each other for more than two decades, and as if we breathe, think and move in completely the same manner, we met only 3 years ago. Blaž was studying at a sports faculty and I had training sessions there with dancers and cheerleaders. Seeing the potential in combining our strengths and knowledge in all the sports we had trained as solo sportsmen up to that point, we started to invest lots of time and energy into expanding our acrobatic skills.
Blaž: Being the first acrobats in Slovenia gave us a great advantage and problems at the same time. There was no way to for us to learn the tricks of the trade from anyone, so we had to imagine all the possibilities, even which acrobatic elements are manageable. But we did produce something completely new, something that no one has ever dared to do before – we combined sport, art and the show business. Being the first acrobats in Slovenia, we are two strong male performers who could take on any stage and make it into an unforgettable experience.
HOW MUCH DO YOU TRAIN DAILY AND WHICH ARE YOUR FAVOURITE EXERCISES? HOW MUCH DO YOU PRACTICE ALONE AND HOW MUCH AS PARTNERS?
Filip: As said, we do train a lot. We try not to rest on our laurels, but to develop on every possible level. Sometimes people don´t understand how much hard work it actually takes to produce a 5-minute performance, since they don´t know the whole background story – all the fails and falls that ended in injuries, numerous hours of extremely hard training in the gym, trying to learn a new trick, that may or may not even work. And when we learn something new, additional training is necessary to polish that trick, to make it stand out with its clean lines and no trembling during performance. And then all the work necessary to fill that singular trick transforms into a choreography of fluid movement, creating a story of incredible acrobatic elements without me even stepping off Blaž.
Blaž: Yes, training sessions are hard, but we enjoy ourselves while training. We must not forget that we have to create musical background for our shows. And costumes as well, and that every single show is different than the one before. But then comes an even harder part of the job – marketing, promotions and exposing us to all the customers that we can potentially cooperate with. We also have to write all the emails and offers, answer phone calls etc. So yeah, we train together, but all the rest falls on Filip´s shoulders. I don´t know how he manages, sometimes he doesn´t sleep at all.
DO YOU HAVE A FEAR THAT YOUR PARTNER IS NOT ABLE TO DO A SPECIFIC EXERCISE?
Filip: Fear can be present, we would be lying if we said we were not afraid. But we fear different things than most people we know. We fear not reaching and using all of our potential, not creating enough, not training enough. We always want more, to go higher, to go faster and we are afraid because we don't know where the limit is and if we can reach it at all. But being afraid that Blaž wouldn't hold me and will drop me accidentally during our exercises? That is a fear I don't know.
Blaž: We train so much and we spend so much time together, so our complete relationship is built on trust. Without it, we would be nothing. I know what my capabilities are and Filip knows his, thus when we go into the unknown, we always communicate and make it look so simple. Sometimes we have to try a few times to get it right, we may have to change the approach, I have to adjust my grip, Filip adjusts his weight distribution, and voila – Filip is holding a hand handstand on my head.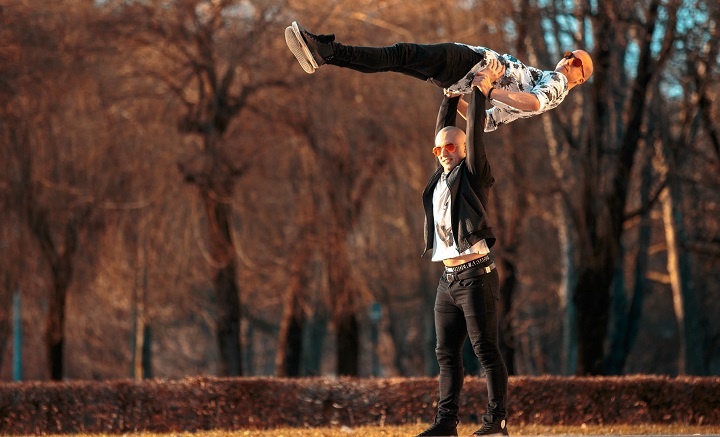 WHERE HAVE YOU PERFORMED AND WHICH SHOWS AND EVENTS ARE YOU INVITED TO?
Filip: In the past year only we had more than 400 shows, which is a great indicator that we are doing something right and we are so happy about it. We've had shows all around Slovenia and we have been performing and traveling a lot too: Croatia, Hungary, Italy, Austria, Macedonia, Serbia, Greece, Switzerland, France, Spain, Germany, Russia, England, Singapore. We usually perform at corporate events, at openings of new places (from factories to coffee shops), introductions of new products (from cars to shoes), at anniversaries, meetings and such; wherever we can bring life and energy to an event.
Blaž: We have performed in a plane whilst flying, on a boat while sailing, on a train while driving. We even had a show on trucks in motion, where we had to jump from one truck to another – Best. Day. Ever.
We have performed at private events for maybe 10 people and also for crowds bigger than 20,000 people. One event that we'll always remember is when we performed on a 40m-high vertical rock wall, while standing perpendicular to it. And breathing fire.
HOW ARE YOU GOING TO SPEND THE SUMMER OF 2017?
Filip: As usual – we will try to survive. As we are not only acrobats, gymnasts, climbers, dancers, fire breathers, jugglers, we do a lot of stunt work as well. We have appeared in many TV ads, commercials and movies as stuntmen, stunt doubles or stunt actors. Were were also behind the scenes of as stunt coordinators. We like the film industry, it's always fun on the set while shooting something.
Blaž: We are breaking the boundaries, literally, as we travel more and more each year. So far, we have been on show tours abroad for at least 2 months, which means a lot to us and gives us great pleasure. We have been invited to collaborate at a couple of incredible events, to train with Cirque du Soleil; we have great expectations of 2017, actually.
THE TOPIC OF THE JUNE ISSUE OF RYL IS THE PASSWORD IS 'WE HAVE TO SUCCEED!' WHAT IS SUCCESS FOR YOU?
Filip: Our motto is: why make it simple, if it can be done in an extreme way? As we don´t like to vegetate and fail to gain experience and level up, I think it's always a question of what it takes to succeed. Will I have to train even harder, eat properly, succeed and be able to pull up my body weight? And when I finally do succeed, what will it take to overcome myself and evolve even more? So, yeah, success means a lot to me, but success in terms of meeting my goals. Enjoying life to the fullest and doing what you love, that´s the real success.
Blaž: I think it's not the usual perception of success that counts so much, as the little victories we make. Money and wealth are the little things that give you pleasure, bring a smile to your face and lighten up your day. It's the things that your friends might not even notice, but which can be of great importance to us, like doing 20 push ups yesterday and doing 22 today; or 'I held handstand for 30 seconds last year, now I can hold it for a full minute"; or just gathering courage to talk to somebody, or not stepping into a puddle. I believe that a number of small victories can bring the feeling of success to somebody´s heart and make them happy.