WORDS/PHOTOS: MIA MEDAKOVIĆ-TOPALOVIĆ
ELISABETH ESCOBAR IS A PERSON OF MANY TRADES. SHE RECEIVED HER MASTER'S DEGREE IN COUNSELING PSYCHOLOGY FROM COLUMBIA UNIVERSITY IN NYC AND HAS BEEN WORKING AS A HELPING PROFESSIONAL FOR THE PAST 30 YEARS. SHE HAS DEVOTED HER LIFE TO HELPING THOSE IN NEED AND PART OF THAT MISSION WAS DONE AT VARIOUS COLLEGES AND UNIVERSITIES BY HELPING STUDENTS ADJUST TO COLLEGE LIFE OR WHATEVER OTHER ISSUES THEY MAY HAVE BEEN FACING AT THE TIME. WHILE WORKING IN ALCOHOL AND OTHER DRUG TREATMENT PROGRAMS SHE HAS HELPED ADOLESCENTS AND ADULTS AND THEIR FAMILIES LEARN ABOUT THE PHYSICAL, EMOTIONAL, AND DESTRUCTIVE EFFECTS OF ADDICTION. CURRENTLY, ELISABETH IS A CERTIFIED CLINICAL INTERVENTIONIST WHO HELPS GET LOVED ONES INTO TREATMENT PROGRAMS. ELISABETH HAS ALSO ACQUIRED A CERTIFICATION AS A POSITIVE DISCIPLINE FACILITATOR. SHE HAS ALSO WORKED AS A K-12 SCHOOL COUNSELOR FOR MANY YEARS. RIGHT NOW, SHE IS STILL WORKING WITH CHILDREN, PARENTS, AND SCHOOL FACULTY TO HELP FIND SOLUTIONS FOR THOSE WHO ARE STRUGGLING SOCIALLY AND BEHAVIORALLY, WHETHER AT HOME OR IN SCHOOL. TO FURTHER HER WORK AS A HELPING PROFESSIONAL, ELISABETH OFFERS COACHING FOR CHANGE, WHICH HELPS INDIVIDUALS MAKE CHANGES SUCH AS QUITTING SMOKING, LOSING WEIGHT, CHANGING CAREERS, GETTING MARRIED, GETTING DIVORCED, COPING WITH THE LOSS OF A LOVED ONE, OR BECOMING LESS ANXIOUS, TO NAME JUST A FEW.
WHAT ARE YOU CURRENTLY WORKING ON AND WHAT DID YOU MANAGE TO GROW FROM YOUR PROFESSION? WHAT DID YOU MAKE UNDER YOUR UMBRELLA?
Presently I am working with 3 other women who are also helping professionals and we are in the process of commencing with our new business, NEW BRIDGE WORLDWIDE, which we developed for the expatriate community who are making new adjustments every time they move.
YOU HAVE CHANGED LOCATIONS MANY TIMES IN YOUR LIFE, WHAT DID YOU LEARN FROM CHANGING SO MANY PLACES, PEOPLE, CULTURES, AND GEOGRAPHICAL LOCATIONS?
I learned to be flexible and to be patient. I have become more accepting of what life throws at me and to look for solutions. When I was younger, I think I had very high expectations of everyone, including myself and now, I am more likely to "check myself" because having too high of expectations can lead to frustration. I prefer to be more like a trout and go with the flow than a salmon and fight hard to go upstream, though at times, we all need to do this. Feeling like I can now make a choice as to how I want to respond to life is much nicer than reacting to it. I often help my clients understand this important difference. Reacting is acting without thinking and responding is acting with thinking. I think this is helpful when moving so often. The expression, "The only thing constant is change" works in this case. The best thing I learned about moving so much is that I am capable of change. I used to think there was only one way to do things……now I have more "tools in my tool box".
WHAT MAKES YOU HAPPY?
Meeting People! I love to hear about people's lives and about whatever they feel comfortable sharing. Hearing what people find meaningful in their lives has been very eye opening for me. I love the balance of being with people and being alone. I am happy exploring the world with my husband…. and being open to whatever the universe has in store for me.
WHAT WOULD YOU PICK AS YOUR FAVORITE FROM ALL THOSE CITIES, SOME LIBRARY, CAFE, PARK, HOME, FRIENDS…? WHAT WOULD IT LOOK LIKE IF YOU COMBINE IT INTO ONE?
I have many things I love about each place I have lived, but here are some of my personal favorites:
Belgrade, Serbia- Walking my dogs in Hyde Park every morning, going to small art galleries, and purchasing art, and a 7-course lunch at Aleksandrovic winery with a walk through of St. George's Church.
La Paz, Bolivia- Having coffee at Typica cafe, which became known as "my office" because I was there so much, The Uyuni Salt Flats where the eye can see for miles and the dulce de leche crepes at Asador, a little mom and pop restaurant by my house.
Lisbon, Portugal – Horta dos Brunos restaurant for the best grilled meats, coupled with green peppers, pan fried in olive oil. I loved the short train ride to Sintra to see a most unique palace and to wander around this very green little town. I loved going to The Chinese Pavilion, which is actually a bar, but looks more like a museum due to the hundreds of artifacts collected by the owner.
Rome, Italy-Three Caravaggio painting in the church behind my house, an espresso on the terrace of St. Raphael Hotel with dinner at Santa Lucia on the ground level and a drive to Tuscany to marvel at the Renaissance Architecture with a tea in a small piazza at the end of the day. Prague, Czech Republic-I loved The Charles Bridge at night after a freshly fallen snow, and going to Bohemia Bagels for lunch and buying garnet jewelry.
If I combined these things into one, clearly a theme is present: nature, art, food and culture!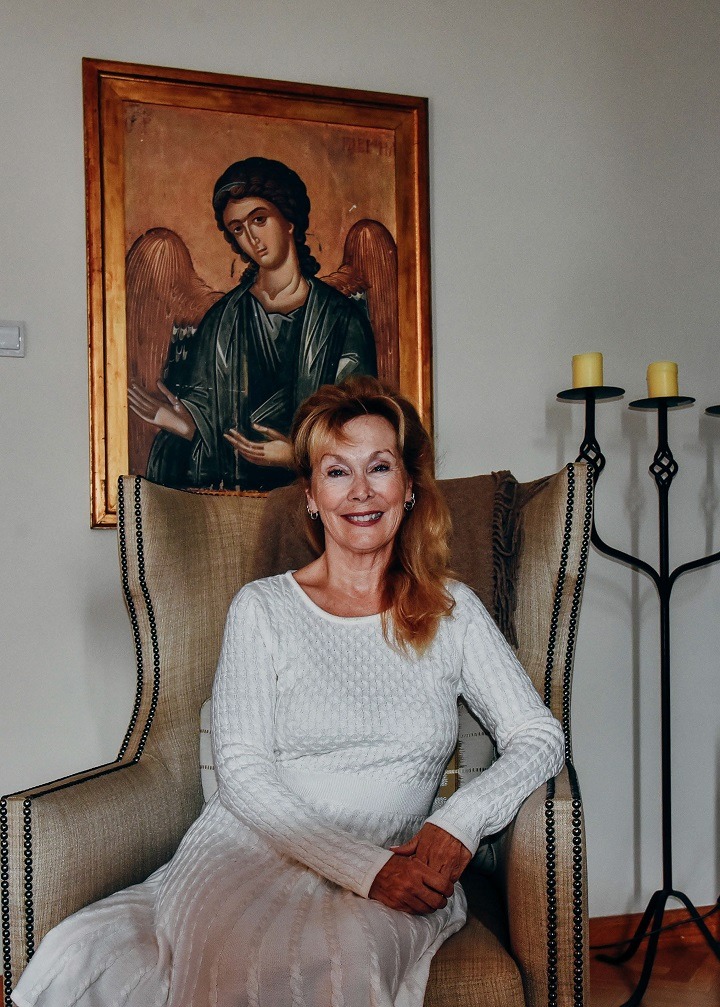 WHAT IS IT LIKE BEING A SPOUSE OF A DIPLOMAT? CHANGING CITIES AND COUNTRIES… GOOD AND BAD SIDES? I KNOW THAT NOT EVERYTHING IS IDEAL.
It is such a wonderful experience and I feel truly blessed that I have this opportunity to live and work abroad because it is quite different than taking a vacation. When living abroad, you go so much more in depth with everything. The only drawback for me with this lifestyle is missing family and friends. But everyone does a pretty good job of visiting (pre-Covid) so thank goodness for video chats! I work less now because I am spending more time doing things like taking piano lessons and Serbian lessons and Tai Chi, so when I was younger, working was a bigger priority, but now I have fewer clients and I am grateful that I can still offer my services. I do a lot of Coaching for Change work and am now working with 3 other helping professionals here in Belgrade and our business is called New Bridge Worldwide, which helps members of the international expatriate community adjust to whatever issue they are facing.
WHAT IS YOUR SPIRITUAL PHILOSOPHY THAT YOU TAKE CARE OF? WHAT DO YOU DO TO BE HERE AND NOW IN THIS MOMENT?
I walk a lot with my dogs and I find my sense of spirituality in nature and in my interactions with others. I find spiritual-ness in art too. It is easy to "future-trip" because we move so often and we are usually required to bid on an onward assignment a whole year out, but I also have become quite good and enjoying the moment-I didn't use to be able to do that so I am pleased about that.
WHAT DO YOU LIKE A LOT IN SERBIA?
I love the food scene…there are so many lovely outdoor places, both in Belgrade and outside, such as Project 72 in Novi Sad. I love the art scene…buying art is a real treat. I love the warmth of the people I have met. All my taxi drivers have been super nice to me and patient with my language mistakes. I love going to the museums and to the monasteries and churches. Also, the amazing nature, be it a local park where I walk my dogs each morning, or driving to see The Iron Gates or Fruška Gora!
YOU ARE A MEMBER OF IWC AND YOU WROTE AN ARTICLE FOR THE NEW BOOK OF IWC "BELGRADE THROUGH THE EYES OF FOREIGNERS"
Yes, I was very touched to be asked to do that because everyone who knows me, knows how much I love being here! Belgrade is such a fun city. I wrote about how wonderful the art galleries are and I have already purchased so much art by local artists and I have 2 years left, so I plan to buy more!
THE TOPIC OF THE NOVEMBER RYL ISSUE IS SENSE AND SENSIBILITY. WHEN DO YOU USE SENSE AND WHEN SENSIBILITY? WHAT DO YOU THINK IS DOMINANT IN YOU?
That is an interesting question…..I think of sense as either common sense or using my senses……so both are required daily….as for sensibility, I think of how I respond to others……am I sensitive to them and both as a helping professional and just my nature, I try to do that on a daily basis as well.