WORDS: ANIMA MUNDI
PHOTOS: PRIVATE COLLECTION
Thomas Swieca is the general manager at Radisson Blu Old Mill Hotel in Belgrade. He graduated from Hotelschool WIHOGA in Dortmund, Germany. He speaks German, English and French. His  extensive work experience in the hotel domain gives him the right position at the right time.
Radisson Blu is one of the world's leading brands with more than 270 hotels in operation in 62 countries. Mr. Swieca has managed the hotels in Germany, Egypt and Turkey.
He became the general manager at Radisson Blu Old Mill Hotel in Belgrade on the 2nd September 2013.
Manager´s view on success, motivation, setting goals in business and in life.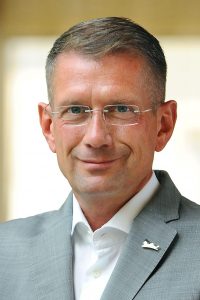 WHAT IS SPECIFIC AND UNIQUE AT RADISSION BLU OLD MILL HOTEL? A MIX OF HISTORY AND MODERN ARCHITECTURE GIVES IT A SPECIFIC TOUCH OF ELEGANCE AND VISUAL IDENTITY.
Two different buildings are where the past and the present come together. Our guests will not just see the history, they will be able to stay in it, to feel the spirit of the old mill. The hotel concept is to reflect the details of the mill, we used old cobblestones, old wooden panels and many more from the real old mill and installed these into some parts of the old buildings. The building's architecture has industrial character and it's driven by its function. The Old Mill has been reconstructed. In combination with the modern architecture of the hotel, the entire scheme makes a single unit composed of historic and contemporary design. Even the staff uniforms have the theme of the flour mill. Where else in Belgrade do you have this kind of experience?
WHAT IS THE KEY TO YOUR SUCCESS?
For me, being successful means finding a balance between meeting the companies' expectations and satisfying the employees' needs. I am not the kind of leader who makes blind decisions to get things done. I prefer to involve people, make them feel valuable and supported.
THEY SAY THAT HOME IS WHERE THE HEART IS.YOU HAVE BEEN THE GENERAL MANAGER IN THE HOTEL SECTOR IN THE DIFFERENT PARTS OF THE WORLD. WHERE DID YOU FEEL AT HOME?
Home is when my wife is with me. We are able to feel comfortable everywhere as long as we are together. Our sofa, dining table, some books and personal things are enough to make us feel at home. Instead of complaining about things that are missing, we choose to see the positive side of every place. Luckily, we are able to live in Serbia now. We love the country and we do love Belgrade, the people, the culture and the food, of course.
THOMAS, PLEASE DESCRIBE HERE HOW LONG YOU HAVE BEEN PARTICIPATING IN MARATHONS. WHERE HAVE YOU  RUN?
In 15 years of running Marathon, I was able to visit different places. I ran 4 times in my home town Cologne in Germany and of course in Dusseldorf, where I lived for several years with my wife. Also, in Hamburg, Berlin, Bonn, Frankfurt, Rhein-Ruhr-Area-Marathon and Munich. I also ran in Istanbul and Antalya while living in Turkey, Mallorca, Amsterdam, Paris, London, New York a few weeks ago and Belgrade, of course.
MARATHON PARTICIPATION HAS BOOMED WORLDWIDE IN RECENT YEARS. RUNNING THE MARATHON IS ONE OF THE MOST CHALLENGING AND REWARDING EVENTS  THAT NOT MANY OF US WILL EXPERIENCE. HOW DO YOU PREPARE FOR THE MARATHON?
I run 6 to 8 km every day, which increases slightly as the race approaches and having some time out in-between. I run Halfmarathon 6 weeks before the race. I try not to use alcohol and chocolate for 4 weeks and have a daily dose of calcium to avoid cramps during the race. I know taht many runners  have a special meal plan, training sessions etc. but for me this has been working perfectly for almost 15 years. Health, of course, is the most important. Don't stress your body and mind; don't overexert and don't expect too much. For me, running is important but more important is having fun; being healthy and being able to enjoy the finish, as well as the time celebrating with family and friends afterwards.
HOW DO YOU FEEL WHEN YOU FINISH THE RACE?
I starve. The only thing I can think of is an ice-cold Coca Cola (2 to 3 cans are perfect) and a chocolate bar. After cooling down and realizing that I made it, I am just proud and full of adrenaline. Sometimes I am disappointed by the course. It can be very boring when there are no supporters along the course, nothing happens, there's nothing interesting to see. These are the most difficult and dangerous situations for my inner voice, which says (mostly around km 30) Why the f… am I doing that? I should take a taxi and go home.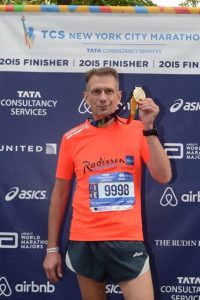 WHERE DO YOU SEE THE COMMON POINT OF MARATHON AND LIFE?
Be prepared.
Know your limits.
Have fun.
Love what you do.
Reach the goal.
Love and laugh a lot – even if you fail.
WHO ARE YOUR TOP FIVE FAVORITE WRITERS AND BOOKS IN THE MANAGERIAL FIELD?
When it comes to reading, I am a very lazy person , the opposite of running a Marathon. I'm much happier when I'm halfway through. But, for sure, there are some books I really like.
First of all, I can recommend two novels by Imogen Edwards-Jones and Anonymous: Hotel Babylon and Beach Babylon. Even non-hoteliers will love the down-to-earth description of a hotel's daily business, put together in a very humorous novel. Ther second one is The Adversity Advantage by Stoltz and Weihenmayer. It's abour reaching goals, managing challenges and setbacks, all seen by the bravest mountain climbers I have ever heard of.
I am not a huge fan of literature. For keeping my mind free and getting inspired, I prefer to read thrillers. I can highly recommend Sebastian Fitzek but be aware – this can lead to insomnia.
THE MAIL TOPIC IN THIS ISSUE OF RYL IS SUPPORT ME! WHO SUPPORTS YOU IN YOUR PROFESSIONAL AND PERSONAL DEVELOPMENT? AND WHO DO YOU SUPPORT?
I am supported by my family. My children (2 sons 25 and 27) work in the service sector as well and they share their points of view about the gastronomic development. It is always helpful to have fresh and young ideas to be able to think out of the box.
My wife has been traveling with me for almost 5 years. She is a hotelier as well and had worked as a General Manager before she joined me in my travels. She really knows my business and I love to share my thoughts and struggles with her. We can discuss different options for solving problems, developing new ideas or just having someone who understands – because hotel life is not that easy and glamorous as most people think.
And coming back to Marathon, she is the best supporter I can wish for.