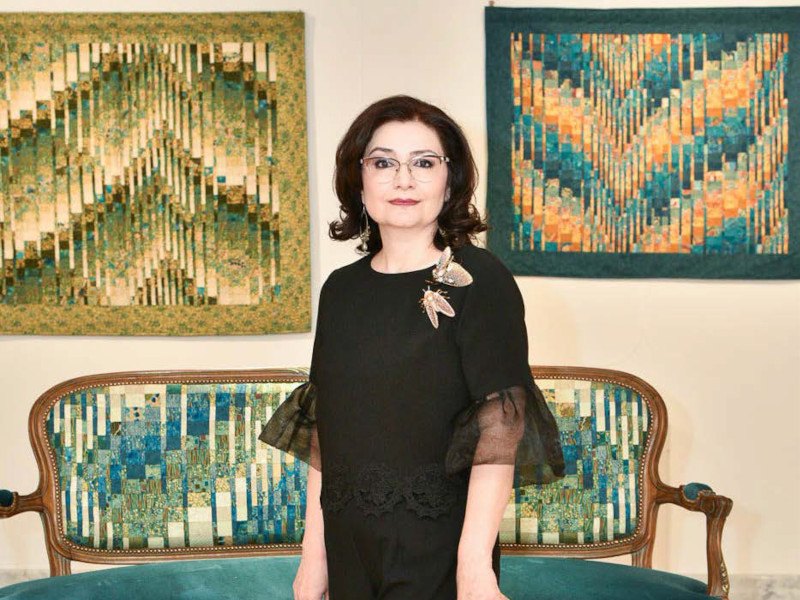 13 maj 2023

PATCHWORK AS A PART OF HER LIFE

WORDS: MIA MEDAKOVIC
INTERVIEW: LEYLA KHASIYEVA
PHOTOS: GORAN NIKOLAŠEVIC

LEYLA KHASIYEVA WAS BORN IN 1967, INTO A FAMILY OF A NEUROSURGEON (WHO WAS ONE OF THE FOUNDERS OF NEUROSURGERY IN AZERBAIJAN) AND A MATH TEACHER. SHE GRADUATED FROM HIGH SCHOOL IN 1984, AND WITH HONORS FROM MEDICAL COLLEGE IN 1994.

SHE MARRIED HER HUSBAND, WHO IS A DIPLOMAT, AND IN 1995 THEY MOVED TO BELGIUM. SINCE THEN, THEY HAVE LIVED IN MANY DIFFERENT COUNTRIES INCLUDING AUSTRIA, A SECOND STAY IN BELGIUM, CROATIA, AND NOW SERBIA.

SHE HAS TWO DAUGHTERS. HER OLDER DAUGHTER ATTAINED A BACHELOR OF SCIENCE DEGREE FROM THE UNIVERSITY OF TORONTO, AND HER YOUNGER ONE IS STUDYING PHYSICS AT A UNIVERSITY BACK HOME.

THOUGH SHE IS A MEDICAL DOCTOR BY EDUCATION SHE HAS ALWAYS BEEN PASSIONATE ABOUT ART AND DESIGN. AS A CHILD, SHE MADE CLOTHES FOR HER DOLLS. LATER TO STAND OUT FROM THE CROWD SHE STARTED TO DESIGN AND SEW CLOTHES FOR HERSELF AND HER SISTER.

THE FIRST PIECE OF PATCHWORK WAS A GILET MADE 30 YEARS AGO OUT OF HER LATE FATHER'S SILK TIES.

SINCE 2001 SHE HAS BEEN FOCUSING HER CREATIVITY ON MAKING BIG PIECES OF PATCHWORK OR QUILTS. SHE PARTICIPATED IN A QUILTING COMPETITION IN VIENNA IN 2002, WHERE SHE PLACED 3RD, AND HAD PERSONAL EXHIBITIONS IN BRATISLAVA, VIENNA, ZAGREB, AND KORČULA.

APART FROM QUILTING, SHE HAS A PASSION FOR DESIGNING JEWELRY FROM SEMIPRECIOUS STONES AND POLYMER CLAY.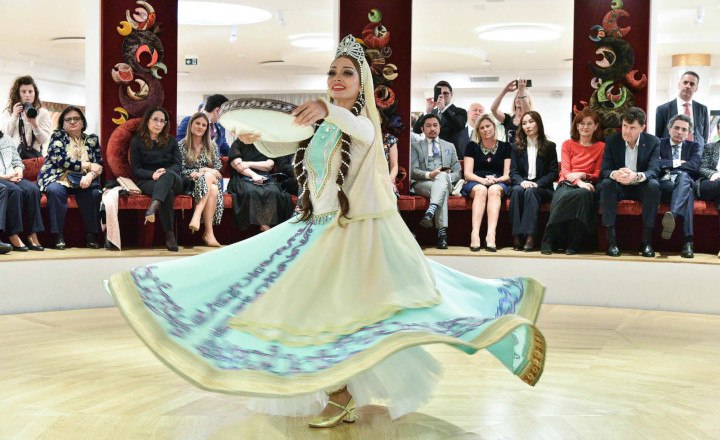 HOW WOULD YOU DESCRIBE AZERBAIJAN, THE LAND YOU COME FROM? DESCRIBE IT FOR US.
Azerbaijan is a melting pot of cultures, religions, and traditions where the East and West meet. It offers a rich heritage built upon centuries of history. One can experience prehistoric cave drawings, Zoroastrian temples, ancient ruins, and palaces of Khans. Although it is such a small country, it has nine out of eleven climate zones which leads to incredible biodiversity. One can find anything from beaches to mountains and everything in between. It is a beautiful country and there is something there for everybody, but at the heart of Azerbaijan are its people; warm and welcoming.
YOU SPEAK 7 FOREIGN LANGUAGES. WHICH LANGUAGE MAKES YOU FEEL MOST COMFORTABLE, AND WHY? ARE LANGUAGES YOUR DESTINY OR A WILL TO LEARN?
Because we have lived in many countries, I was fortunate to learn various languages. When I think about it, it depends on the period of my life and which country I lived in. When I lived in Belgium, French was most comfortable for me. Now that I've been living in the Balkans for several years, Serbian is more comfortable for me. Because I am a part of the diplomatic community and the International Women's Club, I can also easily communicate in English. Being able to speak the local languages has helped me to fully enjoy my life in the countries that I have lived in. It's not only a way to communicate with people, but it also gives opportunities to better understand the traditions, history, and culture of a place. For example, when I go to the restaurant "Tri Šešira", I love to sing along to famous Serbian songs such as "Ko te ima taj te nema", "Moja mala nema mane", "Đurđevdan", "Muštuluk" and others. My future will decide if I learn any more languages. It all depends on where I will end up!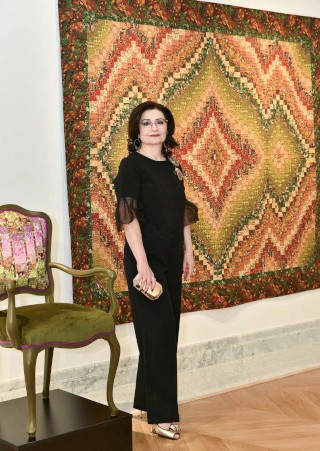 HOW DO YOU FEEL IN BELGRADE? HOW DID BELGRADE RECEIVE YOU, AND HOW DID YOU RECEIVE IT?
Despite moving to Belgrade in late autumn, I fell in love with the city from my first days here. The transition was very smooth for me, and knowing Serbian beforehand helped me integrate quickly. Just as I expected, the people here are very kind and welcoming. I have adopted a dog from Ćuprija and we go on long walks together every day. I am amazed by how many beautiful buildings I see here every day. Some of them are monumental and luxurious, while others are small but picturesque. I really enjoy looking at the different facades. Belgrade is a city that gives me a lot of inspiration for my art.
DURING APRIL YOU ORGANIZED AZERBAIJAN CULTURE DAYS IN BELGRADE, WHAT DID YOU PRESENT?
It was an honor to be a part of the Azerbaijan cultural days at the "Madlena" Art Palace in April. This was the fifth exhibition of my quilts after Bratislava, Vienna, Zagreb, and Korčula, but for the first time, they also featured furniture that I designed using patchwork. It was wonderful to share my art with people and to experience their reactions and feedback.
YOU ARE A DOCTOR BY PROFESSION, BUT YOUR PASSION HAS DRAWN YOU TO DESIGNING JEWELRY, FURNITURE, AND PATCHWORK.
I have been creating different things ever since I was a child. I remember a funny story of my life from this time. When I was around 4 years old, I had just learned how to use scissors. My mother had just bought new curtains and as some of you may know, it was not easy to procure things in the Soviet Union. The same evening, my parents left us with our aunt, and while she was in another room, I decided to take matters into my own hands to re-design the new curtains. I used my newfound knowledge of how to use scissors and the rest you can imagine. When my parents came back, I proudly presented them with my "creation". I grew up as the daughter of a neurosurgeon, and in a family of doctors. Therefore, I decided to follow in the footsteps of my father, uncle, and sister, but in my heart, I always knew that my true passion lies in design. Even in medical school, I never stopped creating things in my free time. I am thrilled that many years later I can do what I truly love.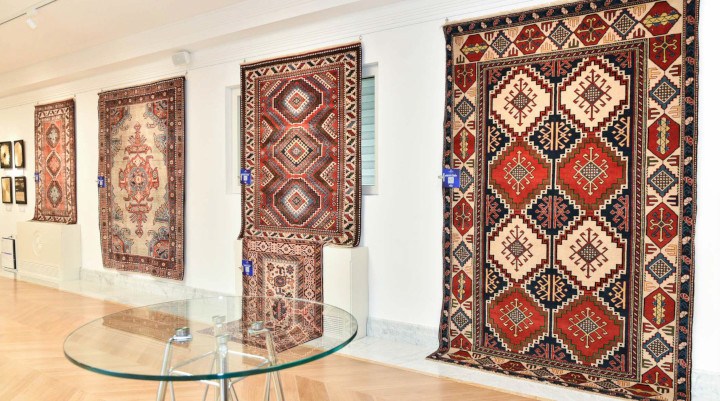 HOW DO YOU FEEL WHEN DOING YOUR PATCHWORK?
Patchwork became a big part of my life about 20 years ago. We had just moved to Vienna at the time, and I was feeling lonely in a new country. I started learning more about patchwork from books and taught myself different techniques. I have always been good at sewing, so patchwork felt like the perfect fit. To me, it is like meditation. When I do it, I feel like I am doing what I love most. It's my passion, my medicine and it brings me joy.
WHAT IS YOUR FORMULA FOR SUCCESS?
My formula for success is creating from the heart. I create my best work when I am inspired. I let my inspiration guide me and help me choose my next project. Over the years, I have done many things from sewing clothes, quilting, making jewelry, etc. Working with different mediums helps my creativity flow. One piece of advice I can give is: do what you love and if you aren't sure about what you love to do, try many things, experiment, and it will yield results.
AS A SPOUSE OF A DIPLOMAT, HOW DIFFICULT IS IT TO FOLLOW HIM IN HIS CAREER, ALL THE WHILE CREATING ON YOUR OWN AT VARIOUS PLACES?
What is most difficult for me, is to be far away from my family and friends back home. However, I have always enjoyed my life as the wife of a diplomat. I am fortunate to travel, to explore new countries and cultures and to meet new people, and make new friends. My creativity lives within me, and I can take my art anywhere we go. Each new place we visit inspires me for new projects.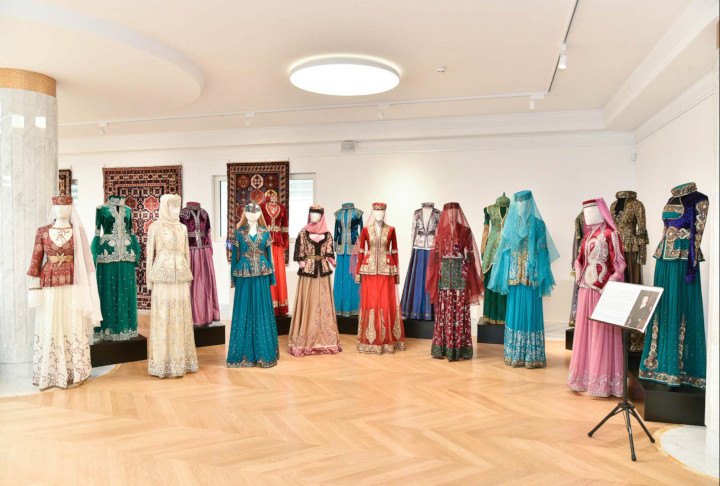 WHAT DO YOU MISS MOST FROM AZERBAIJAN?
It is difficult to pick one thing I miss most about Azerbaijan. I love my country and miss many things about it. What I miss most are, of course, my friends and family, especially my daughter Ayan who is studying physics at a university there.
WHERE DO YOU SEE YOURSELF IN THE WORLD OF DESIGN, IN 5 YEARS?
I had been wanting to combine patchwork with furniture for over 15 years, and I am happy to have finally accomplished that. I look forward to experimenting more and combining patchwork with different mediums to create new and exciting projects.
THE TOPIC OF THE MAY ISSUE OF RYL IS REMEMBERING THE FUTURE. HOW DO YOU FEEL ABOUT YOUR FUTURE?
When I dream about my future, I dream about being able to create art surrounded by my loved ones.