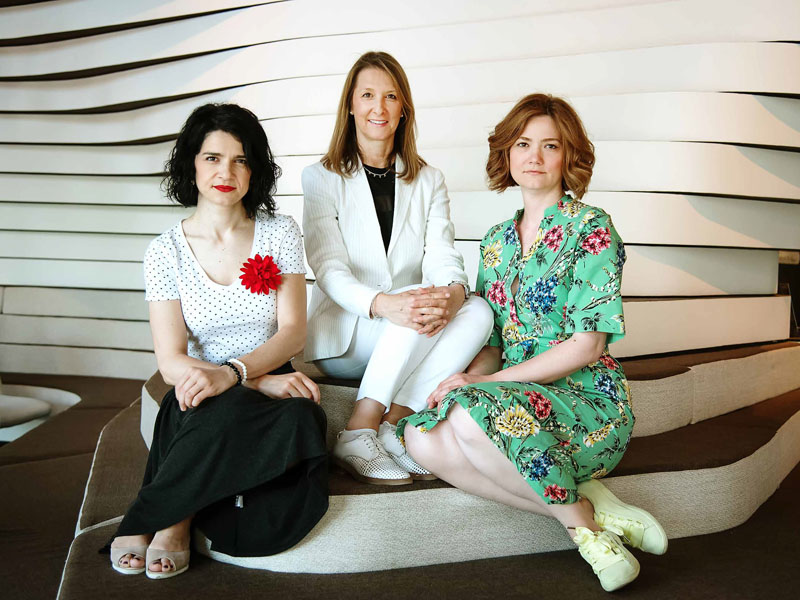 14 jul

GIZ – THE MOST IMPORTANT ECONOMIC PARTNER IN SERBIA

WORDS/PHOTOS: MIA MEDAKOVIĆ-TOPALOVIĆ
INTERVIEW: ANA PRIBIĆEVIĆ ČAMERNIK, VALENTINA ƉURETA, MILENA PERALOVIĆ

IN A PLEASANT ATMOSPHERE AT THE HOTEL RADISSON COLLECTION IN BELGRADE, I AM JOINED BY THREE LADIES WHO WORK FOR GIZ IN DIFFERENT AREAS. THE DEUTSCHE GESELLSCHAFT FÜR INTERNATIONALE ZUSAMMENARBEIT (GIZ) GMBH IS AMONG THE LARGEST DEVELOPMENT AGENCIES GLOBALLY WITH MORE THAN 20,000 EM­PLOYEES ACROSS 120 COUNTRIES AND HEALTHY BUSINESS VOLUME OF AROUND EUR 3 BILLION. WHAT IT IS LIKE WORKING FOR GIZ IN SERBIA? MY GUESTS WILL TRY TO BRIEFLY ANSWER IN THIS INTERVIEW FOR REFRESH YOUR LIFE MAGAZINE.

SINCE 2012, ANA PRIBIĆEVIĆ ČAMERNIK HAS BEEN WORKING AS THE COMMUNICATION AND PR ADVISER IN GIZ SERBIA. ANA PRIB­IĆEVIĆ ČAMERNIK HOLDS A DEGREE IN COM­MUNICATION FROM THE FACULTY OF MEDIA AND COMMUNICATION IN BELGRADE. SHE HAS 20+ YEARS OF DIVERSE EXPERIENCE IN MEDIA, MEDIA DEVELOPMENT, INTERNA­TIONAL DEVELOPMENT ORGANIZATIONS, CHANGE MANAGEMENT, AND CORPORATE COMMUNICATIONS. PROUD AND BLESSED MOTHER OF TWO SONS.

VALENTINA ƉURETA IS THE PROJECT MAN­AGER OF THE "CLIMATE SENSITIVE WASTE MANAGEMENT (DKTI)" PROJECT OF THE GIZ IN SERBIA. VALENTINA GRADUATED FROM THE UNIVERSITY OF BELGRADE FACULTY OF PHILOLOGY AS ALBANIAN LANGUAGE AND LITERATURE PROFESSOR AND HOLDS AN MA IN EU INTEGRATION AND PUBLIC ADMIN­ISTRATION FROM FEFA FACULTY. PRIOR TO JOINING THE GIZ IN APRIL 2018 VALENTINA SPENT 14 YEARS IN CIVIL SOCIETY SECTOR, WORKING ON STRENGTHENING THE CAPAC­ITIES OF POLITICAL DECISIONS MAKERS AND OTHER RELEVANT STAKEHOLDERS IN BOTH SERBIA AND THE WESTERN BALKANS RE­GION.

MILENA PERALOVIĆ IS A PROJECT MANAGER AT GIZ WORKING ON DIFFERENT ACTIVITIES WITHIN THE REGIONAL PROJECT "SOCIAL RIGHTS FOR VULNERABLE GROUPS" (SORI). SHE GRADUATED AT THE FACULTY OF POLIT­ICAL SCIENCES IN BELGRADE, ON THE TOPIC OF INTERNATIONAL AFFAIRS. AFTER GRADU­ATION SHE HAS BEEN WORKING SHORT TIME IN THE ANTICORRUPTION AGENCY OF RE­PUBLIC OF SERBIA, AFTER WHICH SHE HAS STARTED WORKING IN GIZ 2013.

SINCE THE BEGINNING SHE HAS WORKED ON DIFFERENT POSITIONS AND IN DIFFER­ENT SECTORS. HER CURRENT WORK IN THE REGIONAL PROJECT SORI AIMS TO IMPROVE THE CONDITIONS NEEDED TO ENSURE EQUAL SOCIAL RIGHTS FOR VULNERABLE GROUPS IN SELECTED MUNICIPALITIES THROUGH CONSTANT COOPERATION AND SUPPORT TO THE KEY STAKEHOLDERS, SUCH AS CEN­TRES FOR SOCIAL WORK, LOCAL ADMINIS­TRATION AND NON-GOVERNMENTAL ORGA­NIZATIONS.

WHAT IS IT LIKE WORKING IN SERBIA FOR AN INTERNA­TIONAL ORGANISATION, LIKE GIZ FOR EXAMPLE?

Ana: GIZ is a federal enterprise with worldwide operations. We support the German Government in the field of international cooperation for sus­tainable development. We are also engaged in international education activities around the globe. Through our work, we assist people and societies in shaping their own future and improv­ing living conditions.

Working in culturally sensitive change projects, GIZ has developed an outstanding corporate culture. It is most certainly a very interesting place to be. Working for GIZ will help you devel­op your skills worldwide. GIZ encourages profes­sional development, offering new perspectives and opportunities. With its partners GIZ Serbia is growing and constantly progressing, reaching new goals and objectives.

Valentina: For a country like Serbia, development cooperation is significant asset to be utilized. As the implementing agency of the German Gov­ernment the GIZ is present in Serbia since 2001, has so far provided the biggest bilateral financial support to Serbia and has contributed to devel­opment in many policy areas, with projects clus­tered in three major sectors: good governance, business sector development and green policies.

For me, two things can describe working with the GIZ – cooperation and (capacity) development. Cooperation with partners, colleagues within GIZ itself (other sectors, other countries…), other in­ternational organizations; and capacity develop­ment of not just partners but also personal one, better understanding how some processes work, learning new ways on how to improve situation in a specific area, improving your professional expertise and expanding knowledge in other top­ics as well.

Milena: There is a lot of great experience that person can gain and there are a lot of wonderful people that person can meet and work with. It is also a challenge. The international organization, and international development as such, means that you work bilaterally/multilaterally, on dif­ferent levels, national, local, regional. Therefore, the perspectives of work are diverse, and you should, not only be aware of their existence, but you must respect them as well.

WHAT IS THE COLLABORATION WITH GIZ LIKE AT THE STATE, AND LOCAL LEVELS AND ARE THERE ANY POTEN­TIALS IN SERBIA FOR IDEAS TO BE CARRIED OUT? DO YOU HAVE THE NECESSARY CONDITIONS AND STAFF TO ACHIEVE YOUR GOALS?

Ana: GIZ is part of the German-Serbian Devel­opment Cooperation which, on behalf of the German Federal Ministry for Economic Cooper­ation and Development (BMZ), supports Serbia through numerous bilateral and regional proj­ects. Since 2000, the Federal Republic of Ger­many has set aside EUR 1.8 billion for Serbia through immediate assistance. This would not have been possible without an outstanding and professional cooperation and collaboration with our partners on the local and national level. Our main partners are the Government of the Repub­lic of Serbia, its ministries, institutions and other bodies, but also a wide variety of non-govern­mental organizations.

Valentina: Each project cooperation starts with the support of a designated political partner, in most cases relevant Ministry. In the case of the "Climate Sensitive Waste Management (DKTI)" project the main political partner is the Ministry of Environmental Protection of the Republic of Serbia. Our direct implementing partners are 17 cities and municipalities in three waste manage­ment regions. Equally important partner is the Serbian Chamber of Commerce and Industry es­pecially for involving business sector in environ­mental issues and transitioning from the linear to circular economy principles.

Capacities of administration on all levels, national and local, when it comes to green policies are to be further developed and expanded. With several green project that GIZ is currently imple­menting in Serbia (waste management and cli­mate change, energy efficiency, biomass usage, biodiversity) demonstrate that there is need and interest from partners to work on them and im­prove overall situation in the sector.

Milena: All the activities are being implemented in the various municipalities and in cooperation with diverse institutions and organizations (na­tional and local levels). GIZ portfolio includes not only bilateral projects but regional as well. The project of which I am a member is regional. The project is implementing the activities in the municipalities of the Western Balkans region. Different topics, activities, partners, perspectives of implementation (bilateral, regional) make de­velopment more complex to be achieved, but not impossible. GIZ has enough staff, though some­times the circumstances which you can't influ­ence are the reason for the harder achievement of the goals. But, the creativity and will are on the spot, so the goals are usually almost hundred percent achieved.

TELL ME ABOUT THE PROJECTS YOU ARE CURRENTLY WORKING ON? WHAT ARE THEIR AIMS?

Ana: Germany has traditionally been one of the most important economic partners of Serbia. GIZ as the implementor of the German-Serbian Development Cooperation has been involved in support of Serbia's economic, political and so­cial development. The aim of our involvement in Serbia was always bringing the country and its citizens closer to the European Union, strength­ening the economy and improving the living conditions of the population. Today, the priority areas of German-Serbian Development Coopera­tion are water, energy, infrastructure, promoting sustainable economic development and sup­porting democratic reforms.

Globally speaking, climate change is already threatening many people's livelihoods, with de­veloping countries and emerging economies particularly affected. GIZ is therefore working worldwide on behalf of the German Government in the areas of climate and energy.

Valentina: The "Climate Sensitive Waste Man­agement (DKTI)" project is working on improving waste management system in Serbia and intro­ducing concept of circular economy as to con­tribute to climate change mitigation. The overall goal is to create environment for introducing circular economy concept, create job opportuni­ties in the green sector with the special focus on integration of informal collectors into the waste management system at local and regional level and overall to avoid mistakes and errors by re­peating classical waste management practices with a negative impact on the climate. We are focused on working directly in three waste man­agement regions in Serbia – Juzbobacki, Rasins­ki and Lapovo region, covering in total 17 cities and municipalities our project partners (Novi Sad, Backi Petrovac, Backa Palanka, Vrbas, Beo­cin, Temerin, Srbobran, Zabalj, Krusevac, Alek­sandrovac, Brus, Varvarin, Cicevac, Lapovo, Ba­tocina, Raca and Despotovac).

Significant portion of the activities is focused on development of business sector on supporting SMEs in development of action plans on utiliza­tion of secondary raw material in their produc­tion processes all in line with circular economy principles. This is accompanied by setting up broader policy frame work on national level as well.

Milena: As stated previously, the project where I am the member is regional and implements the activities in the area of Social Rights for Vulner­able Groups (SoRi). The project implements ac­tivities in the selected municipalities of Western Balkans, for four years, targeting members of the vulnerable groups, social service providers and professionals working with the vulnerable groups. Although the project ends in September this year, the new project on this topic, again with the regional perspective is coming right af­ter. During its implementation, SoRi project has shown a lot of good practices and achieved ex­cellent results. Therefore, the idea of the new project is to continue working in that direction by upscaling the methodologies, tools, approaches, etc.

DO YOU HAVE AN INSIGHT INTO THE WORK OF YOUR COL­LEAGUES ON THE SAME PROJECTS AROUND THE WORLD? DO YOU ENCOUNTER SIMILAR DIFFICULTIES WHEN IM­PLEMENTING THEM?

Ana: Most of the GIZ Office worldwide have a Communication and PR Officer. Lead by our main Corporate Communication department in Germany, we are connected on many levels and on different platforms, globally and regionally. We cooperate very extensively, exchange our ex­periences and support each other.

Valentina: As in other fields, networking is im­portant and the GIZ is constantly developing pos­sibilities where colleagues from different coun­tries working on similar issues can exchange experiences, implementation processes and ideas. Exchanges are ongoing, through different sector networks and online platforms – working and thematic groups where colleagues can dis­cuss and share knowledge. Cross cutting sector groups for example migration and integration within the national GIZ office in Serbia ensure that the projects regularly discuss ongoing activ­ities, update each other on the work as often dif­ferent projects work with similar or same target group but from a different perspective, ensuring coordination of activities and avoid overlapping. With the current digitalization process within the GIZ itself, this exchange is becoming easier.

In the green sector and waste management es­pecially, projects in the Western Balkans face similar challenges. This is also relevant for the case of inclusion of informal collectors and for­malizing their work. Just two weeks ago, green GIZ projects from the region gathered in Sarajevo at the GIZ "SENECA Green" policy working group which also includes specific thematic group on waste in the Balkans. The session devoted the informal sector inclusion and presentation of current situation in the projects through the re­gion opened a constructive debate on how some good examples and practices can be adjusted to local needs and how can learned lessons be im­plemented in similar situations.

Milena: Absolutely. In order to succeed goals and impact on the more efficient, relevant and effective way it is preferred or necessary to use the experiences, knowledge, methodologies, or similar, from the other projects. Work in GIZ gives the opportunities to travel and meet other colleagues, professionals, and experts and ex­change the knowledge and experiences in the field you are working in and wider. There are dif­ficulties that are similar in different regions but prior to any implementation, the assessment has to be done in order to avoid or diminish risks.

HOW HARD IS IT WORKING ON RAISING THE AWARENESS OF SERBIAN CITIZENS WITHIN YOUR PROJECTS YOU ARE REALIZING?

Valentina: Recycling and generally issues closely related to proper waste disposal are quite easily seen by the citizens – both good examples and models as well as the bad ones. A lot has been done in this regard, nevertheless the situation in waste management in cities and municipalities is still not on satisfactory level, not from the point of view of the citizens, but neither public utilities and local administrations. This however can not only be attributed to lack of awareness but goes hand in hand with the lack of developed waste management infrastructure and accompanying equipment (bins, containers, trucks….). Public awareness campaigns related to waste reduc­tion, recycling, cleaning illegal landfills have been present in our lives in the past decade and lon­ger, but somehow, we keep struggling with the same problems over and over – insufficient lev­els of recycling, no primary separation of waste and illegal dumpsites whose number seems to be constantly growing. So where is the problem, one might ask. Education of citizens and public campaigns significantly contribute to the aware­ness, nevertheless they must be followed by set­ting up proper system – ensuring that bins and containers are available, that they are emptied regularly, that number of containers designated for recyclables is increasing…

At the same time, some solutions which are con­tributing to the improvement of the waste man­agement already exist yet are not officially for­malized – the work of the informal collectors. In this segment raising not only awareness of the citizens is necessary, it is also important to work with the public utilities on finding and applying models how work of the collectors can become part of the official waste management in local communities. And this is what one segment of our project is focused on.

Milena: One of the main goals of the SoRi project is that vulnerable groups, local actors in the field of social work and the population in the selected municipalities are increasingly aware of social rights, including the right of non-discrimination of vulnerable groups. Sometimes it is hard be­cause people often are not aware that they dis­criminate others, neither that they are discrimi­nated. We see non-discrimination as a cross-cut­ting topic, and as one of the greatest values, we base our activities on. In this way, our intention is also to reach as many people as it is possible.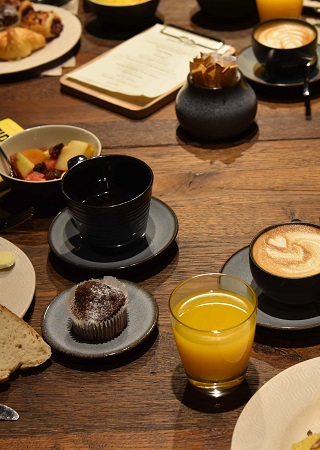 WHAT ARE YOU THE MOST PROUD OF IN THE PROJECTS YOU ARE WORKING ON?
Ana: I am responsible for a very interesting proj­ect implemented in cooperation with the Embas­sy of the Federal Republic of Germany and the KfW Development Bank. The project is devoted to marking the 19 years of German – Serbian Development Cooperation in Serbia. For that purpose we have developed a photo exhibition, a photographic retrospective of the various proj­ects delivered through the German-Serbian De­velopment Cooperation in the past 20 years in Serbia. Additionally, together with the young and bright "Reflektor teatar" we have prepared a the­atre play highlighting the objectives of the Ger­man-Serbian Development Cooperation, its aims and the way it operates. It is an optimistic and very lively, musical play that is very well received by younger people all around Serbia. After the opening in Belgrade, so far we have visited Sub­otica and Zajecar, while more visits are planned within Serbia. For the reader who would like to find out more about the German-Serbian Devel­opment Cooperation and GIZ, you have the op­portunity to visit our newly developed web sites https://germancooperation.rs
Valentina: Setting up new approaches, tackling issues that have long been present in the pub­lic without major advances, dealing with chal­lenges that improve overall quality of life are is­sues when successfully implemented make you proud and you quickly and easily forget stress, concerns and hours of work devoted to realizing it all.
In this project, working on recognizing and for­malizing the work of true heroes of recycling – the informal collector is one of the biggest pro­fessional challenges. Working to improve the quality of life of people whose hard work directly contributes to increasing recycling rates in Ser­bia, is also an issue which goes beyond waste management and interlinks with social, welfare and economic status of the collectors. Under­standing of their work was always present, but recognition was lacking and now there is readi­ness to systematically include them in the official waste management system. By piloting different integration models of employment possibilities our project is testing employment possibilities that can be applied in the neighboring countries who also face similar challenges.
The other segment of work is keeping the en­vironmental issues on the agenda of decision makers on all levels and contributing to imple­mentation and overall advances in the waste management by testing small scale solutions that can later be implemented on wider levels – for example introducing home composting as a testing model in Backi Petrovac.
Milena: When the resources are not available or are very limited, creativity is what makes manag­ers the masters! I am proud that I am a member of the team consisted of real masters.
Personally, I am proud that through this project I have learned better how to accept differences, how to understand other cultures for better work in the mentioned areas and to effectively face the challenges when it looks that it's not possi­ble.