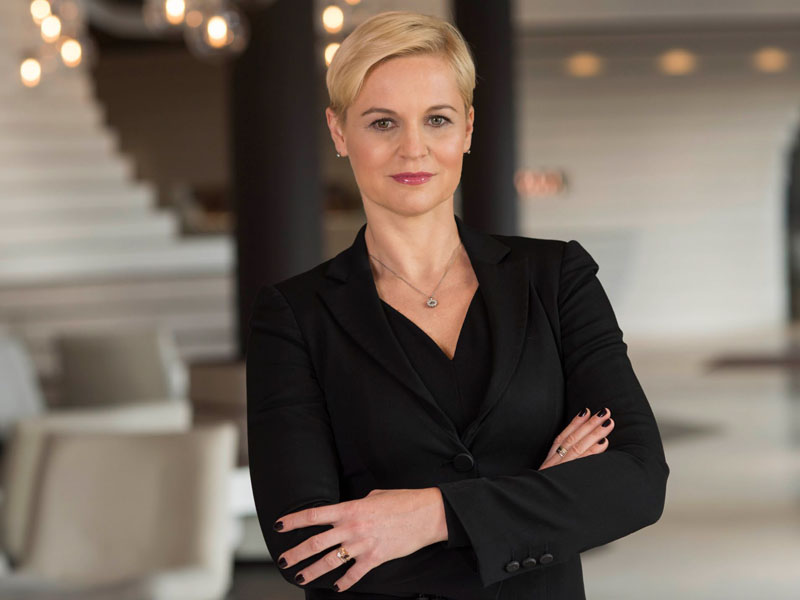 14 Mar

A WOMAN WITH VISION

WORDS: ANIMA MUNDI
INTERVIEW: GABRIELA DITETOVA

GABRIELA DITETOVA, GENERAL MANAGER AT RADISSON COLLECTION HOTEL, OLD MILL BEOGRAD.

GABRIELA DITETOVA IS A PERSON YOU DO NOT MEET BY CHANCE BECAUSE SHE IS A STRONG PERSONA THAT YOU BECOME INVOLUNTARILY ATTRACTED TO. SINCE SHE WAS A LITTLE CHILD SHE SIMPLY FELL IN LOVE WITH THE IDEA OF TRAVELING AND HOTELS. ALTHOUGH SHE STARTED OUT IN SALES AND MARKETING THROUGH HARD WORK AND DEDICATION, LATER ON, SHE BECAME THE GENERAL MANAGER AT THE RADISSON OLD MILL BELGRADE.

SHE HAS PERFECTED HER SKILLS WORKING IN THE RADISSON HOTEL GROUP BY LEADING A WINNING TEAM IN BULGARIA, HUNGARY, ROMANIA, SLOVAKIA, AND RUSSIA. WHILE THERE, DURING THE 2014 OLYMPIC GAMES, SHE HAS OPENED A NEW HOTEL IN SOCHI. AFTER THAT, SHE CONTINUED TO WORK IN ST. PETERSBURG AND FINALLY ARRIVED IN BELGRADE TO MAKE SURE THE HOTEL LIVES UP TO ITS NAME AND FULL POTENTIAL. HOWEVER, SHE HAS ALSO FOUND HER PLACE WHILE WORKING IN FITNESS AND WELLNESS CENTERS IN THE PRAGUE INTERCONTINENTAL HOTEL.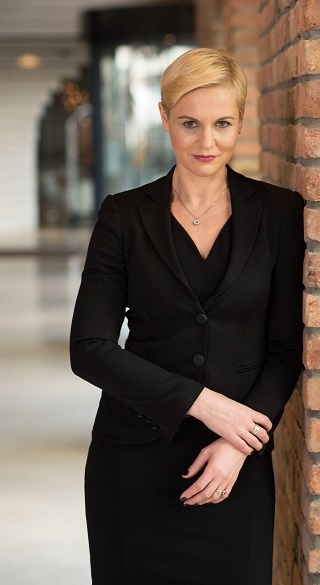 HOW DID THE CLIMB TO BECOMING THE GENERAL MANAGER OF AN INTERNATIONAL HOTEL LOOK LIKE? WAS IT LIKE A HOLLYWOOD MOVIE?
Even though I never studied hospitality, it has somehow always been present in my life. When I was a 5-year old girl, my grandfather was a bartender at a 5-star hotel in downtown Prague, and I still remember sitting on a high chair, drinking Coca-Cola and observing the business of a hotel lobby. Years later, when I graduated from high school – Department of Hematology and Biochemistry, planned to become a vet and apply for the Faculty of Veterinary Medicine in Brno, Czech Republic. But something happened in my personal life – I fell in love and suddenly Brno seemed too far away.
Later that same year, revolution broke out in Czechoslovakia and once the borders were open, my boyfriend and I decided to seize the opportunity to travel. Our first stop was Holland, where we stayed for a while. A decade after first discovering the hotel industry with my grandfather, I was back in it, helping his aunt manage a private family hotel she owned.
My interest in fitness and sport brought me a job as a fitness instructor at the Forum Hotel in Prague, as well as a 6-month aerobics course in California. When I returned to Prague I started a new position with the InterContinental Hotel in Prague, where I worked as a project manager for their new Fitness Club – managing, promoting and selling club memberships. This position led to the next one, this time with the Sales and Marketing Department. Basically, I went from being an aerobics instructor to a hotel GM.
All jokes aside, this was never my plan – I was only doing what I loved and enjoyed and had a lot of fun doing it. Needless to say, I have faced many obstacles and difficult moments in my career, but I always try to appreciate and learn from new experiences, destinations, and projects.
DO YOU FIND IT DIFFERENT FROM WORKING IN THE SAME POSITION BUT IN DIFFERENT COUNTRIES?
I don't think it is very different. My position is about leadership and managing my team is its main part. You can find cultural differences, different circumstances no matter where you work, but the essence is the same – your mission is to deliver amazing service and make sure your guests have a great experience and wish to return. The job also gives you the opportunity to live in many different places around the world during your career – from our most northern location in Spitsbergen all the way to Cape Town.
HOW MUCH IS A TEAM NECESSARY FOR THE SUCCESS AND THE STANDARDS OF A GIANT HOTEL GROUP LIKE THE RADISSON COLLECTION?
The team is key! We can only deliver exceptional service if our team is skilled, motivated and genuine in their approach. Also, Radisson Collection Hotel, Old Mill Belgrade is an exceptional property with a unique story and authentic design.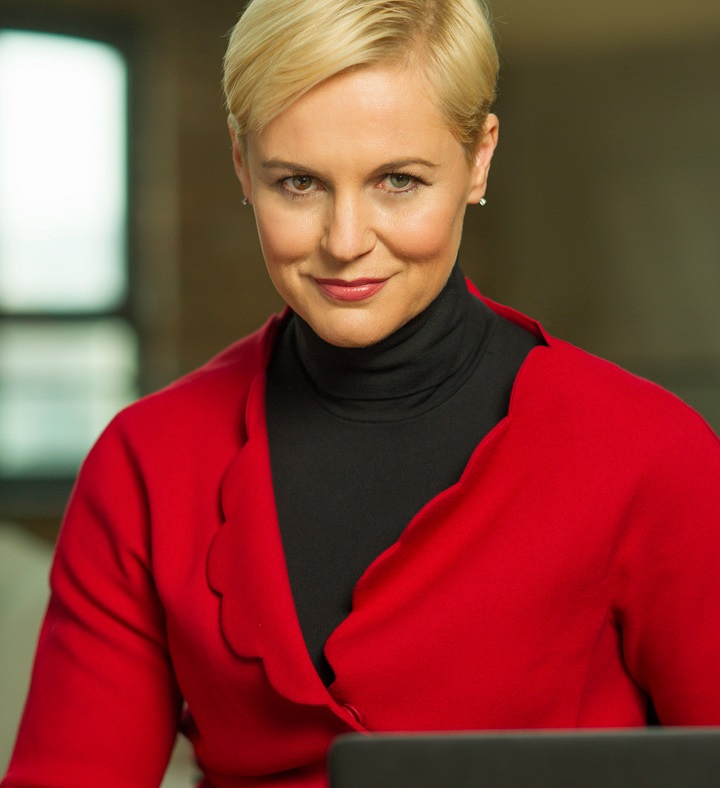 WHAT DO YOU DO ON A REGULAR DAY?
My working day starts with walking my dogs and a strong coffee after. Once I arrive at the hotel, my working day starts with a morning briefing with all the managers to discuss the previous day and prepare daily actions, followed by a discussion with the revenue team. The rest of the day is always different but includes checking e-mails, preparing financial reports, meeting and greeting regular guests…Working in the hotel industry means having long hours but also meeting interesting people – you will never have 2 working days that are exactly the same. To be a hotelier means to have guests in the house 24/7 – my mobile is never switched off.
WHICH IS YOUR FAVORITE HOTEL YOU HAVE SPENT THE NIGHT IN, SEEING THAT TRAVELING IS IN YOUR BLOOD SINCE AN EARLY AGE?
It is hard to choose only one, as this changes based on my specific needs. For example, if you are traveling with kids, you will need a lot of animation programs, whereas when you travel as a couple, you will enjoy a bit of luxury and a hotel that is peaceful and quiet. Personally, I always look for an authentic local touch and a place where I would feel safe, while the hotel team takes care of me, but still respects my privacy when I need alone time. Recently I stayed at a private hotel called Tulia in Zanzibar and it was an unforgettable experience.
YOU ARE AN ADVENTURER THROUGH AND THROUGH. WHERE HAVE YOU TRAVELED OUTSIDE OF EUROPE AND SURRENDERED YOURSELF COMPLETELY TO THE MAGIC OF YOUR DESTINATION? AFRICA FOR EXAMPLE?
I love Africa, its colors and spirit. I visited Botswana last year and joined a photo tour with a professional wildlife photographer. It was the closest I had ever been to wild nature and it was an absolutely amazing experience for me. It is not easy to put into words the feeling you get when you are around an open fire under the African sky full of stars, surrounded with lions in their natural habitat – you really get to feel the wilderness and what it means to reconnect with nature. Nature is unpredictable, especially when you get a chance to experience it up close because only then can you really appreciate the beauties of this world. Sleeping alone in a tent was a challenge, but after a couple of sleepless nights I discovered the beauty of camping and I am sure I will do it again. But the most impressive trip was to Kamchatka in the eastern part of Russia, the land of volcanoes and bears.
HOW WILL THE RADISSON COLLECTION DEVELOP IN THE FUTURE?
Radisson Collection is a new brand in Radisson Hotel Group, a premium collection of exceptional hotels in landmark locations. Each hotel is authentic and offers the ultimate model for contemporary living. Radisson Collection hotels are united by exceptional design and experiences across dining, fitness, wellness, and sustainability. All hotel properties are situated in prestigious locations, close to prime leisure attractions and take pride in their locally authentic atmosphere. With the new name Radisson Collection Hotel, Old Mill Belgrade is set to become a beacon for an aspirational lifestyle with bespoke interiors. The hotel will continue to offer meaningful local touches providing guests with a genuine insight into the destination. This includes curated art, sustainability programs, and locally inspired food and drinks. Led by a Yes I Can! Customer service attitude, guests will be able to create their own customized experiences at our hotels, where they will feel welcomed and personally recognized. Guests can also benefit from the newly rebranded Radisson Rewards™ (formerly Club Carlson), a global rewards program that delivers unique and personalized ways to create memorable moments that matter to our guests. Radisson Rewards offers exceptional loyalty benefits for our guests, meeting planners, travel agents and business partners.
THE MARCH'S SLOGAN OF THE RYL MAGAZINE IS "ALL OR NOTHING", DO YOU THINK OF 'ALL OR NOTHING' AS AN ULTIMATUM, AND WHEN DO YOU USUALLY SAY A DEFINITE NO OR I WILL TAKE IT ALL!
When you do something, do it with all you've got or don't do it at all!